Fact Checked
We love our pets, but we don't love the hair they shed and the mess they bring into the home. There's a simple solution that can make us love pets even more – pet hair vacuums. You can remove the frustration and excess hair around the house by investing in a vacuum specifically for pet hair. But what kind might you need? Read on to find out more about pet hair vacuums in the Canstar Blue guide. 
What is a vacuum for pet hair
Vacuums for pet hair are specifically designed to tackle large quantities of pet hair as well as the allergens that may come with it. They're usually vacuums designed with HEPA filters or approved by the Sensitive Choice program which was developed to help those with asthma and respiratory problems identify products that can help with their condition. 
---
Read more: Good vacuum cleaners for long hair
---
Pet hair vacuum pros and cons
Pet hair vacuums offer added features and attachments to clean up after your pets, but they do have some drawbacks.
Pros: 
Can handle large volumes of pet hair and usually have a larger barrel capacity

Most brushes are designed to avoid tangling and are easier to clean

Offer more attachments to clean different areas and surfaces 
Cons: 
Generally more expensive to buy

Additional attachments and items to clean as well as the main vacuum 
Features to look for when buying a pet hair vacuum
Like with any appliance, there will be features to keep an eye out for to guarantee you're making the right choice for your needs. When it comes to pet hair vacuums, there are a few things to keep in mind. 
Approved by the Sensitive Choice program:

it has the small blue butterfly that helps people with asthma identify that it's a suitable product for them.

HEPA filters:

are filters that capture 99.97% of particles that have a diameter of 0.3 microns making vacuums that have them extremely effective. 

Suction power:

the higher the number of air watts the better for suction power. Most vacuums will have a 200-300 air watt capacity so anything above is even better. 

Fittings and accessories:

it's ideal that a vacuum specific to pets will come with additional attachments to clean couches, dog beds and other surfaces. It may have different brush attachments or vacuum heads. 
How much do pet hair vacuums cost?
Vacuums for pet hair will generally retail between $150 and $2,000 depending on the brand and make of the vacuum. Corded and barrel vacuums will generally be on the cheaper end of the scale, whereas cordless vacuums with higher tech capabilities will cost significantly more. 
Who sells vacuums for pet hair
There are a number of brands that sell vacuums for pet hair including Dyson, iRobot, Vax and Black & Decker. Each brand offers its own unique model of vacuum and can be bought direct from the brand or from retailers like Harvey Norman and Appliances Online. 
Robot vacuum for pet hair – iRobot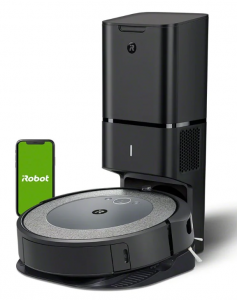 iRobot is a staple name in the robot vacuum market with a few of its models specifically catering to pet hair. Retailing from $600 to close to $3,000 you can find models with all the basics or something with a few added accessories to make cleaning simpler. Some attachments include the Dual Multi-Surface Brushes which lift, loosen, and remove animal hair and a filtration system that extracts 99% of mould, pollen, dust mite, and dog and cat allergens. Many models also empty everything into an allergen lock bag which holds dirt, dust, and hair for 60 days.
Vacuum cleaners for pet hair – Vax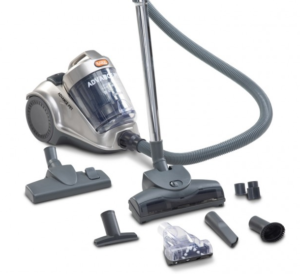 Vax is a giant in the vacuum world and its pet specific vacuums are no different from the rest. Retailing from $150 to $250 you can find models of bagless barrel vacuum that tackle large amounts of pet hair. With a three litre dust capacity, additional tools including a crevice tool for hard to reach spaces, a combination floor tool and turbo brush and cyclonic operation it's built to take on plenty of pet hair. 
Stick vacuum for pet hair – Dyson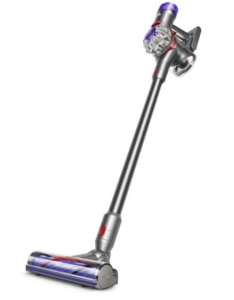 Dyson offer a range of stick vacuums for pet hair that range in price from around $800 to upwards of $2,000. Featuring a stiff nylon bristle brush to lift dirt and debris carried in by pets and soft anti-static carbon fiber filaments to remove dust from floors, it's specifically designed to clean up after pets. Other features include 40 minutes of fade-free suction, advanced filtration and combination tools to reach those tough spots. 
Handheld vacuum for pet hair – Black & Decker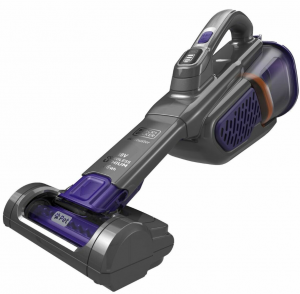 Black & Decker have a number of handheld vacuums retailing from $100 to upwards of $200 with a pet hair vacuum included. It comes with a detachable powered pet brush with anti-tangle bristles that collect even the most stubborn of hair trapped in carpets, rugs, upholstery, or curtains. If you prefer to get up and close when vacuuming animal hair to make sure you get it all, the cordless function of this vacuum makes it easier to use it on furniture, specific areas in the home, or potentially when cleaning the car.
Why choose a pet hair vacuum cleaner?
There are a number of reasons you may choose a pet hair vacuum, firstly – and most obviously – if you have a pet that sheds excessive hair. For dog and even cat people, having the tumble weed of pet hair float across the living room isn't ideal, so a pet specific vacuum can make easy work of those issues. Another reason could also be for the added benefits it offers regardless of owning a pet. Although they are designed for pet owners, they still offer the same great features other vacuums do and even offer a little more – it's a win, win. If you're still not sure about which brand of vacuum suits your home, then compare brands below.