Fact Checked
When it comes to vacuum cleaners, many people immediately think of Dyson. They're a popular brand that has shot to popularity over the last couple of decades with their range of vacuum products. Although popular, the price tag on a Dyson vacuum can be daunting, so how can you make the most out of your purchase? Regular cleaning is a simple way to help prolong the life of any appliance but if you're not sure where to start with cleaning and don't want to break your vacuum, don't panic. This handy guide can help you find the best course of action to clean your Dyson vacuum.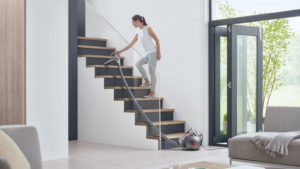 Types of Dyson vacuum cleaners
Dyson has a broad range of vacuums to suit the needs of many households. Its range includes stick vacuums, robot vacuums and corded vacuums – which mostly consist of bagless barrel models. Each vacuum range has its own kind of chamber or filter used for cleaning, meaning you'll have to change your cleaning tact for each type of Dyson vacuum. 
Dyson stick vacuum
Dyson offers a range of stick vacuums that feature a slim light-weight design for easy use around any home. Their filtration system is HEPA and is said to capture 99.99% of particles down to 0.1 microns including dust mites, pollen, fleas and hair. They come with a detachable arm, multiple vacuum heads and display screens to give you the info you need while you clean. The stick vacuums feature a strong filtration system that needs to be cleaned semi regularly to maintain an optimal power and suction. 
Dyson robot vacuum
Dyson has a single model of robot vacuum, the 360 Vis Nav. It features a piezo sensor to detect microscopic dust particles, has a metal mesh filter to separate smaller dust particles and the well-known powerful Dyson cyclones to remove dust from the air flow so there's no loss of suction. Its 360 degree camera means it can see the entire room and plot the best path for cleaning so you can set and forget. The Dyson robot vacuums have a brush attachment that can become dirty after multiple uses so would need to be washed every few times you empty the dust bin so it can continue to pick up as much dirt as possible. 
Dyson corded vacuums
Dyson's corded vacuum range includes their Big Ball range and Upright Ball vacuum. These vacuums feature a bagless barrel design that makes cleaning the vacuum much simpler, and offers extra space for more dust and dirt. They also feature cyclone technology that captures dust without clogging and without loss of suction. Corded vacuums are a simpler appliance to clean in that the area that gets most dirty is the barrell area that catches dust and the brush attachment at the head.
How to clean a Dyson stick vacuum
When cleaning a Dyson stick vacuum there are a few steps to follow to make sure you're giving it a good clean and prolonging your vacuums life. Some models of stick vacuum feature more than one filter so always read your instruction manual before pulling apart your appliance. To properly clean your Dyson stick vacuum: 
Empty the cartridge into the bin with the ejection button and tap out any excess dust. 

Remove the filter(s) from your vacuum, ensuring you remove them as the instructions dictate. This can generally be done by gently pulling the filter from the area its locked in place so as not to break it. On the stick vacuums you can find the filter near where you empty the dust collection chamber or on the top near the handle.

Remove the excess dust by shaking or wiping it into a bin. 

Wash your filters under warm tap water and gently rub it with your hands to get off any excess dust or dirt. Do not use any soaps or detergents. 

Give them a good shake to get most of the water out and leave them to dry for 24 hours beside a fan or open window to help the drying process. 
How to clean a Dyson robot vacuum
When cleaning your Dyson robot vacuum there are a couple of components to complete for a deep clean. You will need to empty the bin in the vacuum itself, as well as clean the brush tool to keep it in top working order. The robot vacuum will have alerts that will be displayed on its screen to let you know when it's time to empty it. You can also receive handy reminders and tips via the MyDyson app when it comes to cleaning your appliance. To properly clean your Dyson robot vacuum: 
Remove the dust collection chamber from the robot vacuum and using the one touch ejection, empty it straight into the bin without having to touch any dust or dirt. 

Remove the brush tool from the front of the vacuum. If you're uncertain about how to remove it, check your user's manual. 

Rinse it under warm water and gently rub it to remove any tangled hair, dust or dirt. 

Leave it to dry in a breezy place for 24 hours before reattaching it to the vacuum. 
How to clean a Dyson corded vacuum
Cleaning a Dyson corded vacuum is simple considering it's a bagless and filter-less model of vacuum. Most of the cleaning is simply emptying the chamber and using a cloth to wipe any excess dust from the inside. Much like other vacuums however, for a deeper clean you can remove the brush head and rinse it under warm water to remove any excess dust or dirt.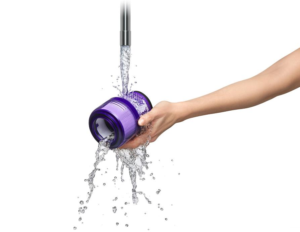 How to clean a Dyson filter
The best way to clean a Dyson filter is to remove it from the appliance and using your hands run it under warm water and gently rub off any dirt on the filter. Do not use any soaps or detergents as they can damage the filter material. Leave it to dry near a window or in a breezy spot for at least 24 hours. 
Where can I buy replacement parts for my Dyson?
It can be tough to find the exact replacement part you're after if something falters in your vacuum. Luckily Dyson have all the spare parts listed for each model of vacuum so you can find it direct or look to purchase from another retailer. However, if you're in need of a refresh on your vacuum or may be after an additional model you can find Dyson at retailers like Harvey Norman or Appliances Online.  
Tips to remember when cleaning your Dyson vacuum cleaner
When it comes to cleaning your vacuum, it's ideal to keep on top of its maintenance so you can make the most of its life. Some things to remember are to not use any soaps or detergents when cleaning filters or the inside of the appliance as it can damage it. It's also important to make sure when you empty any cartridges that you unclog any tangled hairs or wads of dust so it isn't blocking any airways and reducing suction. Most Dyson vacuums have technology in place to combat issues like these but it never hurts to double check.