Tacos might have Tuesdays, but pizza wins every other night, especially if we're talking about homemade pizza. Not only do freshly made pizzas often taste better than takeaway or frozen varieties, but they can also (believe it or not) be healthier than a loaded burrito. Plus, making pizza at home allows you to choose and add extra ingredients without shame (hello pineapple) or extra costs if you want to fancy it up with blue cheese.
Making homemade pizza is also a lot easier than it sounds. All you need is a good base, your favourite toppings, sauce, and of course a pizza oven. Whether it's a wood fire pizza oven for your outdoor area or a small convection oven for your kitchen, there are plenty of affordable models available in the market.
What's the best pizza oven for home use?
This will depend on your household size, how often you cook, whether you need an outdoor oven or something for the kitchen, and your budget. The best pizza ovens are typically wood-fired and the wood fire is lit on the hearth itself, with the food placed around it. Heavy insulation is essential to the oven's design, as it allows the intense heat to be retained wholly inside the oven while the exterior remains cool to the touch.
Types of pizza ovens
Pizza ovens are classified by three main fuel types: convection/electric, wood and gas.
Convection/electric pizza ovens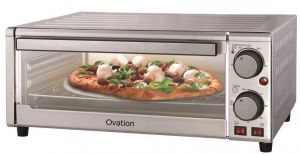 These use an electric element at the top and bottom of the oven to heat the chamber and a fan to distribute hot air and heat the thick ceramic pizza stone to a high temperature (300C+). This replicates the cooking environment of a brick oven. Convection pizza ovens are the cheapest option to buy.
Wood fire pizza ovens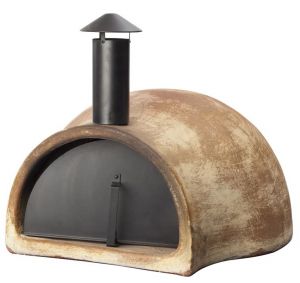 Wood-fired ovens provide the most traditional flavour, typically used by chefs, pizzerias and people who really love pizza. These work by stocking up a large wood fire with a refractory dome at the top of the oven to reflect and radiate the heat over an even cooking area. Wood-fired pizza ovens are the most expensive to buy and may also require installation.
Gas pizza ovens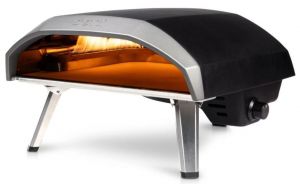 Gas pizza ovens use a gas-fuelled burner and a ceramic stone or refractory bricks to create heat and cook foods. Some gas ovens are sold with a smoker tray that you can put wood chips into to give your pizza that delicious smoky flavour. Gas ovens are fast to get up to temperature, normally in less than 10 minutes.
5 best pizza ovens
Here are some of the best pizza ovens, based on price and features:
Sunbeam Mini Bake & Grill Compact Oven: $64 RRP*

Master Pro Ultimate Electric Pizza Oven Ceramic Baking Stone Toaster Maker: $159.95 RRP*

Sunbeam Multi-function Oven & Air-fryer: $199 RRP*

Jumbuck Torino Wood Fire Pizza Oven: $199 RRP*

Breville The Smart Oven Pizzaiolo: $1,249
Sunbeam Mini Bake & Grill Compact Oven − $64
This Sunbeam compact oven comes with multiple toast and grill settings to help you make anything from pizzas and pies, to chicken roasts, sausages and much more − without having to fire up the big oven. It has a 10L capacity, and comes with four main cooking programs including toast, grill, bake, roast, and reheat, plus a 30-minute timer, dial controls and various accessories such as a crumb tray, baking tray and wire rack. It's available to purchase from The Good Guys.
Master Pro Ultimate Electric Pizza Oven Ceramic Baking Stone Toaster Maker − $159.95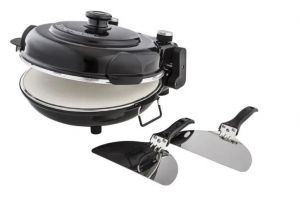 If you like your pizza crust extra crispy, you can't beat this Master Pro pizza oven from Kogan. It comes with dual heating elements (top and bottom), three heating controls, and a timer to help you make wholesome pizzas from scratch or cook frozen pizza to perfection. This model also comes with two paddles, a ceramic baking stone and a fixed baking stone.
Sunbeam Multi-function Oven & Air-fryer − $199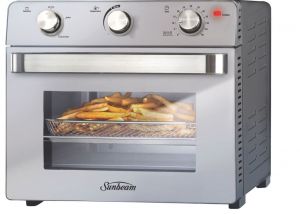 This benchtop Sunbeam toaster oven is the ideal candidate for family pizza nights and has space to fit a 12 inch pizza inside, thanks to its generous 22L capacity. It gives you additional cooking space without taking over the kitchen and it's also a good backup for when your main oven is at capacity. This Sunbeam model also comes with five cooking settings including air fry, grill, pizza, bake, convection and warm, plus various cooking accessories. It's available to purchase from The Good Guys.
Jumbuck Torino Wood Fire Pizza Oven − $199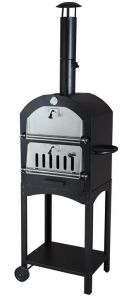 If you enjoy outdoor entertaining, pizzas and barbecues with that traditional smoky flavour, this Jumbuck wood fire pizza oven is a strong choice. It's a freestanding oven (and portable) which means it can fit in smaller backyards, and can be moved between outdoor entertaining areas easily. This model comes with a cooking rack, powder-coated cart handle, charcoal removable drawer and a ceramic stone plate. It's available to purchase from Bunnings.
Breville The Smart Oven Pizzaiolo − $1,249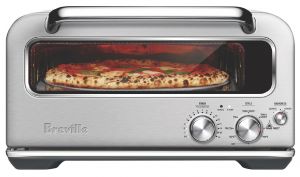 If you're looking to seriously up your pizza game and turn your kitchen into a pizzeria, this Breville smart oven (BPZ820BSS) is your baby. It's one of the few domestic bench ovens that can reach a temperature of 400C to emulate a traditional wood-fired pizza oven. It's stated to use a patented Element IQ with a heat deflection design to create intense direct heat to achieve a perfectly cooked pizza with your preferred level of char from different kinds of bases. It also comes with seven pre-set functions and manual mode to customise heat settings and cooking functions to suit whatever meal you're making. It's available to purchase from The Good Guys.
What's the perfect temperature for a pizza oven?
The minimum temperature to cook a pizza to crispy perfection is 200C (for 15-30mins), although if you're cooking a pizza with a thicker crust then you may need to set the temperature to 300C. Cooking times and temperatures will vary depending on the type of pizza oven you have, but it's easy to see when your pizza is ready, by just checking the crust has slightly browned and the cheese is golden and completely melted. It's important to pre-heat the oven to achieve the best results.
Is a pizza oven worth it?
If you have extra kitchen space or a decent outdoor area and love pizza, investing in a pizza oven is worth it considering these can be bought for less than $100. Pizza ovens are multi-functional with the capacity to cook various foods, including roasts and stews, plus they can double as a fire pit in the winter. Winning!
*Prices taken from respective retailers, correct as of February 2021.