Renovating your home or fitting out a new kitchen? The type of oven that you choose is an important consideration to ensure it suits your style and serves your families' mealtime needs. Since the beginning of the humble gas oven, many improvements have been made, including the addition of a thermostat to help with temperature control and an enamel coating to make cleaning easier. Today, gas ovens offer a wide variety of features and there's a lot to think about when buying one, so read on for our guide to gas ovens in Australia.
What is a gas oven?
A gas oven, also referred to as a gas underbench oven, requires a gas connection in the kitchen, which can be via mains gas or LPG. Gas ovens are typically topped with a gas-powered cooktop, but the two parts can also be installed in separate areas, depending on your kitchen design and personal preference.
How much do gas ovens cost?
On average, most gas ovens sit between $1,000 and $2,000, although the premium range of freestanding gas ovens can go up to $9,000 due to additional burners on the stovetop. Gas ovens are typically more expensive than electric ovens. 
---
Read more: Gas Vs. Electric Ovens
---
Types of gas ovens
There are two main types of gas ovens: wall ovens and freestanding ovens. Both of these serve their own unique purposes; however, they can be very different when it comes to features and use. Below is a brief summary of each type, and the major brands that offer each type of gas ovens.
Gas Wall Ovens
Gas wall ovens are built-in models that can be mounted into a wall recess. As another built-in option, there are also gas underbench ovens that can be fitted under the kitchen bench. The flexibility of oven installation means the built-in options suit a wide range of kitchen layouts and styles, but whether they suit your budget or not is another matter. Below are some of the major gas wall oven brands available. 
Westinghouse Gas Ovens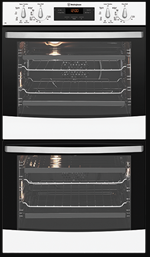 Westinghouse, a subsidiary of Electrolux, offers a number of gas wall ovens. These models are boasted for their FamilySafe cool to the touch door, which is designed for safety against accidental burns on the external door surface. Westinghouse wall ovens are available in both natural gas and LPG gas variants, plus have an option between a stainless steel and traditional white appearance. Most of this range sits between $1,500 and $3,000, with models without the separate grill compartment on the lower end of the price spectrum.
ILVE Gas Ovens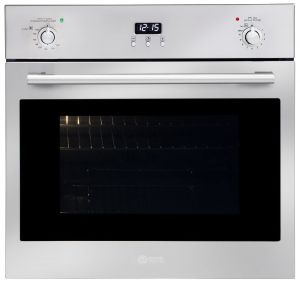 Italian appliance manufacturer ILVE has several options for gas ovens. Expect triple door glazing for safety and concealed grill elements in the full range. Additionally, the ovens are boasted for thermostatic precision from 0°C through to 250°C, and the 'Turbowave' cooking system, claimed to seal food, prevent shrinkage and promote low energy consumption. Smaller capacity models start at $2,000 and for the 80cm built-in ovens expect to go up to $3,000.
Freestanding Gas Ovens
Freestanding ovens come as a complete unit with a cooktop included. These are available in a variety of sizes, including slimline models, which are typically an option to consider for smaller kitchens. However, there are also wide 90cm – 110cm options featuring up to six cooktop burners. Here are some of the major brands for freestanding gas ovens.
Smeg Gas Ovens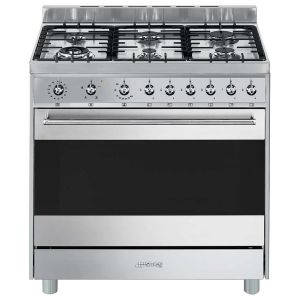 Another Italian appliance brand in the kitchen space is Smeg. It covers a large range of ovens from electric to pyrolytic ovens including a line of upright gas ovens. Ovens in the Smeg range offer features like flip down pan storage beneath the oven, triple glazed oven doors, stainless steel appearance, and a four or six burner cooktop.  You can find smaller capacity models for $2,000 and $3,000, while the 90cm models range between $3,500 and $5,000.
Euromaid Gas Ovens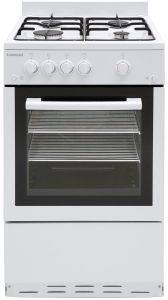 Euromaid ovens are generally a more affordable option if you're on a budget, with prices ranging from $800 for the more compact models, and max out at $2,000 for the more advanced designs. Euromaid provides a number of options in terms of oven width size ranging from 50cm to the large 90cm wide gas ovens. On the higher end of the Euromaid gas oven scale, you can expect features like large roasting trays, a telescopic runner, five shelf positions and a double-glazed oven door for those who expect to do plenty of cooking. 
LPG Gas Ovens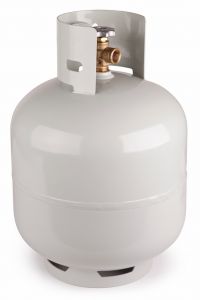 For those who don't have a natural (mains) gas connection in the kitchen, LPG gas models might be a worthy consideration. While some gas ovens can be installed to run on either natural gas or LPG, there are models that cook solely using flames fuelled by an LPG bottle. However, LPG gas ovens aren't as popular as more traditional gas ovens, meaning you won't have the range of models available. 
For a built-in wall option, the Westinghouse WVG613WLPG 600mm/60cm oven provides 80L of oven capacity with three programs, including fan forced. It has similar features to other Westinghouse models such as the Family Safe cool doors and a two hour auto-off oven timer. The Chef CFG503WBLP 54cm oven is a freestanding variant with a stovetop. It features 80L oven capacity with four burners and one oven program. 
Gas ovens vs electric ovens
Gas ovens and electric ovens each have their own set of pros and cons that can narrow down the decision-making process. 
Gas oven pros
Considered to be cheaper over time and more efficient to run

Retains moisture in food

Provides instant heat
Gas oven cons
Generally, more expensive to buy and install

Don't distribute heat as evenly, which means rotating food while cooking

Requires a gas connection direct from the kitchen
Electric oven pros
Starts at lower price range 

Provides versatility in terms of layouts and functions

Usually have a fan to distribute heat evenly
Electric ovens cons
Costs more to run over time

Tends to cook food slower

Affected by power outages
Should I buy a gas oven?
Gas cooking can be economical and highly efficient, with an additional benefit of having a gas oven in your home is that it will still run even if the power goes out! And as natural gas is generally cheaper than electricity, you will find your cooking costs come down over time, depending on the specific utility rates you pay, of course. However, gas ovens tend to be more expensive to buy outright, so you'll have to weigh up the short- and longer-term costs involved. Ultimately though, buying a gas or electric oven will come down to personal preference.
Depending on your cooking needs, gas ovens provide a number of options from large family sized ovens to simple two-person freestanding models. Gas ovens should probably be thought of as an investment in your home, so be sure to think carefully about which brand and model is the best fit for you. For further reading, head over to our latest customer satisfaction reviews.
Original Author: Veronika Hleborodova