Fact Checked
We all love coffee and no matter how you take your coffee, if you take it with milk you'll want it just the way you like. So why not create perfectly frothed milk at home? Milk frothers are a handy appliance that can help you make your perfect morning brew from home in less than a minute. Read on to find out more about milk frothers and whether it's the appliance for you in this Canstar Blue guide. 
What is a milk frother?
As the name suggests, a milk frother is a nifty gadget used to froth milk, typically to add to coffees and specialty drinks like frappés and even cocktails. It works by aerating milk and creates tiny bubbles in the milk to turn it into a thick and velvety foam (similar to whipped cream). Most coffee machines typically come with a milk frother attachment, but you can also buy standalone models.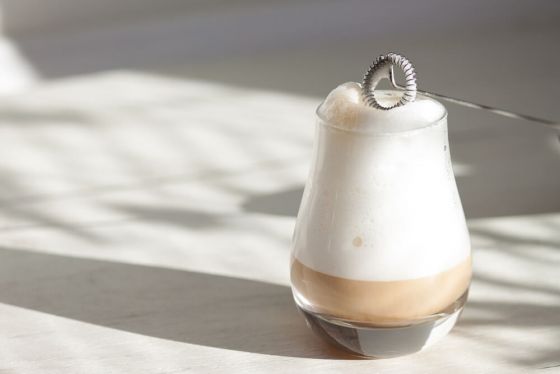 Types of milk frothers
There are a few types of milk frother to choose from depending on how you like to make your coffee and how quickly you want it made in the morning. 
Handheld milk frother: Hand-operated milk frothers are fairly compact and designed with battery-operated propeller-style whisks at the end of a wand that you insert directly into your cup or glass of milk to froth. They work similarly to a handstick blender on a smaller scale.
Manual milk frother: Manual models of milk frother are generally as close as you'll get to a barista style steamed milk. This kind of frother will generally be attached to the coffee machine and uses steam to create a glossy and creamy steamed milk. You insert the nozzle into the milk and once turned on hold the jug on an angle to get a nice spiral motion for the best results. Always read the manual before using it as it does use steam and can burn you.  
Automatic milk frother: Electric, coffee-style milk frothers are the largest and most expensive design but are the easiest to use and provide the best quality of quickly foamed milk. These small machines allow you to heat and froth milk at the touch of a button. This type can also come as an attachment on some models of coffee machine and will have a pre-set button on the machine that will automatically froth the milk after pouring the shot of coffee. 
How to use a milk frother
Depending on which type of milk frother you choose there are a few different ways to use it. If you decide on a handheld or manual model a basic rule of thumb is to get a nice spiral movement in the milk to help get air and steam into the milk for a creamier result. Automatic models will do the work for you making them simpler to use, you just place the milk in and press whichever button you want to get  the desired result. 
How much does a milk frother cost?
Milk frothers range in price from around $25 to around the $300 mark for larger automatic models. Handheld models are the cheapest option sitting at the bottom of the price range due to their smaller design, whereas larger automatic models will have added functions and a larger capacity to froth milk, making them a bit pricier.  
Who sells milk frothers?
A number of brands sell models of milk frother, including Kmart, Breville, Nespresso and Smeg. You can buy directly from the brand or from retailers such as Appliances Online and The Good Guys. 
Kmart Milk Frother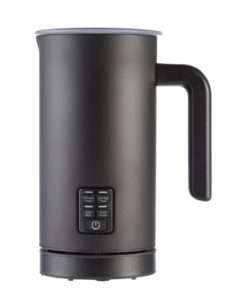 Kmart offers an automatic model of milk frother that retails around the $30 mark. It has four functions: hot low froth, hot high froth, heat milk and cold froth and has a 160ml milk frothing capacity and 320ml milk warming capacity. Its non-stick internal coating makes it easy to clean and the double wall design helps to avoid any burns or coming in contact with hot surfaces and the detachable power base means you can easily pour your milk once it's done.   
Woolworths Milk Frother

Woolworths offers a small handheld model of milk frother from Auspure that retails for around $25. It includes a stand and operates using two AA batteries that can froth milk in just 15 to 20 seconds. 
Breville Milk Frother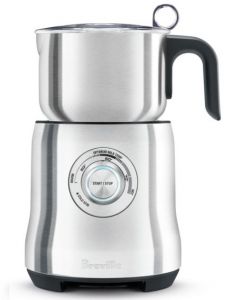 Breville offers a high-end automatic milk frother that retails around $220 and features variable temperature controls with an 'Optimum Milk Temperature' range to make selection easy, as well as induction heating for even heat distribution to help you nail all your hot drinks. It also has a 'Cold Stir' setting to froth cold milk without heating, and two frothing discs to help you get your preferred foamy texture. It can make up to three cups of foamed milk.
Nespresso Milk Frother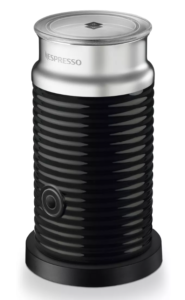 Nespresso is known for its coffee products and its milk frothers are no exception. Retailing from $100 to $180 you can find two models of milk frother to suit your needs. Both are automatic models that offer 120ml to 250ml capacity that prepares barista quality milk in just 60 seconds. The more expensive model offers the ability to make over 20 nespresso coffee and hot drink recipes, including hot chocolate and other similar drinks.  
Smeg Milk Frother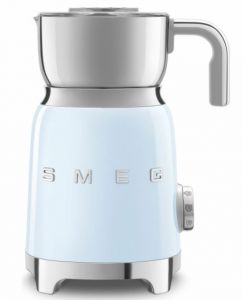 Smeg's colourful and retro range of appliances extends to its coffee range with its colourful collection of milk frothers. This retro-style Smeg automatic milk frother is designed to make your days and drinks a lot smoother, thanks to its induction heating system and auto switch-off function. Retailing for around $250, it features six automatic programs, including one for hot chocolate and some for cold drinks, and comes with two whisks to allow you to alternate between dense froth and light froth. There's also a manual function for those who trust their steady hands. This frother can also make tea, herbal infusions, and pretty much any soluble hot drink.
Purchasing a milk frother
When it comes to purchasing a milk frother there's plenty to choose from. Whether you're after a cheaper handheld model that suits a smaller budget, or someone who is a bit of a coffee snob and is after an automatic model that creates perfectly creamy milk, you'll find a model that suits. If you're still not certain on a milk frother, start with a coffee machine and compare brands below.