When you're on the go but desperately need your caffeine hit, finding a café or making instant coffee are usually your only two options. But what if you could make a good, fast coffee with a pocket-sized device?
We all know that buying a barista brewed coffee every day will quickly add up to be an expensive habit. However, we're not all lucky enough to have an espresso machine in our home or workplace. Plus, neither option is practical if you're off on a camping adventure. What do you do if you love your espresso but getting your fix isn't practical?
Thanks to the ingenuity of coffee aficionados, there's a huge range of portable, even pocket-sized manual coffee machines that can rival traditional machines for quality while setting you back a fraction of the cost. All you need is ground coffee, hot water, and a hand or two to brew a fresh coffee that will taste infinitely better than an instant freeze dried coffee.
Here are a few of the more popular espresso, pour-over and French press coffee machines that can easily tag along in your bag or be tucked away in a drawer for handy coffee anywhere, any time.
Aeropress
Among the very cheapest and lightest portable espresso machines, the Aeropress uses air pressure to make espresso. While it can't match the pressure capabilities of a more heavy-duty machine, the trade-off is a very convenient cup that certainly one-ups the instant coffee.
In the box, you'll get the Aeropress itself, a funnel for adding grounds without spills, a scoop, a stirrer, a stand (which also holds your filters) and a pack of 350 paper filters. The Aeropress uses special flat round micro-filters, which are sold either as disposable paper filters or reusable stainless steel filters.
It works by putting coffee grounds and hot water inside the chamber, stirring for ten seconds, then pushing the plunger in and down at a slow, steady pace. Technique can change the flavour of the coffee, so your brew will improve with practice. The simple design means it's simply to clean – just pop out the used grounds and filter, and rinse off. Thanks to the fully plastic construction, it's extremely light and very easy to take on holiday or keep in your bag.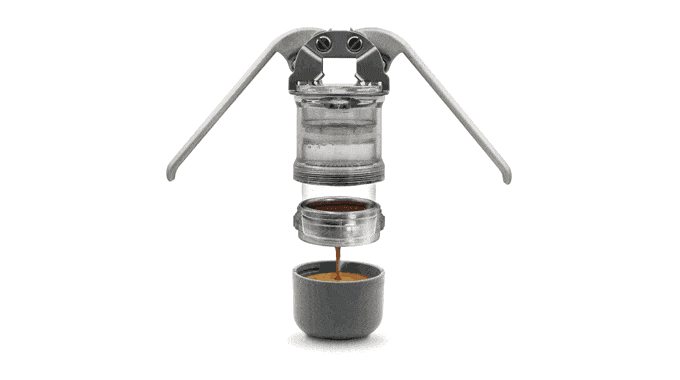 Leverpresso
You may have seen this one in the news lately – the Leverpresso has hit headlines as a unique new entry into the growing market for portable espresso machines. It works by using a two-handled steel lever to press water through the aluminium basket filter to extract coffee, as a double or single shot.
While the Leverpresso is still in the Kickstarter fundraising stage and is not currently available to buy directly, it's looking promising. It's already reached more than ten times its fundraising goal, with estimated delivery January 2018 to backers who pledge US$59 or more. The Leverpresso will retail for US$99 each, in a choice of four colours: pastel blue, light gray, pink, and dark gray.
MiniPresso & NanoPresso by Wacaco
Wacaco, a coffee startup based in Hong Kong, currently offers two different models of its semi-automatic piston powered handheld coffee machines. Both work by unlocking and then pumping a semi-automatic piston to extract the coffee, with just one hand. It only takes a few pushes to reach optimal extraction pressure.
The Minipresso produces about 8 bars of pressure, and includes a built-in espresso cup and scoop. The standard capacity is 70mL in the water tank and 8g of coffee grounds in the filter basket. However, you can upgrade with the MiniEspresso Kit to swap in a larger 120mL tank (as well as three more filter baskets with caps, which can be stored inside the larger tank). A protective case can be purchased separately. The base model weighs 360g and is 175mm long, making it one of the lighter and more portable options on the market.
The Nanopresso improves upon the Minipresso with a maximum pressure of 19 bars – that's more than double the Minipresso. It's also smaller, weighing in at 336g and 15.6cm long. Despite being smaller, it has a larger 80mL water tank. It also includes a protective case made of EVA outer and soft fabric interior lining. The extra 'Barista Kit' set comes packed in its own container, with a large water tank (140mL) allowing for a double espresso up to 120mL, a larger espresso cup, two double espresso filter baskets with cap, a double espresso adapter ring, and a tamper. You can also buy an extra adapter to use the Nanopresso with Nespresso capsules.
Oomph
For a super convenient coffee on the go, the Oomph is a combination portable espresso extractor and travel mug. It has two main components – the bottom/inner part is where you add the grounds and hot water, while the top/outer section is placed on top and pushed down to extract the brew.
Rather than a fixed rate of pressure, the Oomph's chamber narrows towards the filter, accelerating the rate at which liquid passes through the coffee grounds as you push down. As the coffee is pushed through the filter, it rises up the sides and back into the main liquid chamber.
Once brewed, the insulated outer will keep your coffee hot for up to an hour. It can be drunk straight from the Oomph or poured into a mug. The Oomph also works with cold brew.
It comes in a choice of four colours: Sky Blue, Royal Red, Midnight Black, and Pro Transparent.
Handpresso
It looks and functions a lot like a bicycle pump, but the Handpresso Pump uses that air pressure to extract espresso rather than pump up a tyre. First, you build up 16 bars of pressure by pumping until the pressure gauge moves in the green zone, and then add hot water and coffee grounds, hold it over your mug, and press the infusion button. The pressurised air forces the water through the coffee grounds and the filter to extract a single shot of espresso. It works with both ground coffee and E.S.E. pods.
The Handpresso Pump weighs 480g and is 22cm long, coming in a wide range of colours including black, silver, green, pink, blue, white and orange.
Handpresso also produces plug-in coffee machines for cars and trucks as well as other tools and accessories for making coffee on the go.
Porta Presso
Claimed to be the world's first 'truly portable' espresso machine, the Porta Presso can complete the entire process of making an espresso coffee – grind coffee beans, boil water, compact and press coffee grounds, and froth milk. Unlike many other entries on this list, the Porta Presso is not a manual device. It uses a CO2 canister and a USB-chargeable battery.
Measuring 9cm by 32cm, the PortaPresso has separate compartments for each ingredient (water, milk, and coffee beans), with an LCD screen and settings for different coffee types as well as for adjusting temperature and grind.
Unfortunately, the Porta Presso isn't yet on store shelves. It's been recently developed by two young Kiwi entrepreneurs, who are currently taking pre-orders via Indiegogo to launch production. You can follow them on Instagram for the latest updates.
One Cup 'Cafeor' by Hario
Japanese brand Hario is one of the biggest names in drip coffee tools. Unlike the rest of the entries on this list, Hario products are for making filtered coffee, not espresso. This is one for those who like their coffee black.
The One Cup is very simple – the stainless steel mesh filter is housed in a plastic cylinder with a rim to sit on top of the included glass mug (or any cup, really). To use, simply add coffee grounds to the filter and slowly pour hot water over them. The stainless steel filter allows coffee oils to pass through, for optimal aroma. When you want to store the One Cup, just flip the filter around and it sits snugly inside the mug. As the mug is made of glass, you may want to put it inside a padded bag or wrap it in something protective while travelling. The mug is dishwasher safe.
While you can pick up a V60 pour-over for less than $10 (plus filters), the Cafeor integrates into one cup which is a bit handier for a portable brew.
How do I make textured milk for coffee?
Creamy frothed milk is far superior to the dash of cold milk added to instant coffee. It's actually not so tricky to make textured milk yourself at home, in the office, or on holiday. Here are a few suggestions for tools you could use:
French press/coffee plunger: Add your milk to the glass jug, warm it in the microwave, then use the plunger to froth the milk. Move the plunger rapidly through the body of the milk to texture it, and focus on the surface layer to produce foam.
Battery operated milk frother: These look like very small whisks. Simply turn it on and immerse in hot or cold milk. For example, see the Produkt milk-frother from IKEA
Latte shaker: You can shake up a coffee much like a milkshake, using specialised tools such as this one by Hario. Designs can vary, but generally involve using shaking motions to rapidly force the milk back and forth through a filter which aerates the milk.
When you desperately need caffeine on the go, but instant coffee just isn't good enough and buying a good coffee every day is just too expensive, a portable espresso machine could be a lifesaver. As you can see, there are all kinds of designs to choose from to suit your taste, style, and budget. Some are impressively small! Note that these are mostly just machines for brewing the espresso – you'll need to buy ground coffee, grind your beans in advance, or also grab a portable grinder. You'll also need access to hot water for the brew.
Portable espresso machines are sold online, from coffee supplies retailers (including many coffee shops) and even from camping stores.