Fact Checked
Nescafe Blend 43 roasts rivals in instant coffee review
Not everyone is a morning person, so when you need a coffee, you need it fast. While some can make it to their local café before work, others struggle to get out of the door without their coffee fix. So, this is where instant coffee comes in – simply boil some water, pour it into your cuppa of instant caffeinated goodness, stir and voila! But with a long supermarket aisle to walk through in search of the very best instant coffee, we've narrowed down the list to help you find the right blend of taste and value. Is it worth spending more on the big-name brands? Or can supermarket labels tick all your boxes?
To find out, Canstar Blue has again surveyed nearly 1,100 coffee lovers across Australia for their feedback on the instant coffee they've purchased and brewed at home during the last three months. Brands were compared on taste, texture, aroma, range variety, packaging, value for money and overall satisfaction. Those that met the minimum required survey sample size of 30 responses are featured in our results.
Our latest instant coffee review saw consumers happily drink up Nescafe Blend 43, which rated best for overall satisfaction. It also whipped up full marks for taste, texture, and packaging!
Best Instant Coffee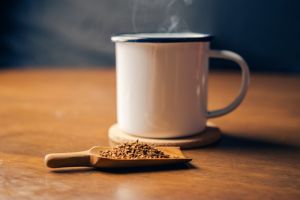 Here are the best instant coffee brands in Australia, as rated by consumers in Canstar Blue's latest review:
Nescafe Blend 43
Moccona
International Roast
Robert Timms
ALDI AlCafé
Nescafe Gold
Coles
Nescafe Blend 43 was rated 'brew-tiful' in Canstar Blue's 2021 instant coffee ratings. It was the only brand to get five stars for overall satisfaction, while most other labels achieved a four-star review. Nescafe Gold and Coles eventually settled the scores on three stars each for overall satisfaction.
Last year's winner Moccona slipped to second place but still clearly impressed Aussies, rating best for variety, packaging and taste. Robert Timms also received five stars for packaging, aroma and texture. When it came to getting bang for your buck, International Roast and ALDI AlCafé were the five-star winners.

About the winner – Nescafe Blend 43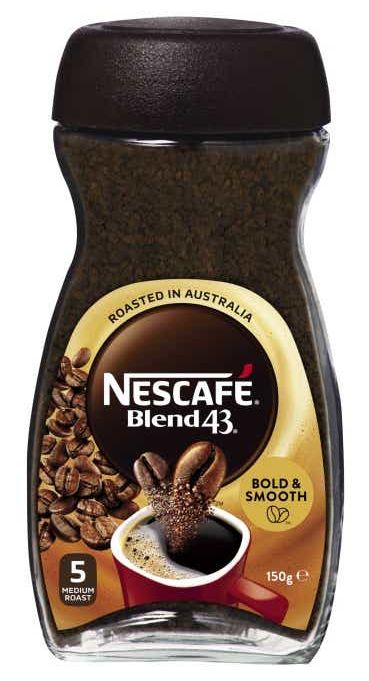 Forget takeaway coffee, a quick pit stop to the kitchen might be a faster and more affordable way to fuel your caffeine fix. Nescafe Blend 43 says it's mastered the 'perfect cup' by creating a coffee that's both bold and smooth. There's also the smooth and creamy option, which is said to provide a creamy layer of crema and a rich aroma for a café-like experience.
Nescafe Blend 43 also claims its coffee beans are 100% sustainably sourced, and roasted and blended in Australia. Nescafe Blend 43 instant coffee is available in different sizes, packaged in either a tin or jar.Prices for Nescafe Blend 43 products usually start from $5 and go up to $20.
Nescafe Blend 43 topped Canstar Blue's instant coffee review with five-star reviews for taste, texture, packaging and overall satisfaction. It got four stars for aroma, variety and value for money.
Aussies' coffee habits and attitudes

Wondering how Aussies buy and drink their coffee? Our latest survey revealed that almost half of consumers (49%) said they need their morning cuppa to start their day, and nearly a quarter (24%) would go out of their way to buy a good brew. While the majority of Aussies are fond of coffee, 11% worry they drink too much of it, and 5% regularly drink decaf. Check out more interesting findings above. Want to mix up your morning brew? Check out our guide on the types of coffee to get you going.
About the author of this page
This report was written by Canstar Blue's home & lifestyle journalist, Tahnee-Jae Lopez-Vito. She's an expert on household appliances, grooming products and all things grocery and shopping. In addition to translating our expert research into consumer-friendly ratings reports, Tahnee spends her time helping consumers make better-informed purchase decisions on all manner of consumer goods and services, while highlighting the best deals and anything you need to be aware of.