Fact Checked
Zarraffa's Coffee rated sippin' good in coffee shops review for 2nd year
If there's something Aussies love more than a cold brew after a long day, it's probably a hot cup of Joe in the morning before work or as a little pick-me-up during the day. In fact, we're so serious about coffee that one in three people we surveyed (35%) have tried multiple coffee shops near their home or work. On the other hand, about a fifth (21%) visit the same place every time. It can honestly be difficult to find a coffee joint or café that serves good quality coffee, a solid food offering, outstanding service and bang for your buck. So, where do you start?
To find out where to find the best coffee in town, Canstar Blue has surveyed more than 1,400 coffee lovers like yourself for their feedback (good or bad) on the coffee shop chains they visited and bought coffee from in the last six months. Respondents scored coffee shops on the taste of their beverages, convenience, speed of service, customer service, shop appearance, value for money and overall satisfaction. Those that received the minimum required survey sample size of 30 responses are included in our results.
The main takeaway from our survey is that Zarraffa's Coffee is still the hot pick for coffee shops (for the second year running!). The Aussie coffee shop chain scooped up five-star reviews for the taste of its coffee and beverages and overall satisfaction.
Best Coffee Shops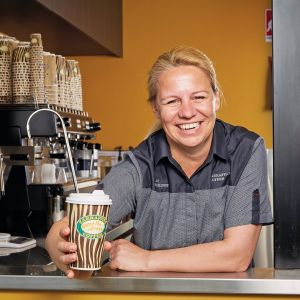 Here are the best coffee shop chains in Australia, as rated by consumers in Canstar Blue's 2021 review:
Zarraffa's Coffee
Dome
Donut King
Krispy Kreme
Jamaica Blue
Gloria Jean's Coffee
The Coffee Club
Muffin Break
Starbucks Coffee
McCafé
Chocolateria San Churro
Zarraffa's Coffee achieved a sweet win after it received five stars for overall satisfaction, while most other coffee shop chains landed four stars overall. Muffin Break, Starbucks Coffee, McCafé and Chocolateria San Churro got three stars for overall satisfaction.
If you're looking for the best on-the-go option, McCafé was the only coffee shop to score a five-star review for convenience. Jamaica Blue and Muffin Break are similarly keeping busy customers happy, both earning full marks for their speed of service. Jamaica Blue also got extra brownie points for the taste of its beverages as well as store appearance, alongside Dome which also rated five stars for customer service. Donut King was the only coffee shop chain to receive full marks in the value for money category.
About the winner − Zarraffa's Coffee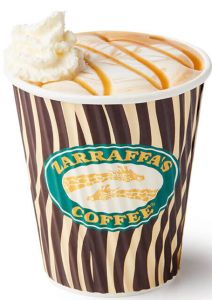 Founded on the Gold Coast in 1996, Zarraffa's Coffee is a national coffee house chain with over 90 locations primarily across Queensland, Western Australia and New South Wales. Zarraffa's has a comprehensive hot and cold drinks menu, featuring nearly 50 different beverages, including crowd favourites like the Americano, cappuccino, flat white, latte and all the rest of it. On the chilled side, it serves iced lattes, frappés, smoothies and iced teas. If you're hungry for something solid, Zarraffa's Coffee has a selection of scrumptious pastries, wraps and other foods you can sink your teeth into, in addition to coffee beans and merchandise also available in-store.
Zarraffa's Coffee is also known for having one of the best loyalty programs, with the Zarraffa's 'Z Card' allowing customers to earn 1 Zarraffa's Z$ for every $11 spent, redeemable on drink and coffee bean purchases. You can register your Zarraffa's Z Card online or via the Zarraffa's mobile app.
Zarraffa's Coffee landed a smooth five stars for overall satisfaction and taste of beverages, plus four stars for value for money, speed of service, customer service, shop appearance, and convenience.
Aussie coffee habits
One in 10 Aussies we surveyed (11%) said they visit a coffee shop before they go to work in the morning, suggesting many of us still choose to make a cuppa at home using either instant coffee or coffee pods. That's not such a bad idea considering Aussies spend about $16 on takeaway coffee every week or $832 a year, with a quarter (23%) also forking out a little extra to grab a bite to eat.
Here are some other interesting insights from our research:
Which coffee shop should I visit?
If you're serious about coffee, Zarraffa's seems to be the way to go after it received the sole five-star review overall satisfaction and full marks for the taste of its coffee and drinks. If you hate waiting in line, Jamaica Blue and Muffin Break can certainly help you get your caffeine (or sugar) fix faster, with both rating five stars for speed of service. McCafé is also another option, especially with its large number of stores making it a convenient pick.
But for days when you prefer to take a breather and grab a seat, Dome appears to have the friendliest customer service and a good store layout to make your experience a bit sweeter. Lastly, if you believe nothing is more delicious than getting good bang for buck, then you might find Donut King's menu to be a tasty treat.
Considering over a third of respondents to our survey (35%) have tried multiple coffee shops near their home or work, it may be worth trying new coffee joints from time to time, to find your 'go-to'. Remember, you want a coffee shop that offers the trifecta – good coffee and food and impeccable service at a great price.
About the author of this page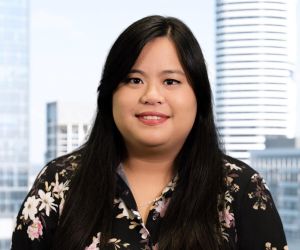 This report was written by Canstar Blue's home & lifestyle journalist, Tahnee-Jae Lopez-Vito. She's an expert on household appliances, grooming products and all things grocery and shopping. In addition to translating our expert research into consumer-friendly ratings reports, Tahnee spends her time helping consumers make better-informed purchase decisions on all manner of consumer goods and services, while highlighting the best deals and anything you need to be aware of.