Forget TVs and smartphones for a minute, because Samsung Electronics has launched its 2020 air purifier range, packed with intuitive features, smart technologies and designed for the modern family. The brand's new line-up is made up of five models, all of which have been tested and proven to purify air quickly (as in, within minutes), according to Samsung.
Samsung's 2020 range was designed to suit different sized rooms and open plan living spaces. For large rooms, like your living room or bedroom, the brand offers the AX7500 and AX5500. The standout feature on these high-end models would have to be their numeric air quality display and Wi-Fi connectivity, allowing you to monitor and control your indoor air quality from anywhere, using the SmartThings app. Additionally, users can use touch and voice command to turn the unit on or off, check the air quality and control functions, using Bixby. Both models also feature a 3-way air flow and dual power fan, to distribute clean air evenly within each room.
Samsung AX7500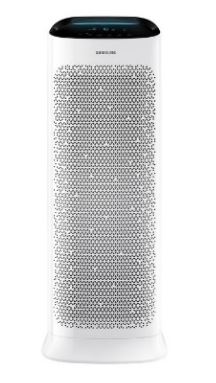 The AX7500 offers coverage for rooms of up to 90m². It features a powerful front air inflow designed to draw air in easily, no matter where your unit is located in the room, even if it's against a wall. The air is then 'processed' through three distinct filters to offer a multi-layered purification system and capture airborne particles, harmful gases and stop the spread of captured bacteria. The dual power fan then discharges the air, using its 3-way air flow. The AX7500 also features a numeric air quality display and a laser PM 1.0 sensor, which monitors air quality in real time and displays the air quality level with a 4-colour indicator. Other standout features include:
Washable pre-filter, designed to capture larger dust particles (i.e. pollen, pet dander etc.)
Activated carbon deodorisation filter, designed to capture harmful gases and unpleasant odours
True HEPA filter to capture up to 99.97% of fine dust and particles (<0.3 microns).
Samsung AX5500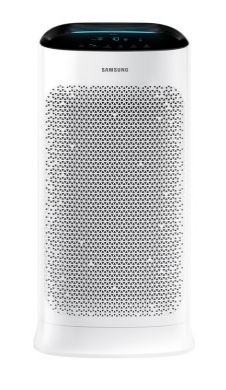 The AX5500 is ideal for medium-sized rooms (up to 60m²). It's a more compact unit than the one above, but contains similar functions; including a power fan that distributes clean air in multiple directions, using 3-way air holes (top, right and left). This enables the air flow to reach a wider area more quickly, with a particle clean air delivery rate (CADR) of 455 cubic meters per hour. This model also has the added plus of being portable and contains concealed wheels to make it easier to switch between rooms. Other features include:
Numeric air quality display with 4-colour indicator
Laser PM 1.0 sensor
Wi-Fi connectivity.
Some models in the range also feature a 'Whisper Quiet Sleep Mode' that switches display lights off and drops the fan speed to create a quieter air flow, for those who want clean air and a restful sleep. Another beauty of Samsung's air purifiers is that they'll notify you when the filter needs to be replaced.
Samsung AX9500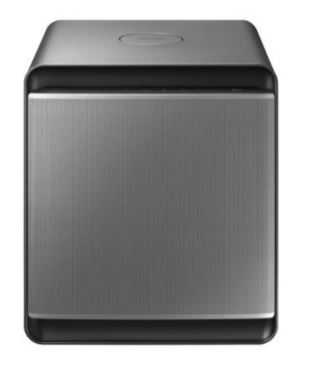 This is Samsung's flagship model. It features innovative wind-free technology, which disperses clean air gently and quietly through approximately 60,000 micro-holes, with less draft and noise level. The AX9500 comes in a cubic shape and metal finish that should blend relativity well with contemporary decors, although this is not to everyone's taste. This model also has a modular design, which can be easily stacked and set up, and each unit comes with its own docking component. The AX9500 also comes with your standard:
Numeric EasyView display
Laser PM sensor
Wi-Fi connectivity.
Samsung AX40T3030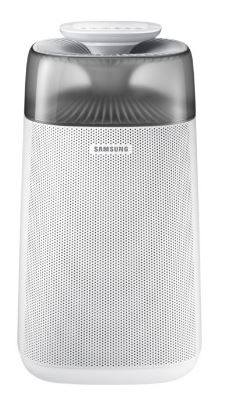 The AX40T3030 features a unique design with nightlight, ideal for kid's rooms (up to 40m²). It also features a Sleep Mode, an air sensing mood light to help users check their indoor air quality more intuitively, using dust and gas sensors and optimises operating modes automatically. Other specs include:
True HEPA filter to remove up to 99.97% of fine particles
Numeric air quality display with 4-colour indicator
Designed with built-in handle.
Samsung AX34T3020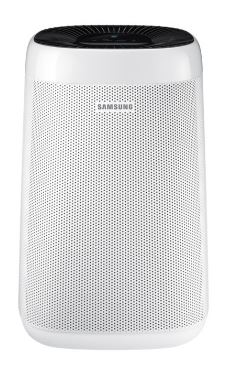 The AX34T3020 is the most compact model of the range, best suited for apartments and bedrooms. It's also easy to operate and maintain – it's as simple as opening the rear door and removing the washable pre-filter which only needs periodic cleaning. This model also has a 2-in-1 design HEPA filtration system, containing an ultra-fine dust filter and activated carbon deodorisation filter, which will indicate with a blinking light on the unit when it's time to be changed.
Samsung Air Purifiers − Models & Prices
| | | |
| --- | --- | --- |
| Model | RRP | Retailers |
| AX9500 | $1,299* | Samsung.com |
| AX7500 | $999* | Samsung.com, JB Hi-Fi, The Good Guys |
| AX5500 | $799* | Samsung.com, JB Hi-Fi, The Good Guys |
| AX40T3030 | $449* | Samsung.com, Bunnings |
| AX34T3020 | $449* | Samsung.com, The Good Guys |
Prices taken from retailer and accurate as of August 2020. 
Who can benefit from an air purifier?
The premise of an air purifier is to 'sanitise' indoor air and get rid of harmful impurities in your home, including odours, smoke, dust, and pet dander. This type of appliance is ideal for families with children, households with pets, and particularly asthma and allergy sufferers. Air purifiers can capture up to 99.97% of ultra-fine particles (<0.3 microns) and even bacteria to help combat seasonal allergens and recycle old air, into 'clean' air. Air purifiers are different to dehumidifiers which only remove moisture from the air.
Pictures: supplied.