'Cheaper' makes Aussies more cheerful, with almost half of consumers (48%) citing price as their biggest consideration when buying a steam mop. And, in this economy, who can blame them? Fret not, we're here to help.
Best cheap steam mops in 2022
We've put together a guide for the best budget-friendly steam mops on the market in 2022.
1. Kmart 1300W Steam Mop: $49 RRP*
2. Kogan 5-in-1 Steam Mop Stick: $49.99 RRP*
3. Bellini 10-in-1 Steam Mop: $69 RRP*
4. Black & Decker 1600W Steam Mop: $139 RRP*
5. Bissell 23V8F Steam Mop Select: $167 RRP*
1. Kmart 1300W Steam Mop − $49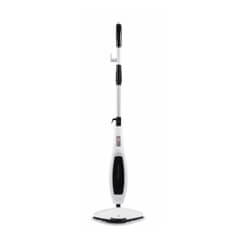 Featuring a 180° swivel head and special triangle steamer head that makes the mop easy to manoeuvre in tight spaces, this Kmart steam mop is more than meets the eye! In the box, you'll find a measuring cup, a carpet glider and a microfibre cloth pad. The carpet glider can be used to clean and sanitise the top layer of the carpet. This nifty steam mop automatically shuts off steam when it's placed upright. It has a 20-second heat-up time and a maximum runtime of 30 minutes. Most online reviews recommend purchasing the additional three cloth pads for $10 for continual cleaning.
---
Read more: Are Kmart steam mops any good?
---
2. Kogan 5-in-1 Steam Mop Stick − $49.99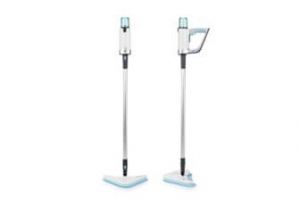 Kogan is the home of budget-friendly steam mops, with a wide range of features and functions designed to make cleaning as easy as possible. This particular model has five different functions: a steam mop to clean hard surfaces, a jet nozzle designed to concentrate steam flow to lift grime with ease, a small round brush to clean tight areas such as taps, mirrors and windows and converts to a handstick for those hard to get to places. It heats up in about 25 seconds, ideal for a quick mop before (or after) you entertain guests! This steam mop can run for up to 25 minutes with a 250ml water tank capacity.
3. Bellini 10-in-1 Steam Mop − $69

Depending on the types of messes and the frequency of clean-ups required in your household, another affordable option is this Bellini 10-in-1 steam mop . It comes with a number of attachments and tools such as a round brush, jet nozzle, and garment steaming tool. The triangle head design is perfect for getting into corners and it runs on steam for up to 20 minutes. The water tank capacity is 300ml and the power cord is 4.7m long, with a quick-release cord wrap which makes it easier to store.
4. Black & Decker 1600W Steam Mop − $139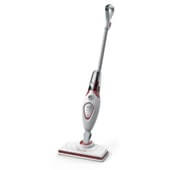 Included with this Black & Decker steam mop is a carpet glider and two standard mop pads. It can heat up in 30 seconds and claims to be safe for all floor surfaces due to its AutoSelect Technology, which assists in quick drying. Easy to manoeuvre in tight spaces thanks to its 180°swivel head and its built-in water filtration system make this steam mop ideal for the home. Online reviews are mostly positive, with the quick heat-up and drying times one of the most popular features. However, the runtime is only about 15 minutes max so if you have a big space that requires mopping then this might not be the best option, unless you're super speedy! As suggested by the name, this steam mop provides up to 1600W of steam power, weighing in at about 2.7kg. Unlike many of the other models, a carpet glider is not included, nor is a water level indicator which may make it more difficult to know when to top up.
5. Bissell 23V8F Steam Mop Select − $179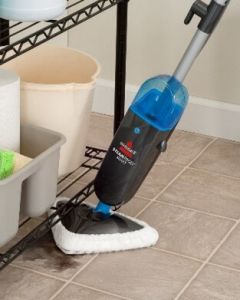 A key feature of this Bissell steam mop is that it has two different types of microfibre mop pads: one for everyday cleaning and a scrubby pad ideal for tougher messes. Both are washable which means that you won't be constantly buying replacements. It has a 5.5m cord which may be adequate for small spaces but for bigger floors an extension cable may be required to avoid constant disconnection and reconnection as you move away from the power outlet. This appliance also does not include a carpet glider.
What's the best type of steam mop?
The type of steam you need will depend on the size of your home, the amount of storage you have to spare and the kinds of messes that need to be cleaned up on a regular basis.
Canister steam mops: On the more expensive end of the spectrum, canister steam mops are cylindrical with a hose and cleaning head attachment. Generally, these mops offer the longest cleaning time (some models even offer up to 2 hours) due to the larger water tank, which makes them ideal for cleaning larger spaces. If storage is non-existent in your household, this may not be such a great option because they tend to be bulky in comparison to other more compact steam mops.
Upright steam mops: Similar to upright vacuums, upright steam mops are compact and are similar in appearance. They work by pumping steam through the mop pad and most models come with various attachments to assist in cleaning those hard-to-reach areas. In terms of price, upright steam mops are cheaper than canister steam mops but more expensive than handheld versions which makes them a nice middle ground.
Handheld steam mops: For tasks like spot cleaning, upholstery, cleaning behind blinds, or other intricate tasks, a handheld steam mop may be the perfect solution. They are small and most models include a handheld attachment, effectively getting two appliances for the price of one.

Are cheap steam mops any good?
Cheap steam mops are worth buying because they come with pretty basic functionality for steaming, including a water tank, a carpet glider, a swivel head, and attachments for upholstery, so paying extra for a premium brand won't necessarily mean you're getting a better appliance or one with more bells and whistles.
In fact, budget brands like Kmart and Kogan have previously topped Canstar Blue's steam mop ratings for overall satisfaction, suggesting Aussies are happy with a cheaper buy that does the job.
A good thing to look out for is the runtime, if you have a bigger space then you don't want to have to stop halfway through, as well as whether or not replacement mop pads are available for purchase.
What makes steam mops different from regular mops?
Steam mops are not only more eco-friendly than regular mops due to the lack of chemicals involved in the cleaning process, but they are safer to use in the home too – particularly for people with allergies, children, and pets. They also require less effort and remove the need to run and back forth between the mopping bucket and the section of the floor you're mopping. Most steam mop models also contain different attachments and features to allow you to clean various surfaces including windows, taps, and upholstery.
*Prices taken from respective retailers, correct as of August 2022.