Cooking can be a time-consuming exercise, particularly when you're trying to get multiple dishes cooked. With everything else going on in life, it can be hard to find time to do a lot of cooking when it could take all day. Having two ovens would make things so much easier, but who has the space for that? That's why double ovens were invented.
Double ovens make it easier to complete different cooking tasks at the same time, saving you time and making it easier to put together a multiple-course meal. Read on to learn more about the pros and cons of double ovens, and what kinds there are to choose from.
What is a double oven?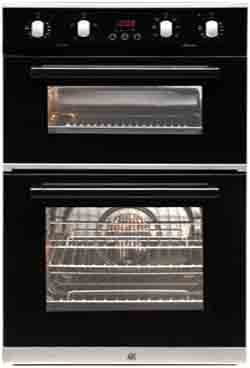 A double oven is just what it sounds like – two separate ovens combined into the one appliance. They're usually designed with one oven on top of the other, but there are some side-by-side double ovens in the high-end range.
Each oven operates completely independently of the other, with its own door and controls. Sometimes one oven is smaller (usually the top one) and sometimes they are both about the same size. Double ovens are usually electric, as opposed to gas powered.
Do I need a double oven?
Double ovens make it possible to cook multiple dishes which require different cooking temperatures at the same time. This can be pretty handy when cooking multiple courses for a meal. When you want multiple dishes ready at certain times, but each needs to be cooked at a different temperature, having just one oven can mean long waits between courses or some dishes left to get cold.
It can also help achieve more even cooking when cooking a lot of food at once. When loading up both racks of an oven, it's sometimes necessary to switch food between racks to get everything cooked evenly and consistently. Splitting it up between two different ovens can help get your food just right without all of the extra fuss.
If you love cooking and use your oven daily, or like to cook a lot for special events and holidays, a double oven may be a great addition to your kitchen. However, if you're only an occasional cook, or can outsource some cooking duties to smaller, cheaper appliances, a double oven may not be the best choice for you.
They're more expensive than a regular oven, so think carefully about whether the investment is worth it for you.
You may also be interested in:
What kinds of double ovens are there?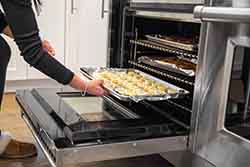 Like with regular ovens, double ovens can be found as build-in wall units or as standard sized stand-alone ovens. These can be configured as either a vertical stack or side-by-side ovens. Your choice between these different types should first and foremost be based on what works best in your kitchen space. As double ovens aren't as popular as single ovens, there are fewer models to choose from.
The most common type of double oven is the build-in stacked unit. Most of the time one of these ovens is smaller than the other, usually the top one. Where one of the ovens is small, it usually has limited features and only one shelf. Models where both ovens are the same size are also available.
Standalone ovens that stand on the floor can be a little bit more affordable, and easier to install in an existing kitchen. However, you may end up having the bottom oven opening very low, especially if it's a vertically stacked unit. Consider how easy it will be for you to put things in and take things out.
Side-by-side types (of both build-in and freestanding ovens) are only found in high-end and professional ranges, as either dual full-sized ovens or a small oven next to a large one.
Do double ovens take up a lot of space?
Most double ovens take up more space than a regular oven. That being said, if you don't have a larger space to put your oven that doesn't necessarily rule out getting a double oven. Some models fall within the same size range as regular ovens. The easiest way to see if you can fit a double oven is measure your space and look at the sizes available in your price range.
Where a double oven is about the same size as a regular oven (or not much bigger), that means your ovens will be smaller. That isn't necessarily a loss. These still bring the benefits of having two independently heated cooking spaces, plus preheat will be faster as there's less oven to heat.
How much do double ovens cost?
Here's a range of prices for common brands of double ovens. Note that these brands were selected only as a price range indication – inclusion on this list does not constitute a particular endorsement for these brands over others.
| Brand | Low End | High End |
| --- | --- | --- |
| Artusi | $848 | $7,999 |
| Westinghouse | $755 | $3,849 |
| Omega | $1,348 | $1,999 |
| Fisher & Paykel | $1,999 | $7,599 |
| Smeg | $2,712 | $13,790 |
| Electrolux | $2,629 | $4,549 |
| live | $2,945 | $3,999 |
Source: Respective brand or retail websites

Below are a few examples of double ovens from popular brands. Again, these selections are only to give you an idea of what kinds of options are available rather than a particular recommendation.
Westinghouse Freestanding Electric Oven/Stove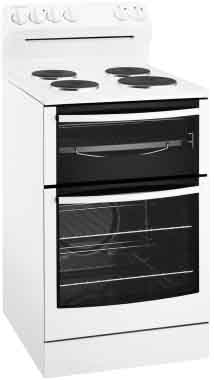 This combination electric oven and cooktop is compact and enamel-coated for easy cleaning. There are no fluffy features to bump up the price tag without necessarily improving your cooking experience, so this may be a good utilitarian choice. The secondary oven is a grill rather than a full second oven, however, so consider what kinds of cooking you need your second oven for before choosing an appliance like this one.
Dimensions (mm): 1150H x 540W x 620D
Main oven: 80L gross capacity,
Secondary oven: grill (no capacity given)
RRP: $999
Smeg Freestanding Dual Fuel Oven/Stove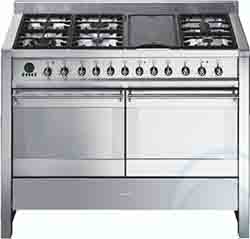 This is a high-end model suited for a larger kitchen with a busy cook. The side-by-side oven orientation with six gas burners plus a grill on the cooktop means you'll need a spacious kitchen to install this appliance. It may be worth it if you really need that extra oven and cooktop capacity. It also comes with extras including a rotisserie assembly, a pizza stone and a pizza shovel.
Dimensions (mm): 1200W x 600D x 915H, plus 55H splashguard
Main oven: 67L net capacity, 9 functions, 4 shelf positions
Secondary oven: 67L net capacity, 6 functions, 4 shelf positions
RRP: $13,790
Omega Electric Wall Oven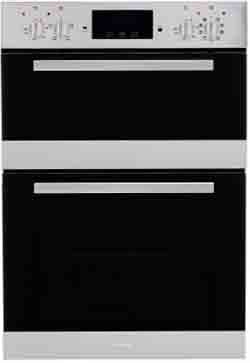 As a mid-range oven, this model packages all of the important features in a sleek modern design made of stainless steel and black glass. The extras are in places where it counts – there's a grill integrated into each oven, and the timer function can set to automatically switch off the oven once time has elapsed. That being said, at this price you should pay close attention to the fine print to see if this model is the best oven for you compared to other models that may include unique features that you'll use.
Dimensions (mm): 886H x 594W x 561D
Main oven: 58L net capacity, 9 functions, 9 shelf positions
Secondary oven: 33L net capacity, 4 functions, 3 shelf positions
RRP: $1,999
How do I choose a double oven?
There are a few things to consider when buying a new oven. You'll need to balance your wants and needs against your budget. These are features to look for in any oven, although you'll need to weigh up the benefit versus the extra cost of choosing a model with more features such as those below:
Size: Double ovens come in all sorts of sizes – check what fits in your kitchen space.
Capacity: This refers to how much space there is inside the oven. Note that gross and net capacity are different, so read carefully. The net capacity describes the actual usable capacity of the oven.
Fan forced or 'convection': A convection oven, also known as a fan forced oven, uses a fan to push air around the oven. This cooks food faster.
Self-cleaning: A pyrolytic oven can use extremely high temperatures to turn any mess inside into ash, which can then be easily wiped out once it's cooled.
Delayed bake: Some ovens have timers that can be used to delay the start of cooking, so that you can use your oven like a slow cooker.
Warm & hold: Another timer-based function, this feature automatically switches the oven to a very low temperature to keep food warm after it's finished cooking.
Door lock-out: Safety features that make it difficult for little ones to get into the oven can give you peace of mind.
Of course, the most important question of all is whether you need a double oven at all. While they can be very handy, it may be more cost-effective to buy a smaller appliance to supplement your cooking capacity. Ovens are expensive to buy and install, and aren't as energy-efficient as many smaller appliances that can do the same job. On the other hand, cluttering up the kitchen with more appliances may not be ideal in the long term.
There are so many different options to improve your cooking experience, we suggest doing your research and looking at a wide range of products to find the best solution for your budget and lifestyle.