Split system features to consider
Filters and dehumidifiers
If you live with someone who suffers from asthma, then purchasing an air conditioner with dust and allergen filters will do wonders for their quality of life at home. It shouldn't be too difficult to find one regardless of your price range – air filters and similar features are rather standard these days. Additionally, you can purchase models with dehumidifying technology, perfect for houses in the tropics.
Air conditioner timers
Want your unit to turn off after you've gone to sleep? Easy! Need your house crisp and cool upon your return from work? Ask and it shall be done. Some split system models even have smartphone app access, so you can switch them on and off remotely – perfect for the days when you forget to turn the air con off the old fashioned way.
Check energy ratings
While you can of course use our website to compare air conditioner brands, models and features, it's also in your best interest to track down your preferred unit on the government's Energy Ratings website to see what energy star rating your model achieved for both cooling and heating. This website also has a calculator to determine the running costs of your chosen air conditioner over time. It's not the initial outlay that costs you, it's the ongoing costs of your air conditioner that could come back to haunt you! And as we mentioned, an inefficient unit can end up chewing through a whole lot of energy, so it's worth finding one with a decent efficiency rating.
Do you require heating, too?
If the answer is yes, that's where reverse cycle air conditioner units come in – they heat and cool. If you live in a cooler climate, or just find yourself getting unpleasantly cold in winter, keep this in mind. A reverse cycle unit will generally be more expensive to buy, so it depends on how badly you want to stay warm in the winter months.
Customer ratings
After you've figured out the answers to the previous questions, you should head over to our customer satisfaction ratings page to take a look at which brands have scored best on value for money (e.g. running costs, price to purchase), energy efficiency and reliability etc. These ratings are based on real experiences from real Australians who have recently purchased a brand new air conditioner, so it's a great yardstick to help guide your purchase.
What are inverter split system air conditioners?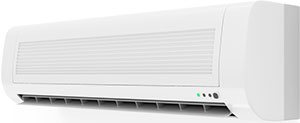 These types of split system units are widely regarded as the best, because they modulate the temperature of a room instead of simply turning off the air conditioner every half an hour or so because the room's getting too cold. Inverter air conditioners are typically better at maintaining a steady temperature and use less energy, but they tend to cost more to purchase. Consider whether you're willing to stump up more money initially, to then reap the long-term benefits of lower energy bills. Air conditioning can chew through a serious amount of electricity, so make any savings you can!
The pros and cons of split system air conditioners
If you've read this review and declared: "Awesome, I'm going to go out and buy a split system air conditioner now," then that's great, but first consider some of the drawbacks when it comes to split system air conditioning.
The positives are obvious. If you're in dire need of efficient cooling, a split system is a viable, fuss-free way to do so. You likely do not need to renovate your home or knock down anything to install a split system. They are more powerful than portable air conditioners, without a significantly higher cash outlay. Furthermore, they're quieter; this is because the condenser is separate from the unit inside. They can also work in larger rooms, some can heat as well. Most can also dehumidify the air. All these features are incredibly handy when the weather isn't friendly.
On the other hand, there are a couple of major drawbacks when it comes to split systems. Compared to the window air conditioner types, split systems can be more expensive to purchase. Additionally, many split system units are not merely 'plug and play'; rather they require installation by a licensed technician. This can add to waiting times and drive up the overall costs of your unit. In this case, decide on installing a split system in spring before the grips of summer get you hot and bothered.
Another drawback is the fact they are not suitable for all homes or rooms. If you live in an open plan house or multistorey apartment, you may find it difficult to find an optimal position for the split system; this also lends to the fact that split systems work best in rooms, rather than open spaces. Split system air conditioners are a great investment, but not without their drawbacks. So, let's review the main pros and cons here:
| Pros | Cons |
| --- | --- |
| Efficient cooling and heating | Not ideal for open plan homes or multistorey apartments |
| Quiet operation | Outside condenser can still be noisy |
| Minimal interference to home when installing | No DIY installation, technician wait times and costs add to overall price |
| Units often cheaper than ducting | Often more expensive than window units |
| Cheaper to run than ducted systems | A strained or inefficient split system can still be expensive to run |
Is a split system air conditioner right for me?
If you have come this far, and have decided on the fate of your split system purchase, then bravo; our buyer's guide has worked! There are many things to consider when buying a split system air conditioner. Initial upfront and installation costs are likely the first concern on your agenda, and unit location as well as running costs is likely to shortly follow. It's also important when considering the purchase to consider other types of air conditioning as well. Could they do the job, too? Overall, the concept of buying a split system air conditioner can be a burden, but one thing's for sure; consider installing one before summer to minimise stress! Stay frosty!