Fact Checked
From getting rid of allergens and bacteria, to reducing the need to iron wrinkles in clothing, a variety of washing machines are now equipped with steam functions to optimise your cleaning experience. Learn all you need to know about steam washing machines with this Canstar Blue guide.
What is a steam washing machine?
Steam washing machine programs employ a combination of water and steam to clean your clothes. They operate at higher temperatures, breaking down stains more effectively than most other washing cycles. The function can be effective in reducing wrinkles, with some brands claiming that you won't need to iron your garments after unloading. Steam functions are also great at killing any germs and bacteria that may be present in both your garments or the actual machine.
Who sells steam washing machines?
Steam cycles are becoming popular functions offered by most prominent brands, including Samsung, LG, Haier, Miele, and Beko.
Samsung steam washing machines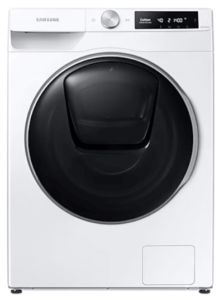 Samsung's washing machine steam program is focussed on removing germs and bacteria. The cycle is said to reduce up to 99.9% of certain bacteria such as E. coli and Staphylococcus. Models with this feature are available in several mid-size and large front loaders from the brand's AddWash and BubbleWash collections, among others.
The Samsung AddWash Smart Washer Dryer is equipped with a handy steam program. This machine features an intelligent cycle that personalises your washing experience by remembering your habits, a quick 15-minute wash cycle, and a bubble wash program for more efficient cleaning. This washer dryer will likely cost you around $1,250.
LG steam washing machines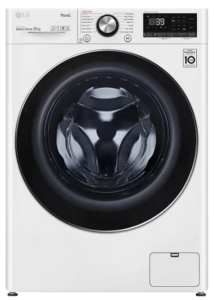 LG offer a variety of steam washing machines, many of which are in the TwinWash and front loader ranges. LG's steam washing function commonly works in tandem with an allergy care feature. This is said to effectively clean clothing and bedding that may contain potential triggers for people sensitive to allergens, such as dust mites, bacteria, and pollen.
The LG Series 9 Front Load Washing Machine is equipped with a Steam+ function to open up garment fibres and clean thoroughly. This machine also features intelligent clothing care with AI technology, a turbo clean cycle to wash your clothes in just 39 minutes, and a durable tempered glass door. This model is commonly priced at around $1,500.
Haier steam washing machines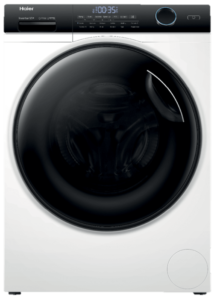 The Steam Plus program in Haier washing machines is designed to combat common household bacteria and allergens. This steam function can be run in conjunction with multiple wash settings including cotton, eco, towels, allergy, and baby care. Setting the machines' temperature to 90°C is said to deliver the best cleaning results, but remember not all garments can be washed at high temperatures.
The Haier Front Loader Washing Machine features a steam refresh cycle that deodorises garments and reduces wrinkles. This washing machine is also equipped with Wi-Fi compatibility, an express 15-minute cycle, and an anti-bacterial treatment in the gasket to ensure hygienic washing. This model will set you back around $850.
Miele steam washing machines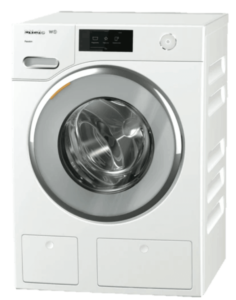 For Miele, steaming is all about taking care of the ironing too, with the Miele SteamCare function said to reduce the need for ironing by up to 50%, with some fabrics requiring no ironing after being unloaded. Handily, the Steam Smoothing program will wash and smooth your clothing all in one go.
The Miele WWV 980 Washing Machine is equipped with a SteamCare setting, eliminating much of the need to iron. This machine also features a quiet and economic motor, LED drum lighting, and a selection of 28 wash programs for optimal garment care. This model will likely cost you around $5,400.
Beko steam washing machines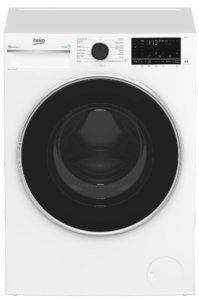 For most Beko models, steam is used as part of the Drum Clean Function to help with the maintenance of the washing machine or washer-dryer combo. This feature is said to deep clean the drum hygienically with steam and ensure there is no residue left behind.
The Beko SteamCure and Bluetooth Washing Machine is designed to deliver gentle and thorough steam cleaning to all garments. This machine is also equipped with a quick 14-minute program, a durable and efficient inverter motor, a child lock, space saving design, and Bluetooth connectivity. This model will set you back around $800.
How much does a steam washing machine cost?
The price of a steam washing machine depends heavily on design, size, brand, and other additional features. Cheaper washing machines with this feature will cost you around $700, while more expensive models may cost in excess of $6,000.
Steam Washing Machines
Steam washing machines are great appliances to have if you're serious about reducing household allergens, removing unwanted odours, creating fewer wrinkles, and having a cleaner drum. Washing machines with a steam feature will generally cost you around $200 more than a regular machine, so for some it may not be worth the extra fee. If you're still in a market for a new washing machine, but the steam function hasn't caught your fancy, a regular front load model might be a better match. To help you decide which appliance is best for you and your home, check out some of Canstar Blue's best-rated front load washing machines.
Front Load Washing Machine Reviews
Original Author: Tahnee-Jae Lopez-Vito