Long hair can be troublesome when vacuuming. Whether they're from humans or pets, long strands of hair get caught in the vacuum and can clog the machine. To save you the trouble, we've collated a list of vacuums designed to handle long strands and take away the worry about untangling hair from brushes and pulling out hairballs that clog up the machines.
The Hairy Problem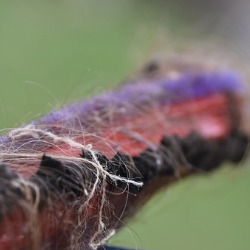 The issue with many standard vacuum cleaners is that they aren't equipped to handle long strands of hair that tend to clump up and cause blockages. Modern high spinning brushes on vacuums – while highly effective – when in contact with long hair can get caught and wrap around the bristles. The length is what keeps it wrapping around the brush to the point its wound tightly, making it difficult to remove.
Apart from the hair getting tangled, it's also a major problem for clogging up your vacuum. When hair clumps up in the machine's hose, it can also reduce suction power. Vacuums with stronger airflow and suction power tend to deal with this better as they can pull the clumped hair straight through to the dust bin or bag.
Solutions
The two main areas that you want a vacuum to cover are:
Keeping hair from getting tangled in the vacuum cleaner brush roll
Keeping hair from clogging the air flow through the vacuum's hose
When buying a vacuum cleaner, you might like to try looking for a vacuum with the likes of tangle-free technology, which stops the brush bar from getting clogged up by hair. While self-cleaning brushes are not as common, you might also keep these in mind.
Other ways to avoid the two main problems is to check the brush regularly for any tangles, including before and after you vacuum. If you see hair tangled around a brush head, a pair of scissors will let you immediately cut the hair out, while shorter hair might be able to be pulled out. If you find there is a loss in suction, you can check the dust bins, hose or suction inlet for any clogs:
Ensure the vacuum it turned off and unplugged
Discard all the contents of the dust bin or bag
Check the entry and exit points going in and out the dirt bin to see if there are any clogs
Check the hose for blockages by detaching the hose and looking through the hose
If there's a blockage, use a blunt, narrow object such as a broom or crevice tool, to clean out the hose (hangers are not recommended as these might damage the hose)
Re-attach the hose
Features to look for in a vacuum cleaner for long hair
Suction power: it's important to look for a high suction power vacuum. This is because it lets you pull away long strands of hair through the airways, while low suction power vacuums might struggle picking up hair as well as get it get stuck along the hose.
Motorised brush rollers: gives extra power to pull out strands of hair from the carpet. Typically motorised brush tools have an on/off switch, which allows you to turn it off when vacuuming bare and delicate floors like wood planks as high speed brushes can scrape and even damage surfaces. Look for a vacuum that comes with a carpet tool or a multi-floor tool.
Accessories: for long hair, human or pet, a vacuum with a pet hair tool is convenient as it's designed to pick up hair that's stuck on surfaces including fabric. In addition, an upholstery tool can help clean upholstery such as sofas and curtains.
Transparent dust bins: allows you to see-through dirt bins and identify any clogs immediately.
Large hose opening: a wider hose with a diameter of 4 to 5cm can help reduce the risk of getting hair clogged along the way.
Easy access hose: generally a vacuum loses suction power when either the dirt bin or hose is blocked. If the vacuum has easy access and easy ability to detach vacuum parts, it will allow you to pull out anything clogging the vacuum.
Easy access brush: generally modern vacuums allow easy access to the rotating brush, which you simply detach from the cleaning head and remove any tangled hair by using scissors.
Where can I buy a vacuum to tackle long hair?
Dyson 214890-01Cinetic Big Ball Multi Floor Barrel Vacuum Cleaner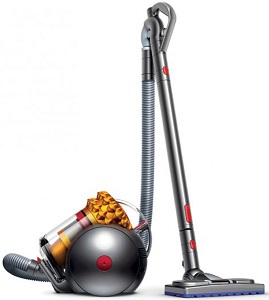 Dyson is well-known for providing numerous solutions for everyday cleaning tasks. Its Cinetic Big Ball vacuum features a dirt extraction system that removes the need to replace the filter. The cyclonic action in the main vacuum chamber is said to keep the filter clean and place dirt and debris into the removable debris bin. The included Musclehead floor tool is designed to automatically adjust to all floor types, so that you can go from carpet to tiled floor instantly.
Suction and cleaning ability is essential and this unit produces a whopping 250AW of suction power whereas standard vacuums produce between 100 and 150. Higher suction power helps provide optimal air flow and eliminate clogs that interfere with the vacuum's performance. The ball design also makes it easy to turn and manoeuvre the vacuum around the area. Additional tools include a stair tool and a combination tool. It weighs 7.7kg and comes with a 6.6m cord length. The downfall is the high price; however, expect a two year warranty for peace of mind.
Dyson Tangle-Free Turbine Tool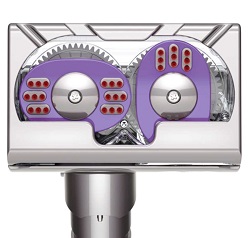 A separate accessory that can be bought, which is specifically designed for hair, is the Dyson Tangle-Free Turbine tool. It uses two counter-rotating wheels instead of a spinning brush and is stated to catch long hair, both human and pet, spin it around and loosen it without getting it tangled. It's articulating base plate is also claimed to ensure that the brushes remain in constant contact with the surface.
The additional cleaning head is only compatible with Dyson vacuums but if you already own a Dyson, you can make use of this tool.
Bissell 1941F Pet Hair Eraser Vacuum

Slightly more budget friendly but still sitting high on the price scale is the Bissell Pet Hair Eraser vacuum. It's designed for pet owners but also performs for human hair, being boasted to pick up long hair and fur with multi-surface cleaning. Bissell Pet Hair Eraser's tangle-free brush is equipped with divided bristles, so that the brush can pick up longer strands of hair and reduce hair wrap around the brush roll.
In addition, you'll find three specialised pet tools that work on human hair as well, including a pet 'TurboEraser' tool to remove embedded hair, LED lighted crevice tool to uncover dirt in hidden areas and cyclonic pet hair spooling system that's stated to spool and trap hair for a hands free empty. Bissell's Smartseal allergen system further helps trap dust and allergens inside the vacuum. It produces 1000W of motor power; however, this differs to the 250AW of suction power boasted by Dyson. The total weight of the Bissell vacuum is 8.21kg and it comes with a 9m cord length. Similarly to the Dyson model, you'll find a two year warranty on the Bissell vacuum.
Electrolux ZUF4305AF UltraFlex 1600W Barrel Vacuum Cleaner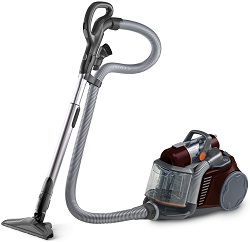 The Electrolux 1600W vacuum is boasted to offer powerful suction, outstanding filtration and ease of use. Its sealed filtration system and HEPA filter are claimed to allow the vacuum to capture up to 99.99% of dust particles. The twin inlet channels "optimise" airflow and suction while the turbo cyclone spins air at a whopping 140km/hr to help separate the dust.
Additional tools include a turbo nozzle, hard floor nozzle, AeroPro 3 in 1, hose clip, Flex Pro nozzle, AeroPro Telescopic and an AeroPro Ergo. The design allows you to leave the vacuum in a horizontal or vertical parking position. It features a multi-directional front wheel and large soft rear wheels for easy movability as well as an LED display with five speed controls. Its total weight is 5.3kg, plus it's equipped with an auto cord rewind for a 12-metre cord.
Bosch BCH6255NAU Athlet Handstick Vacuum Cleaner

For a handstick vacuum option, the Bosch Athlet model is one to consider. It features a SmartSensor system that's stated to continuously monitor the airflow throughout the vacuum to ensure optimal suction performance. If its filters start to become clogged Bosch states the SmartSensor responds by either initiating an automatic self-cleaning process or by indicating with a red light that the filter needs cleaning manually.
The motorised 'All-Floor High-Power' Brush is boasted to achieve thorough cleaning results on all floor types such as parquet, carpet and tiles. The roller brush is stated to be easily removed from the floor nozzle for cleaning. Its grooves also allow you to cut away any tangled hair with scissors and leave the vacuum to suck them up without having to pick them out by hand. Additional accessories include an adaptor with an integrated variable power switch, shoulder strap and suction hose that can be used with the included nozzles. The Bosch model weighs 3.3kg and produces 2400W of motor power. It also comes with a two year warranty.
Which vacuum should I buy?
Tangled long hair can add an extra task to the vacuuming process. The way many vacuum brush tools are designed allows for easy tangling of hair along the brush, even specifically designed pet vacuums might struggle with long strands. However, there are vacuum brands that claim to offer a solution. Look out for models with cyclonic systems and anti-tangle technology that incorporate specific brush designs and high suction power to help make a difference in the way the vacuum responds to long hair.
We hope our guide has provided some vacuum options to consider for your next purchase. For a comparison of vacuum brands, our Canstar Blue vacuum ratings can be found via the link below.
Vacuum Cleaner Reviews & Ratings
Original Author: Veronika Hleborodova