Fact Checked
Heading to buy a new washing machine can be a tough task if you're not certain of what you're looking for. There's plenty to choose from when it comes to washing machines, and so we've put together this Canstar Blue guide to help you get started on your washing machine buying journey. 
Types of washing machines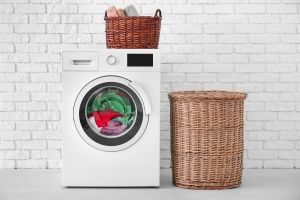 There are two types of washing machines each with their own features and capabilities. 
Front Loader: front loader washing machines, like the name suggests, have the door on the front of the appliance. They work by tumbling your clothes by dropping them into the soapy water repeatedly utilising gravity and using less water.
Top loader: top loader washing machines have the door on the top of the appliance and use an agitator in the centre to brush up against the clothes to remove dirt. Top loaders are a slightly less expensive option, however arguably less popular than a top loader.      
Washing machine features
As technology advances, appliances like washing machines are designed with more and more features. There are a number of features that should be the bare requirements for washing machines, however there are a few more features to keep an eye out for, including:  
Variable time/delay start:

The variable timer setting allows you to control the duration of the washing cycle, as well as set a delayed start time. This can be useful for taking advantage of off-peak electricity rates if you have them.  
Temperature control:

The water temperature control is useful as it allows you to tailor wash cycles to different fabrics that can require either the delicate wash provided by cold water or the vigorous cleaning provided by hot water.  
Washing modes:

Having multiple wash modes can be useful to suit different clothing. Examples include dedicated cycles for bed sheets, dark or light clothes, delicate fabrics, heavily soiled articles and many more, all of which vary greatly based on the manufacturer and the price of the machine.
Smart controls:

New control methods include touchscreen interfaces that allow for increased customisation – a big improvement over standard mechanical controls of the past. Many smart washing machines also now allow the user to control the unit remotely via a compatible smartphone. 
Drive type:

Modern washing machines typically drive their rotating drum in one of two ways – directly via an attached motor, or indirectly using a belt that connects the motor to the drum. A direct drive system has fewer moving parts and is, therefore, less prone to failure and noise, and also has greater control of the drum which allows for quick adjustments and different cycle options.

 

 
How much do washing machines cost?
Washing machines can cost from $300 to $6,000 with front loaders being more expensive than top loaders. Front loaders will cost from $1,000 to the $6,000 mark, whereas top loaders will generally only reach a top end price of around $1,500. 
Who sells washing machines?
There are plenty of brands that sell washing machines such as Fisher & Paykel, Bosch, Miele and Samsung. You can buy a washing machine directly from the brand or from retailers like Appliances Online, Harvey Norman and The Good Guys.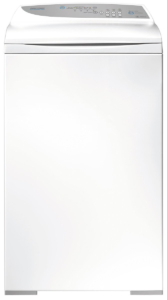 Fisher & Paykel Washing Machine
Fisher & Paykel has a number of top loader washing machines available, ranging in price from $700 to around $1,300. Features include an eco-active wash mode with water saving capabilities, smart drive technology and a broad choice for programs with 12 wash programs. Many Fisher & Paykel top load washing machines have a four-star energy rating or above, making them a relatively efficient appliance.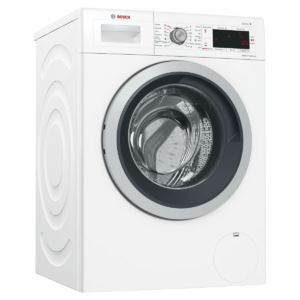 Bosch Washing Machine
Bosch is known for its quality appliances and its washing machines are no different. With front loaders retailing from $800 to $2,000 there's plenty of choice as far as price goes. Features include eco silence drive for a near quiet performance, home connect via an application so you can start your laundry load from wherever and 14 wash programs. Bosch is also known for its energy efficiency, with most models rating five-stars or higher for energy efficiency.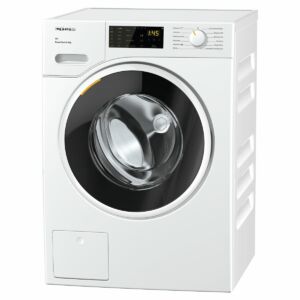 Miele Washing Machine
Miele's front load washing machines start to head up the higher end of the price scale retailing from $1,500 to upwards of $5,000. Features to note include cap dosing functionality for precise detergent dispensing, a honeycomb design drum to minimise damage to garments and steaming capabilities to smooth your clothing at the end of a wash cycle. As far as efficiency goes, Miele front loaders sit up there with 4.5 star ratings for some models, making them an ideal choice for a more positive impact on the environment and your energy bill.  
Samsung Washing Machines
Samsung offers a number of top loader washing machines ranging in price from $800 to $1,300. Features include smart diagnostics for up to date maintenance and error messaging for your machine, magic filter to keep clothes clean of lint and vibration reduction technology that helps reduce noise and vibration. Many models are fairly efficient with star ratings of four and above meaning your bill won't be giving you too much of a headache. 
Factors to consider when buying a washing machine
When it comes down to purchase time, you want to make sure that you're choosing the right washing machine for your needs. Some factors to consider for purchase are: 
Price:

More expensive washing machines have higher upfront costs, but are usually better quality (so they won't incur as many maintenance costs) and are more efficient (so will save money on water, energy and detergent). In general terms, you can expect to pay anywhere from $500-$6,000 for a new washing machine.
Space:

If you live in a small home or apartment with limited laundry space, then size is probably going to be one of your main considerations. Front loaders are generally more compact than top loaders, and their smaller front-mounted doors make them easier to access in a confined space. Another determining factor is how much laundry you actually do. If you're in a household of one or two people, then a smaller washing machine – with a 4-7kg capacity – may be the most suitable, whereas larger households and families are likely to need a larger model with a capacity upwards of 8kg.

Type:

the bottom line is, however, that neither one is significantly better than the other – it truly depends on your individual requirements and preference. The main difference is that a front loader has a horizontally mounted drum which allows gravity to move the laundry around, whilst the drum of a top loader is mounted vertically and uses a centrally mounted 'agitator' pole to move the clothes.
Purchasing a washing machine
Now that you have all the facts, you may be well on your way to buying a new washing machine. Before you dive in, remember to keep all features and other buying factors in mind to help guide you in the right direction. If you're still uncertain about which washing machine to buy, compare brands below. 
Compare Front Loader Washing Machines
Original Author: Tahnee-Jae Lopez-Vito