It seems the best place in the house to get hot and steamy is the laundry room, according to some major appliance brands like Samsung, LG and Miele. From getting rid of allergens and bacteria, to reducing the need to iron wrinkles in clothes, a variety of washing machines now offer a steam function to smooth out a few of the stinky problems. Read on see what type of steam washing machines different brands are unloading.
Washing Machines with Steam
The steam program on a washing machine is designed to help ease the load. This is apparently largely thanks to the higher temperature at which the program usually operates, allowing the cycle option to break down stains more effectively than many other washing cycles. These brands currently offer the steam function:
Samsung
LG
Fisher & Paykel
Miele
Beko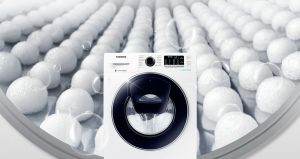 Samsung washing machines with steam
Need to deal with the aftermath of a bad case of food poisoning? When running particular wash cycles on some Samsung washing machines, those with the Steam Cycles feature can apparently reduce up to 99.9% of certain bacteria such as E. coli and Staphylococcus. This is available in several mid-size and large front loaders from the brand's AddWash and BubbleWash collections, with capacities ranging between 7.5kg and 9.5kg.
Some Samsung washing machines with a steam function include:
Samsung 7.5kg AddWash Front Load Washing Machine with Steam
Samsung 7.5kg BubbleWash Front Load Washing Machine with Steam
Samsung 8.5kg AddWash Front Load Washing Machine with Steam
Samsung 8.5kg Bubble Wash Front Load Washing Machine with Steam
Samsung 9.5kg AddWash Front Load Washing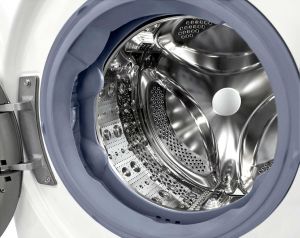 LG washing machines with steam
If you suffer from allergies, LG states its Allergy Care technology has been accepted by the National Asthma Council Australia's Sensitive Choice Program. According to the brand, this feature has been proven to reduce common household allergens by up to 99% by maintaining a consistent level of temperature of up to 60℃ for 10 minutes. The combination of the Allergy Care cycle and the Steam function is apparently designed to clean clothing and bedding that msy contain potential triggers for people sensitive to allergens, such as dust mites, bacteria and pollen.
The steam washers currently available from LG include models in the LG's TwinWash range, and some of the brand's own selection of front loaders.
Another neat feature in some LG washing machines is 'AI DD', an Artificial Intelligence technology thst can supposedly control wash motions through the Direct Drive Motor. This allows the appliance to select what it considers the "best option for a thorough clean with reduced clothing wear" by looking at 'load characteristics' such as weight and fabric softness. Although AI DD only works on the Cotton, Cotton Eco and Mixed Fabric cycles.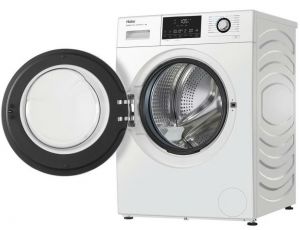 Haier washing machines with steam
Similar to Samsung, the Steam Plus program in Haier washing machines is designed to "inactivate common household bacteria and allergens". This feature can be run by selecting 'steam mode' and the 90℃ wash temperature whenever using the Cotton, Eco, Towels, Allergy or Baby Care wash programs. But the brand warns that washing items at 90℃ might put your clothes at risk of damage. It's advised that you only use the steam feature when washing "durable fabrics" and make sure to check the recommendations on care labels.
Haier washing machines with a steam function include the Haier 12kg Front Load Washer HWF12D1W1.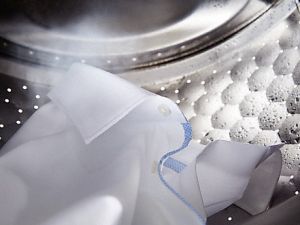 Miele washing machines with steam
For Miele, steaming is all about smoothing out the trouble with any post-wash wrinkles in your laundry. The Miele SteamCare functionality is promised to reduce the need for ironing by apparently up to 50%, claiming some fabrics won't even require ironing at all after being unloaded from the machine. This is partly thanks to the "Steam smoothing" program designed to supposedly "wash and smooth your clothing in one process".
Some Miele washing machines with a steam function include:
Miele 9kg Washing Machine WWV 980 WPS
Miele 9kg Washing Machine WCR 890 WPS

Beko washing machines with steam
For Beko, steam is used as part of the Drum Clean Function to help with the maintenance of the washing machine or washer-dryer combo. This feature is said to deep clean the drum hygienically with steam and make sure there are no residues left behind. Other programs that supposedly make the most of the drum used in Beko's washing machines include the Auto Anti-Creasing function, which is described to separate laundry and keep items wrinkle-free, as well as the Refresh option apparently designed to remove unwanted odours through the "gentle drum action".
Some Beko washing machines with a steam function include:
Beko 7.5kg Front Loading Washing Machine
Beko 8.5kg Front Loading Washing Machine
Beko 10kg Front Loading Washing Machine with Autodose
Beko 10kg Front Loading Washing Machine
Are steam washing machines worth the money?
So, should you get a steam washer or stick to a regular old washing machine? There are a few benefits when it comes to using a steam washer, according to appliance manufacturers. These include reducing household allergens, removing unwanted odours, fewer wrinkles and a cleaner drum. When it comes to cost, it's definitely worth shopping around – especially as the steam function becomes a more common feature. A 7.5kg front loader from Samsung's BubbleWash or AddWash collections can retail between $699 and $849, while models from Esatto, Simpson or Electrolux with the same capacity can similarly sell from $749 up to $849.
Front Load Washing Machine Reviews
Picture credits: Pixel-Shot/Shutterstock.com