As wine lovers and wine collectors may know, how you store your wine can mean the difference between enjoying a glass and tipping it down the drain. While most of us are guilty of simply chucking a bottle of white wine in the fridge, you may be ruining your wine, and your likelihood of a good night.
Wine fridges, otherwise known as wine cabinets, aren't exactly a common household appliance, but may be well worth the investment, particularly for those looking to start their wine collection. Despite not being an essential appliance, wine cabinets are readily available from a variety of brands and local retailers, giving consumers plenty of options to choose from. Read on to find out which brands may be the best suit for you, and your wine preferences.
The Wine Fridge Difference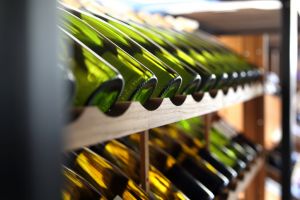 If you're not a wine connoisseur, you can be forgiven for thinking that storing wine in a regular kitchen fridge is fine. For the experts however, this is a cardinal sin, as the household fridge doesn't provide the ideal conditions for wine to properly mature and settle. There are a number of areas in which a wine fridge differentiates itself from your regular kitchen fridge:
Temperature and humidity control
Better storage
Vibration control
The kitchen fridge is made to keep a variety of foods fresh and ready to be eaten, and as a result, regularly circulates cooled air throughout the unit, as well as sucking out any moisture. As the fridge is a hive of activity within any household, the fridge doors are constantly opened, meaning that cold air escapes, and the temperature within the fridge itself changes.
This presents two problems for wine, as wine not only needs to be kept in a constant temperature (something not achievable if the fridge door is constantly opened), as well as at a certain humidity. Humidity ensures that the wine properly matures and ferments, as well as ensures that the cork is kept moist and intact.
Wine also has to be stored on its side to properly assist sediments to settle, which allows for a better consistency and taste. Most of us will be guilty of simply shoving wine in any space we can find, as well as in the door of the fridge, which could impact your enjoyment levels the next time you crack open a bottle.
Vibration is also an issue when it comes to storing wine, as vibration interferes with the wines maturing phase, impacting on the taste and texture. With the amount of mechanics employed in the traditional fridge design, there is too much vibration for wine to properly settle, whereas a good wine fridge will be specifically designed to absorb vibrations.
An additional area that wine fridges differentiate themselves is through their single and dual zone technology. Single zone models allow users to store one type of wine in a set temperature and humidity, while a dual zone model allows both red and white wines to be stored within the same unit, with certain sections cooled for each wine type. For instance, you might keep the top part kept for your white wines, which can be kept at a lower temperature, while simultaneously keeping your reds on the lower shelves at a slightly higher temperature to ensure they keep their taste.
While it might all seem like a lot of effort to go to for a bottle of wine, if it means the difference between an average glass of wine and an exceptional glass of wine, it may be worth checking out.
Top Wine Fridges
Delonghi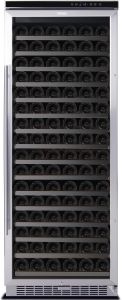 Offering a variety of models, Italian manufacturer Delonghi has enough options for those who are serious about their wine, or for those who occasionally enjoy a glass. With the cheapest option still carrying a price tag of over $1000, Delonghi's wine cabinets aren't for the faint hearted, but may be worth the money with its features.
With single and dual zone models available, Delonghi models also include a LCD display, reversible door hinges and triple tinted glazed doors. Delonghi also provides its models with adjustable levelling legs, vibration absorption pads to keep your wine collection from spoiling, as well as an active carbon filter for proper environment control.
Delonghi's largest model is capable of storing 155 bottles, with an additional display shelf also available for purchase
Delonghi products all come with a 3 year warranty
Dometic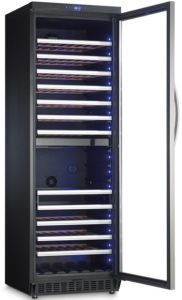 With a range capable of storing between 16 and 198 bottles, Dometic has a model for every household. Dometic's Macave range will keep your wine safely stored and chilled, with the Swedish manufacturer a trusted brand when it comes to climate and hygiene control.
Dometic's top of the line model comes with a solid door for aesthetics, a touch pad digital display to set the temperature and humidity settings, as well as a temperature compensation mode for winter operation. Additional features include LED interior lighting and an active carbon filtration system.
Dometic's other models generally come with a UV protected glass door, with compressor technology to ensure consistent cooling throughout the unit, as well as boasts a high energy efficiency. With a choice between single and dual zone models, Dometic has all your wine storage needs covered.
Additional shelves and displays can also be purchased if you're looking to show off your wine collection
Husky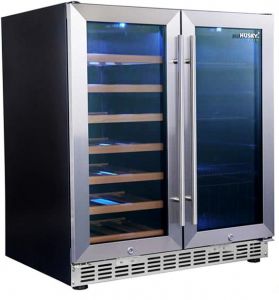 Offering a wide variety of refrigeration appliances, Husky has diversified into the wine fridge market to help keep your drinks cold, regardless of your drink of choice. Models are available in both black and stainless steel finishes, allowing households to find a perfect fit for their kitchen aesthetic.
Husky wine fridges come with features such as security measures, LED internal lighting with UV protection, as well as an anti-vibration system with shock resistant shelving and adjustable feet to help minimise vibration throughout the unit. The shelves can also be removed or moved to allow easier access, with models coming in 44L or 154L capacities.
Husky offers a wine fridge and drinks chiller in one unit, allowing all your drinks to be kept at the correct temperature, perfect for those entertaining evenings
Husky models also come with a 3 year warranty
Lemair
While not the most expansive range on the market, Lemair offers a variety of models for households to store their wines. Capable of storing between 40 to 87 bottles, Lemair may not be the best option for those with a vast collection, but may be suitable for the average household.
The top model is available with dual zone storage capabilities, as well as an internal touch control display for optimal temperature control and settings. Other features include a reversible door for easy access, auto defrosting for easy cleaning, as well as a vibration free compressor to ensure your wine stays safe.
Lemair's other models include features such as a mechanical control thermostat, recessed handles for easy carrying and moving, as well as levelling legs to ensure the unit remains steady on uneven floors.
Lemair products come with a 2 year warranty
Liebherr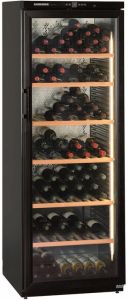 Offering one of the largest ranges of wine cabinets on the market, Liebherr would suit both the average household as well as the connoisseur, with options available for both red and white wine drinkers.
For those after similar conditions to a wine cellar (without the actual cellar), Liebherr offers its GrandCru and Vinothek ranges, both of which have a variety of models to choose from. The Vinothek range can hold between 66 and 200 bottles, whereas the GrandCru models have enough space for over 300. Both ranges come with features such as a child lock, door alarm, reversible door hinges as well as a controllable temperature range to ensure that your wine is kept in its optimal environment.
Liebherr also offers multi-temperature models, which utilise the dual zone cooling system to ensure both reds and whites are kept at their correct temperatures and humidity. This feature is prominent within the Vinidor range, although Liebherr also offers the feature in select Vinothek models. The Vinidor range includes features such as soft closing doors, controllable temperature as well as a charcoal filter to ensure your wine is kept safe, clean and ready for use.

Vintec

A company made around the wine industry, Vintec offers consumers an extensive range of models, from smaller 20 bottle models all the way up to 170 bottle models, perfect for households regardless of how big your collection may be.
The majority of Vintec's models will include features such as humidity control, single or dual zone temperature control, as well as LED lighting and an electronic temperature display. Depending on the model, Vintec also offers features such as adjustable feet as well as different finishes for those aesthetically-conscious.
Vintec also offers its Showcase range, for those set on impressing house guests. With 170 to 250 bottle capacities, the Showcase range is certainly for the collector, with humidity controls, dual zone and crystal-white LED lighting ensuring you get the most out of your potential centre piece.
Vintec products come with a 2 year warranty
Is a Wine Fridge worth the money?
While a wine fridge may not be worthwhile for some of us, for those who like to collect (or just like to entertain), a wine fridge may be a worthwhile investment. Wine fridges offer many benefits that allow wine to be continuously enjoyed, regardless of the time of year or how full your kitchen fridge may be.
However, there are still plenty of options on the market available, meaning that if you're interested in purchasing one, it's best to do your research before you pick one up, as the capacity, energy efficiency and features will all impact your final decision.