Fact Checked
As wine lovers and wine collectors may know, how you store your wine can mean the difference between enjoying a glass and tipping it down the drain. While most of us are guilty of simply chucking a bottle of white wine in the fridge, you may be ruining it, and your likelihood of a good night.
Wine fridges, otherwise known as wine cabinets, aren't exactly a common household appliance, but may be well worth the investment, particularly for those looking to start their wine collection. Despite not being an essential appliance, wine cabinets are readily available from a variety of brands and local retailers, giving consumers plenty of options to choose from. Read on to find out which brands may be the best suit for you, and your wine preferences.
What is a wine fridge?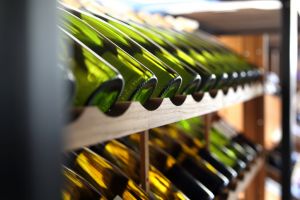 Wine fridges are specifically designed to store your bottles in the optimum conditions. With specialised technology, they'll guarantee your wine is exposed to the perfect temperature, humidity and lighting – promoting longevity and ensuring it's ready to serve at moment's notice. If you're looking to keep your wine in great condition, this appliance is a smart purchase.
Fridge Vs. Wine Fridge – what's the difference?
While they both essentially do the same thing – keep things cool – there's a few slight differences between a traditional fridge and a wine fridge. If you're not a wine connoisseur, you can be forgiven for thinking that storing wine in a regular kitchen fridge is fine. For the experts however, this is a cardinal sin, as the household fridge doesn't provide the ideal conditions for wine to properly mature and settle. Most wine fridges are equipped with unique technology including temperature and humidity control, better storage, dual temperature zones and vibration control.
Temperature and humidity control
The fridge is a hive of activity within any household, meaning the doors are constantly opened and closed. Due to this, cold air regularly escapes. A temperature and humidity controlled fridge will ensure:
The wine is maintained at a constant temperature.
The wine properly matures and ferments.
Corks are kept moist and intact.
Better Storage
Most of us will be guilty of simply shoving wine in any space we can find, as well as in the door of the fridge. Correct wine storage will make sure:
The wine is held on its side, settling sediments and promoting better taste.
Oxidation is prevented.
Zone Technology
An additional area where wine fridges differentiate themselves is single and dual zone technology. Single zone models allow users to store one type of wine in a set temperature and humidity. Alternatively, dual zone models will:
Host two separate temperature specific areas.
Allow both red and white wines to be stored in the same unit.
Vibration Control
Traditional household refrigerators often release too much vibration and prevent your wine from settling effectively. A good wine fridge will:
Be specifically designed to absorb vibrations.
Allow the wine to successfully mature.
Protect the taste and texture of your wine.
Wine Fridge Brands
While not a household essential, there are a number of brands that offer wine fridges, including Dometic, Husky, Liebherr, Vintec and Fisher & Paykel.
Dometic wine fridge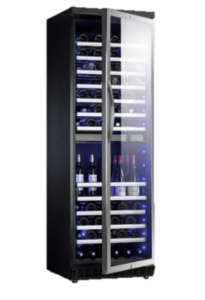 Models in the Dometic range generally come with UV protected glass doors, compressor technology, high energy efficiency and can store anywhere from 17 t0 118 bottles. Additional shelves and displays can also be purchased if you're looking to show off your wine collection. With a choice between single and dual zone fridges, Dometic has all your wine storage needs covered, with models ranging from $1,000 to around $3,000.
Dometic's S118G model can store up to 118 bottles at a time. It hosts a lockable anti-UV glass door, blue LED interior lighting, an active carbon filtration system, temperature compensation mode for winter operation and adjustable dual zone technology. This model commonly retails for $2,800.
Husky wine fridge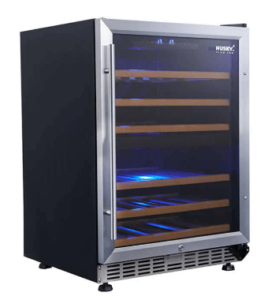 Husky offer a wide range of wine fridges that will cost you anywhere from $900 to $3,400. Most Husky wine fridges come with features such as LED internal lighting, UV protection, security measures and an anti-vibration system with shock resistant shelving. The shelves can also be removed or relocated to allow easier access. Smaller models have a capacity of 44L, while larger options have a capacity of up to 450L.
A popular model in the Husky range is the Vino Pro Dual Zone wine fridge. It commonly retails at around $1,950 and hosts a variety of handy features that will be sure to keep your wine in great condition. This model is equipped with dual zone cooling, a capacity of 154L, an active carbon filter, blue LED internal lighting and in-built locks.
Liebherr wine fridge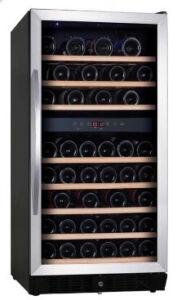 Offering one of the largest ranges of wine cabinets on the market, Liebherr suits both the average household as well as the connoisseur. Offering ranges entitled Vinidor, Vinothek and Grand Cru, these wine fridges commonly retail anywhere from $2,000 to $13,500. Most models offer dual zone technology, door alarms and a controllable temperature range that ensures your wine is kept in its optimal environment.
A popular Liebherr model is the Grand Cru 100D wine fridge. It can hold a maximum of 94 bottles and will set you back around $3,000. It features a vibration free compressor, dual temperature zones for red and white wine, a security locking system, blue LED interior lighting and a double-glazed smoked glass door.
Vintec wine fridge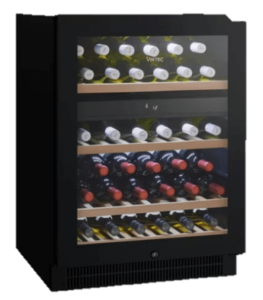 A company made around the wine industry, Vintec offers consumers an extensive range of fridges, from smaller 20 bottle models all the way up to larger 170 bottle models. The majority of Vintec fridges include features such as single or dual zone temperature control, LED lighting and electronic temperature display. Depending on the model, Vintec also offers features such as adjustable feet as well as different finishes for those aesthetically-conscious.
A popular model in the Vintec range is the 50-Bottle Dual Zone Wine Cabinet. It offers multi-temperature zones, a triple glazed anti-UV glass door, humidity controls, an LED display panel, adjustable shelving and a security lock. This model typically retails at around $3,200.
Fisher & Paykel wine fridge

Models in the Fisher & Paykel range are designed to provide stable temperature and humidity for all wine. Integrated models are sold for around $17,000, while free-standing options can cost anywhere from $3,000 to $5,500. Most Fisher & Paykel wine fridges range in capacity from 144 bottles, right down to 38 bottles. Many models feature dual temperature zones, UV tempered glass and touch sensitive control panels.
One of Fisher & Paykel's top fridges is the 144 Bottle Wine Cabinet. This model generally retails around $5,500. It features a demist function, locking capabilities, a low vibration compressor, removable shelving, dual temperature zones, LED lighting and a UV tempered glass door.
How much do wine fridges cost?
Wine fridges are the most effective way to ensure your wine is stored in the optimum serving conditions. Due to this, the price tag on some of these machines can be quite hefty. The cost of purchasing a wine fridge will depend heavily on capacity, quality, brand and any additional features. The cheapest models can be purchased for around $200, while more expensive fridges may cost as much as $15,000.
Is a wine fridge worth the money?
Wine fridges offer many benefits that allow your drink to be continuously enjoyed, regardless of the time of year or how full your kitchen fridge may be. There are plenty of options on the market, so if you're interested in purchasing one, it's best to do your research beforehand, as capacity, energy efficiency and bonus features will all impact your final decision. If you're not fully convinced on the wine fridge front, a regular refrigerator will do the job just fine. To help decide which model would best suit you and your home, check out Canstar Blue's best rated refrigerators.