Spotify is the largest and most popular music streaming app in the world, and the appeal for families has just grown with the announcement of a new app, 'Spotify Kids'.
While kid-specific profiles and parental controls have been available for apps such as Netflix and Stan for quite a while, this is a feature that has been lacking in popular music streaming apps. With more kids online, there is a need for parents to have some form of control over protecting their children and blocking any inappropriate content. This move from Spotify is sure to be a welcomed one for families around the world.
What is Spotify Kids?
Spotify was founded in Sweden in 2008, but quickly spread throughout the world as music streaming became the go-to way that people consume music. It now has over 240 million users worldwide and has a library of over 50 million songs. You can download the Spotify app to your phone, tablet and computer, along with game consoles, smart TVs, smart watches, cars and other devices.
Spotify Kids is a new app which changes the way that kids can use and listen to Spotify. In recent years, Spotify has expanded its content offerings to include podcasts and other non-music content. Spotify Kids will bring music, stories, audiobooks and podcasts to the younger generation, and offer a more fun and engaging experience for children compared to the current Spotify app. The content will be ad-free and picked by a team of Spotify's editors.
Currently, the Spotify Kids app is being trialled as a beta version in Ireland before being rolled out to other countries. There is a catch — this will only be available to users who have a Premium Family subscription. Therefore, the Spotify Kids app will only be available in countries which offer this subscription model.
The good news for Aussie families is that the Spotify Kids app has now officially launched in Australia. The app is now available as a beta, which means it will still be tested and updated as Spotify learns more from parents and caregivers as to what they want from the app.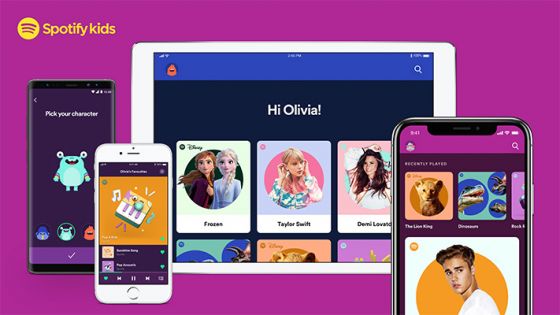 What is the difference between the Spotify Kids and Spotify apps?
The standard Spotify app allows you to create an account (which can be linked with social media) and from there you can listen to music and podcasts, listen to and customise playlists, and follow artists and other users. While you can block explicit content, Spotify hasn't made any other parental controls available (unlike video streaming services with dedicated, child-safe 'Kids' profiles).
Spotify Kids is set to be more than an app with parental controls. As Spotify's Chief Premium Business Officer, Alex Norström, describes it, "Spotify Kids is a personalised world bursting with sound, shape and colour, where our young listeners can begin a lifelong love of music and stories."
Essentially it will be a library of curated kid-friendly playlists to make it easy for kids to find music and stories to listen to. Visually it will be fun — full of colour and visuals, with easy navigation and scaled-back text. Kids can also set up their own avatar. The design of the app was created with the cognitive skills of children in mind. It is intended for use by kids from the ages of 3+, with content from brands including Nickelodeon, Disney, Discovery Kids, Universal Pictures and the ABC. The experience in the app will differ by age group: younger kids will experience softer and more character-based artwork, while older kids will have a more detailed and realistic visual experience.
The Spotify Kids app is now in Australia!
Australian families with a Spotify Premium account can now download the Spotify Kids app. You'll have access to more than 130 playlists, carefully curated by a team of editors who are ensuring the content is appropriate for young kids. There is also some great Aussie-focused content, including a 'Pop Hits AU' playlist featuring songs from Baker Boy, Jessica Mauboy, Guy Sebastian, Hilltop Hoods and classic Australian songs such as Kookaburra Sits in the Old Gum Tree and Waltzing Matilda. For households who love their Rock, there's also an 'Australian Rock Hits' playlist with tracks from AC/DC, Paul Kelly, Crowded House and INXS.
The app has been developed with a focus on safety and privacy, so parents can feel confident that their kids will be able to safely use the app on their own with parents able to control content, and 'Audio for Younger Kids' and 'Audio for Older Kids' options to choose from. Your kid will also have their own account, so you won't have Baby Shark popping up on your own playlists. As access to the Spotify Kids app comes free of charge with a Premium account, this also means your child will be able to listen to music with no ads and access to offline listening, however this feature is starting with iOS devices.
While Spotify will still be testing and expanding features on the app, including more enhanced parental settings and controls, it gives Spotify a chance to learn and grow to make the app a fun and safe experience for kids. If you haven't signed up to a Spotify Premium account, below you'll see a comparison of the plans, prices and what features you'll get on each plan.
Spotify plan features and prices
Unlike video streaming services, Spotify does offer a free account, however your use of the app is very limited in the free version and includes ads. Premium is the paid subscription service, and there are three different premium plans available across three different price points — Premium (individual), Premium Student and Premium Family. The features on all premium plans are virtually the same, however there are a few small differences.
Let's take a look at the plan prices and features for the four Spotify subscriptions, in Australian dollars.
| | Spotify Free | Premium Plan (Individual) | Premium Plan (Student) | Premium Plan (Family) |
| --- | --- | --- | --- | --- |
| Monthly price | $0 | $11.99 | $5.99 | $17.99 |
| Access over 50 million songs | | | | |
| No ad interruptions | | | | |
| No. of accounts | 1 | 1 | 1 | 6 |
| Offline listening | | | | |
| Highest quality audio | | | | |
| Free trial | | | | |
The Premium Student plan is at a 50% discounted price for any students currently enrolled at an accredited university or other tertiary educational institution. You'll only have access to this for four years, with renewal every 12 months if you're still eligible.
Premium Family is for up to six people living together, with six separate premium accounts for one combined price, parental control over explicit music for plan members, and access to the 'Family Mix' playlist which is based on the music tastes of everyone on the plan. You'll also need the Premium Family account to use the Spotify Kids app.
Phone plans for streaming music
Many of us like to access our music streaming on our mobile phones, so if you're new to Spotify and need enough data for streaming, or perhaps you're looking into a phone plan for your child, there are plenty of prepaid and postpaid options out there to choose from.
Music streaming doesn't use as much data as video streaming does; however, if you're also doing web browsing and using data with other apps, especially video streaming, you'll want more than 1GB of data per month.
Of course, the amount of data you use with music streaming does depend on the quality. Even using the highest quality audio setting, you'll use 7.5MB per 3-minute song, which adds up to around 150MB per hour. As there are around 1000MB in 1GB, you'll need to listen to the highest quality for several hours each day to even get close to using up 1GB in a day.
Some telcos do offer data-free streaming of certain apps, and data-free streaming of Spotify was something offered on some plans previously. While some telcos, like Vodafone, offer the option to add on this feature for an additional monthly cost, currently there are no telcos offering data-free Spotify streaming on new plans (for $0 additional cost).
If you're looking for a phone plan to pair with Spotify, the table below shows a selection of postpaid plans from Canstar Blue's database with a minimum of 10GB data, listed in order of advertised standard cost, lowest to highest, then by data allowance, largest to smallest. Use our comparison tool to see a wider range of plans from other providers. These are products with links to referral partners.