Blue NRG Review and Rates
Blue NRG is an electricity retailer that exclusively services business customers across Victoria, New South Wales, South-east Queensland and South Australia. Blue NRG says it understands small business and is passionate about delivering great customer service, striving to also provide competitive rates on electricity. It also has an online platform, available 24/7, called 'My Account' to help customers monitor their energy usage, access past invoices, update their account information and more. In this review, we'll cover everything you need to know about Blue NRG.
Blue NRG Electricity Retail
Blue NRG is a business-only electricity retailer that aims to keep billing simple and transparent. Blue NRG does not offer conditional discounts, instead, favouring to provide competitive rates.
Blue NRG offers come with the following perks:
Monthly e-billing
24/7 Access to 'My Account'
Smart Bills for consolidated energy accounts
No lock-in contracts
Blue NRG My Account
All Blue NRG customers receive access to 'My Account'. With My Account, customers with a smart meter can review their electricity usage by year, month, week or day to raise awareness of when your business is using the most electricity. Customers can view their electricity usage in a user-friendly graph format for quick insights or export this information to a spreadsheet for further analysis.
My Account also provides 24/7 access to self-service tools such as downloading invoices and updating contacts. You can also set email alerts if your electricity usage exceeds a preset amount.
What else can Blue NRG do for you?
Blue NRG promotes itself as a local, down-to-earth retailer that wants to help businesses reduce their electricity hassle and costs. Not only can Blue NRG customers use My Account to understand and reduce their usage, but the Blue NRG website has a host of information on energy efficiency and power factor correction.
Blue NRG has also partnered with energy solutions company, Empower, to help businesses reduce their electricity bills with energy efficient installations, energy health checks, network tariff optimisation and more.
Is Blue NRG right for me?
Blue NRG is a fairly straight forward retailer. Because there's no need to worry about discounts, benefit periods or crazy terms, businesses have more time to focus on what matters – running the business. Blue NRG's My Account also gives proactive business customers the opportunity to find additional savings through better managing their usage. That said, this isn't unique to Blue NRG and virtually all business electricity retailers have their own energy monitoring platforms.
To see what other retailers are available in your area, how much you can expect to pay, and what their customers are saying about them, check out our customer ratings via the link below.
About the author of this page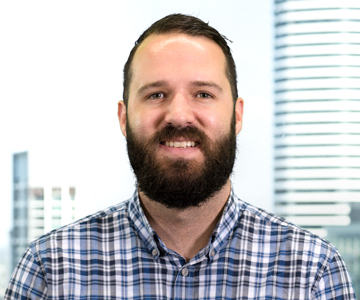 This page was written and is regularly updated by Canstar Blue's Energy Specialist, Jared Mullane. He's an expert in all things utilities, including electricity, gas and water, helping to make complicated subjects easier to understand for consumers. A trained journalist, Jared is usually one of the first to break energy-related news, whether it's the latest changes in the industry, price movements, or the next best deal you need to know about.
Blue NRG Facts
Blue NRG claims to "get SMEs [small to medium enterprise] because we're an SME too." What else is there to know about this business energy provider?
About Blue NRG
Blue NRG is a business energy retailer servicing small to medium businesses in Victoria, New South Wales and South Australia. It's privately owned by Green Generation Pty Ltd and based in Melbourne, Australia. Since its Victorian launch in 2012, this business energy retailer has expanded out to offering energy services to larger businesses in the aforementioned states.
Blue NRG Services
Apart from providing businesses with their electricity needs, what else can Blue NRG do?
Provide energy reduction advice
Dedicated account management
Help improve energy efficiency through partnership with Empower (eg. LED lighting, power factor correction, tariff optimisation and solar power).
Blue NRG: Key Dates
2012 | Blue NRG launches in Victoria.
2014 | Retail operations expand to NSW.
2015 | Blue NRG starts retailing in South Australia.