An Expert's Guide to Endeavour Energy

Fact Checked
Endeavour Energy is an electricity distribution network service provider (distributor) that services areas throughout metropolitan and regional New South Wales. The company is responsible for the construction, maintenance and operations of electrical infrastructure which brings power to your home or business.
In comparison to energy retailers, distributors are usually your first point of contact if you have any issues concerning the supply of electricity to your home or business. Though in most cases, you wouldn't ordinarily come into contact with your distributor. In this guide, we cover the basics of Endeavour Energy's role within its distribution zone, plus explain how and when to contact them should you need to.
On this page we'll cover:
Endeavour Energy Expert Guide
Endeavour Energy services more than 2.6 million residents and business owners across Sydney's Greater West, the Blue Mountains, Southern Highlands, the Illawarra and the south coast. The Endeavour Energy network spans over 25,000 square kilometres, with more than 430,000 power poles and 32,600 distribution substations. Its underground and overhead cables run a distance of nearly 60,600 kilometres.
Here is some general information about when you should and should not contact Endeavour:
| When should I contact Endeavour Energy? | When should I NOT contact Endeavour Energy? |
| --- | --- |
| To report a blackout or power fault | To organise a meter read or upgrade |
| To report a safety concern such as a fallen powerline | If you find any electricity faults that are not related to the electricity network |
| If you need to connect your home or business to the electricity grid | To discuss the best solar panel systems for your home |
| To seek approval to install solar | To discuss changing energy plans or retailers |
| Apply for permission to relocate network assets (i.e. power poles) to undertake work on your property | To enquire about your electricity bill (contact your retailer – e.g. AGL, Origin) |
Endeavour Energy Services
Bill-payers living in Sydney's Greater West can contact Endeavour Energy for a number of services including energy projects and maintenance in the area, pricing and tariff information, new electricity connections, rooftop solar installations and assistance with power outages. You can also contact Endeavour Energy about any faulty, broken or fallen power lines within your area.
Endeavour Energy Tariffs
There are a variety of different tariff options available to energy customers on the Endeavour network. Each option outlines different metering and connection charges for your home or business, with pricing varying among them. Some tariffs may be better suited to your energy usage habits than others, particularly if you are powering large appliances such as pool pumps. For an exhaustive list of tariff options and pricing, it is best to head to the Endeavour Energy website.
Endeavour Energy Connections
When enquiring about an energy connection you should first ensure that you are part of the Endeavour Energy network. You can double check this by heading to the network coverage map on the Endeavour Energy website.
Once you have confirmed that your property is located on this network, you'll need to reach out to Endeavour Energy to begin your connection process. This can be done either online via its website or by calling and speaking to one of its staff. There are a range of applications for different types of connections, including permission to install solar systems, which can be found on the website. It may also be useful to engage with an electrical professional whilst filling out your connection request application.
According to its website, Endeavour Energy will respond to a connection enquiry within 10 business days and provide the necessary information required to progress. This includes any processes or costs associated with connecting to the electricity network. Endeavour Energy claims it's 'committed to providing an efficient service for customers in processing applications, enquiries and other contestable works activities.'
Once you are connected to the network, all that should be left to do is choose an electricity provider.
Endeavour Energy App
Endeavour Energy had released a couple of different apps for customers to use. The Endeavour Energy 'outage app' which was free to download via the App Store and Google Play, allowed you to receive information about power outages in your area, estimated restoration time, report incidents such as broken street lights, and much more. The distributor had also launched a 'PowerSavers' app, which was designed to assist households in reducing their electricity bills.
These apps, however, are no longer advertised on the App Store or Google Play.
Electricity Plans on the Endeavour Energy Network
Bill-payers on the Endeavour Energy network should be able to choose their own electricity provider. To help you with your search, we've listed some of the cheapest single rate market offers available on this network below.
Here are some of the cheapest published deals from the retailers on our database that include a link to the retailer's website for further details. These are products from referral partners†. These costs are based on the Endeavour Energy network in Wollongong but prices may vary depending on your circumstances. This comparison assumes general energy usage of 4900kWh/year for a residential customer on a single rate tariff. Please use our comparison tool for a specific comparison in your area. Our database may not cover all deals in your area. As always, check all details of any plan directly with the retailer before making a purchase decision.
Endeavour Energy Company Information
Below we have listed some of the important contact details and information you may need regarding Endeavour Energy. If you are a resident or business owner on the Endeavour Energy network, it might be handy to keep a note of these details for the next time you have an outage or connection issue.
Endeavour Energy Contact Details
If you need to pick up the phone and talk to a representative from Endeavour Energy, here are the numbers:
General enquiries: 133 718 (Mon to Fri – 8am to 6pm)
Emergencies and power outages: 131 003 (available 24/7)
Dial before you dig: 1100 (free call)
It's worthwhile jumping online to visit Endeavour Energy's website too, as well as following its social media channels to stay in the loop. Lastly, it's a good idea to jot these numbers down in your phone just in case you come across a fallen powerline or there's a loss of electricity supply to your home.
Endeavour Energy Coverage Map
Endeavour Energy operates across Sydney's Greater West, the Blue Mountains, the Illawarra and the south coast. This includes a number of urban areas such as Lithglow, Fairfield, Penrith, Parramatta, Campbelltown, Shoalhaven and Camden.
The distribution region of Endeavour Energy is broken into three separate parts – North, Central and South. If you don't live within Endeavour Energy's service area you will be on the Ausgrid or Essential Energy network.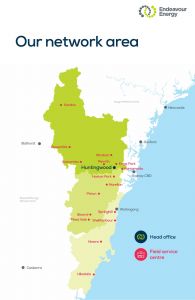 Endeavour Energy Power Outages
Whether it's due to traffic accidents, wild weather or planned maintenance, power outages occur quite frequently across New South Wales. If you experience an interruption or loss to your home's electricity supply, Endeavour Energy are the people to contact, provided you live on their network. You can see if there is a power outage on the Endeavour Energy network via the outages map on the Endeavour Energy website. Alternatively, you can call Endeavour Energy at any time on 131 003.
Crews are working to safely restore power to the remaining 6,600 customers affected by last night's ferocious storm. Winds of 130 kph caused 300 electrical hazards & interrupted supply to 18,000 homes. We are working hard to have all power back on tonight. #StaySafe pic.twitter.com/sbJcAWShDP

— Endeavour Energy (@endeavourenergy) August 24, 2021

Kelseigh Wrigley: Energy Content Producer
This page was written and is regularly updated by Canstar Blue's energy content producer, Kelseigh Wrigley. As a qualified journalist, Kelseigh aims to light the way for everyday Aussies, helping them find a better deal on their energy plan. Whether it's value for money, new incentives, deals on gas or solar, Kelseigh is keen to help customers put money back in their pockets.
Other NSW Energy Distributors
In New South Wales there are three electricity distributors – one for the metropolitan region, one for regional areas and one for the central-east coast. The state also has four different gas distributors. These are the energy distributors in NSW.
Electricity:
Endeavour Energyfor the metropolitan region, including Parramatta, Penrith Lithgow, Blacktown and the Blue Mountains.
Essential Energyfor country New South Wales, including Tamworth, Port Macquarie, Wagga Wagga and Coffs Harbour.
Ausgridfor the central-east coast, inducing Sydney, Cronulla, Newcastle and the Hunter region.
Natural Gas:
Jemena Gas Networksfor Sydney, Newcastle, Central Coast, Wollongong and parts of country NSW.
Central Ranges Systemfor Tamworth.
Wagga Wagga Distribution Networkfor Wagga Wagga and surrounding areas.
Evoenergy for Palerang (Bungendore) and Queanbeyan.
FAQs about Endeavour Energy