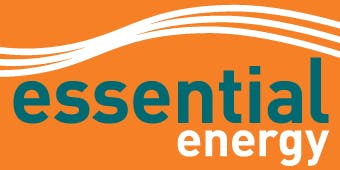 An Expert's Guide to Essential Energy

Fact Checked
Essential Energy is an
electricity distributor
responsible for servicing and maintaining the powerlines, streetlights and substations in country and regional New South Wales. Essential Energy manages the electricity network across most of rural NSW, as well as some populated urban areas throughout the state.
Aside from looking after the electricity grid, Essential Energy is the first point of contact for those looking to connect their home or business to the network. Unlike your energy retailer who bills you for using power, it's unlikely you'll ever interact with your distributor, but we'll expand on this below.
In this review, Canstar Blue takes a close look at Essential Energy. We see where the Essential Energy operates and what it provides NSW residents.
On this page, we'll cover:
Essential Energy Expert Guide
It may seem confusing, but your distributor has nothing to do with your power bills. It does, however, take care of the electrical infrastructure, such as powerlines, streetlights and substations. Essential Energy has a network portfolio of around 855,000 homes and businesses, which reaches 95 per cent of NSW, including small parts of southern Queensland.
Below is a general guide on when you should or shouldn't contact Essential Energy:
| When should I contact Essential Energy? | When should I NOT contact Essential Energy? |
| --- | --- |
| There's a power outage | To enquire about a recent power bill or wish to pay your account |
| There's an interruption to your electricity supply | To discuss switching to a better electricity deal |
| To report fallen powerlines, faulty streetlights, or a vegetation hazard | To enquire about any electricity faults unrelated to the Essential Energy network |
| Make a new electricity connection to the grid | To discuss the best solar panels for your roof |
| Seek permission to install or upgrade your solar system | |
Essential Energy Services
Residents and business owners on the Essential Energy network can contact the distributor for a range of services, such as electricity connections, energy efficiency, life support, solar, battery storage and more. The distributor should also be a first port of call if your property has experienced a power supply interruption, as it is responsible for supplying and restoring electricity.
Essential Energy Tariffs
Depending on the type of customer, there are numerous tariff options provided by Essential Energy. This includes large businesses, small to medium businesses and residential customers. There is currently a revised tariff structure (2019-24) for Essential Energy customers, which can be accessed via its website.
Essential Energy Connections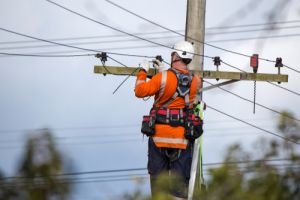 Customers seeking a new connection or are planning to make alterations to an existing connection will need to fill out the appropriate application form via the 'Connections Portal' on the Essential Energy website. For anything connections related, there is also an enquiry portal which may assist those after further information.
There's also an information pack about connecting to the Essential Energy network and details about terminating an electricity connection.
Electricity Plans on the Essential Energy Network
Here are some cheap energy plans that are available on the Essential Energy network. Use our comparison tool for specific quotes based on your postcode.
Here are some of the cheapest published deals from the retailers on our database that include a link to the retailer's website for further details. These are products from referral partners†. These costs are based on the Essential Energy network in Coffs Harbour but prices may vary depending on your circumstances. This comparison assumes general energy usage of 4600kWh/year for a residential customer on a single rate tariff. Please use our comparison tool for a specific comparison in your area. Our database may not cover all deals in your area. As always, check all details of any plan directly with the retailer before making a purchase decision.
Essential Energy Company Information
Below we list some helpful information about Essential Energy. It may be worth storing some of these details in case you ever need to contact the distributor about a power supply issue or new connection.
Essential Energy Contact Details
If you need to get in touch with Essential Energy, the number or contact details will vary depending on what you're after.
General enquiries: 13 23 91
Emergencies: 13 20 80
Electricity supply interruptions: 13 20 80
Mailing address: Essential Energy, PO Box 5730, Port Macquarie NSW 2444
Essential Energy Network Map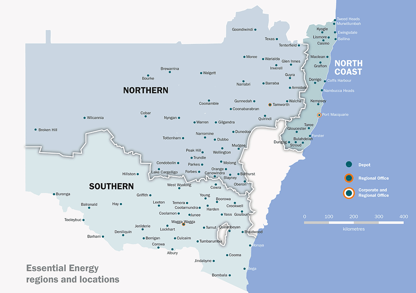 The Essential Energy network encompasses the majority of country NSW, as well as some urban pockets around the state. As you can see on the map, Essential Energy covers a vast area, including the following areas:
Albury
Bathurst
Byron Bay
Coffs Harbour
Cowra
Dubbo
Grafton
Griffith
Port Macquarie
Tamworth
Wagga Wagga
The Essential Energy grid is broken up into three parts – Northern, Southern and the North Coast. If you're not living on the Essential Energy network, you will most likely be connected to the Ausgrid or Endeavour Energy distribution zones.
Essential Energy Outages
Unfortunately for rural NSW residents, power outages aren't an uncommon occurrence. Whether it's a freak thunderstorm or planned maintenance, the lights can go out at any point, and with Essential Energy's massive network, it can take time to have the power restored. That's why it's best to jump onto its website to see if your area is affected or make contact if there's an issue with your electricity supply.
Most electricity distributors provide regular updates on their social media channels so people aren't left in the dark (literally). The Essential Energy website also provides information and a map about current outages, as well as planned outages.
Damaging winds brought down powerlines & blew fencing wire into the network outside of Bathurst yesterday as you can see 👇

We'd like to thank the community for their patience & understanding & our crews for their work to restore power to customers overnight & throughout today pic.twitter.com/VvebwHIcVT

— Essential Energy (@essentialenergy) October 1, 2021
---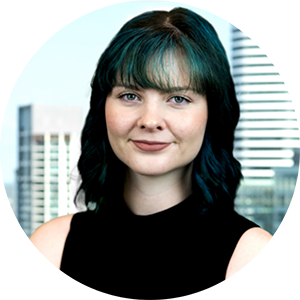 Kelseigh Wrigley: Energy Specialist
As Canstar Blue's Energy Specialist, Kelseigh Wrigley covers the retail energy market, with a focus on electricity, gas and solar. She joined the team after completing a Bachelor of Journalism at the Queensland University of Technology, and has previously written for a variety of online publications, including Hunter and Bligh. You can follow Kelseigh on LinkedIn.
---
Electricity:
Ausgrid for central Sydney, Newcastle, Muswellbrook, Barry, and Merriwa.
Endeavour Energy for Sydney's greater west, Wollongong, Illawarra, Blue Mountains, Southern Highlands, and South Coast.
Essential Energy for Coffs Harbour, Port Macquarie, Byron Bay, Tamworth, Dubbo, Bathurst and Wagga Wagga.
Natural Gas:
Australian Gas Networks for Albury and Wagga Wagga.
APA Group for Tamworth.
Evoenergy for Queanbeyan and Bungendore.
Jemena Gas for Sydney, Newcastle, Central Coast, Wollongong and parts of country NSW.
FAQs about Essential Energy