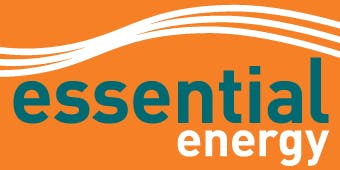 Essential Energy Network: Services & Guide
Essential Energy is an electricity distributor responsible for servicing and maintaining the powerlines, streetlights and substations in country and regional New South Wales. Essential Energy manages the electricity network across most of rural NSW, as well as some populated urban areas throughout the state.
Aside from looking after the electricity grid, Essential Energy is the first point of contact for those looking to connect their home or business to the network. Unlike your energy retailer who bills you for using power, it's unlikely you'll ever interact with your distributor, but we'll expand on this below.
Where does Essential Energy operate?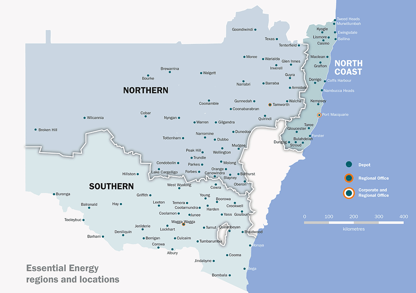 The Essential Energy network encompasses the majority of country NSW, as well as some urban pockets around the state. As you can see on the map, Essential Energy covers a vast area, including the following areas:
Albury
Bathurst
Byron Bay
Coffs Harbour
Cowra
Dubbo
Grafton
Griffith
Port Macquarie
Tamworth
Wagga Wagga
The Essential Energy grid is broken up into three parts – Northern, Southern and the North Coast. If you're not living on the Essential Energy network, you will most likely be connected to the Ausgrid or Endeavour Energy distribution zones.
What does Essential Energy do?
It may seem confusing, but your distributor has nothing to do with your power bills. It does, however, take care of the electrical infrastructure, such as powerlines, streetlights and substations. Essential Energy has a network portfolio of around 855,000 homes and businesses, which reaches 95 per cent of NSW, including small parts of southern Queensland.
When to call Essential Energy
It's only necessary to contact Essential Energy under the following circumstances.
There's a power outage
There's an interruption to your electricity supply
To report fallen powerlines, faulty streetlights or a vegetation hazard
Make a new electricity connection to the grid
You seek permission to install or upgrade your solar system
When not to call Essential Energy
It's best not to contact Essential Energy if you're enquiring about:
A recent power bill or wish to pay your account
Organise a meter read or upgrade
Any electricity faults unrelated to the Essential Energy network
Essential Energy Power Outage
Unfortunately for rural NSW residents, power outages aren't a totally uncommon occurrence. Whether it's a freak thunderstorm or planned maintenance, the lights can go out at any point, and with Essential Energy's massive network, it can take time to have the power restored. That's why it's best to jump onto its website to see if your area is affected, or make contact if there's an issue with your electricity supply.
Most electricity distributors provide regular updates on their social media channels so people aren't left in the dark (literally). The Essential Energy website also provides information and a map about current outages, as well as planned outages.
Damaging winds brought down powerlines & blew fencing wire into the network outside of Bathurst yesterday as you can see 👇

We'd like to thank the community for their patience & understanding & our crews for their work to restore power to customers overnight & throughout today pic.twitter.com/VvebwHIcVT

— Essential Energy (@essentialenergy) October 1, 2021
Essential Energy Storm Tracker
The Essential Energy Storm Tracker is an interactive weather map showing live storm activity across NSW. The Storm Tracker features a seven-day forecast where customers can input their postcode or town, as well as the map showing where and how long-ago lightning strikes have occurred. To see if a storm is near your home, visit the Essential Energy website.
Essential Energy Connections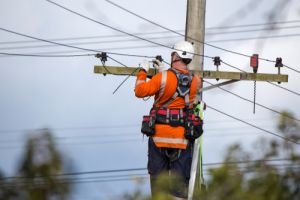 Customers seeking a new connection or are planning to make alterations to an existing connection will need to fill out the appropriate application form via the 'Connections Portal' on the Essential Energy website. For anything connections related, there is also an enquiry portal which may assist those after further information.
There's also an information pack about connecting to the Essential Energy network and details about terminating an electricity connection.
Essential Energy Contact Details
If you need to get in touch with Essential Energy, the number will vary depending on what you're after.
General enquiries: 13 23 91
Emergencies: 13 20 80
Electricity supply interruptions: 13 20 80
While it's somewhat unlikely that you'll regularly need to speak to your electricity distributor, it's worth keeping their numbers handy just in case there's an emergency or a supply problem. It's also important to note that you don't get to choose your distributor (unless you move), meaning your postcode will determine which network you're currently on. You can, however, change your energy retailer if it's not up to scratch. Just follow the link below.

Image credits: Mr. DON SRIPAWAI/Shutterstock.com, Essential Energy, Sheryl Watson/Shutterstock.com