An Expert's Guide to United Energy

Fact Checked
United Energy is an electricity distribution network service provider (distributor) in Victoria. This distributor is responsible for supplying electricity to homes and business in Victoria's southern suburbs and Peninsula through network infrastructure such as poles, wires and substations.
If you live in this region and experience problems with your power supply, United Energy will be your first port of call. As such, it is important to have a basic understanding of the services on offer from this distributor. In this article we will go over why you need to know about United Energy and the best ways to contact them with your queries.
On this page, we'll cover:
United Energy Expert Guide
United Energy services more than 660,000 customers across east and south-east Melbourne and the Mornington Peninsula. The United Energy network is comprised of over 13,000 kilometres of wires and 204,000 power poles. 90 per cent of United Energy's customer base is claimed to be residential.
Here is some general information about when and when not to contact United Energy:
| When should I contact United Energy? | When should I NOT contact United Energy? |
| --- | --- |
| If there's a blackout or power outage | If you are concerned with your energy bill |
| To connect a new home or property to the grid | You want to change plans or energy providers |
| If you spot a fallen powerline | You have an electricity fault unrelated to the United Energy network |
| For a meter upgrade (i.e. traditional to smart) | You need assistance choosing a solar panel system for your home |
| To install a solar system at your property that is up to 30kWh | You want to apply for a government rebate |
United Energy Services
As a distributor, United Energy is responsible for operating and maintaining the electricity network that supplies power to your home. This means that United Energy is responsible for helping customers with power outages or blackouts at their property, pricing and tariff information, new home connections, rooftop solar installations and fallen power lines.
In addition to helping with electricity supply at your property, United Energy also manages a series of community solar battery projects for customers in local areas of the network to tap into and share power, whether they already have solar installed or not.
United Energy Tariffs
United Energy has a variety of tariffs available to energy customers in Victoria, each of which outline different connection and metering charges. Some tariff types may be better suited to your home energy usage than others, especially if you are running large appliances such as pool pumps. With multiple tariffs on offer, there is an exhaustive pricing list from United Energy. To find all the details needed to choose an appropriate tariff type for your property, it is best to head to United Energy's Network Tariff and Charges page.
United Energy Connections
If you are looking for a basic power connection for a new home, you'll firstly need to ensure that your property is situated on the United Energy Network. Once you've confirmed this, you will also need to meet a few basic criteria points before beginning the application process. This criteria can be found on the New Connections page of the United Energy website.
If you've met the criteria, you can then lodge a connection application. This is usually done with the help of a Registered Electrical Contractor (REC). According to the United Energy website, customers have the choice of sending this application through to their retailer for an 'expedited connection with supply turned on' or they can simply submit it to United Energy. However, any applications sent directly to the distributor will only result in a connection – supply will still be turned off until a service order is received from an energy retailer.
Once your retailer has sent the required paperwork over to United Energy though, the distributor states it will complete the new connection and turn on the supply within 10 business days. If you are planning to connect to the United Energy network sometime soon, it may be wise to choose an electricity provider prior to filling out your applications.
Electricity Plans on the United Energy Network
Most households on the United Energy Network should be able to choose their own electricity provider. Below we have listed some of the cheapest deals available on this network as per our database.
Here are some of the cheapest published deals from the retailers on our database that include a link to the retailer's website for further details. These are products from referral partners†. These costs are based on the United Energy network in Frankston but prices may vary depending on your circumstances. This comparison assumes general energy usage of 4000kWh/year for a residential customer on a single rate tariff. Please use our comparison tool for a specific comparison in your area. Our database may not cover all deals in your area. As always, check all details of any plan directly with the retailer before making a purchase decision.
United Energy Company Information
Below you'll find some important information about United Energy. If you have a property within this distribution network, it may be handy to keep a copy of these details, should you have an issue with power supply.
United Energy Contact Details
You can contact United Energy online or over the phone. The distributor has an online form for customer feedback and a general enquires email (info@ue.com.au) for non-urgent queries. If you wish to speak to a representative directly, its best to pick up the phone. Keep in mind however, that the number you call will depend on the circumstances of your query.
Customer enquiries: 1300 131 689 (Mon-Fri: 8am – 6pm)
To report an emergency situation or electricity fault: 132 099 (24/7)
Dial Before You Dig: 1100 (free call)
While there aren't too many reasons for a household to contact United Energy, it may still be worth keeping a copy of these numbers handy in the event of a power outage or supply fault.
United Energy Coverage Map
United Energy's distribution area covers east and south-east Melbourne as well as the Mornington Peninsula, spanning as far north as Blackburn and as far west as Port Arlington. Major urban areas included in the United Energy network are Frankston, Rosebud, Flinders, Phillip Island, Endeavour Hills and Aspendale.
United Energy is the only electricity distributor for this area and has the sole responsibility of network maintenance in this zone. If you are not within the United Energy network your disturber will be either Citipower, Powercor, Jemena or AusNet Services, depending on your location.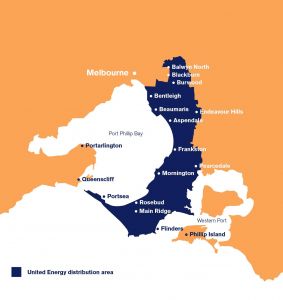 United Energy Power Outages
United Energy keeps track of any planned and unplanned power outages on its Power Outage Map on the website. If you live on this network and lose power, you should first check this page to see whether United Energy is aware of the outage. If not, you can alert United Energy to the issue via the emergency number – 132 099.
Alternatively, you can keep track of power outages through the United Energy twitter page.
Known Outage: Huntingdale, Mount Waverley, Oakleigh, Oakleigh East, ETR: 4:30 AM today. https://t.co/HtF3kSmC9r

— United Energy (@UnitedEnergyAU) February 20, 2022

Kelseigh Wrigley: Energy Content Producer
This page was written and is regularly updated by Canstar Blue's energy content producer, Kelseigh Wrigley. As a qualified journalist, Kelseigh aims to light the way for everyday Aussies, helping them find a better deal on their energy plan. Whether it's value for money, new incentives, deals on gas or solar, Kelseigh is keen to help customers put money back in their pockets.
Image credit: Pand P Studio/Shutterstock.com, United Energy website
Other Victorian Energy Distributors
United Energy is one of five electricity distributors in Victoria, with different network areas covering the CBD, northern and south-western suburbs, western Victoria, eastern suburbs and outer north and the southern suburbs and Peninsula. There are also three natural gas distributors in the state. Here are the energy distributors in Victoria.
Electricity:
United Energy for the southern suburbs and Mornington Peninsula, including Frankston, Rosebud, Flinders and Port Arlington.
Citipower for the CBD and inner-city suburbs, including St Kilda, Collingwood, Fitzroy and Docklands.
Powercor for western Victoria, including Ballarat, Bendigo, Geelong and Maryborough.
Jemena for northern and south-western suburbs including Footscray, Tullamarine, Craigieburn and Sunbury.
AusNet Services for outer northern and eastern suburbs, including South Morang, Mansfield, Lilydale and Hazelwood.
Gas:
Australian Gas Networks for most areas of Victoria, including the northern, eastern and southern areas of the metro Melbourne area, the Mornington Peninsula and northern, eastern and south eastern areas of Melbourne.
Multinet Gas for the eastern suburbs, including Yarra Ranges and south Gippsland.
AusNet Services for central and western Victoria, including Ballarat, Bendigo and Geelong.
FAQs about United Energy