Electricity distributors operate and maintain the energy infrastructure throughout Victoria, including the poles, wires and stations that deliver power to your home. Victoria has the greatest number of distributors in the country – five electricity distribution networks and three gas distributors. That's a lot to get your head around.
This article explains the role of each of the five electricity distributors in Victoria, as well as any relevant information about the company. We'll also cover the basics of what your distributor is responsible for, which can be handy if you ever need to get in contact.
Compare Electricity Plans
What is an electricity distributor?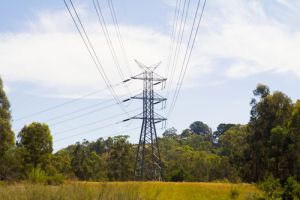 An electricity distributor is responsible for maintaining the energy infrastructure that supplies low-voltage electricity to homes and businesses in a particular area. Energy distributors also look after powerlines, poles and substations within their designated zone, otherwise known as a distribution region.
Most electricity in Australia is formed by large, centralised generators, such as coal-fired stations, gas stations and wind turbines. Once this electricity is produced, it is then converted to high-voltage and transported via transmission networks. The high-voltage electricity is then converted to a lower voltage, which enables it to be supplied to homes and businesses across the network using poles, powerlines and substations.
Unlike an energy retailer who makes contact with you when it's time to pay a bill, you're not likely to be in regular contact with your distributor. This is because distributors have nothing to do with your energy account. Generally, the only time you'll be in touch is if you need to report a power outage or fallen powerlines, as well as anything to do with your premise's supply of electricity.
Victoria is fairly unique in terms of distributors, with five separate electricity zones, which we'll go into more detail a bit later on. Here's a snapshot of what Victorian electricity distributors do and don't do.
| What VIC Distributors DO | What VIC Distributors DON'T do |
| --- | --- |
| ·       Manage shared electricity infrastructure | ·       Issue electricity bills |
| ·       Repair damage to the network and restore power after outages | ·       Construct/repair individual premise connections |
| ·       Design tariffs that determine the way you pay for power | ·       Repair electrical faults not related to the shared network |
| ·       Maintain streetlights | ·       Provide Metering Services |
VIC Energy Plans
We've listed some energy plans from electricity retailers (not distributors) on our database for Victoria. These are products from a referral partner†. These costs are based on the CitiPower network in Melbourne but prices may vary depending on your circumstances. This comparison assumes general energy usage of 4000kWh/year for a residential customer on a single rate tariff. Please use our comparison tool for a specific comparison in your area. Our database may not cover all deals in your area. As always, check all details of any plan directly with the retailer before making a purchase decision.
Who is my electricity distributor?
There are five electricity distributors in Victoria: CitiPower, Jemena, Powercor, AusNet Services and United Energy. The energy rates and tariffs can vary between distribution zones. For example, the price a customer pays for power living on the CitiPower network in Hawthorne will differ from the price paid by somebody living on the Jemena network in Footscray.
CitiPower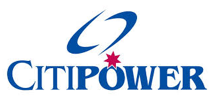 If you live in central Melbourne and the inner suburbs, you'll most likely be on the CitiPower distribution network. The CitiPower network supplies about 1.1 million customers in partnership with Powercor, which is owned by the same few companies. You can jump onto its website to see whether or not you live on the CitiPower network.
According to CitiPower, only 23 per cent of its customers' energy bills are made up of distribution costs, as opposed to almost 50 per cent in other states. CitiPower has a strong focus on network performance, planning and maintenance.
Customers can use the CitiPower website to report outages, damage to power poles and streetlights. You can contact CitiPower to request an electricity connection via its online portal called 'eConnect', plus report any hazards like trees getting too close to powerlines.
Contact CitiPower
Supply faults: 131 280
General enquiries: 1300 301 101
Jemena
Jemena supplies electricity to more than 350,000 homes and businesses in north-west Melbourne. Areas such as Clarkefield, Footscray, Gisborne South, Roxburgh Park and Tullamarine are just some of the areas within Jemena's distribution network. The network is powered by an 11,000-kilometre system, which includes the maintenance and upkeep of 72,000 streetlights.
The Jemena network takes care of service pit installations, new connections, disconnections and alterations. You can find current power outages in your area using their website, and report any faults to their infrastructure.
According to Jemena, its infrastructure is worth more than $11 billion, and the company has over 100 years' experience in the utilities sector. The distributor also owns Jemena Gas Network, one of the Victoria's largest natural gas pipeline networks, as well as various other gas pipes around the country. Furthermore, Jemena partially owns fellow Victorian distributor, United Energy.
Contact Jemena
Faults and emergencies: 131 626
General enquiries: 1300 131 871
Powercor

Powercor is responsible for a vast area of western Victoria, including Ballarat, Bendigo, Colac, Geelong, Mildura, Shepparton and Warrnambool. Its network consists of an area in excess of 145,000 square kilometres, servicing more than 810,000 customers via 577,000 poles.
Like Citipower, Powercor is owned by CK Infrastructure, Power Assets Holdings and Spark Infrastructure. Powercor is the largest electricity distributor in Victoria, spanning from West Melbourne to rural western Victoria.
To request a residential or commercial connection, Powercor can be contacted via its website, as well as by calling its enquiries hotline. People living on the Powercor grid can also report outages, damage to infrastructure, as well as fallen powerlines or faulty streetlights.
Contact Powercor
Faults and emergencies: 132 412
General enquiries: 132 206
AusNet Services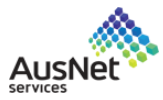 AusNet Services is an electricity and gas distributor, servicing eastern Victoria as well as the outer northern and eastern suburbs of Melbourne. For customers living in Morwell, Packenham, Phillip Island, Sale and Warragul, you'll be likely be connected to the AusNet Services.
The company distributes electricity to more than 740,000 customers via almost 53,000 kilometres of powerlines and 400,000 poles. In addition to its distribution portfolio, AusNet is also responsible for electricity transmission, with some 13,000 towers and 6,685 kilometres of high-voltage transmission powerlines.
For electricity, gas and solar connections, AusNet Services is who customers will need to contact. Customers can also track outages in their area on its website, plus report faults and emergencies.
Contact AusNet Services
Faults and emergencies: 131 799
General enquiries: 1300 360 795
United Energy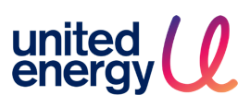 Last but not least is United Energy, powering homes and businesses in southern Melbourne and the Mornington Peninsula. Areas on the United Energy network include Aspendale, Bentleigh, Endeavour Hills, Frankston and Rosebud.
United Energy claims it's about more than just 'poles and wires', stating the distributor aims at keeping its network safe and reliable for customers. Distributing electricity to more than 660,000 customers, United Energy manages a network of 209,000 poles and 13,000 kilometres of wires.
Like the other distributors in Victoria, United Energy can be contacted for electricity connections, power outages and reporting hazards such as downed powerlines. Customers can access an outage map on its website, plus report streetlight faults.
Contact United Energy
Faults and emergencies: 132 099
General enquiries: 1300 131 689
Map of VIC Electricity Distributors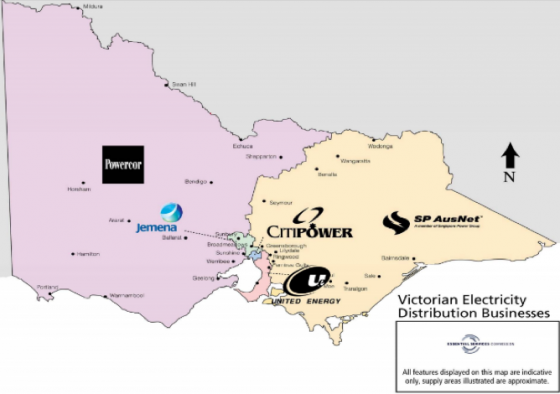 What does a retailer do?
As we've covered, distributors take care of the maintenance of the poles, powerlines and streetlights in your area. Energy retailers, on the other hand, are in charge of your individual energy account and power bill. While you can't choose your energy distribution network (unless you're willing to move house), you certainly have a say over your provider. So, with the freedom to choose from a range of power providers, your journey starts right here. Through the power of comparison, you can browse multiple electricity deals in your area. Our comparison tool below is free and simple to use, and we won't ask for your phone number. Start comparing now.

Image credits: mrfotos/Shutterstock.com, taewafeel/Shutterstock.com, Essential Services Commission, Citipower, Jemena, Powercor, Ausnet Services, United Energy