It may seem pretty unappealing to have to clean out nappies instead of just throwing them away and forgetting all about them. However, they're a much cheaper and environmentally friendly alternative to disposables.
For the modern parent, it may be easy to forget that our grandparents grew up wearing cloth nappies rather than the handy disposables most commonly used today. It's often regarded as one of those old fashioned gross things that we're very glad we don't have to deal with anymore. Sometimes, though, the old style is actually better and worth the extra effort.
Babies and toddlers need their nappies changed several times a day. That adds up to a lot of rubbish, and a lot of money. According to our 2017 survey, Aussie parents spend $56 per month on disposable nappies – just for something that hangs around baby's bum for a few hours before being thrown away. Once those nappies go into the bin, they become an environmental hazard.
Two billion disposable nappies go into landfill in Australia each year – remember that they're highly absorbent, so they swell to become quite large. Not only that, but as they slowly decompose (and we mean slowly – taking around 500 years), in the anaerobic environment of landfill they produce harmful greenhouse gases. Even so-called 'biodegradable' nappies often can't safely biodegrade properly under landfill conditions, although they are usually made with more sustainable products and processes and do break down a lot faster. The contents of the nappies can also contaminate the environment – unlike when we flush our bodily wastes down the toilet, where it's sanitised and treated before being allowed back out into the environment, the number 1s and 2s in disposable nappies release bacteria, viruses and ammonia that can soak into the groundwater.
Are you ready to ditch the disposables?
Why use cloth nappies?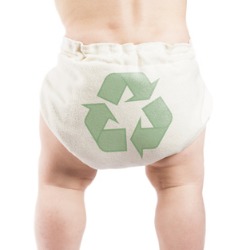 Reusable nappies are far more environmentally friendly, as well as working out much cheaper than constantly buying disposables. They're also a lot more user-friendly than the old stereotype about hippies swaddling their babies in bulky, leaky bits of cloth held together with a peg.
Modern reusable nappies come in a range of types, designed to be practical and comfortable. The obvious downside remains – that you have to clean them out. This isn't as onerous as it may sound. Once removed, simply dump anything you can out of the nappy into the toilet, and store them until you're ready to wash. Used nappies should be washed within two days of use. Instructions may vary by brand and individual product, but it's generally as easy as pre-washing in warm water to flush out as much urine and bacteria as possible, before sending them through a regular washing machine cycle and hanging them out to dry. Easy!
What types of cloth nappies are there?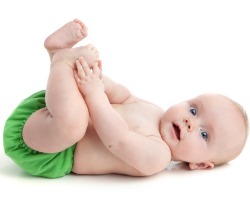 Reusable nappies have come a long way since the flat terrycloth things that required deft hands to property tuck up so it stays on that baby bum, although fans of the old school style can still readily find them. Now, many reusable nappies resemble comfier, more brightly coloured disposables, designed for the busy parent and to minimise mess and fuss.
The main types of reusable nappies are:
Traditional
Modern

Fitted
All in one
All in two
Pocket
These all describe types of designs, but the base premise is the same – an absorbent fabric or fibre component to soak up any liquid, and a waterproof component to keep everything contained. You can also use a biodegradable liner, to make disposal of waste easier.
What different brands are there?
There are dozens of different brands of reusable nappies to choose from, which can seem pretty daunting to a newcomer. The differences between them aren't just the colours and patterns to dress your baby in; it's worth exploring your options to find the design that most suits what you're looking for in a reusable nappy.
Below are a few examples of some of the bigger names in cloth nappies. Inclusion here does not represent any particular endorsement of these products – we would strongly encourage you to seek out more depending on whether you want to buy them online or from your local baby supplies store.
Baby Beehinds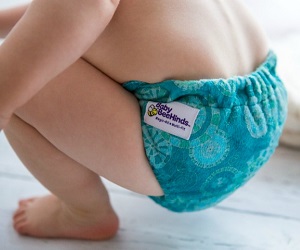 Using certified organic cotton and bamboo fleece, as well as hemp in some designs, Baby Beehinds covers all-in-one, all-in-two, fitted, and swim nappies, as well as training pants. The brand's main nappy is the Magicall all-in-one, coming in a choice of smooth outer with Velcro closure, or minkee plush fabric outer with snap closures. The absorbent component is six layers of bamboo fleece, inside the non-pil suede cloth inner lining which keeps moisture away from the skin. Laundry tabs are included to prevent the velcro closures from catching on fabric in the washing machine. They come in four different sizes ranging from newborn to XL in dozens of different colours and prints. There is also a multi-fit (i.e. one size fits most) version.
In the fitted nappy range, there are bamboo and hemp varieties, with serged edges and snap closures that fit most from birth through to toddler age. The natural fibres ensure breathability, as well as being a more sustainable choice than cotton. Bamboo is naturally anti-bacterial, while hemp is stronger, longer lasting and more resilient to acidic wee. Both of these require a separate purchase of a waterproof cover to wear over the top.
For a fit designed specifically for newborns, the Petite nappy is an all-in-two with a particularly trim fit and a snap-in insert that can be easily switched out without changing the cover if it's only wet and not soiled. These are designed to fit under baby clothes, and come in three different sizes. Babies and toddlers that are medium to heavy wetters may get particular mileage out of the Night Nappy, with an outer layer made of velvety cotton velour and independent fastening at the waist and thigh. For bubs who want to make a splash at the beach or in the pool, the Swim Nappy is a one size fits most design with a PUL waterproof outer, suede cloth inner, Velcro waist closure (including laundry tabs), and a super quick drying time.
Once your little one is ready to start toilet training, Baby Beehinds training pants are designed to look, feel, and pull up easily like real undies, and are lined with cotton jersey so that they feel the wetness to encourage potty training. Compatibility with extra absorbency boosters means parents can work on gradually building up their child's independence. Older kids with special needs are catered for with the XXL all-in-one, with a polyester outer, hidden waterproof PUL layer, soft suede cloth inner lining, and two layers of microfiber sown inside the pocket to quickly draw moisture away from the skin.
Baby Beehinds nappies range in price from $22 to $34 each, when sold individually.
Hippy Bottomus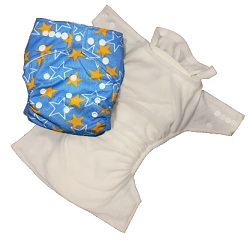 The Hippy Bottomus reusable nappy is a one size fits most design, with press studs accommodating different sizing so that the nappy can grow with your child. The outer is made from polyester with 100% waterproof PUL, while the inner is made from 100% white bamboo charcoal fleece which is naturally soft, anti-bacterial, mildew resistant, and conducive to ventilation. The interior is also a pocket design, so that the absorbent insert sits inside and can be easily removed for quick drying. Extra inserts can be added to meet greater absorbency demand, such as overnight. The inserts are made of three layers of microfiber and two layers of bamboo fleece. Swim nappies are also available, in three different sizes, as well as training pants for toddlers working on building up those toilet skills.
Nappies by Hippy Bottomus come in bright and cheery colours, traditional white, and all kinds of fun prints with animals, creatures and abstract patterns. They can be purchased individually or as part of starter packs along with other nappy accessories including wipes and wetbags.
Hippy Bottomus nappies range in price from $6.95 to $14.95 each, when sold individually.
Peapods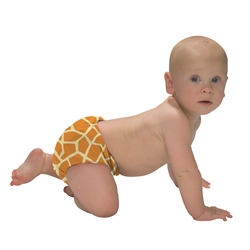 Peapod nappies can be purchased at some major baby supply stores, as well as from the company's website. The one size fits most design features an absorbent insert made from bamboo, which is naturally anti-bacterial as well as being a sustainable resource. The leg elastic is adjustable for a comfortable fit that keeps everything contained.
Peapods also offers 'pilchers' (waterproof nappy covers) for those who want to use the old fashioned terry towelling flat nappies but still want to stop liquids from seeping out. These are size-adjustable to fit newborns up through to toddler size. Little beach bums can keep dry with the Peapods swimming nappies with soft contoured elastic at the legs and tummy to keep things contained, and a waterproof but breathable outer layer. These are also good for toilet training, as protection for small accidents. Peapods swimming nappies come in three different sizes.
Peapods nappies range in price from $12.95 to $19.95 each, when sold individually. Pilchers are priced at $9.95.
Close Parent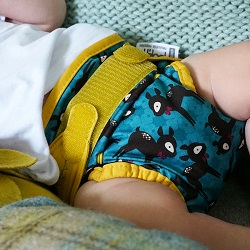 Covering all kinds of parenting needs for travel, feeding, and baby care, including baby carriers, changing mats, Close Parent produces a variety of reusable nappies in different fabrics to suit different baby needs. The Close Parent Pop-in nappies range is all all-in-two designs.
The newborn model is designed specifically for tiny or preemie babies to wear straight from birth. The outer wrap can be wiped clean and re-used if you only need to change the soaker party (in the case of urine rather than soiling), while the double sided design allows you to choose whether you'd like the vegetable cashmere side or the stay-dry suede cloth against your baby's skin.
For regular babies, the Gen V2 nappy has front poppers and stretchy tabs so it fits most children from birth through to potty training. The double leg gusset prevents leaks, while the removable soaker and booster allow parents to choose the right absorbency for their child. You can choose between two fabrics- bamboo (naturally anti-bacterial and highly absorbent) or minkee (less absorbent but faster to air dry).
Swim nappies are available in five different sizes. These are made of a waterproof laminate that is soft and flexible, containing three layers – an inner fast-wicking fleece layer, an outer stain resistant water repellent layer and in between a hidden waterproof membrane. Likewise, the Close Parent potty training pants come in five sizes in both daytime and nighttime versions, designed to help the toilet transition along without messes.
Close Parent nappies range in price from $19.95 to $35.95 each, when sold individually.

Gro Via
With a focus on making reusable nappies easy and accessible, Gro Via has designed their cloth nappies as a hybrid system. The same nappy shell can be used with a variety of different soaker pads for different needs, as well as with the traditional pre-fold nappies. For newborns and very small babies, there is a specific Newborn AOI (all-in-one) nappy with two layers of hemp and cotton.
The O.N.E. nappy is a true all-in-one that includes everything – enough absorbency that you don't need to worry about boosters or doublers (even for overnight wear), two built-in closure options, and overall heavy-duty, long-lasting construction. Choose between Velcro and snap closures, the former of which can be replaced if it wears out. The unique channelled soaker design helps maximise absorption capacity.
The traditional pre-fold style nappies are sold in packs of 3 and come in three different sizes. These are made from organic bamboo and cotton, and are suitable for use in a shell, cover, or pocket diaper.
Gro Via also produces trainers, which are pull-up nappies with a hidden layer of hemp and cotton plus a pocket liner. This inner layer lets the child feel when their pants are wet, to help encourage potty training. Swim nappies come in three different sizes, with a waterproof outer, terry cloth inner, and stretch side snaps for an easy, comfortable fit.
Gro Via nappies range in price from $21.50 to $32.95 each, when sold individually.
Should I use cloth nappies?
If you're concerned about environmental impact or making long-term financially savvy choices, cloth nappies are the better option. However, if you lack the time or stomach to deal with regularly cleaning cloth nappies, they may not work. They're certainly not for everyone – in our latest survey of nappy purchasers, 26% of parents said that they have tried using cloth nappies but gave up. A compromise may be a better solution – many parents use both cloth and disposable nappies. 21% of surveyed parents said that they use cloth nappies part-time.
While the initial outlay may seem high, it only takes a few months for the cost-per-use of cloth nappies to drop to a fraction of the cost of disposables. The savings are even greater if you have more than one child, as a good reusable nappy that is taken care of should last a very long time.
Cloth nappies can be purchased online, either direct from manufacturers or on general baby supplies websites. Some baby supply stores and eco-friendly home goods stores stock them, but if you're looking for the widest variety and price competition you'll generally have better luck online.
Original Author: April Broadbent