ALDI Mamia is No.1 with best-rated disposable nappies
Being a parent naturally means a lot of messy work – from day one – so being equipped with the right products for every occasion is a must. When it comes to baby bottoms, keeping your little one dry and comfortable, as well as the mess under control, nothing is more important than the nappies you pick. Not only that but picking the right nappies can be the difference between an enjoyable day out or not, an overnight change or not, and an unfortunate leak or not. So, which brand is keeping Aussie parents – and their bubs – the happiest? Our annual nappy brand review aims to answer just that!
Each year, Canstar Blue surveys hundreds of parents around the country, to get their opinions on the disposable nappies they've most recently bought. Think of it as like asking hundreds of your mum and dad friends from childcare or the park about their views on the nappies they use, day in day out. We've gathered feedback on nappies regarding their leak prevention, absorbency, fit, design, baby comfort and value for money to help you decide which brand will be best for your needs and budget. But ultimately it all comes down to overall parent satisfaction – which brand do Aussie mums and dads recommend more than any other?
In 2019, ALDI Mamia has reclaimed top spot from Huggies after two years away. The budget buy from the discount supermarket chain was rated best across a number of important research categories, with the big brands and other supermarket labels left playing catch-up once again.
Best-Rated Nappies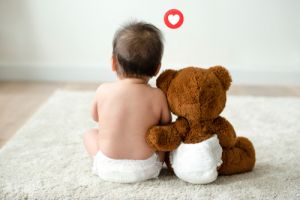 Canstar Blue's 2019 disposable nappies review saw five major brands compared and rated in the following order for overall satisfaction:
1st ALDI Mamia
2nd Little One's (Woolworths)
3rd BabyLove
4th Huggies
5th Coles Cub
Little One's, Baby Love and Huggies received four stars for overall satisfaction, while Coles Cub had to settle for just three stars. Other results of note included BabyLove receiving five stars for leak prevention, fit, design and baby comfort alongside this year's winner. Little One's got top marks on fit and baby comfort, while Huggies scored five-star reviews on leak prevention and design, plus was the only brand to achieve five stars on absorbency.
For further guidance on which nappy brand may be best for your needs and budget, here is a guide to the five major brands in our review.
Top Nappy Brands
ALDI Mamia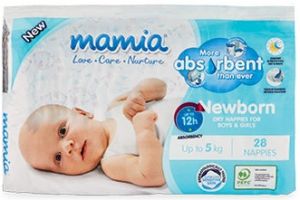 As well as generally cheap groceries and weekly Special Buys, there are a few product lines that have really helped to cement ALDI as a favourite for Australian consumers who love a bargain. Its range of affordable yet seemingly good-quality baby products, most notably its nappies under the 'ALDI Mamia' branding, is perhaps what parents are most happy about.
ALDI Mamia produces unisex nappies for all life stages – newborn, infant, crawler, toddler and walker – in addition to nappy pants for juniors. But ALDI's flagship nappies are its 'Ultra-Dry' range, said to deliver faster absorption and up to 12 hours of leakage protection. In addition, they feature a contoured 'Triple Layer Core' claimed to be its most advanced core for a better slim and comfortable fit.
In our 2019 review, ALDI Mamia was rated five stars for overall satisfaction, leak prevention, fit, value for money, design and baby comfort, with four stars for absorbency.
Little One's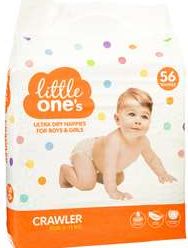 Little One's is the private label baby product line from supermarket giant Woolworths, although it doesn't carry the Woolies logo. Little One's nappies are claimed to be designed to help your own little one stay comfy and happy, with a soft inner lining for increased comfort, super-stretchy waistband for a secure fit, and a 'super absorbent core' to draw moisture away.
Little One's nappies are also claimed to include 'Triple Layer' technology – three layers designed for fast absorption. Available in the usual sizes, Little One's nappies are offered in convenience packs and bulk packs. All nappies are unisex and said to be suitable for days and nights, stated to be big on quality, yet low on price. You'll also find baby wipes under the Little One's brand.
This year, Little One's was rated four stars overall and in most other research categories, except fit and baby comfort where it received five stars.
BabyLove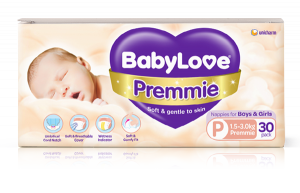 BabyLove says parents will see the end of red marks with its 'Cosifit' nappy range, spanning six different life stages from newborns to juniors. Said to feature patented technology, BabyLove's unisex nappies are claimed to help prevent harsh red marks on your baby's delicate skin, as well as provide advanced leakage protection. In addition, they're designed with a stretchy waistband for a snug and comfortable fit that moves, according to the brand.
Newborn and infant sizes come with a 'wetness indicator' to alert mums and dads to full nappies, while all sizes come with 'DriWave' technology for instant absorption and colourful prints – such as animal designs – to make changing times a little more interesting for babies and parents alike. The BabyLove range also includes nappy pants and night time pants for older kids.
BabyLove achieved four stars for overall satisfaction, as well as two other categories – value for money and absorbency. It was five stars for leak prevention, fit, design and baby comfort.
Huggies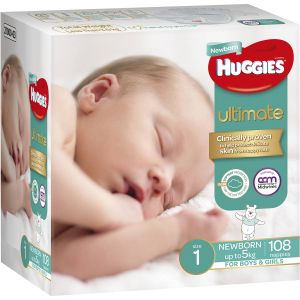 As you would expect, Huggies produces a comprehensive range of nappy options, depending on your baby's age, weight and even their sex. Huggies breaks its nappy range into three categories – Essentials, Ultimate, and Ultra Dry Nappies. These are claimed to provide up to 12 hours of leak prevention, while the Ultimate range is said to deliver even softer and more breathable nappies, with added 'gentle balm' resulting in extra cushion between your baby's skin and the mess.
The brand is well-known for its gender-specific baby nappies, with 'targeted absorbency' in the front for the boys, and the middle for girls. Whether you have a boy or a girl, nappies come in six different sizes, clearly defined by life stage (i.e. newborn, infant, crawler) and weight, with varying numbers of nappies included as appropriate. Huggies produces nappies for newborns, plus nappy pants, pull-ups, and nappies specifically designed for swimming.
Huggies was a bit of a mixed bag in our 2019 ratings, with five stars for leak prevention, design and absorbency, four stars on fit, baby comfort and overall satisfaction, but just three stars in regards to value for money.
Coles Cub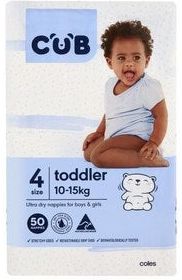 Coles says its Cub nappies have been specially designed to keep your baby feeling drier and comfortable between changes, with a focus on higher absorbency and improved stretch & fit. Coles Cub nappies are unisex and the supermarket giant claims they are designed to ensure equal absorbency in all parts of the nappy, making them suitable for boys and girls.
They're claimed to feature an ultra-absorbent core, stretchy sides for a snug, and flexible fit and a wetness indicator on newborn and infant nappies. The brand offers nappies for all life stages including infant (4-8kg), toddler (10-15kg), walker (13-18kg) and junior (16kg+). Swim pants and nappy pants are also available for older kids.
Coles Cub received three stars for overall satisfaction in 2019 and all other rated variables, except on value for money, where it scored four stars.
Things to consider when buying nappies
Our research identified the following drivers of parent satisfaction when it comes to disposable nappies:
Ability to prevent leaks: 27%
Fit: 18%
Value for money: 18%
Design: 14%
Baby comfort: 14%
Absorbency: 8%
Many brands boast maximum leakage protection with a secure and comfortable fit, but whether they live up to these claims or not is another matter. That's why we survey parents to find out which nappies are really living up to expectations. Getting good value for money is naturally important to most parents considering how many nappies you'll likely go through, but ultimately the nappies you buy have to deliver when it comes to preventing leaks. You won't care too much about the price of nappies when it's 2am and you're waking up for a change. Did the nappy hold tight, or do you need to change the bed sheets?
Here are some other key findings from our latest survey:
Which nappies should you buy?
Ultimately, it's all about finding the nappies that match both your needs and budget. Our survey of Aussie parents saw the average monthly spend on nappies total $44, with one in five mums and dads (20%) saying they tend to buy the cheapest nappies available. Everyone wants to bag a bargain, but consider how many cheap nappies you are likely to go through compared to how many slightly more expensive nappies you're likely to use. Taking the cheaper option could mean you use more nappies and end up needing to replace them sooner. When it comes to nappies, it's generally a case of getting what you pay for.
You may also be interested in:
Are supermarket brand nappies any good?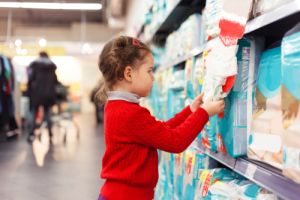 If you're looking for cheap disposable nappies, the supermarkets are often the way to go. But are they any good? ALDI Mamia has topped our customer ratings several times, with Woolies bagging a number of five-star ratings, while it appears Coles still has some work to do to win over parents at the checkout.
The difference in quality between nappies is likely to be most obvious overnight, when cheap nappies may become overly full more quickly. With that in mind, buying a mix of big-name brand nappies for night times, and cheaper nappies for use during the day, could be a smart move – something 21% of mums and dads told us they do.
You won't really know how good nappies are until your baby uses them, but the good news on that front is many brands offer free samples for you to try before you buy. Both Huggies and BabyLove offer free samples in exchange for a few personal details. Why not give them a go and let us know what you think?
Picture credits: Rawpixel.com/shutterstock.com, Vladeep/shutterstock.com