Want to drink your coffee and then eat it too? Yes, that's right. We said eat. Edible coffee cups are the latest re-usable coffee cup idea to enter the eco-scene, but how exactly do they work? And how can you be sure that this delicious cookie cup won't crumble under the pressure of holding your morning brew? In this article, Canstar Blue runs you through everything you need to know about edible coffee cups, including what they are made from, where to buy them and whether or not they are worth ditching plastic for.
What is an edible coffee cup?
An edible coffee cup is a cup, usually made from a wafer or biscuit, that is designed to withstand the heat and density of a beverage and can be eaten after. Like more common reusable coffee cups, these biscuit cups are typically used to help limit plastic wastage from single-use coffee cups, but you may also catch one at a corporate or PR event, or as part of a handmade gift from a friend, thanks to their novelty.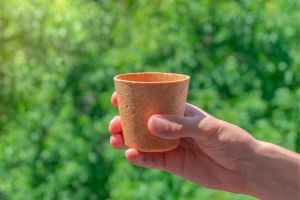 What is an edible coffee cup made of?
Typically, edible cups are made from a biscuit, wafer, bread or pastry base. Because of this, they require a hydrophobic layer on the inside to prevent the hot liquid from immediately destroying the cup. This is why some edible cups will come with a chocolate layer lining the inside, to help keep the liquid from destroying the cup.
Edible cups that are made from grains however, do not require an inner layer and can withstand hot liquid on its own. Many edible cups on the market right now use grains as the base of their edible cup formula, to help keep them sturdy. Most of these can last about 40 minutes before the biscuits begins to soften.
Why are edible coffee cups a thing?
As a type of reusable coffee cup, edible coffee cups were created with the intention of reducing plastic waste from single-serve coffee cups. According to the Victorian Government, Australians alone throw away 2.7 million single-use or disposable coffee cups a day. This equates to nearly one billion cups each year.
Not only can a biscuit coffee cup reduce wastage by being ingested, but these cups are also typically more decomposable than normal cups, meaning that even when these cups are thrown away, they will leave less of an impact than a plastic or cardboard cup. Plus, much like left over coffee grounds, these biscuit coffee cups can also be added to your home compost mix.
Where can I buy edible coffee cups from?
In Australia, edible coffee cups will be mainly be used as a novelty or plastic-free option from select coffee shops and cafés. However, there are a few brands that offer smaller packs or even specialty gift packs of edible coffee cups. Most of these packs can be ordered online, but you might also be able to snag one from a local coffee shop if they stock these types of biscuit cups.
Edible cup brands in Australia
Twiice
New Zealand-based online retailer Twiice offers a small range of single-use coffee cups that are both biodegradable and edible. Available in one flavour – vanilla – customers can order a pack of two, six or 48 cups, depending on availability. While the company is still fairly new, it has already collaborated with some local cafés in New Zealand, and even had a trial run with Air New Zealand. According to the Twiice website, the retailer is also is currently working on making vegan, gluten-free and even chocolate flavoured edible coffee cups.
Cupffee
Cupffee is a Bulgarian food-tech start-up that also delivers a small range of edible coffee cups to Australians. Claiming to offer an edible cup selection that is eco-friendly, vegan, low in sugar and keep for six months, Cupffee uses natural grain cereal as the base for its cups, which can be ordered online in a pack of 200. Though the retailer is still making its ground in Australia, Cupffee has made some ground overseas, partnering with Lavazza, Etihad Airways, The Wall Street Journal, National Geographic and H&M.
Good Edi
Since 2020, Australian start-up Good Edi has been on a mission to reduce plastic waste in the Aussie coffee industry with its edible coffee cup range. Based in Victoria, Good Edi offers one standard size edible cup in its range (8oz), which can be ordered online is packs of six, 10 or 100. Good Edi's edible cups are also 100 per cent vegan, using grains and oats as a base and are easily decomposable. The retailer claims that its edible cups taste similar to a waffle cone but 'less sweet' thanks to the natural ingredients. Though still up and coming, Good Edi does currently have partnerships with a few local Aussie cafés, including Genovese, Three Blue Ducks and King St Espresso Bar.
A handful of packaging companies, like Selpak, also offer the option of edible coffee cups to its business customers.
Advantages of an edible coffee cup
There are quite a few advantages to using an edible coffee cup as opposed to a single-use plastic cup.
Less waste: By eating the cup after drinking your coffee, you are eliminating the need to throw-away more single-use plastic because, well, there is none!
Easily decomposable: Even if eating your coffee cup doesn't appeal to you, or, you simply don't have the room to fit it once you've had your drink, you can still carry some peace of mind knowing that your throw away cup won't contribute to waste. You'll even be able to add it to your compost bin.
Natural ingredients: Most edible coffee cups on the market are made with natural ingredients, with gluten intolerance and vegan diets in mind, so they are actually quite a little healthy snack.
Disadvantages of an edible coffee cup
Despite the wonderful environmental advantages of using a biscuit as a cup, as you can probably imagine, there are also a number of disadvantages too.
Not sturdy: At the end of the day, these are basically an edible wafer coffee cup, which means that it will probably be more likely to break and leak than a normal cup.
No lids: Though some companies are attempting to make edible lids, at this stage, edible coffee cups are lid-less, making it difficult to take-away the drink or travel with it.
Very limited supply: At this stage, there are very few suppliers and makers of edible coffee cups, so often supply is very low and hard to get your hands on, which may make it difficult to keep up with using this as a sustainable cup option.
How to make an edible coffee cup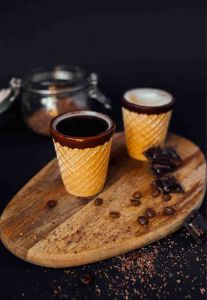 If you're feeling inspired to make your own biscuit cup, there are plenty of great edible coffee cup recipes to be found online. But essentially what you'll be making is an extremely dense or overcooked biscuit or pastry. Edible coffee cup molds can be found online too, although if you are feeling really creative, you may be able to make a smaller cup using the backend of a muffin tray. It may also help to add a chocolate or sugar coating on the inside to try and form a layer between the biscuit and the liquid to prevent the cup from leaking straight away.
What better to complement your new edible coffee cups, than a brand spanking new coffee machine? If you're looking for the perfect addition for your at-home café, check our coffee machine ratings below. You might just find a keeper.
Espresso Coffee Machine Reviews
Image credit: Milenova Elena/Shutterstock.com, SOROKAJPG/Shutterstock.com