It seems more and more people are jumping on the BYO coffee cup bandwagon, bringing in snazzy reusable mugs to work for their coffee fix while also doing their part for the environment. With Aussie coffee culture flourishing, disposable coffee cups – which aren't recyclable – are a growing concern for many who care about the planet.
However, reusable coffee cup brands are popping up left, right and centre, diverting billions of disposable cups from landfill. What's more, if your local cafe is signed up to responsiblecafes.org, bringing your own cup could save you around 50c on your coffee – "I'll take a latte with a double shot, thanks".
If you're shopping around for a good reusable coffee cup, but aren't sure where to start, you've come to the right place! 
Jump to :
What is the best reusable coffee cup in Australia?
There isn't anyone 'best' coffee cup, rather you'd be much better off shopping around and finding the best one for you. The best travel coffee mug for one person could be massively different for the best travelling coffee mug for another person. Some other factors you might like to consider include:
Heat retention: a well-insulated coffee cup will enable your coffee to stay hot for longer periods of time, so you can even take your coffee with you to work

Design: apart from trendy designs, it's important to consider the user-friendliness of the cup such as cups being dishwasher safe for easy cleaning – also consider the design of your coffee cup when using it travelling, such as in the car

Replacement parts: reusable cups typically sit around $30 and up, so it's useful when a brand also sells replacement parts such as lids in case yours becomes run down or goes missing

Material: whether its glass, stainless steel, plastic, ceramic or double-walled, the material can influence how well mugs retain heat

Price: last but not least, budget can play an important role in your decision – an average price for reusable cups sits around $30 but keep in mind that it's reusable and you might use it daily, so it would be wise to invest in quality
How much do reusable coffee cups cost?
BYO coffee cups can cost from as little as $1.50 for a simple Kmart model and can go up to more than $40. It's evident that companies with premium price tags boast a number of added layers or specific materials. Depending on your budget, you can choose accordingly but keep in mind that when you BYO cup, you can save up to 50c at some cafes, so it might pay off eventually.
Reusable coffee cup brands in Australia
We'll give you a rundown of what's available in the article below. Your local café might stock a few other brands, but these are some of the prominent ones out there, so let's dive into a few of them to see what's on offer and the prices you can expect.
Cheeki reusable coffee cups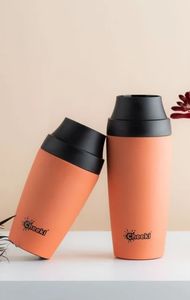 Cheeki is an Aussie brand of reusable products, established with the aim of supplying a "healthy, fun and environmentally responsible" range. Cheeki's line-up is for all seasons, including water bottles, insulated bottles, shakers, flasks, coffee mugs, and food jars. Cheeki products are stated to be manufactured from Premium Food Grade stainless steel with no inside lining, non-toxic inks and are BPA-Free.
Reusable mugs from this brand are claimed to be spill-proof, being equipped with Cheeki's "unique technology" pop-up lid. They're also boasted to keep your drinks hot for up to 8 hours and cold for up to 12 hours. Available in a number of colours such as orange, green, blue and a few others, you can also purchase additional lids as replacements. Cheeki mugs are stated to fit in car and buggy drink holders. They're designed with a double-wall, which means they're cool to touch on the outside while keeping the temperature hot on the inside. In addition, Cheeki mugs are said to be easy to clean and the lids are top-rack dishwasher safe.
Cheeki reusable coffee cups
Sizes: 240ml, 310ml, 350ml, 450ml 

Cup Material: stainless steel cup and plastic lid

Prices: $26.95 – $44.95
| Cheeki reusable coffee cup pros | Cheeki reusable coffee cup cons |
| --- | --- |
| Great size variety | Quite pricey |
| Great material variety | Not too much colour choice |
| "Spill-proof" lid | |
| | |
Frank Green reusable coffee cups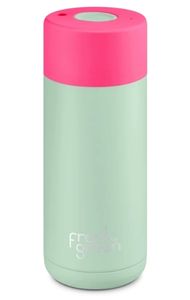 Frank Green is another Australian-owned brand, with its reusable mugs made and designed down under. They're boasted for stain and odour resistant inner designs and spill-resistant lids, plus you can customise your colours – base, lid and button. They're dishwasher safe for easy cleaning, plus recyclable at end of life. Replacement parts are also available from bases to lids.
There are a number of reusable coffee cup ranges available – The Original, Stainless Steel and the Next Generation. Frank Green SmartCups are part of the original line-up and are boasted to fuse design, form and function with sustainability. They feature a one handed, push button operation to open and close the lid. In addition, you'll find a double walled thermal outer layer to keep coffee hot while fitting in a standard cup holder. Frank Green's stainless-steel range also features vacuum insulated, double-walled thermal insulation to retain heat or keep cold for up to 12 hours. Its Next Generation range is quite unique in that it allows you to wave the base of the cup and pay for anything under $50 via Visa payWave – watch it in action via the video below.
Frank green reusable coffee cups
Sizes: 8oz/230mL (for a small 180mL or regular 230mL sized coffee), 12oz/340mL (for a regular 230mL or large 340mL sized coffee)

Material: stainless steel or plastic

Prices: $32.95 – $44.95
JOCO reusable coffee cups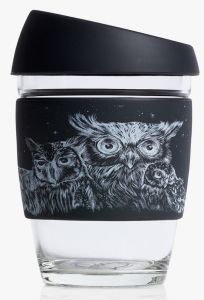 The JOCO brand was born in 2008, apparently out of protest to a mounting threat of plastic and single use waste. It offers reusable cups, bottles, plus glassware, all boasted to be plastic-free. Its BYO cups are fairly standard in design across the full range, all featuring borosilicate glass and medical grade silicone lids and sleeves. They're stated to be microwave and dishwasher safe with a nice range of colours from ruby wine, to sandstone and vintage blue. There's also an artist series with some funky and unique colours and artwork.
JOCO mugs are boasted for anti-splash ergonomic designs, which incorporate a nose dome and head-tilt-free drinking. Standard barista sizing is available with 3/4 latte, for those who prefer less milk. Vessels are stated to feature "precisely formulated" borosilicate glass with thermal shock and resistance. Larger, 'Utility' cups are also available, along with ones that have patterns across the holding area.
JOCO reusable coffee cups
Sizes: 4oz, 6oz, 8oz, 12oz, 16oz

Material: glass cup and silicone lids

Prices: $23.95 – $34.95
| JOCO reusable coffee cup pros | JOCO reusable coffee cup cons |
| --- | --- |
| Modest pricing | Could be an awkward shape for some uses |
| Nice looking special edition cups | Not too much colour choice |
| Replacement parts available | |
| | |
KeepCup
reusable coffee cups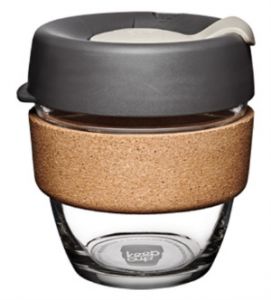 KeepCup is one of the brands that was built on the reusable cup trend, starting out in Australia and spreading worldwide to 65 countries with a unique look and feel. It all began with a brother and sister duo from Melbourne who started up a café in 1998 and became more conscious of how much waste the business and consumers discarded and in turn the beloved KeepCup came to fruition. Made from fully tempered, soda-lime glass, KeepCups are available in a bunch of colours, plus you can choose your own colour variations for the band, lid and plug if the standard options don't suffice. 
There are a number of series on offer including Cork, Tempered glass, Double wall, Original and Clear Plastic, as well as Star Wars and AFL themed. The original line-up is stated to be colourful, durable and lightweight, while its KeepCup Cork edition is boasted to feature a natural cork band made in Portugal using waste products from a wine cork manufacturer. Its lids also have an additional hole for straws if you fancy a chilled drink. Replacement parts are available and for best results, KeepCup recommends a hand wash only for its mugs. Not all sizes listed below are available for each range, however, its Originals come in all sizes.
KeepCup reusable coffee cups
Sizes: extra small (4oz/118ml), 'SiX' (6oz, 177ml), small (8oz/227ml), medium (12oz/340ml) and large (16oz/454ml)

Material: glass, plastic or metallic cup and plastic lid

Prices: $12 – $44
| KeepCup reusable coffee cup pros | KeepCup reusable coffee cup cons |
| --- | --- |
| Great size variety | Some cups have specific cleaning requirements |
| Nice price range | |
| Replacement parts available | |
| "Design your own" option | |
Klean Kanteen
reusable coffee cups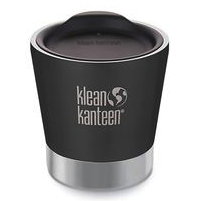 Klean Kanteen is a family-owned company that claims to have introduced the first stainless steel, BPA-free, reusable water bottle in 2004 because it wanted a non-toxic solution to single-use plastic water bottles. In addition to its water bottles, it also offers a number of insulated tumblers, steel pints and steel cups. Its 20oz insulated tumblers are boasted to keep drinks hot for up to 6 hours and when work is done and it's time for a refreshing drink, you can keep drinks cold for up to 24 hours. Klean Kanteen mugs are said to be built to last and backed by its Strong-as-Steel Guarantee.
The 16oz insulated tumblers also transition from morning coffees to afternoon smoothies, keeping your drinks warm for 4 hours, and iced for 20 hours, according to Klean Kanteen. In addition, the Klean Coat powder coat finish is stated to be four times more durable, chip-resistant and safe for people and planet alike. A number of basic colours are available from black and silver to blue and green.
Klean Kanteen Reusable Coffee Cups
Sizes: 8oz (237ml), 16oz (473ml), 20oz (592ml)

Material: stainless steel cup and plastic lid

Prices: $29.95 – $46.95
| Klean Kanteen reusable coffee cup pros | Klean Kanteen reusable coffee cup cons |
| --- | --- |
| Unique shape (could be awkward) | Quite pricey |
| "Hot for two hours" design | Cheaper cups can be quite short |
| "Strong as steel" guarantee | Not many colour options |
| | Limited size variety |
Kmart
reusable coffee cups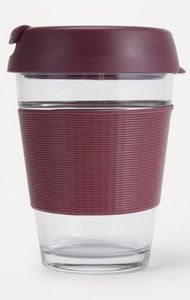 For a budget-friendly option, you might like to consider Kmart's Small Coffee Cup. Retailing at a low of $1.50, expect a small 400ml size (14.15cm x 8.55cm) made of polypropylene (PP), thermoplastic rubber (TPR) and silicone. The outside surface can be hot, so it's advised you always hold the mug by the TPR wrap. It's also recommended to wash according to instructions on the care label.  There are no spare parts available to purchase but perhaps for $1.50 you might just buy another one when you need to – although that does defeat the purpose if you're not going to use it for an extender period of time.
Another Kmart coffee mug is a Double Wall Travel Mug with similar construction and BPA-Free. It's stated to be microwave and dishwasher safe and is slightly taller in size (9.3cm x 9.3cm x 18.8cm). It comes with a grey or green plastic lid with a clip back drink hole, and grey or green grip strip. Kmart has a wide variety of coffee cups in several shapes, sizes and colours, so you get a lot of variety to choose from.
Kmart Reusable Coffee Cups
Sizes: 14.15cm x 8.55cm (400ml) for Kmart Small Coffee Cup and 9.3cm x 9.3cm x 18.8cm for Kmart Double Wall Travel Mug

Material: plastic and silicone

Prices: $1.50 – $5
| Kmart reusable coffee cup pros | Kmart reusable coffee cup cons |
| --- | --- |
| Super cheap | No spare parts are available |
| Several cup shapes are available | Can be quite cheap quality |
| Reasonable range of colours | |
| | |
Other information about reusable coffee cups
While this is a decent selection of the coffee cup brands on offer, don't be convinced that these are all that's on offer. Reusable coffee cups are also available from the following brands:
Avanti

Bamboosters

Bodum

Built NY

Contigo

Earth Bottles

Pottery For The Planet
Thermos
Starbucks
Reusable cold drink cups
Some brands boast cups that can keep drinks iced while some also feature straw compartments for convenience. KeepCup is one of the brands that features toughened soda lime glass, protected by a clear plastic booster, creating a twin-walled vessel claimed to improve heat retention and insulate your hand from heat, and for ice drinks, keep them cold and prevent condensation. 
Collapsible coffee cups 
For additional convenience, another trend for BYO cups is collapsible material, which allows you to minimise the size of the cup for easy storage. Seriously! It's a design featured more prominently with lunch containers, but it's also making its way to reusable cups, so you can chuck the cup in your bag with ease once done.
Edible coffee cups
Although probably not the best option for your takeaway coffee, another reusable cup option you could opt into is an edible coffee cup. Yes, that's right, you can now get a coffee cup that you can eat afterwards. These biscuit cups are latest trend in reusable and sustainable cup options, which you may soon find popping up in a café near you.
Is a reusable coffee cup worth the money?
Travel mugs have been around for a while, however, reusable coffee cups are a new and improved range of mugs, helping to save the planet one cup at a time. Traditional ceramic mugs are heavy, breakable and require heating prior to filling with coffee. Thermoses are quite bulky, unattractive and require the coffee shot to be poured, destroying the crema on the shot, according to KeepCup. Further to this, both options are typically made from composite materials, making them dishwasher unfriendly and difficult to recycle at the end of life, so investing in an upgraded BYO cup might be the way to go.
We hope you've found this guide helpful in identifying the best reusable coffee cup for you!
Espresso Coffee Machine Ratings
Original Author: Veronika Hleborodova