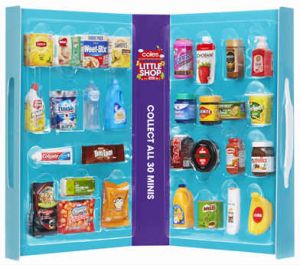 Coles has a big new plan to win your supermarket loyalty – in the form of small 'collectable' toy versions of some of its most popular products.
From Wednesday (July 18), Coles will give away the mini collectables for every $30 spent on groceries.
Expect many of your weekly staples in miniature size including Weet-Bix, Milo, Vegemite, Nutella, OAK milk, Tim-Tams, Lipton tea and even Colgate toothpaste, Finish dishwashing tablets and Dettol soap, just to name a few!
There are a total of 30 items to collect.
"For every $30 you spend you get one mini collectable. It's every $30 in every shop," Coles spokesperson, Martine Alpins, told 9News.
"These are some of the biggest brands we've worked with to make little items that our customers can collect, and swap in collector cases."
There will also be one thousand chances to win a $100 Coles gift card if customers receive the miniature Coles Big Red Hand.
There will also be additional items available for purchase, including collector cases, miniature shopping baskets, trolleys and even a miniature shopfront to make it easier for customers to keep and enjoy the collectables long into the future.
To help customers complete their collection, Coles says it will be holding a Swap Day at selected stores across the country.
The Coles 'Little Shop' runs from Wednesday 18 July until Tuesday 28 August.
Marketing expert, Dee Madigan, predicts the plan will be successful in Coles winning over customers from supermarket rivals Woolworths and ALDI.
"Collectable campaigns are usually targeted at children, and we definitely know they work there. It definitely works overseas, and I think it will work here," she told news.com.au.
While the promotion has been met with enthusiasm by some, other shoppers have taken to social media, outraged the supermarket that axed single-use plastic bags has rolled out more items made from materials including plastic.
Meanwhile, Coles plans to revamp its current supermarkets to much smaller, convenient stores, similar to Woolworths' Metro Mini Shops. The new stores will have a different format and offer customers exclusive products.
Retail expert, Dr Gary Mortimer, says it's a trend we could begin to see more of.
"What we've seen is population growth in those urban, inner-city CBD areas, it's very difficult to place a large supermarket into those areas," Dr Mortimer told 9News.
"Those smaller format convenient style supermarkets will really start to grow and that will improve better offers for consumers."
The price war may be over, but the fight for convenient shopping is just heating up. #9Newshttps://t.co/73P0zoAzFf

— Nine News Australia (@9NewsAUS) July 14, 2018
Coles and Woolworths to reward customers
Since 'banning' single-use plastic bags, the supermarket giants have had their share of angry consumers, leading them to offer free reusable bags for a limited time. In the continuing struggle with the transition, both Coles and Woolies have announced that customers who bring their own bags into store will earn bonus points on their loyalty cards.
Coles jumped first, offering shoppers a bonus of 30 Flybuys points on every shop until Tuesday (July 17) if they bring their own bags. The offer was later extended to the end of the month.
Coles' Operations Director, Paul Bradshaw, said the company was "grateful" customers were bringing their own bags.
"Offering Flybuys points is a small way of saying thank you to our customers for making the switch to reusable bags," he said.
Woolworths quickly followed suit, but with a slightly different offer of giving out two points for every bag shoppers bring with them to use in store until the end of the year.
Original Author: Veronika Hleborodova