A food dehydrator isn't just the secret ingredient to finger-licking good jerky. It's also a handy tool to have in your kitchen to make healthy snacks, like dried fruits and veggie chips without added preservatives. If you fancy yourself a cooking whizz, you can also make crackers, granola and cookies with this nifty machine.
Regardless of what meals you plan on using a dehydrator for, finding one to add to your kitchen can be a tricky process, with a number of brands offering a product to suit your household, no matter how many hungry mouths you have to feed. If you're not sure about dehydrators or don't know which model you should look into, this Canstar Blue article will help take the guesswork out of it.
How do food dehydrators work?
Traditionally, foods were dehydrated by simply leaving them in the sun, which didn't always guarantee a consistent end result, as well as raising a few health concerns… Nowadays, modern dehydrators provide a quicker and more hygienic, way to dehydrate all types of foods at the same time.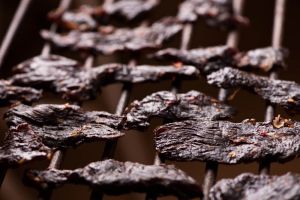 As the name suggests, food dehydrators work by removing moisture from food, without removing the bulk of the nutrients. The end result is usually a food that is shrivelled and dry, but essentially the same in terms of nutritional value. You may have to set aside some time, however, as dehydrators operate at low temperatures for optimal moisture extraction.
Similar to a fan-forced oven, dehydrators work through the combination of a number of elements, including a heating element, a fan and some air vents, in addition to the trays or shelves for the food to sit on. As the food is heated, moisture is released into the air, with the fan circulating the air towards the air vents, where it is then released outside of the dehydrator, ensuring that the air inside the dehydrator is free of moisture.
What is the best food dehydrator for home use?
Here are the best food dehydrators to use at home, based on features and functionality:
Kmart Anko Food Dehydrator: $45 RRP*
Kogan Electric Food Dehydrator: $49.99 RRP*
Devanti 5-Tray Food Dehydrator: $57.95 RRP*
Sunbeam Food Dehydrator: $129 RRP*
Sunbeam Food Lab Food Dehydrator: $219 RRP*
BioChef Arizona 6-Tray Food Dehydrator: $222 RRP*
Ezidri Snackmaker Digital Food Dehydrator: $229 RRP*
Food dehydrators
Kmart Food Dehydrator − $45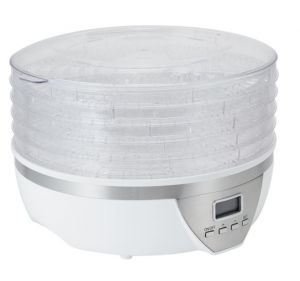 This budget Anko food dehydrator from Kmart has all the basic functions you need to dry or dehydrate your food at home. This includes a digital display, variable temperature settings (40°C-70°C), a 48-hour runtime and five height-adjustable, BPA-free transparent plastic trays to keep your banana chips from sticking. The lid is also see-through so that you can check on the whole dehydrating process.

Kogan Electric Food Dehydrator − $49.99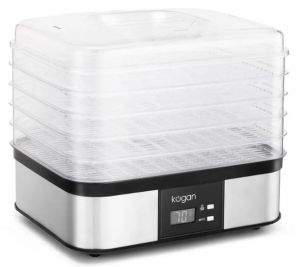 Looking to make dehydrated snacks and free up space in your cupboards? This Kogan electric food dehydrator could be your go-to. It features an LCD display with digital temperature controls, five plastic trays with a mesh layer to separate your beef jerky and dried fruits, plus a ventilator for even dehydration and overheat protection.

Devanti 5-Tray Food Dehydrator − $57.95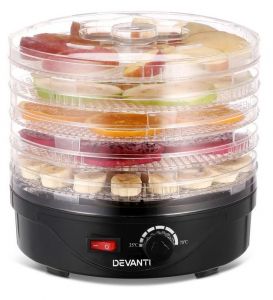 This Devanti five-tray food dehydrator from Bunnings uses a 360° heat cycling system to ensure that every food tray gets just the right amount of heat and air for drying. The five drying trays can also be adjusted depending on the quantity and thickness of the foods to be processed. This model also features a simple on/off switch, variable temperature settings (35°C-70°C), plus a food-grade transparent lid.

Sunbeam Food Dehydrator − $129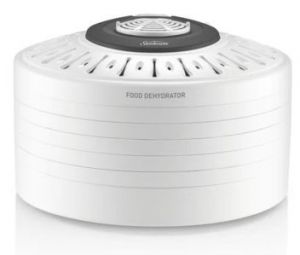 This Sunbeam food dehydrator (DT5600) can help you preserve more nutrients and vitamins within your food, using only three heat settings with a maximum power output of 370W to slowly dehydrate fruits and vegetables. It also comes with additional accessories including a fruit roll tray and five drying racks. The only downside to this model is that it can be a little noisy while in use, according to online reviews.

Sunbeam Food Lab Food Dehydrator − $219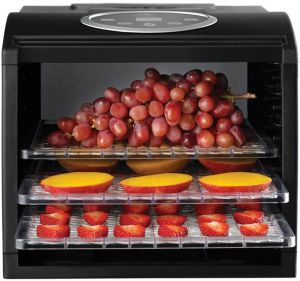 Whether you're culturing yoghurt or drying apricots, this heavy-duty model from Sunbeam (DT6000) gives you the space, versatility and power to do both. It comes with eight set temperatures from 35°C to 70°C, plus a horizontal airflow to ensure even coverage throughout the cavity (which means you won't have to rotate your trays). It also features six BPA-free large shelves to work with, and an LCD 19.5-hour countdown timer.

BioChef Arizona 6-Tray Food Dehydrator − $222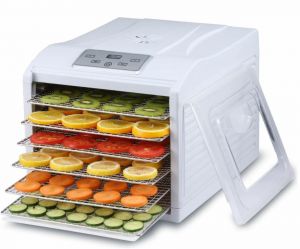 This BioChef food dehydrator (KT-DE-BC-6T-WH-AU) can help extend the life of your fresh produce and provide preservative-free alternatives to store-bought snacks. It features a six-tray capacity, an adjustable thermostat (35°C-70°C), a 24-hour digital timer allowing you to get your drying done while you're at work or asleep and a horizontal drying action for even drying from back to front. Drying trays are made with BPA-free stainless-steel that's non-reactive to handle acidic foods like citrus fruits.

Ezidri Snackmaker Digital Food Dehydrator − $229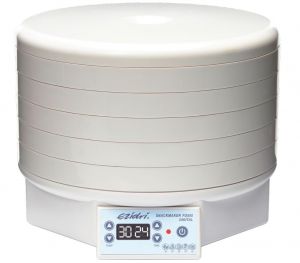 This Ezidri digital food dehydrator (FD500) can serve as your very own food preservation station. It's especially great for those who want no food to go to waste. It features a digital interface, a temperature range from 30°C-60°C, a 24-hour timer, an auto-off function and five BPA-free shelves.

What should I look for when buying a food dehydrator?
If you're looking to invest in a food dehydrator, there are features worth considering before making your final purchase decision, including:
Capacity: Most dehydrators feature a standard five-tray capacity, but if you're looking to make jerky or other snacks in bulk, look for models with six or seven drying racks to save you time and energy.
Even airflow system: Horizontal airflow systems tend to provide more even drying across the trays than vertical systems. A horizontal drying action also means you won't have to rotate your trays, and you can enjoy your dried food without any icky moisture spots.
Adjustable thermostat: This is one of the most essential features in a food dehydrator as it allows for better control over the drying process. You can use it to maintain, set or change the temperature depending on the quantity and consistency of foods you're drying and your desired end result.
BPA-free trays: Check that your dehydrator comes with BPA-free stainless-steel or plastic trays to ensure there's no food contamination with harsh chemicals and for extra peace of mind.
Transparent lid: A transparent lid is also a great feature if you want to keep an eye on the drying process, especially if you're new to the game.
Are food dehydrators worth it?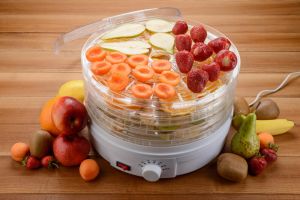 Besides making jerky, a food dehydrator is also a great kitchen gadget to have if you want to reduce food waste and extend the shelf life of your fruit, veggies and meat. The major benefit to that is that you preserve foods naturally and with zero preservatives, and without using tons of sugar or brine. Plus, dehydrated foods tend to retain more nutrients and minerals as the drying is done at low temperatures over a few hours. You can also use a dehydrator to make granola, crackers and cookies, which makes it a more versatile appliance than one might think at first glance.
Which food dehydrator should I buy?
When it comes to food dehydrators, the biggest difference in makes and models generally comes down to capacity and drying times. Those who like to occasionally add dried herbs to their dinners may be better off looking at the smaller capacity models, whereas larger capacity models may suit those who run a catering business or are looking to dry in bulk.
Ultimately, it will come down to your personal preference, as well as your budget, with each brand offering a number of models for you to choose from, meaning that a closer inspection could help you not only make a decision but save money in the long run. There's plenty that can be achieved with a food dehydrator, so it pays to know your stuff before you walk into your local store.
*Prices taken from respective retailers, correct as of March 2021.
Picture credits: Alisafarov/Shutterstock.com, Fabio Balbi/Shutterstock.com, Yuriy Golub/Shutterstock.com.