Fact Checked
Dehydrating foods isn't something many people would think of if they're preparing snacks or meals for the week. However, it can be an extremely useful way to prepare food to save space and also help make your food go that little bit further. If you're wanting to invest in a dehydrator but not certain about where to start, continue reading this Canstar Blue guide to see what you need to know about food dehydrators. 
What is a food dehydrator?
Food dehydrators are an appliance that (surprisingly) dehydrate foods to help preserve their shelf-life, or create a whole new food altogether. Traditionally, foods were dehydrated by simply leaving them in the sun, which didn't always guarantee a consistent end result, as well as raising a few health concerns. Nowadays, modern dehydrators provide a quicker and more hygienic, way to dehydrate all types of foods at the same time. 
How do food dehydrators work?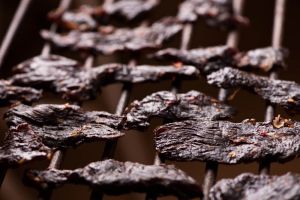 As the name suggests, food dehydrators work by removing moisture from food, without removing the bulk of the nutrients. The end result is usually a food that is shrivelled and dry, but essentially the same in terms of nutritional value. Dehydrators work through the combination of a number of elements, including a heating element, a fan and some air vents, in addition to the trays or shelves for the food to sit on. 
As the food is heated, moisture is released into the air, with the fan circulating the air towards the air vents, where it is then released outside of the dehydrator, ensuring that the air inside the dehydrator is free of moisture.
Is dehydrated food healthy?
Generally speaking, dehydrated food is fairly healthy. The process of drying foods leaves most of the nutrients and other elements of the food intact, meaning you aren't missing out on what your body needs. However, eating foods as they are can be the healthier option because no elements of the food have been altered. If you're uncertain about whether you should incorporate dehydrated food into your diet, speak to your doctor or a healthcare professional.
How much do food dehydrators cost?
Food dehydrators vary in price starting from around $40 and reaching up to $1,500 for higher end models. Many of the cheaper models will feature two to three trays and have all the basic features, whereas more expensive models will have added features and a larger capacity. 
Who sells dehydrators?
There are a number of brands who sell food dehydrators including Kmart, Sunbeam, Devanti and Kogan. You can find these appliances directly through the brand or from retailers like The Good Guys and Appliances Online. 
Food Dehydrator Kmart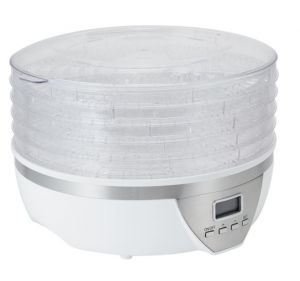 Kmart only have one model within its food dehydrator range, with the model priced at around $50. It features a five to eight litre capacity, multiple trays with adjustable height to space out your food and variable digital temperature display so you can monitor where your food is sitting. It also includes BPA free plastic layers that are clear so you can see the progress of your dehydration. 
Sunbeam Food Dehydrator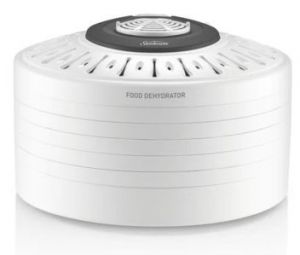 Sunbeam offer a couple of dehydrators that range from $150 to $250. Each model offers numerous heat settings so you can choose the level of dehydration you want, offer multiple trays to spread food out and auto-off countdown timers so you don't have to worry about switching off the appliance once it's finished dehydrating. Sunbeam's precision technology helps to create an even finish on dehydrated foods so you can have snacks that last longer, and have consistent results whenever you're whipping up a storm. 
Devanti Food Dehydrator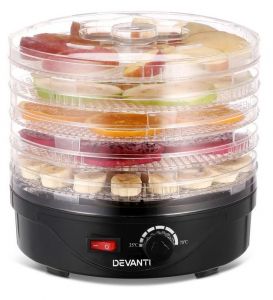 Devanti offers one of the widest ranges of food dehydrators on the market, with prices ranging from $150 to upwards of $600. You can find multiple sizes of dehydrators including six to 10 tray models for use in the home and commercially. You can expect features such as an adjustable thermostat, overheating protection, easily removable trays and a clear LCD touch control panel, along with a 360-degree drying system to help evenly dried foods in a fast and efficient manner. 
Kogan Food Dehydrator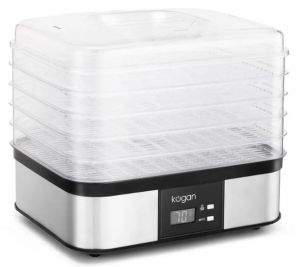 Kogan offer a number of dehydrators in five, six and 10 tray models costing from $70 to $200. You can expect powerful drying capabilities, even temperature control, LED touch display and ample space on the drying racks for different kinds of foods. Kogan offer a cheaper option for dehydration appliances with the same capabilities so you won't have to break the bank for your snacks. 
What should I look for when buying a food dehydrator?
If you're looking to invest in a food dehydrator, there are features worth considering before making your final purchase decision, including:
Capacity: 

Most dehydrators feature a standard five-tray capacity, but if you're looking to make jerky or other snacks in bulk, look for models with six or seven drying racks to save you time and energy.

Even airflow system: 

Horizontal airflow systems tend to provide more even drying across the trays than vertical systems. A horizontal drying action also means you won't have to rotate your trays, and you can enjoy your dried food without any icky moisture spots.

Adjustable thermostat: 

This is one of the most essential features in a food dehydrator as it allows for better control over the drying process. You can use it to maintain, set or change the temperature depending on the quantity and consistency of foods you're drying and your desired end result.

BPA-free trays: 

Check that your dehydrator comes with BPA-free stainless-steel or plastic trays to ensure there's no food contamination with harsh chemicals and for extra peace of mind.

Transparent lid:

 A transparent lid is also a great feature if you want to keep an eye on the drying process.

Price:

As with any purchase decision, how much money you have to spend may influence which brand and model you end up with. Basic models with fewer features will generally cost you less, with those packed with multiple trays and a larger capacity will tend to be on the higher end of the price spectrum. 
Which is the best food dehydrator?
Which food dehydrator is the best will come down to personal preference and your dried food needs. If you often make dried food snacks then a larger dehydrator with more functions could be an ideal choice, however if you're more of a casual food dryer then a cheaper option may be a good choice. If you're still not certain about a food dehydrator but want to see other similar appliances, compare air fryer brands below.