While not a common kitchen appliance, food dehydrators can be a rather handy tool for those looking to create healthy snacks, or to add something extra to your cooking. Capable of drying out food types such as meats for jerky, as well as vegetables such as sweet potatoes and kale for a healthy alternative to chips, a dehydrator may be able to take your cooking game to the next level, as well as kickstart that health trend.
Regardless of what meals you plan on using a dehydrator for, finding one to add to your kitchen can be a tricky process, with a number of brands offering a product to suit your household, no matter how many hungry mouths you have to feed. If you're not sure about dehydrators, or don't know which model you should look into, this Canstar Blue article will help take the guesswork out of it.
How do food dehydrators work?
Traditionally, foods were dehydrated by simply leaving them in the sun, which didn't always guarantee a consistent end result, as well as raising a few health concerns… Nowadays, modern dehydrators provide a quicker, and more hygienic, way to dehydrate all types of foods at the same time.
As the name suggest, food dehydrators work by removing moisture from food, without removing the bulk of the nutrients. The end result is usually a food that is shriveled and dry, but essentially the same in terms of nutritional value. You may have to set aside some time however, as dehydrators operate at low temperatures for optimal moisture extraction.
Similarly to a fan-forced oven, dehydrators work through the combination of a number of elements, including a heating element, a fan and some air vents, in addition to the trays or shelves for the food to sit on. As the food is heated, moisture is released into the air, with the fan circulating the air towards the air vents, where it is then released outside of the dehydrator, ensuring that the air inside the dehydrator is free of moisture.
Food Dehydrators
BioChef
Operating in Australia for over 20 years, BioChef offers a variety of kitchenware appliances, including the food dehydrator, at selected electrical retailers. With a number of models providing different capacities, including a 16-tray commercial model, BioChef may have a model for you, regardless of how much food you're preparing.
The Arizona 6-tray, BioChef's basic model, includes a digital timer, adjustable thermostat and BPA-free materials, works using a horizontal drying system, operating similarly to a fan-forced oven. Retailing for over $200, the Arizona also includes six interchangeable stainless steel drying trays, allowing you to fit as much, or as little, as you need.
The Arizona is also available in larger capacities, including eight and ten-tray models for those having to cook in bulk, as well as a commercial model
BioChef also offers the 'Savana' dehydrator, which is available in six, nine or 12-tray models. While it may retail for close to $500, it includes features such as multiple drying modes, dual fan technology, stainless steel trays and two-stage sequential temperature timer, allowing for optimal drying conditions.
If you're in the catering industry, BioChef offers a 16-tray Premium model, but this will set you back almost $1,300. Made of stainless steel, the Premium model is powered by 1000W, with an adjustable thermostat range of 40°C to 90°C, allowing for a variety of foods to be optimally dried. Additionally, the Premium model also features a 15-hour timer, and can be set to automatically turn itself off once the timer has finished, meaning you can dry food even when you're not home.
BioChef offer a 3-year warranty on all models
Cuisinart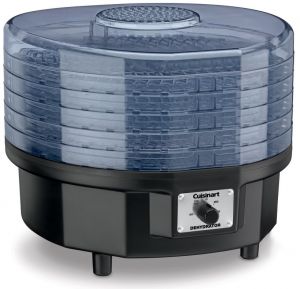 While it might not excite you with regards to its range, Cuisinart may excite you with its model, priced at under $150. Including five stackable, interlocking racks, Cuisinart utilises a top venting system, meaning the air is pushed up and out from a fan mounted on the bottom of the model.
With an adjustable thermostat for low, medium and high fan settings, Cuisinart also allows enough space for an additional four racks to be stacked within the model, handy for when you have to dry food in bulk. Cuisinart's food dehydrator can be found at select kitchenware retailers, so be sure to shop around to ensure you grab a good deal.
Cuisinart offers a three year motor warranty for additional peace of mind
Sunbeam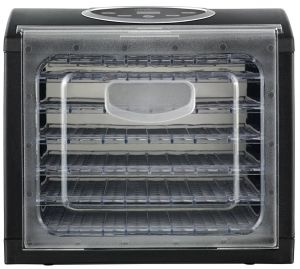 Operating for over 100 years, Sunbeam has long been associated with fitting out Aussie kitchens with appliances, with the food dehydrator no exception. Offering two models, the DT5600 and the DT6000 "Food Lab", Sunbeam is also competitively priced, ranging between $100 and $200 depending on which retailer you shop with.
The DT5600, Sunbeam's top vented model, features three heat settings to suit the food you're drying, as well as a removable filter for apparent easier cleaning. With five stackable drying racks and convection fan, the DT5600 is also portable – weighing only 2.4kg – with a 120cm cord allowing for easy movement around the kitchen.
If you prefer the look of a horizontal vent, or generally have a bit more room in the kitchen, the DT6000 may be a better option for you. With an LCD control panel, the Food Lab also features a nice countdown timer so you can keep up with your food, along with eight temperature settings ranging from 35°C up to 75°C. With rubber feet for stability, a mesh tray for smaller foods and a capacity for six trays, the Food Lab will be able to handle all but the largest workloads.
Sunbeam offers a 12-month warranty on all dehydrators
Ezidri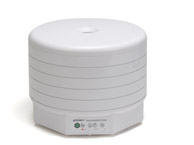 Founded in Australia back in 1980, Ezidri may not stock the traditional range of kitchen appliances, but offers products that could help households go that extra step to create masterpieces, such as sushi makers, thermometers and of course, dehydrators. With two models available, Ezidri may be on the pricier end of the market, costing between $200 and $400 depending on which model you pick up.
The Snackmaker, the cheaper of its models, has a capacity of up to 15 trays, with three temperature settings allowing for a wide variety of foods to be dried. Ezidri also boasts a unique airflow pattern which requires no tray rotation, allowing you to simply turn on the dehydrator and walk away. The Snackmaker comes with trays and sheets, with additional trays also available for purchase through its website or at your local retailer.
Ezidri's other model, the Ultra FD1000, ups the capacity to 30 trays, potentially making it an ideal model for those who are keen on their dehydrated food, or are catering for an event. The Ultra can be set at a temperature between 30°C and 65°C, allowing for a variety of foods to be properly dried for personal preference and taste, with the same unique airflow for a quicker drying time.
Ezidri offers consumers a two-year warranty on all dehydrators
Which food dehydrator should I buy?
When it comes to food dehydrators, the biggest difference in makes and models generally comes from capacity and drying times. Those who like to occasionally add dried herbs to their dinners may be better off looking at the smaller capacity models, whereas larger capacity models may suit those who run a catering business, or are looking to dry in bulk.
Ultimately, it will come down to your personal preference, as well as your budget, with each brand offering a number of models for you to choose from, meaning that a closer inspection could help you not only make a decision, but save money in the long run. There's plenty that can be achieved with a food dehydrator, so it pays to know your stuff before you walk into your local store.