Fact Checked
Weis scoops up best rating for ice cream multipacks
"I hate ice cream", said no one ever. After all, it's the go-to sweet frozen treat for every mood – for when you're feeling peckish, cheerful, and of course for when life gives you lemons. It's the dessert that never disappoints – and that's why Canstar Blue sets out to find the scoop on which ice cream multipack brands Aussies across the country rate the highest.
To do this, we've again surveyed more than 800 consumers for their feedback on different brands of multipack ice creams they've bought (from a supermarket or grocer) and eaten over the last three months. Respondents rated brands on taste, consistency, packaging design, variety, value for money and overall satisfaction. Brands that met the minimum required survey sample size (30 responses) are included in the results above.
Weis was rated the crème de la crème in this year's ratings, achieving five-star reviews in five out of six categories ─ including overall satisfaction.
Best Ice Cream Multipacks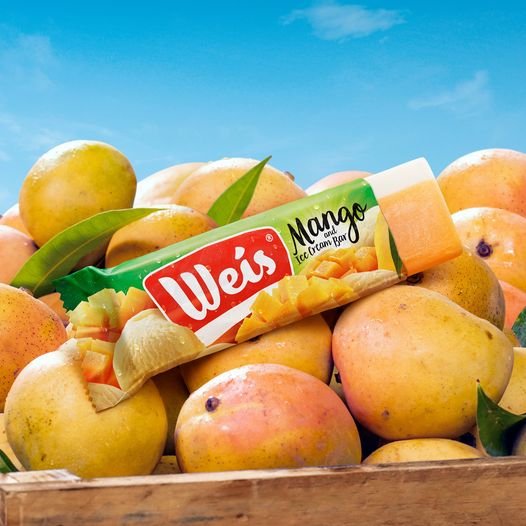 Here are the best ice cream multipack brands in Australia, as rated by consumers in Canstar Blue's latest review:
Weis
Connoisseur
Magnum (Streets)
Paddle Pop (Streets)
Woolworths
Golden Gaytime (Streets)
Cornetto (Streets)
Bulla
Drumstick (Peters)
Coles
Weis ice cream scooped up a five-star review for overall satisfaction and in most other categories. Most other brands chilled on four stars overall, while Cornetto, Bulla, Drumsticks and Coles got three stars.
Meanwhile, Coles was rated best for value for money, scoring full marks, similar to Connoisseur and Paddle Pop when judged on packaging design.
Ice Cream Multipacks
Weis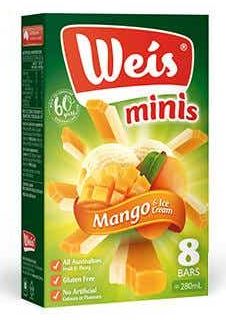 Fruit and cream go together like peanut butter and jam. So, it makes sense that Weis has joined the two flavours in its ice cream bars. Weis products are claimed to be made with real fruits and contain no artificial colours or added flavours. The brand offers both ice cream tubs and multipack ice creams, as well as sorbets and frozen yoghurts. Weis ice cream bars come in exotic flavours like Mango & Toasted Coconut, Passionfruit & Coconut and Pineapple & Lime. Weis also provides dairy-free, gluten-free and vegan-friendly alternatives with its Dairy-Free Dark Chocolate & Coconut Bar and Raspberry & Coconut Dairy-Free Bar, plus ice cream tubs in flavours such as Boysenberry Acai & Coconut.
Weis was rated best for taste, consistency, variety, packaging design and overall satisfaction. It got four stars for value for money.
Connoisseur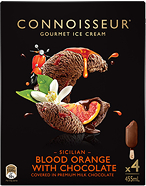 Any self-confessed ice cream connoisseur knows Connoisseur. It's a leading brand of premium ice cream made with fresh cream from Australian pastures and decadent flavours of sophisticated combinations. The Connoisseur range includes ice cream tubs and both mini & full-size ice cream bars (multipacks) with gourmet flavours such as Sicilian Blood Orange With Chocolate, Tasmanian Strawberries With Cream, Mint With Cookies and Belgian Chocolate Fudge With Roasted Hazelnut. Connoisseur also launched an Australian Native Collection with flavours crafted from Australian native ingredients.
Connoisseur got five stars for packaging design and four stars for overall satisfaction and in most other categories. It got three stars for value for money.
Magnum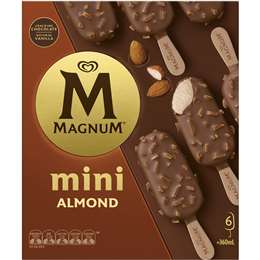 Looking for a little indulgence? Have at it and treat yourself to a Magnum. The brand's ice cream bars promise to offer the perfect balance of cracking chocolate, velvety smooth ice cream and sustainability. Magnum's chocolate is made from responsibly sourced cocoa beans selected by Rainforest Alliance Certified™ farmers. The brand also offers ice cream tubs and dairy-free alternatives for vegans and those with a dairy intolerance. Popular flavours from the Magnum multipack range include Magnum Classic, Magnum Almond, Magnum White, Magnum Luxe Caramel and Magnum Peppermint.
Magnum achieved four stars for overall satisfaction and in the majority of research categories, plus three stars for value for money.
Paddle Pop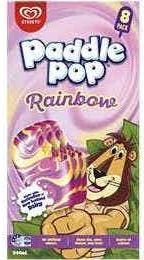 Paddle Pop is synonymous with wholesome childhood fun! The brand is also owned by Streets and offers various ice cream options in tubs, bars and icy poles. Paddle Pop products are also said to not contain any artificial nasties. Flavours from Paddle Pop's range of multipack ice creams include Icy Blast Off Minions, Lemonade & Raspberry, Koala Choc Caramel, Strawberry Milkshake, Rainbow, Chocolate, Banana, Cyclone and Icy Twist.
Paddle Pop earned a five-star review for packaging design, before wrapping up on four stars for overall satisfaction and everywhere else.
Woolworths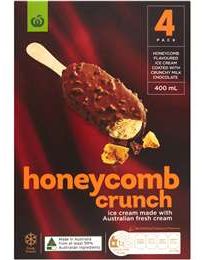 Woolworths homebrand is a product line of everyday essentials stocked exclusively by the supermarket giant. The Woolies own brand offers a small range of ice cream products including ice cream bars, tubs and ice cream sandwiches. Some flavours from the Woolies ice cream multipacks range include Peppermint Chocolate Flakes, Choc Dipped Milk, Boysenberry Swirl and Almond.
Woolworths achieved an even split across the board. It scored four stars for consistency, value for money and overall satisfaction, plus three stars for taste, variety and packaging.
Golden Gaytime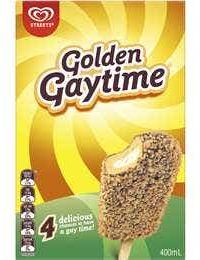 It's hard to beat a classic like Golden Gaytime. This iconic frozen treat is the perfect combination of toffee and vanilla ice cream, coated with chocolate and biscuit pieces. It's been around for generations and remains an Aussie favourite today. Golden Gaytime offers ice cream sandwiches (or 'sangas') and ice cream bars in classic toffee and limited-edition flavours like Classic Golden Gaytime, Violet Crumble, Golden Gaytime Unicorn, Golden Gaytime Krispy Cream and more.
Golden Gaytime earned four stars in the majority of categories, such as taste, consistency and overall satisfaction. The only exception was value for money, where it got three stars.
Cornetto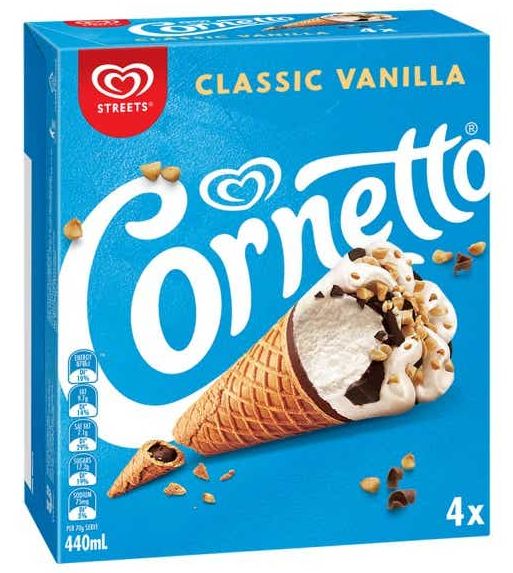 Everybody knows Cornetto! This crispy baked wafer cone coated with a chocolatey layer on the inside and filled with delicious ice cream has satisfied our cravings for many generations. Cornetto is owned by Streets, one of the largest ice cream manufacturers in Australia. Some flavours from the Cornetto range of multipack ice creams include Classic Chocolate, Classic Vanilla, Cookies & Cream, Cornetto Gaytime, plus more.
Another member of the Streets family, Cornetto received four-star reviews for consistency, variety and packaging. It also got three stars for taste, value for money and overall satisfaction.
Bulla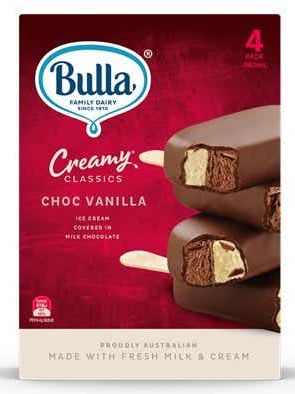 Bulla has been crafting dairy products for more than 100 years. The brand now offers a wide variety of family favourites including yoghurts, flavoured milk, cooking creams, cheese spreads and of course delicious ice cream. Bulla's ice cream bars come in a variety of chocolate coated and fruity flavours across its Nourish, Splits, Murray St, Crunchy and Bulla Original product lines. Some flavours to expect include Mango Coconut, Choc Vanilla, Honeycomb Choc Top, Boysenberry and Neapolitan.
Bulla got four stars for value for money and variety, plus three stars for overall satisfaction and in the remaining research areas.
Drumstick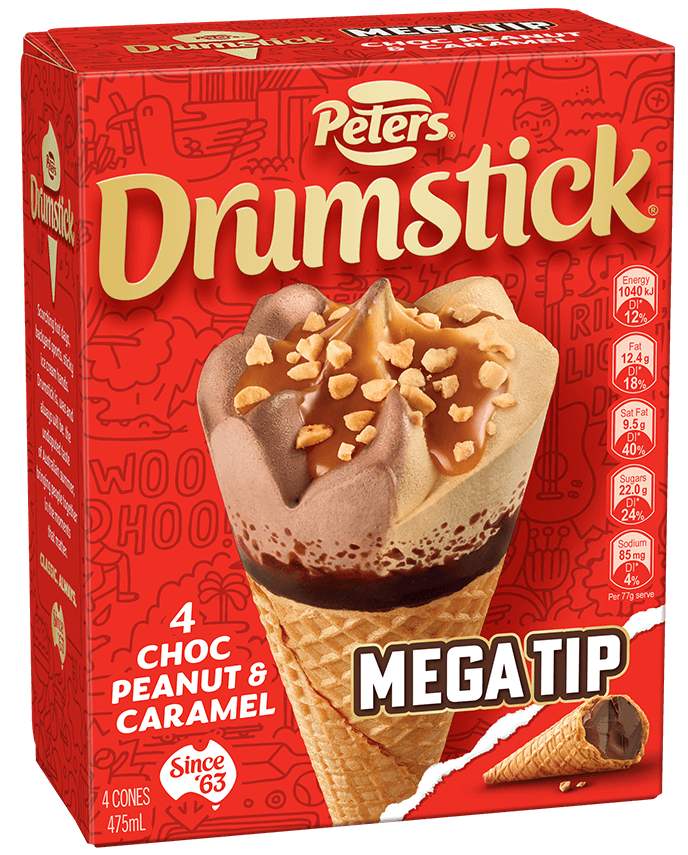 Drumsticks are another childhood home-grown favourite. It's hard to resist this smooth, flavoured ice cream encased in a crunchy wafer cone with a choc tip. Drumstick is another Peters offshoot and offers a wide range of popular and gourmet flavours in four-pack and mini-sized packs, including Honey Macadamia, Affogato, Choc Mint, Caramel Swirl, Boysenberry Swirl, Salted Caramel, Super Choc and Choc, Peanut & Caramel. The brand also launched a vegan Drumstick ice cream range made with coconut milk.
Drumstick grabbed four-star reviews for variety and packaging, plus three stars for taste, consistency, value for money and overall satisfaction.
Coles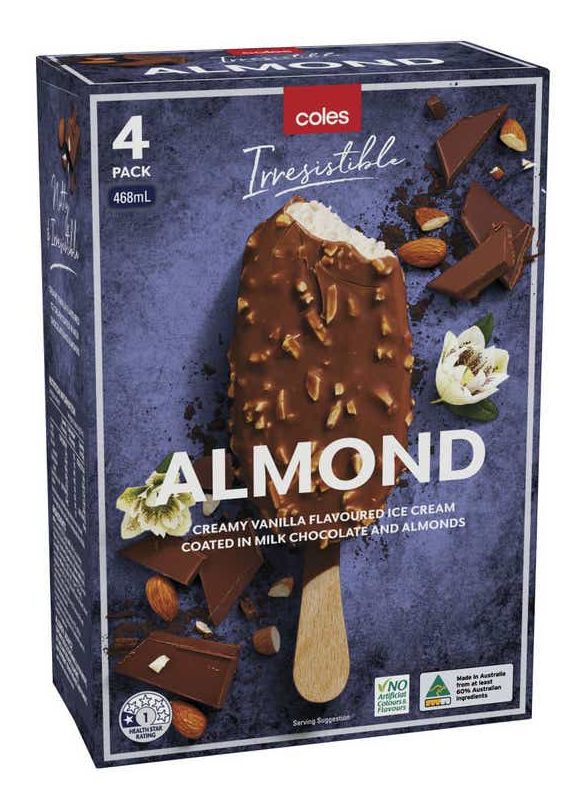 Coles' own brand is the supermarket's trademark line of 'great value' essentials including dairy products like milk, cheese, yoghurt and of course ice cream. The private label offers ice cream bars in flavours like Creamy Vanilla, Boysenberry, Peppermint, Triple Coated Caramel, as well as ice pops in funky flavours like Gingerbread and Berry Biscuit White Choc.
Coles rated best for value for money, and scored four stars for variety and packaging design. It ultimately landed on three stars for taste, consistency and overall satisfaction.
Other ice cream multipack brands
The brands featured in this year's ratings aren't the only ones worth getting stuck into. Here are a few other options:
ALDI Monarc Utopia
ALDI is a hot favourite when it comes to everyday groceries. Its Monarc Utopia ice cream features a variety of flavours like Vanilla Opulence, Coffee Mocha and Caramel Honeycomb Temptation to choose from. Monarc Utopia ice cream comes in a pack of 12 and there's also a Monarc Indulge range that comes in a 1L tub for those looking to go ham on the ice cream.
Maxibon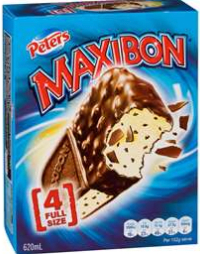 What's better than a regular sandwich? A Maxibon sandwich of course! Part of the Peters brand, one of Australia's largest ice cream manufacturers, Maxibon is the ice cream for biters not lickers. It's a slab of velvety ice cream loaded with choc chips and nuts, sandwiched between two biscuits at one end and smothered in choc coating at the other. Flavour options include Caramel Rough Nut, Honeycomb, Vanilla, Monster Cookie and Maxi-Dare.
Cadbury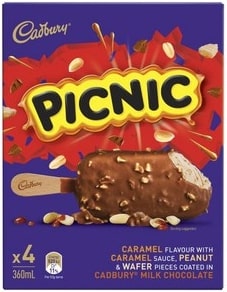 Cadbury may best be known for its smooth and creamy milk chocolate, but the brand also serves that delicious flavour from Cadbury favourites like Crunchie, Picnic and Freddo, in ice cream tubs, bars and cakes to create the perfect frozen treat for any occasion.
Proud & Punch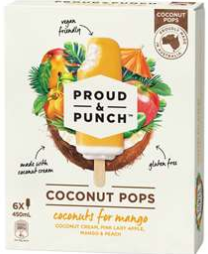 Looking for real ice cream flavours and ingredients that pack a punch? Then look no further than Proud & Punch. This brand offers smoothie and juice pops and coconut ice cream and almond milk bars claimed to be made from quality ingredients right here in Australia. Proud & Punch products are gluten-free and contain no artificial nasties and most are also vegan-friendly. Some flavours from the range include Coconut Mango, Strawberry Acai, Berry Coconut and Berry Passion Fruit.
Australia's favourite ice cream flavours
Which ice cream flavour is best? It's a question for the ages, but we may finally have an answer. Here are the flavours Aussies picked as their favourite in our survey:
Chocolate: 23%
Vanilla: 21%
Caramel/salted caramel: 12%
Cookies & cream: 9%
Berry (i.e. strawberry, raspberry, etc.): 8%
Mint: 8%
Fruit flavours (i.e. mango, banana, etc.): 7%
Coffee: 4%
Neapolitan: 3%
Other interesting finds from our survey results revealed that 15% of respondents eat ice cream every day during summer, with two in five (41%) stating they prefer to eat single serves compared to a tub – it certainly might help with portion control! Nearly one in five adults (17%) only enjoy the treat on special occasions and 16% feel guilty eating it. Nevertheless, 40% say they buy ice cream during their regular shop.
So, what is ice cream anyway?
Today is the day you find out you've been living a lie! The ice cream you have in your freezer might not actually be 'ice cream' at all! According to Food Standards Australia New Zealand (FSANZ), ice cream is officially defined as 'a sweet frozen food that is made from cream or milk products or both, and other foods, and is generally aerated'. A food that is sold as 'ice cream' must, by law:
be ice cream; and
contain no less than:
100 g/kg of milk fat; and
168 g/L of food solids.
This means many of the 'ice creams' you buy from the supermarket are in fact confectionery due to the lack of dairy cream they contain. Generally speaking, we refer to all products in the freezer aisles as ice cream for the sake of our ratings. You know what we mean…
About the author of this page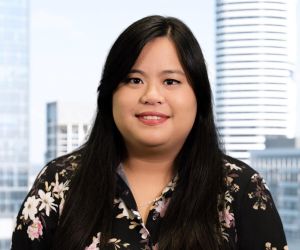 This report was written by Canstar Blue's home & lifestyle journalist, Tahnee-Jae Lopez-Vito. She's an expert on household appliances, grooming products and all things grocery and shopping. In addition to translating our expert research into consumer-friendly ratings reports, Tahnee spends her time helping consumers make better-informed purchase decisions on all manner of consumer goods and services, while highlighting the best deals and anything you need to be aware of.