When you think of eating healthy and going to the gym, chances are you're imagining chugging down a protein shake, too. While for some, protein supplements and powders are in the realm of athletes and gym nuts, but with the steady rise of the fitness industry and emphasis on nutrition when it comes to sculpting the body of your dreams, protein powders have become a mainstay in many households, but how do you choose one in a market that's bulked up?
To help ensure that your wallet isn't the only thing that's slimming down, we've looked into the nutritional information of some of the major protein powder brands available on shelves here in Australia, as well as whether you should be incorporating more protein into your diet.
Is protein powder good for you?
While ultimately dependent on your body goals, protein will be an essential part in getting the body of your dreams, or at least getting started. With protein powder classified as a supplement, it becomes a question of whether you should be using supplements instead of real food to achieve your goal.
The appeal of using protein powder is that it's a fairly quick and easy way for many to get a protein hit without having to sit down for a full meal. And with protein powders and supplements designed to have a high protein intake – without additional carbs and fats – it means that they (generally) won't send you backwards when it comes to your body goals.
As a result, protein powder can be good for you, as long as you combine it with a healthy, balanced diet. Living off nothing but protein powder will leave you feeling hungry, meaning they should be used as an addition to your diet, rather than a straight swap.

Should I incorporate protein powder into my diet?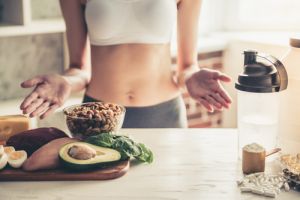 Protein is an essential nutrient for your body, helping to not only build muscle, but help the body recover and function after a workout. While those who may not be visiting the gym as much as they should can get away with not guzzling protein shakes, if you're looking to put on muscle or make sure you're not left sore after a big workout, protein powders may be a worthy addition to your diet.
The average person needs around 0.8-1.2g of protein per kilo of bodyweight according to government guidelines, and more if you're physically active. As a result, finding enough protein in your average diet can prove to be a struggle, unless you don't mind eating meat in every meal, or eating more meals in general. As a result, turning to protein supplements and protein powders can be an easier way to meet your protein intake.
Protein powders vs. protein bars – which is better?
With so many protein supplements available, not only is it tough to narrow which brand to buy, but also what form of protein to use. While this will come down to your personal habits and preferences when it comes to eating (and how much time you have to eat), here are a few things to consider:
Digestion: As protein powder is generally mixed with water or milk, it will generally be quicker and easier to digest than a protein bar.
Nutritional Intake: Fitness and nutritional is, at its most basic level, about balancing the amount of energy going into your body, with the amount of energy going out. Energy goes in through food and supplements, while it goes out through basic functionality and exercise. Getting a body to rock at the beach generally comes as a result of finding the optimal balance of energy, while identifying how much protein, carbs and fats they need to keep their body functioning properly. As a general rule of thumb, protein powders have a higher intake of protein per serve, while also having a lower intake of carbs and fats than protein bars, although this will be dependent on each protein powder and bar.
Flexibility: While both protein powder and protein bars are easy to carry and take, protein powders have the added advantage of being able to be used in baking, meaning you can bulk up your culinary repertoire to include homemade protein bars and energy balls, as long as you didn't mind putting in the time in the kitchen as well as the gym.
Cost: While not really a discussion about which one is better for you physically, it's also worthwhile to note the cost of each, as you may be able to spend more money on healthy groceries as a result. While protein powders will have a higher upfront cost (as you're generally buying in bulk), they'll also last you a lot longer, meaning protein powders are generally cheaper in the long run.
What are the different types of protein powder?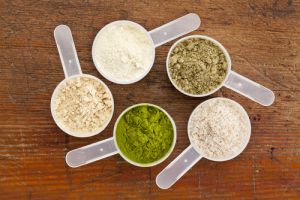 Walk into any supplement store, pharmacy or supermarket, and you'd be forgiven for thinking that all the protein powders stocked on the shelves are the same. But a closer inspection will unveil a number of different benefits between brands and types, which leads to the question of what are the different types of protein, and what do they do?
Types of protein powder include:
Protein concentrate: The most common type of protein powder, generally produced by extracting protein through heat or enzymes. Will generally consist of 60-80% protein.
Protein isolate: Filtered further to remove fats and carbs for a purer protein intake, protein isolate powders generally consist of 90-95% protein.
Protein hydrolysates: Further broken down during the extraction process to allow the body to absorb more quickly.
Casein protein: Made from water-insoluble proteins, casein proteins take longer to break down, making it more ideal for an overnight recovery.
In addition to the above categories, you can also find plenty of soy, hemp and pea proteins which are made from more environmentally-friendly and sustainable protein sources, which are more suited to those on vegetarian or vegan diets.
What should I look for in protein powder?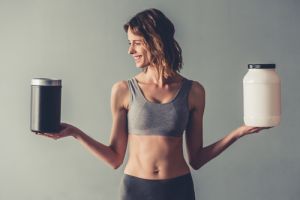 What to look for in protein supplements will ultimately come down to what you're hoping to get out of your protein powder, and what your body goals are. However, for the most part, many would be looking for something with a high intake of protein while keeping relatively low on fats, carbs and sugars. Most protein powders will generally have between 20-30g of protein per serve, which is a good benchmark to stick to if you're new to the supplement market.
Below are a number of brands that are readily available at a number of stores in Australia, compared on their nutritional information.
| Brand & Powder | Protein | Fat | Carbs | Sugar | Calories | Serving Size |
| --- | --- | --- | --- | --- | --- | --- |
| Aussie Bodies Whey Protein (Vanilla) | 20.3g | 1.3g | 2.4g | 1.7g | 108 | 30g |
| BSC Whey Protein (Chocolate) | 22.2g | 2.1g | 5.9g | 4.7g | 136 | 35g |
| BSC Whey Ultra (Chocolate) | 26g | 2.2g | 3g | 2.7g | 134 | 33g |
| BSN ISOBURN (Chocolate) | 20g | 2g | 6g | 1g | 132 | 30g |
| Bulk Nutrients WPC (Chocolate) | 22.3g | 1.9g | 2.8g | 1.7g | 118 | 30g |
| Bulk Nutrients WPI (Chocolate) | 25.5g | 0.5g | 1.2g | 0.3g | 114 | 30g |
| EHP Labs OxyWhey (Chocolate) | 24g | 1g | 2g | 0g | 110 | 32g |
| International Protein Amino Charged WPI (Chocolate) | 35.3g | 0.3g | 1.4g | 0.5g | 152 | 40g |
| Max's 100% Whey (Choc Cookie Dough) | 39.6g | 1.5g | 4g | 2g | 188 | 50g |
| Musashi High Protein (Chocolate Milkshake) | 30.2g | 3g | 5.8g | 5.3g | 175 | 45g |
| Musashi 100% Whey Protein (Chocolate Milkshake) | 24.4g | 2.1g | 2.4g | 2.1g | 129 | 33g |
| Nature's Way Natural Protein (Chocolate) | 22.5g | 0.8g | 4.3g | 2.9g | 115 | 30g |
| Optimum Nutrition 100% Whey (Chocolate Malt) | 24g | 1g | 3g | 1g | 120 | 31g |
| Optimum Nutrition 100% Isolate (Chocolate) | 25g | 0.5g | 1g | 0g | 110 | 31g |
Information sourced from protein powders and respective brand websites, January 2020.
The Protein Powders We Compared
Aussie Bodies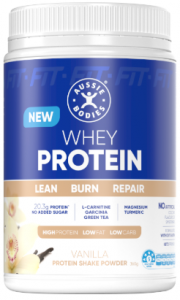 Available at supermarkets and pharmacies, Aussie Bodies Whey Protein may be worth looking into for those who aren't needing a big protein hit, or if you're venturing into the supplement market for the first time. With a lower protein intake per serve than other brands, the Aussie Bodies Whey Protein powder also includes a number of vitamins and minerals for overall health, including magnesium and calcium, as well as green tea extract and turmeric powder. However, it's only available in vanilla flavour, with a 360g tub also your only option, meaning it's not ideal for those looking for something bigger, or a bit different flavour-wise.
BSC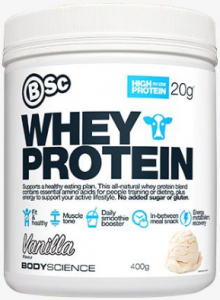 Known as BodyScience, BSC operates across multiple areas of the health and fitness industry, including supplements all the way through to compression gear. In its protein powder range, BSC has a traditional Whey Protein, along with Whey Ultra, HydroxyBurn Lean as well as Nitrovol Lean, along with vegan powders.
The Whey Protein range is BSC's entry level powder, with the Whey Ultra packed with more protein and less carbs. The HydroxyBurn range is more suited to those looking to slim down while still meeting their protein intakes, with the Nitrovol range more focused on recovery.
BSN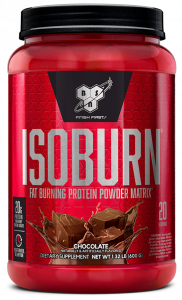 Otherwise known as Bio-Engineered Supplements and Nutrition Inc., BSN is available through online retailers and pharmacies, with a number of protein powders and supplements available for purchase. BSN's powder range is primarily split into the SYNTHA-6, TRUE MASS and ISOBURN range, with the SYNTHA range ideal for those after a wider variety of flavours, or a larger quantity, while the ISOBURN range is more suited to those thinking to drop a few kilos, with the TRUE MASS line for those looking to put them on.
Bulk Nutrients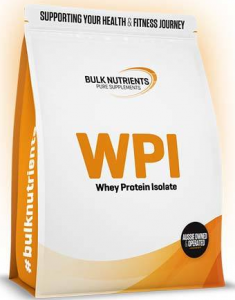 A relative newcomer to the Australian supplement market, Bulk Nutrients offers a wide range of supplements, including whey concentrate, whey isolate, casein as well as natural proteins such as soy, pea and hemp. Primarily available through the Bulk Nutrients website, you can also compare the cost per serve and protein percentage of Bulk Nutrient's range, making it easier if your decision weighs heavily on your budget.
Flavours vary from the traditional chocolate and vanilla all the way through to choc honeycomb, rocky road and salted caramel if you're looking for something a bit sweeter. Most Bulk Nutrients supplements come in 1kg up to 10kg packs, although this will vary from product to product, with prices for each quantity also listed online.
EHP Labs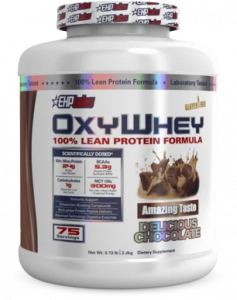 An American lab, EHP Labs covers a wide variety of health and fitness products, including traditional supplements in addition to fitness apparel. In its supplement range, EHP Labs offers whey protein powder, as well as BCAA and recovery proteins, as well as fat burners and OxyShred for those looking to slim down.
In addition to whey protein, EHP Labs also offers its line of Blessed plant protein, as well as the LUST Natural protein bar, which includes products for those on vegan, vegetarian, dairy-free, lactose-free and all-natural diets, with multiple flavours available. EHP Labs are on offer online and at major pharmacies and supplement stores.
International Protein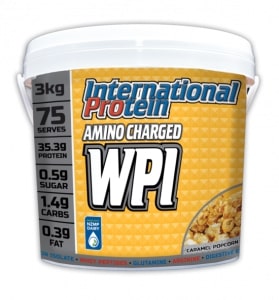 Offering a wide variety of supplements, International Protein's range focusses primarily on pre-workout and protein supplements, with a number of recovery supplements and fitness apparel also available. The International Protein range is split into the Performance and Naturals range, with the Performance range including supplements such as Extreme Mass for those looking to gain weight, Amino Charged whey protein isolate for recovery, as well as Superior Whey and Trainer's Choice for those after a balanced intake of protein and energy.
The Naturals range includes Natural whey protein isolate, Hydrolysed whey as well as pea and rice protein powders, making it worth investigating for those on a vegan or vegetarian diet, or looking to align with a natural lifestyle. International Protein is available at major pharmacies and supplement stores.
Max's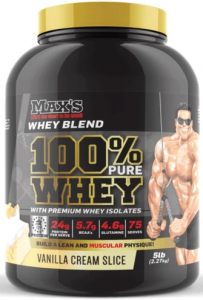 With a range divided into Premium, Pro, Classic and Lab, Max's protein supplements includes a number of products for whether you're looking to put on the kilos or keep them off. The Premium range includes Shred System, 100% Whey Protein, Clean Mass, Absolute Mass and Anabolic Night, while the Pro range features SuperSize Ultra, Super Shred, Super Whey, Whey Isolates, SuperSize and Casein SR.
Max's Classic range features more traditional whey protein powders, while the Lab range features pre-workouts and other supplements to help with recovery and performance. Max's protein range is available at major pharmacies and supplement stores, as well as online.
Musashi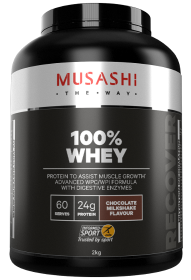 One of the more established brands within the supplement market, Musashi offers a number of protein powders, including Shred & Burn, Bulk Extreme, 100% Whey, Bulk Protein, High Protein, Plant Protein and Young Athlete Protein. Available at major supermarkets, pharmacies and supplement retailers, Musashi may not be the brand for you if you're after a flavour hit, or a container bigger than 2kg.
For those looking to put on the kilos may be interested in Musashi's Bulk Protein or Bulk Extreme, which includes around 30g of carbs per serve, while those thinking to slim down may be more inclined to go with the High Protein or Shred & Burn supplements, which have a lower fat and carb intake while maintaining between 20g and 30g of protein per serve.
Nature's Way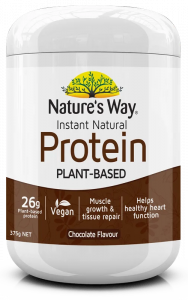 While more well known for its vitamin range, Nature's Way offers a number of natural proteins for those looking to up their intake without venturing too deep into the supplement market. With plant-based proteins and supplements with additional benefits, Nature's Way protein is available in containers weighing between 168g and 375g, and are available primarily at supermarkets and pharmacies.
Nature's Way protein range includes Protein with Collagen, Protein Super Greens and Protein Shaping for those wanting to slim down or up their vitamin intake and overall health. In addition to the plant-based proteins, Nature's Way offers a separate raw vegan protein, made from hemp and pea protein.
Optimum Nutrition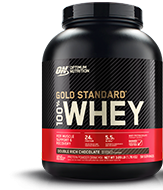 Arguably the biggest supplement brand around, Optimum Nutrition has the range to back it up, with plenty of protein powders and supplements to choose and use. The Optimum Nutrition Gold Standard Whey protein is its flagship powder, providing 24g of protein in a wide variety of flavours and container sizes, making it ideal for those new to supplements as well as those who are no stranger to the gym.
In addition to the Gold Standard Whey, Optimum Nutrition also offers Whey Isolate, Casein, Plant proteins, Gainer, Performance Whey, Hydro Whey as well as Complex Protein and Serious Mass Gainers, making it worthwhile investigating regardless of your body goals. Available online or through major supermarkets, pharmacies and supplement stores, Optimum Nutrition also offer a variety of other supplements and fitness apparel for all your health and fitness needs.
Where can I buy protein powder?
As the most common type of protein available, protein powder is available at major supermarkets and pharmacies, as well as supplement stores and online retailers, giving you plenty of options to choose from when it comes to finding a bargain and finding the best protein supplement for your needs.
When should I take protein powder?
Having the proper protein intake will help your body's functionality and strength, but there's been plenty of debate over recent years as to when you should be taking your protein to get the best results, if it has any effect at all. The general rule of thumb is to have a protein hit an hour either side of your workout to help your body put that protein to good use, such as building muscle and muscle recovery.
Are protein powders worth it?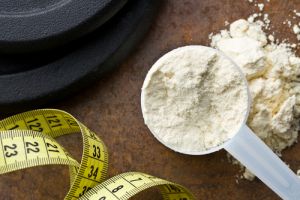 Protein powders are one of the easiest ways to get your protein intake up to scratch, allowing you to whip up some protein balls, sprinkle on some ice cream or just mix in a plain ol' shake. With plenty of brands, flavours and types, you'll also be able to find one that suits your body goals, tastes and lifestyle, meaning there aren't many arguments against incorporating some protein powder into your diet.
While useful for those who need a protein hit, you shouldn't rely on protein powders and supplements as a band aid fix for a bad diet, or for when you don't regularly exercise, as you'll still have to put the effort in if you want the results. However, if you're looking to make a change, protein powder may be worth investigating, as you may just find something to help get your diet and intake on the right track.
Picture credits: Iakov Filimonov/shutterstock.com, Nick Starichenko/shutterstock.com, George Rudy/shutterstock.com, marekuliasz/shutterstock.com, Jiri Hera/shutterstock.com