When it comes to getting your protein intake, there's no shortage of options when you walk into your local pharmacy or supermarket. In addition to shakes and powders, you'll be met with a wide range of protein bars and "high protein" snacks which aim to muscle into the fitness market. While some snacks are offered by supplement companies as a way for those to get their protein intake while also satisfying their sweet tooth, other protein snacks are simply snacks with a slightly higher than usual protein intake – which still may not be that much.
So, what should you be looking for when it comes to grabbing a protein snack for when you're on the go, and which brand offers the highest protein intake per snack? Find out in this Canstar Blue guide.
Do I need more protein in my diet?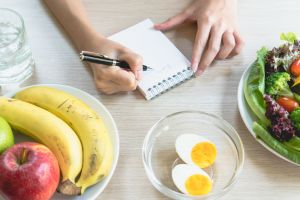 Protein is considered to be the building block when it comes to growing and maintaining muscle, which makes it essential when you're looking to up your gym workouts, or the results of those workouts. How much protein you need in your diet will depend on your age, build and body goals, as well as whether you lead a sedentary or active lifestyle.
Government guidelines recommend that the average person needs around 0.8-1.2g of protein per kilo of bodyweight, and more if you're physically active. So, if you're heading to the gym more often – or at least planning on heading there more – you should be looking to increase your protein intake to ensure you're getting enough to help muscle growth and recovery.
What are protein snacks?
Similar to protein bars, protein snacks are essentially the middle ground between satisfying your sweet tooth while also ensuring that you're getting plenty of protein per serving. Of course, there's plenty of variation in the market, including protein balls, protein pancakes and protein bars, along with numerous homemade recipes and remedies also available online.

What should I look for in a protein snack?
Obviously the biggest thing you'll want to find in a protein snack is protein. And not just a little bit of protein, but a decent chunk to help you get through your workout, or recover from it. A snack that is also low in sugar will be beneficial, although as snacks as marketed as just that – snacks – you may struggle to find something that is healthy as well as capable of satisfying your sweet tooth.
Below is a list of some of the brands and products available at your local supermarket and pharmacy, compared on their nutritional information.
| Brand & Snack | Protein | Fat | Carbs | Sugar | Calories | Serving Size |
| --- | --- | --- | --- | --- | --- | --- |
| Bodytrim Ultra Low Carb Protein Cookie (White Chocolate) | 11.6g | 8.4g | 3.8g | 1.2g | 137 | 50g |
| Bounce Protein Energy Ball (Cacao Mint) | 9.2g | 8.7g | 15g | 11g | 182 | 42g |
| BSC High Protein Balls (Choc Peanut Butter) | 23.1g | 11.1g | 3.9g | 3.1g | 275 | 70g |
| Carman's Bliss Balls (Salted Caramel & Coconut) | 2.1g | 4.5g | 8.5g | 8g | 85 | 20g |
| Emma & Tom's Egg White Protein Ball (Lemon Meringue) | 8g | 5.3g | 14g | 10g | 141 | 35g |
| Health Lab Collagen Protein Ball (Choc Caramel) | 8.1g | 9.7g | 15g | 9.4g | 183 | 40g |
| Quest Protein Cookie (Choc Chip) | 15g | 17g | 4g | <1g | 251 | 59g |
| Smooshed Protein Balls (Dark Cacao Brownie) | 10.1g | 12.5g | 23.1g | 19.8g | 258 | 58g |
| The Bar Counter Protein Balls (Peanut Butter Chocolate) | 8.9g | 5.1g | 2.8g | 2.3g | 121 | 30g |
| Tom & Luke Snackaballs (Chocolate) | 2.6g | 7.2g | 14.7g | 13.1g | 140 | 33g |
| Youfoodz Protein Bliss Ball (Choc Mint) | 5g | 6.8g | 18.1g | 12.4g | 168 | 40g |
| Youfoodz Protein Cookie (Choc Chip) | 7.5g | 11.2g | 30.6g | 20.1g | 258 | 60g |
Information sourced from protein snacks and respective brand websites, January 2020.
The protein snacks we compared
Bodytrim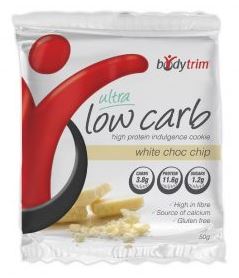 In addition to its line of weight loss shakes, Bodytrim has a number of protein snacks available for purchase at major supermarkets and pharmacies. Included in its range are low carb cookies, as well as protein slices and fudge bars for those looking for something a bit more substantial when snack time rolls around.
While not the largest range in comparison to other brands, Bodytrim additionally offers the nutritional information and ingredients list via its website, so you're know what you're getting yourself into before you head to the store, with the option to buy online also available.
Bounce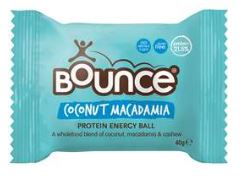 Aimed at providing a balance between nutritionally-substantial snacks and snacks that make you feel full afterwards, Bounce provides a variety of tasty protein balls, and is one of the more common brands on shelves, available at Coles, Woolworths and major pharmacies, with boxes of 12 available online.
Bounce's range is split into whey protein and plant protein, with the whey range including flavours such as coconut macadamia, peanut, cashew caramel, almond, lemon coconut, cacao mint, chia almond, plus maple pecan and cacao raspberry. Bounce's Plant protein range includes flavours such as almond butter, berry coconut, cacao nut butter, peanut butter cacao and spirulina ginseng, all of which are claimed to be vegan-friendly as well, making them ideal regardless of your dietary requirements and lifestyle.
BSC

Well-known within the sports and fitness industry, BSC offers a number of protein snacks for those looking for something on the go. BSC's High Protein Balls – which come in flavours such as white choc honeycomb, choc peanut butter as well as cookies and cream – are available individually or in boxes of 10 to keep you going. BSC also offer a vegan protein ball range, which includes flavours such as banana and salted caramel, and include low carbs with no added sugar.
BSC also offers low carb protein cookies, which come in a box of 14, and are available in birthday cake, cookie dough and salted caramel flavours. BSC products are available at major supplement stores, as well as pharmacies and supermarkets.
Carman's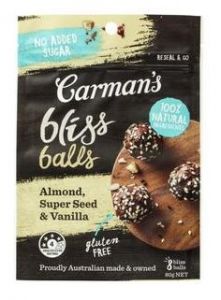 Available at Coles, Woolworths and major pharmacies, Carman's may be more well-known for its muesli bar range, although it does offer a number of bliss balls for those after something a bit different. With salted caramel and coconut, orange, cacao and poppy seeds, as well as almond and vanilla bliss balls available, Carman's also lists the ingredients and nutritional information of its products online so you know what you're getting before you buy.
Emma & Tom's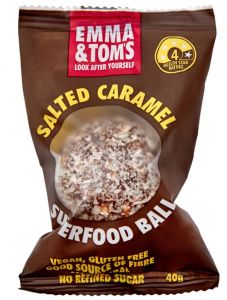 Made from natural ingredients and free from preservatives, concentrates and artificial flavours, Emma & Tom's range aims to help you get a guilt-free protein boost. With a range that consists of a wide variety of foods and drinks, those after a tasty protein snack may be interested in the egg white protein balls or superfood balls, both of which can be purchased online or at select supermarkets.
Available in a box of 12 or 20, Emma & Tom's Superfood balls come in either peanut butter or salted caramel flavours, with the egg white protein balls available in peanut butter, lemon meringue or mocha, all of which are available in boxes of 12.
Health Lab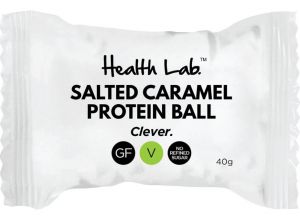 A relatively new entrant to the market, Health Lab is available online, as well as through major supermarkets and pharmacies. With a range divided into hemp balls, protein balls with collagen, probiotic balls and vegan balls, Health Labs may be worth checking out regardless of your diet or lifestyle habits.
Available in boxes of eight to 12, there are a number of flavours in each range, including the classics such as salted caramel, choc brownie and peanut butter, as well as flavours such as choc sea salt for those feeling a bit adventurous.
Quest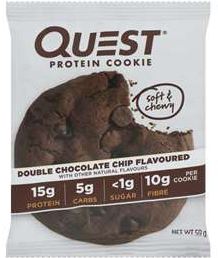 Offering a wide variety of protein bars, Quest also has a number of other snacks available if you're only feeling a little puckish. With protein cookies – available in chocolate chip, double choc chip and peanut butter – as well as protein chips – with flavours including BBQ, cheddar and sour cream, nacho cheese and sour cream and onion – Quest protein snacks are available at major supermarkets and pharmacies, as well as via the Quest website.
Quest cookies are available individually or as a pack of 12, with the protein chips also sold individually or as a pack of eight, with Quest listing the nutritional information and ingredients online.
Smooshed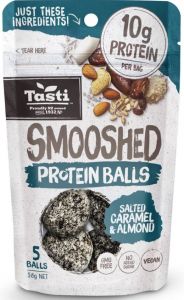 From the NZ brand Tasti, Smooshed Wholefood Balls come in a variety of flavours and sizes, including cacao brownie, berry, cashew and cacao, hazelnut cacao as well as peanut butter and caramel, each of which are available in packs of six or 18, depending on how hungry you get.
Available at major supermarkets and pharmacies, Smooshed outlines the ingredients and nutritional information on its website, with the brand offering a number of bars and snacks in addition to the wholefood balls.
The Bar Counter

With a range that primarily focuses on protein bars, the Bar Counter also offers a number of energy, plant-based and raw food snacks for you to try. If you're after a simple protein ball, the Bar Counter also has a number of options available, although its range isn't as extensive as some of the other brands in the market.
Coming in either peanut butter chocolate or salted caramel chocolate, each pack comes with three protein balls, with a box including 12 packs. With no preservatives, artificial flavours or colours, as well as no added sugar, the Bar Counter is available online, or through major pharmacies and supermarkets.
Tom & Luke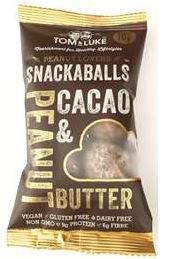 With a range primarily divided into Snackaballs and Roadie Bars, Tom & Luke's range is available from major supermarkets and pharmacies. With Snackaball flavours such as dark mint, lemon and coconut, strawberry and macadamia, plus classics such as salted caramel and peanut butter, there's something for everyone, whether you're looking for a tried and true flavour, or something a bit more adventurous.
With ingredients and nutritional information listed online, you can find out what exactly you're getting in each pack, with 70g and 88g packets available.
Youfoodz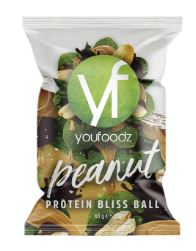 While you can always pick up a few protein balls as part of your Youfoodz order, you can also pick up some protein balls or cookies from Woolworths and major pharmacies, ideal for when you're feeling snacky but your next order isn't for a few days.
With choc peanut, mint, vanilla, caramel and chocolate flavours available for the protein balls, and choc chip, birthday cake and white chocolate and macadamia protein cookies, there's plenty to choose from if you're craving something particular.
What's the difference between protein balls and energy balls?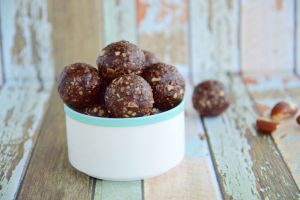 If you've ever wandered down the health food aisle of your local supermarket, you may have stumbled across something called an 'energy ball'. But what is it, and is it different to a protein ball? While not completely different, an energy ball can sometimes be mistaken for its buffer counterpart, with protein balls generally packed with more protein (as the name implies). Additionally, energy balls are more likely to be full of carbohydrates or fats (energy), meaning they will likely have more calories as a result. It's always recommended to read the nutritional information before tucking in, as the energy or protein ball that you thought was a healthy snack may have more sugar than you anticipated.
Are bliss balls the same as energy balls?
You may have noticed that while some bands label their foods as 'energy balls', others label theirs as 'bliss balls', but are they the same thing? In simple terms, yes, bliss balls and energy balls are the same thing – or at least try and achieve the same goal, meaning which one you choose will simply be based on the nutritional value of each, and what your taste buds prefer.
Should I make my own protein balls?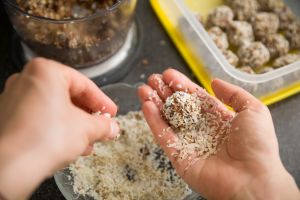 While picking up a protein snack at the store may be more convenient, is making your own protein snacks a healthier alternative? With some store-bought snacks high in fats and sugars, simply making your own can seem like an appealing option, provided you don't mind actually whipping them together. But with plenty of homemade recipes available online, it may be healthier, and potentially cheaper, to make your own protein snacks, as buying the ingredients in bulk can save you money down the line, as well as give you full control of what ingredients (and how much) go into the mix.
Are protein snacks worth it?
With brands offering a wide variety of protein supplements, including powders and bars, are protein snacks worthwhile in a bulky market? Ultimately what protein supplement you decide to invest in will depend on your nutritional needs, budget and personal preferences, as protein snacks may be more easily digestible for those just starting out at the gym, or are looking to clean up their snacking habits.
Swapping regular snacks for protein snacks may seem like a good idea in theory, they won't give you the body you're hoping for by themselves, meaning you'll have to put the work in, both in and outside of the gym. Protein snacks may be a simple addition to your diet, rather than being your sole point of nutrition. However, if you're looking for a quick snack before or after the gym, then a protein cookie or energy ball may do just the trick to keep you going.
Picture credits: Aleksey Korchemkin/shutterstock.com, Pormezz/shutterstock.com, Amallia Eka/shutterstock.com, goodmoments/shutterstock.com