Nobody does budget copies of high-end appliances like ALDI. And this week, the discount supermarket is slinging a new 3L Stirling thermo cooker for $499 in its Special Buys. It's nearly a quarter of the price of the real Thermomix which typically sells for upwards of $2,000.
The Stirling Smart Thermo Cooker on sale from Wednesday (September 15), is almost identical to the previous 3L Ambiano Thermo Cooker which sold out last year. Both are trademark brands of ALDI.
The model currently on sale comes with Wi-Fi connectivity and offers step-by-step guides and pre-loaded recipes on the ALDI app to help users whip up a variety of recipes and dishes at the touch of a button. Manual cooking is also available for those who know their way around the kitchen.
The latest Thermomix dupe also features a large seven-inch touchscreen control panel and adjustable settings for speed and temperature (30°C-120°C), plus a built-in timer and scale. It additionally comes with a steaming attachment, measuring cup, simmering basket with lid, butterfly whisk, and spatula. Other specs include a 3L stainless steel bowl, four stainless steel cutting blades with reverse function, and up to ten rotating speeds.
Stirling Smart Wi-Fi 3L Thermo Cooker ─ $499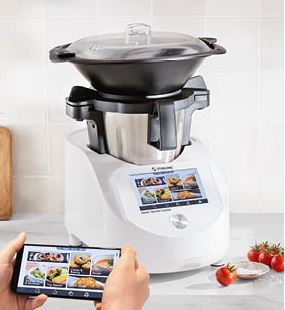 The Stirling Smart Thermo Cooker also boasts a whopping 14 different cooking functions, including:
Slow cook
Steam
Sous vide
Emulsify
Knead
Simmer
Browning
Cook
Chop
Blend
Stir
Grind
Whisk
Weigh
The Stirling Smart Thermo Cooker is not available in NSW due to the ongoing COVID-19 restrictions in the state. ALDI has also suspended its Special Buys products and range of other high-demand Special Buys in stores located in lockdown areas in NSW.