Nobody does budget copies of high-end appliances like ALDI. And next weekend, the discount supermarket is bringing back its beloved thermo cooker for $249 in Special Buys (from Saturday 12 March). It's nearly 10 times cheaper than the real Thermomix TM6 which typically sells for upwards of $2,300.
ALDI's 2L Stirling thermo cooker features 10 speed settings (including three reverse speeds and a pulse function), built-in electronic scales, an adjustable timer and temperature settings, a digital display with a control knob, and a safety double lock system on the cooking bowl to keep it in place during big cooking jobs. It additionally includes a 3.5L bowl with a 2L usable capacity.
Stirling 2L Thermo Cooker ─ $249
Similar to the previous iterations, this Stirling smart thermo cooker boasts 10 different cooking functions, including:
Sauté
Emulsify
Stir
Purée
Mill
Knead
Steam
Smoothie
Crush ice
Mix
Stir
ALDI's thermo cooker also comes with extra accessories including a steamer basket, stirring attachments, a spatula, a measuring cup, and a recipe book by Alyce Alexandra. All parts are dishwasher-safe.
Other kitchen appliances in ALDI's sale include a ceramic or gas cooktop for $199 and an 80L electric oven for $279. There will also be a 93L beverage chiller or 34-bottle wine cooler for $299, plus a 14-place stainless steel dishwasher for $369 (pictured).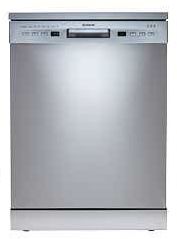 Special Buys are only available while stocks last. If you're looking to track down Special Buys before they sell out, check out ALDI's Special Buys Stock Checker on the website for stock availability in stores in your area.

Original Author: Tahnee-Jae Lopez-Vito