Oral-B cleans up in electric toothbrush review
Dental hygiene is incredibly important – and repairing the damage caused by long-term neglect is very, very expensive. Part of keeping up a good dental care routine is using the right tools for you and your teeth. We've surveyed Australian users of electric toothbrushes to help you decide which brand to go with if you make the switch to the toothbrush with a switch.
In our inaugural electric toothbrush ratings, Oral-B has taken out top spot with five stars for overall customer satisfaction. Oral-B also took out top marks in performance, reliability and ease of use, with no other brand receiving five stars in these categories. However, the winner when it came to price was ALDI Dentitex, which was the only brand to receive five star ratings in terms of the cost of accessories and value for money. The average amount spent by our survey respondents on their electric toothbrush was $62.57 – when you also factor in the cost of regular replacement heads every couple of months (as most users do), it can be a serious budgetary consideration.
How do electric toothbrushes work?
Traditional electric toothbrushes have rotating brush heads, but they don't rotate in complete circles. They make partial rotations back and forth, so you can get that scrubbing motion at a speed far faster than the human hand can accomplish using a manual toothbrush.
Sonic toothbrushes vibrate faster and differently. The whole head vibrates rather than just the top part of the brush. According to manufacturers, the higher vibration speed when combined with lots of fluid around the mouth forms tiny bubbles between the toothbrush and the teeth to better shift plaque.
Manual vs Electric Brushing
Why do people use electric toothbrushes? Nearly half (48%) of respondents to our 2017 survey said that their main reason for using an electric toothbrush was for a superior clean. A further 27% said they were advised by a dental professional to use an electric toothbrush, while 21% were simply curious to try. So, do electric toothbrushes really deliver healthier cleaning results?
Your specific dental advice may vary, but the Australian Society of Orthodontists says you're not missing out by using a manual brush, assuming good brushing technique. Electric brushes can, however, make brushing a lot easier and even more pleasant, which is why many choose to go electric, but with a little effort you can achieve the same results with a manual toothbrush.
Our survey results suggest that of those who do choose to buy electric, they're quite happy with their choice and intend to stick with it. Almost nine out of ten survey respondents (87%) said that they would recommend an electric toothbrush to a friend, while 66% agreed that they'll never go back to a normal toothbrush.
So help you decide which electric toothbrush might be best for your brushing preferences and budget, here is an overview of the brands in this year's review.
Top Electric Toothbrushes
Oral-B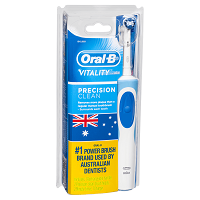 Covering the full spectrum from fairly affordable up to some very high-tech dental hygiene tools, Oral-B is one of the biggest brands in the electric toothbrush world. The main Oral-B electric toothbrush is the Oral-B Vitality Precision Clean, which is also usually the brand's most affordable option. Brushing your teeth can become quite technical with toothbrushes such as the Oral-B GENIUS 9000, which includes a pressure sensor that automatically adapts brush power to protect your gums, position detection and automatic timers to make sure that you brush each zone for the right amount of time, and Bluetooth connectivity to follow your progress and receive real-time feedback to improve your brushing habits. It includes a travel case that allows you to charge both your phone and your toothbrush at the same time – that is, if you need to top up considering it can last up to 12 days between charges.
Oral-B received a five-star rating for overall satisfaction in our review, as well as performance, reliability, and ease of use. Oral-B received four stars on value for money, with three stars for cost of accessories.
ALDI Dentitex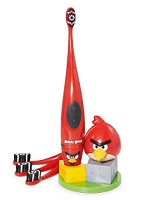 ALDI has a habit of disrupting markets with bargain appliances that turn out to be strong competitors in their own right against usually more established brands. The ALDI 'Dentitex' electric toothbrush range is a case in point. Unfortunately, it's not always stocked in stores as it is part of the ALDI Special Buys cycle – so you'll need to keep an eye out for when it returns to shelves and stock up with replacement heads. ALDI offers two types of electric toothbrushes – the traditional rechargeable kind that plugs into a wall outlet for charging, and AAA battery powered sonic toothbrushes, including toothbrushes for kids.
ALDI Dentitex received four stars for overall satisfaction in our 2017 review, with the same outcome on performance, reliability and ease of use. However, ALDI has shown a solid advantage over competitors when it comes to price, receiving five stars on value for money and cost of accessories.
Colgate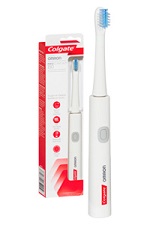 As one of the biggest brands of toothpaste in Aussie supermarkets and pharmacies, Colgate naturally covers the full range of products designed to keep your pearly whites clean and fresh. Colgate produces both battery-powered and rechargeable toothbrushes, including USB-charged travel toothbrushes and toothbrushes for kids, featuring their favourite cartoon characters. The more complex models include features such as multiple cleaning modes (varying speed and brushing action) and built in timers.
Colgate electric toothbrushes received three stars for overall satisfaction as well as for reliability, cost of accessories, ease of use and value for money. It performed better in performance, achieving four stars.
Other electric toothbrushes
The three brands featured above received the minimum sample size to be included in this year's review, but there are other brands on the market that may also be worth a look. The most prominent of these is Philips. It boasts an impressive range of premium electric toothbrushes, including its Diamond Clean Smart range, bringing no less than five modes and three levels of intensity. What's more, it comes with sensors and timers to let you know if you're brushing too hard, prompt you to brush every part of your mouth, and encourage you to keep brushing for the recommended two minutes through the connected app that helps you perfect your brushing technique.
Which electric toothbrush should you go with?
Our research found performance and reliability to be the main drivers of customer satisfaction, so it's worth keeping this in mind when you go shopping. Any electric toothbrush should be up to the job of keeping your teeth and gums healthy, but if you've ever experienced an electric toothbrush that just won't work properly in the morning, then you'll appreciate that spending a little extra on a top of the range toothbrush may be worth it in the long run.
Remember, you only get one set of adult teeth – so take care of them! Whether you buy an electric toothbrush or prefer to keep it manual, the key to dental hygiene is regular and thorough brushing.