Fact Checked
Oral-B brushes up best in electric toothbrush ratings
Brushing your teeth is not only good for your oral hygiene, but also your confidence. How you go about scrubbing those pearly whites can impact how brightly you smile, and how good you feel about yourself. And like many other things in the 21st century, the once humble toothbrush has undergone a technological upgrade, with a wide variety of electric toothbrushes now readily available to purchase. So, getting a great clean time after time has never been easier.
To help you find the best electric toothbrush and keep you smiling, we asked more than 900 Australian consumers for their feedback on the electric toothbrush(es) they bought and used in the last three years. Brands were rated on performance, features & functionality, ease of use, reliability, design & appearance, cost of accessories, value for money and overall satisfaction. Those which received the minimum survey sample size (30 responses) are rated and compared in our report.
Oral-B (Braun) cleaned up best in our latest electric toothbrush ratings, achieving a shiny five-star review for overall satisfaction and most other categories!
Best Electric Toothbrushes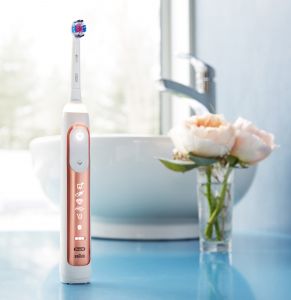 Here are the best electric toothbrush brands in Australia, as rated by consumers in Canstar Blue's latest review:
Oral-B (Braun)
Philips Sonicare
Colgate
Oral-B (Braun) returned to the spotlight after receiving the only five-star review for overall satisfaction, while Philips Sonicare landed on four stars overall and Colgate three stars.
Philips Sonicare still put up a strong fight, even beating the new champion when it came to reliability and features & functionality. It also scored full marks for cost of accessories, alongside Colgate.
To help you decide which electric toothbrush might be the best bet for your brushing preferences and budget, here is an overview of the three brands in this year's review.
Electric Toothbrushes
Oral-B (Braun)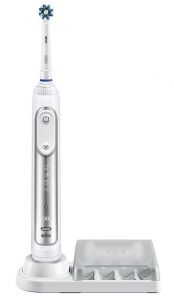 One of the most recognisable brands in the dental industry, Oral-B offers plenty of products for all parts of your mouth, including whitening strips, toothpastes, and floss. Its electric toothbrush range is one of the largest around, offering a variety of options to suit different needs and budgets.
For its top-of-the-line electric toothbrush, Oral-B is stated to use Artificial Intelligence (AI) to help you get the most out of brushing your teeth. The Genius AI model is claimed to be programmed to 'learn' your brushing style, in order to track your progress and give feedback via your smartphone. It also offers 'personal coaching' to make sure you correctly clean each area, plus a Gum Pressure control function which sends an alert and reduces the brush speed whenever you're pressing too hard on the gums. According to the brand, you can apparently get more than two weeks worth of brushing with a single charge.
Oral-B's electric toothbrushes will generally set you back between $100 and $430, depending on the retailer and model.
Here are some electric toothbrush models Oral-B currently offers:
Oral-B Genius AI
Oral-B GENIUS
Oral-B SmartSeries
Oral-B PRO
Oral-B Vitality
Oral-B Kids
Oral-B was rated best across most categories, including performance, ease of use, design & appearance, value for money and overall satisfaction. It got four stars everywhere else.

Philips Sonicare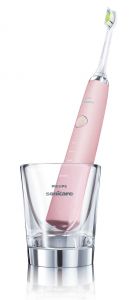 A Dutch brand with appliances for all rooms of the house, Philips provides a number of electric toothbrushes for Aussies to pick from, including the modestly-named DiamondClean, FlexCare, ProtectiveClean, Elite + and Sonicare for Kids ranges.
The 'DiamondClean' Smart electric toothbrush even comes with a Bluetooth-compatible app, giving you real-time feedback on your brushing technique for an optimal clean, and notifies you of any areas that you may have missed with the Location Sensor. It includes a variety of settings, including gum and tongue care, and whitening for a total mouth clean. Other features available within the range include Polish mode, a charging glass, travel cases, and reminders to let you know when it's time to replace your brush heads.
Prices usually start from $79 for Philips' Sonicare for Kids range, and go up to $599 for the DiamondClean Sonic Electric Toothbrush.
The Philips line-up includes:
Philips Sonicare Diamond CleanSmart
Philips Sonicare DiamondClean 9000
Philips Sonicare ExpertClean
Philips Sonicare ProtectiveClean
Philips Sonicare Elite+
Philips Sonicare for Kids
Philips Sonicare was rated five stars for reliability, features & functionality and cost of accessories. It ended on four stars for overall satisfaction and most of the remaining categories. The only exception was value for money, where it got three stars.

Colgate

Another heavyweight of the dental care industry, Colgate is one of the more affordable ranges within the market, with the majority of its electric toothbrushes costing between $50 and $200.
For people with sensitive teeth and gums, there's the Colgate Sensitive Pro Relief line. This is said to be made with extra soft bristles and soft rubber polishing cups. It also features Pro-Argin technology, which the brand claims can help prevent different types of triggers like cold air and pressure from causing discomfort when brushing your teeth.
Colgate alternatively offers the Optic White Professional Whitening toothbrush, which supposedly starts to brighten teeth within two days, using a whitening ingredient similar to what dentists use, but at a weaker 4.5% strength. Colgate's whitening electric toothbrush additionally has a raised bristle cleaning tip to get into hard-to-reach areas, and a cheek and tongue cleaner to get rid of odour-causing bacteria.
The Colgate range includes:
Colgate ProClinical A1500 Electric
Colgate Sensitive Pro Relief
Colgate Optic White Professional Whitening
Colgate achieved five stars for cost of accessories, four stars for value for money, plus three stars for overall satisfaction and everywhere else.

What to consider when buying an electric toothbrush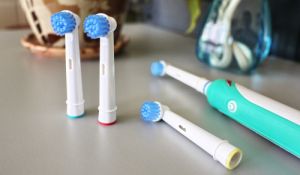 Apart from finding out which brand Aussies love most, our review identified the key drivers of customer satisfaction when it comes to buying an electric toothbrush, listed in the following order of importance:
Performance: 20%
Value for money: 17%
Reliability: 16%
Ease of use: 14%
Design & appearance: 12%
Cost of accessories: 11%
Features & functionality: 10%
Here's what else our survey found:
How do electric toothbrushes work?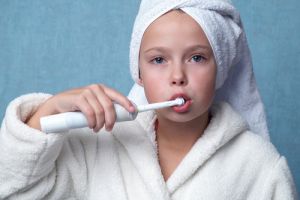 Traditional electric toothbrushes have rotating brush heads but they don't rotate in complete circles. They make partial rotations back and forth, so you can get that scrubbing motion at a speed far faster than the human hand can accomplish using a manual toothbrush.
'Sonic toothbrushes' vibrate faster and differently. The whole head vibrates rather than just the top part of the brush. And according to manufacturers, the faster vibration speed – when combined with lots of fluid around the mouth – forms tiny bubbles between the toothbrush and teeth to better shift plaque.
How often should you change your toothbrush head?
One of the biggest ongoing expenses of an electric toothbrush is replacing the brush heads, which can set you back between $10 and $20 depending on the brand, pack size and retailer. But just how often should you be replacing the head of your toothbrush?
Toothbrush brands Philips, Oral-B and Colgate – in addition to the American Dental Association – recommend that toothbrush heads (as well as manual toothbrushes) be replaced every three months, or when the bristles begin to fray. Oral-B highlights that it's best to change the head if you have recently come down with an illness, as the bacteria may still be present on the bristles.
When asked how often they change their brush heads, around 25% of Canstar Blue's survey respondents said they change at least once a month or more frequently. Two in five (40%) change every few months, while just less than 3% were leaving it for a year or longer, meaning they're probably not getting the most out of their toothbrush.
Manual vs Electric Brushing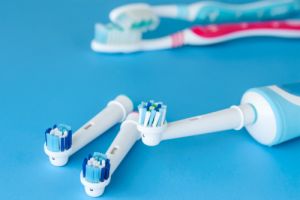 Why do people use electric toothbrushes? Nearly half (49%) of respondents to our survey said their main reason for using electric toothbrushes is for a superior clean. A third (30%) said they were advised by a dental professional to use an electric toothbrush, while 18% were simply curious to try. So, do electric toothbrushes really deliver healthier cleaning results?
Your specific dental advice could vary, but the Australian Society of Orthodontists says that you're not missing out by only using a manual toothbrush, assuming good brushing technique. Electric brushes can, however, make brushing easier – and perhaps more pleasant – which is why many choose to go electric. But with a little effort you can achieve the same results with a manual toothbrush.
Our survey results suggest that – of those who do choose to buy electric – they're quite happy with their choice and intend to stick with it. Half of our respondents (54%) stated that they would recommend an electric toothbrush to a friend, while nearly two-fifths (38%) said they'll never go back to a normal toothbrush.
Which electric toothbrush should you go with?
Oral-B has topped our electric toothbrush ratings, delivering on the performance and functionality that Aussies expect. However, with lots of different options out there, it's important to do your research and choose a brand that ticks all your boxes.
While budget does have an impact on the product you buy, electric toothbrushes typically last for quite some time, so it would be wise to choose one that you'll want to use for years to come. Within each brand, there are plenty of options depending on the features you're after. And be sure to compare the price of replacement heads because the costs can certainly add up over time.
Remember, you only get one set of adult teeth – so take good care of them! Whether you buy an electric toothbrush or prefer to keep it manual, the key to dental hygiene is regular and thorough brushing.
About the author of this page
This report was written by Canstar Blue's home & lifestyle journalist, Tahnee-Jae Lopez-Vito. She's an expert on household appliances, grooming products and all things grocery and shopping. In addition to translating our expert research into consumer-friendly ratings reports, Tahnee spends her time helping consumers make better-informed purchase decisions on all manner of consumer goods and services, while highlighting the best deals and anything you need to be aware of.
Picture credits: Vilgun/Shutterstock.com, Artsplav/Shutterstock.com, Lazy_Bear/Shutterstock.com.
*Prices taken from respective retailer websites, correct as of January 2021.