It's baby's first day at the beach! You're ready to have a fun family day out – you've packed the funky bucket hat, the plastic spade for building sandcastles, and floaties for that cautious venture into the water. But what about sunscreen?
Parents naturally have a lot of concerns about how to keep their little nugget healthy and safe. Infancy is the most vulnerable time of our lives, when health risks are particularly pronounced. That's why plenty of parents are justifiably worried about what chemicals they put on their baby's soft, sensitive skin.
We all know sunscreen is an absolute must to protect against Australia's harsh UV radiation. However, parents also know that many of the products we adults use on our skin are too harsh for babies. So how can parents find the right sunscreen to keep their child safe from sunburn and skin cancer, without using products that irritate their child's sensitive skin?
What's the difference between baby sunscreen and regular sunscreen?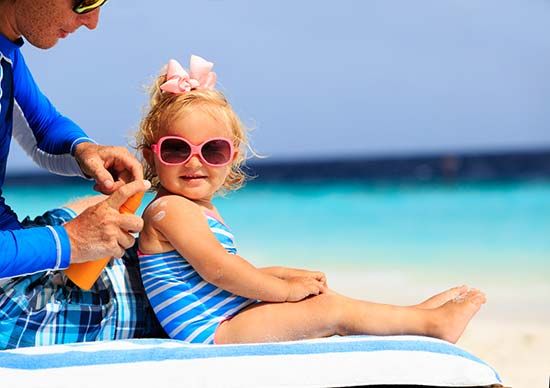 The first thing that can make choosing a sunscreen confusing for your child is the label. What's the difference between sunscreen for babies and sunscreen for kids? Which one do toddlers use? Generally, there isn't a whole lot of difference between sunscreen for kids and sunscreen for babies.
Sunscreen manufacturers usually label baby and child sunscreens as "fragrance-free" and designed for "sensitive skin". What does this mean and why does it make a difference? Many fragrances can cause skin irritation in sensitive skin – and they're not a necessary part of sunscreen, so it's an easy choice to ditch them. Let's compare the ingredients between different types of sunscreen to see where baby sunscreens are tailored specifically for little ones.
As an example, below are the active ingredients of regular and baby sunscreens by Hamilton Sun.
Hamilton Active Family
Octyl salicylate 5% (UVB blocker)
Homosalate 10% (UVB blocker)
Butyl methoxydibenzoylmethane 4% (UVA blocker; aka avobenzone)
Octocrylene 8% (UVB blocker)
Hamilton Baby & Toddler
4-Methylbenzylidene camphor 4% (UVA blocker)
Ethylhexl tiazone 3% (UVB blocker)
Butyl methoxydibenzoylmethane 4% (UVA blocker; aka avobenzone)
Octocrylene 4% (UVB blocker)
As you can see, the formulas differ in the types of UV blockers used. Companies switch out ingredients or use lower concentrations to make sunscreens that are gentler on sensitive skin. Some brands also add moisturising ingredients, such as panthenol, aloe vera, and vitamin E to soften young skin.
There's not really any evidence that regular adult sunscreen isn't safe for babies – it's just not as gentle. You could use adult sunscreen, but as with any sunscreen do a spot test first to check whether your child will have an adverse reaction to that particular product.
Labels can be confusing and arbitrary – read the ingredients and compare that way. The list of chemicals with long names may look intimidating, but it's the clearest way to figure out what makes one sunscreen different from another when it comes to skin sensitivity.
Should babies use sunscreen?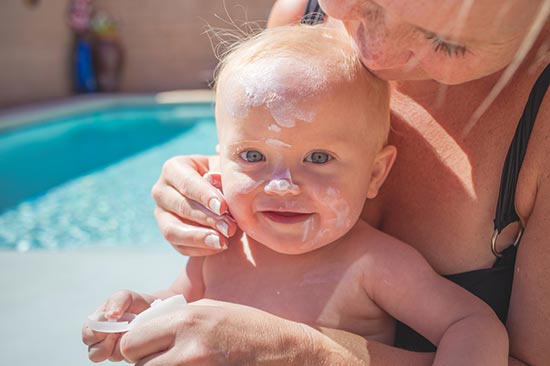 Babies have very sensitive skin – that means that they need to be sun safe, but it also means that you need to be extremely careful about what you put on their skin. The Cancer Council recommends that all aged under 12 months have no exposure to direct sun while UV Index is 3 or above. So, if you follow this advice and hold off on the outdoor activities until your baby's first birthday, you won't need to worry about sunscreen anyway.
Moreover, according to the Australasian College of Dermatologists, babies aged under six months old absorb more of any substance applied to their skin than adults. As a result, they do not recommend use of chemical sunscreens on very young infants. Instead, they advocate for use of clothing, hats, shade, and physical sunscreen (e.g. zinc oxide) to protect baby skin.
Before slathering your child in sunscreen, do a patch test on any skin product that hasn't been used before. It's far better to have an unexpected skin reaction constrained to one small patch of skin rather than have a rash or itch all over baby's face.
What baby sunscreens are available?
Not every sunscreen brand produces baby and kids sunscreens – some just produce a kids' sunscreen, while some cover both. You may also want to consider using sunscreen made for sensitive skin.
Many sunscreens for kids and babies come in forms designed for easier application, such as sprays and roll-ons. Sprays tend to be focused on kids to make it easier for them to apply sunscreen themselves, while these aren't really great for babies who can't necessarily follow instructions to keep their eyes closed. Roll-ons can make even application on babies easier and less messy.
Hamilton Sun Baby & Toddler SPF 50+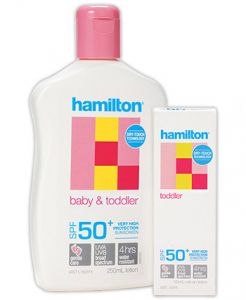 Free from fragrance, lanolin and colours, Hamilton's child-friendly sunscreen is designed for young and sensitive skin. It comes in a choice of 50mL roll on or 250mL bottle.
Le Tan Active Kids SPF 50+
Sun safety just got a lot sweeter – Le Tan's children's sunscreen is ice cream scented. Containing no parabens or oxybenzone, but with added vitamin E and aloe vera to soothe the skin, Le Tan Active Kids comes in a choice of 75mL roll on or 250mL tube.
Woolworths Kids & Woolworths Baby
To make sure sunscreen gets rubbed in properly, Woolworths Kids sunscreen is coloured purple and rubs in clear. The fragrance-free sunscreen with vitamin E and aloe vera comes in a choice of convenient packs – 250mL trigger spray, 75mL roll on, and 50g tube with carabiner. Woolworths also offers a 75mL roll on specifically for babies.
Coles Kids
This dermatologically tested formula is fragrance-free, non-greasy, and up to 4 hours water resistant. It's also designed to be moisturising. Coles Kids sunscreen comes in a 250mL trigger spray.
Cancer Council Kids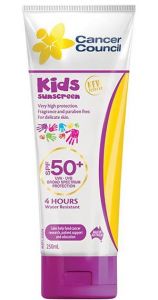 With no fragrance or parabens, the Cancer Council Kids sunscreen range is dermatologically tested to suit sensitive skin. It's also 4 hours water resistant. The Cancer Council offers one of the largest range of sizes and application methods of children's sunscreen on the market:
50mL bottle with carabiner clip
75mL roll on
110mL & 250mL tube
200mL pump spray
500mL pump bottle
Nivea Kids
With three kids' sunscreens on the market, each in a different application method, Nivea skincare is focussed on keeping skin soft and healthy. Nivea Kids Caring Sunscreen Spray SPF 50+ comes in a 200mL pump spray, and is slightly coloured so you can make sure you don't miss a spot. The Kids Swim & Play Sun Protection Lotion SPF 50+ contains panthenol to moisturise skin, in a 150mL tube. Finally, the Kids Caring SPF 50+ roll on lotion (65mL) contains mostly zinc oxide, plus moisturising panthenol, and is free from fragrance, colourants, and parabens.
Neutrogena Wet Skin Sun Spray Kids SPF 30+
Applicable on both wet and dry skin, Neutrogena's kids' sunscreen is sweat-resistant, hypoallergenic, noncomedogenic, oil-free, PABA-free, and up to 4 hours water resistant. It comes in a 140g spray.
SunSense Junior SPF 50+
Paediatrician tested and up to 2 hours water resistant, SunSense Junior is suitable for children aged six months and up. It comes in a choice of 250mL bottle or 50mL roll on.
What's the best way to keep babies sun safe?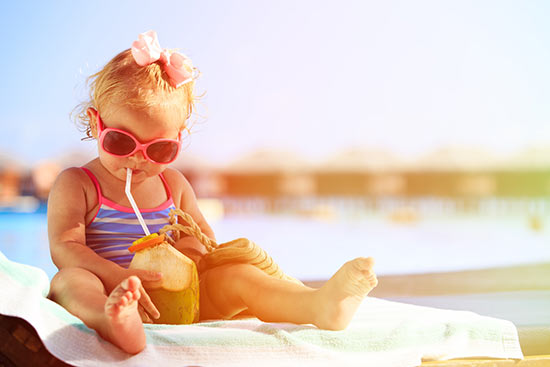 Regardless of your age, sunscreen isn't as good or reliable at blocking UV radiation than using more physical ways to block sun exposure, such as keeping your skin covered up with clothing and shade. Sunscreen is best considered as a way to protect bits of skin you can't or would be too uncomfortable or inconvenient to cover with clothing – like noses.
Little ones are best protected by keeping them covered up. That means donning bub in long sleeves, legionnaire's hats (or a nice wide brimmed hat), and sunglasses. Keep babies under shade as much as possible – prop up a beach umbrella while your baby is chilling out on the sand or building a sandcastle. Finally, use baby-friendly sunscreen on any exposed bits, including face, neck, and hands.
Fun in the sun doesn't need to end in tears – preventative sun safety measures can keep baby happy and safe from nasty sunburn. Don't forget to slip, slop, slap!
Original Author: April Broadbent