Poise best poised in feminine hygiene products review
As women, there are certain products we rely on when it's that time of the month, for basic hygiene reasons but also to make us feel comfortable and confident. That's why more than half of the Aussie women we surveyed (53%) generally have a spare tampon or pad in their bag at the ready for when old 'Aunt Flow' comes knocking. But while sanitary pads and tampons are a necessity of womanhood, it's important to find a brand that's really got you covered when you have your period.
That's why we've undertaken a survey to ask over 1,100 gal pals in Australia to spill the beans on the feminine hygiene and sanitary products that they have purchased and used in the last two months. Respondents compared and rated several leading brands on quality, absorbency, packaging appeal, product range, value for money and overall satisfaction. Those which met the minimum required survey sample size of 30 responses are included in our ratings.
Our review featured eight brands in total, but only one was rated best ─ Poise! It scored five stars in the majority of categories surveyed, including overall satisfaction.
Best Tampons & Sanitary Pads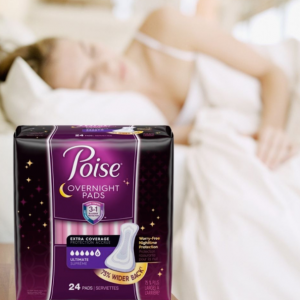 Here are the best brands for feminine hygiene products in Australia, as rated by women in Canstar Blue's 2020 review:
Poise
U by Kotex
Tom Organic
Tena
Libra
Stayfree
Carefree
Coles
Poise took out the top spot for best feminine hygiene products. It was the only brand to score five stars for quality, absorbency, value for money and overall customer satisfaction. On the other hand, runner up, U by Kotex, was the only entry featured in this year's review to get full marks for product range and packaging appeal, but finished on four stars overall.
All in all, most brands, namely Tom Organic, Tena, Libra, Stayfree and Carefree, finished on a solid four stars for overall satisfaction, while Coles bottomed out on three stars.
Tampons & Sanitary Pads Compared
Poise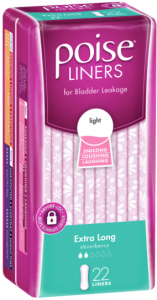 Poise specialises in creating incontinence products for women. Whether it's light protection for Pilates or heavier pads for overnight use, Poise has you covered with its range of every day liners and pads which feature a four-layer design that quickly absorbs and locks away moisture to help eliminate leaks and odours.
Poise products provide protection for light and heavy bladder leakages and can hold up to half a cup of liquid or more. Plus, they come in various sizes that conform to the natural curves of the body. Poise products are also claimed to be twice as absorbent as regular period pads. The brand offers daytime and overnight liners with light, moderate and heavy absorbency, as well as an active range and pads with six varying absorbency levels.
Poise was the only brand of the bunch to score a five-star rating for quality, absorbency, value for money and overall satisfaction. It got four stars for product range and packaging appeal.
U by Kotex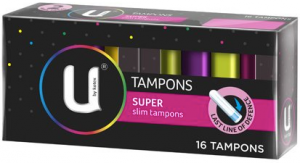 Whether you're wearing skinny jeans, working out or just want a good night's sleep, U by Kotex has something for every occasion and stage of your menstrual cycle. The brand offers a wide range of pads, tampons, liners and maternity pads in different designs to suit different activities, time of day and preferences.
U by Kotex tampons are said to have a slender tip and design for easy use, with 11g absorbency (perfect for medium flow days). They come individually packaged with coloured twist-open wrappers. Alternatively, its pads have a fast absorbing blue core which quickly absorbs fluid into the pad and special grooves that channel moisture into the centre of the pads to prevents leaks. Pads also have anti-leak side guards to keep you fresh and dry for longer. All U by Kotex products come in different absorbency levels and sizes.
U by Kotex received five stars for product range and packaging appeal, but finishing on four stars in the remaining categories and overall.
Tom Organic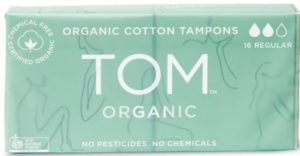 Tom Organic was founded on the philosophy that we should never have to choose between the wellbeing of our bodies and the planet. It's a brand that offers certified organic cotton tampons, sanitary pads, liners, and maternity and nursing pads that are said to be gentle on the skin and the environment. Tom Organic products are clinically tested to reduce the risk of irritation and made with no chemicals, synthetics or plastics. Tampons come in mini, regular and super sizes, suitable for light to heavy flows. Pads come in regular, ultra-thin, and super ultra-thin options.
Tom Organic was rated four stars for quality, absorbency, packaging appeal and overall satisfaction. It landed on three stars for value for money and product range.
Tena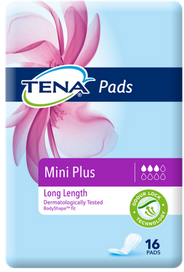 Tena is another brand of incontinence products, but for both men and women. The brand has a Product Finder on its website to help you find the right product for your needs. It also offers up to three product samples to try for free. Tena pads have a dry fast core that includes a double pulp layer to keep you fresh and dry for longer. The women's product line features mini, standard and extra-large pads and liners, as well as discreet pants. The men's range has different guards and pants to choose from, for every stage of bladder weakness.
Tena scored evenly across the board with four stars in all categories surveyed, including value for money and overall satisfaction.
Libra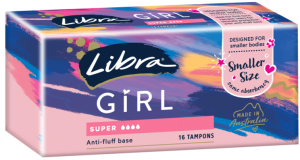 Libra offers pads, tampons and liners that are said to be designed by women, for women. Libra pads and liners come with and without wings, as well as regular 'invisible' and ultra-thin options, for your daytime, nighttime and sport. Libra pads and liners also have a unique BodyFit shape designed to move with and not against your body and anti-bunching technology.
Its tampons range includes Libra Girl and Libra Originals with regular and super absorbency and have a tapered tip for comfy insertion and an anti-fluff base. Libra offers a monthly package subscription that allows you to curate a package with your favourite products to get it delivered straight to your door with free shipping!
Libra received four stars overall and in the majority of categories, except for value for money where it landed on three stars.
Stayfree
Stayfree only stocks sanitary and maternity pads. Its products feature PerfectFit and anti-bunching technology, designed to have the pads move with you and stop them from creeping up where they don't belong. Stayfree pads also have thermo control cover to draw moisture away from the body. Stayfree offers ultra-thin, standard, overnight and maternity pads with light to medium and heavy coverage.
Stayfree followed the same trajectory as Libra, with four stars overall and in the majority of categories, except value for money where it got three stars.
Carefree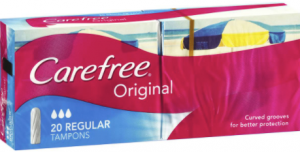 Carefree is a brand of pads, tampons and pantyliners from Johnson & Johnson. All Carefree products use FreeFit technology to work with your body and provide superior protection anywhere you go. All products feature different absorbency levels and come in various sizes and makes. Want to try out Carefree? The brand offers free samples to help you find the right fit.
Carefree was rated four stars across all categories, including overall satisfaction.
Coles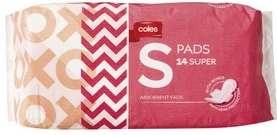 Coles home brand is the supermarket's budget line of everyday home, kitchen and sanitary essentials. It offers a range of extra-large, regular and ultra-thin and overnight pads, but not tampons.
Coles rounded out the results on four stars for value for money, but landed on three stars for overall satisfaction and everywhere else.
How much do women spend on pads and tampons?
Prices for pads and tampons range from $1.50 up to $15, depending on the brand, type, size, absorbency level and so on. Our survey found that women spend on average $13 per month on sanitary products, which equals to $156 a year and about $5,460 over a lifetime. That's the cost of a holiday!
Women's behaviour and attitudes towards sanitary products
It seems most of us ladies like to be prepared for when 'tom' of month rolls into town. Our survey found that over half of respondents (53%) keep a spare tampon or pad in their bag as a precaution, while 33% keep a schedule of their menstrual cycle to stay ahead of the, ahem, 'flow'.
Also, here are some interesting facts on buying behaviour.
More than half (53%) have tried multiple sanitary product brands
One in four (28%) generally buy the largest packs available
Over a third (35%) have tried multiple products of the same brand
A fifth (19%) generally buy the cheapest sanitary product available
Pads vs tampons ─ which is best?
Ahh, that's an age-old question and the answer is not so simple. Every woman has different habits and needs. Your choice will depend on your menstrual flow, what you tend to get up to during the day and what makes you more comfortable and confident. Both pads and tampons come with their own pros and cons.
Tampons
Here are a few key things to consider about wearing tampons:
| Pros | Cons |
| --- | --- |
| Completely sensationless | Associated with Toxic Shock Syndrome (TSS) |
| You can swim with them | Sometimes uncomfortable to insert |
| More discreet to carry and wear under clothing | Can't wear them overnight |
Pads
Here are some important things you should know about pads:
| Pros | Cons |
| --- | --- |
| More options to suit all flows and activities | Can bunch up with certain body movements |
| Can wear them overnight | Can't swim in them |
| Less risk of leaks and no inserting | Harder to dispose |
What about menstrual cups?
Menstrual cups are small, flexible, reusable funnel-shaped cups made of rubber or silicone designed for insertion (like a tampon) to collect menstrual blood. They've been on the market for years now, as a more environmentally friendly and convenient alternative to traditional sanitary products. Generally speaking, menstrual cups have a higher capacity than other methods and don't contain nasties like bleach or dioxin commonly found in tampons and pads. It's no wonder almost a fifth of our respondents (19%) have considered switching to reusable menstrual cups or period underwear (which is exactly what the name suggests).
What sanitary product should I buy?
Our survey found that quality, value for money and absorbency were the most important factors of consideration for consumers. There isn't much else to it, although demand for eco-friendly sanitary products is on the rise which suggests sustainability is also important. But to keep it simple, you want to find tampons or pads that are:
Gentle on the skin
Offer superior protection against leaks and odours
Comfortable to feel and wear (day and night)
Comparably affordable
Sometimes, the only way to find the right fit is to try a few options. Some brands offer free trials and samples, so you can find a trusty period pal without bleeding money. Alternatively, give our review a go to see how different brands compared on quality, absorbency, packaging appeal, product range, value for money and overall satisfaction.
About the author of this page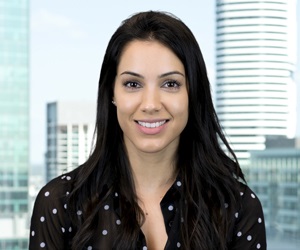 This report was written by Canstar Blue's Home & Lifestyle Content Lead, Megan Birot. She's an expert on household appliances, health & beauty products, as well as all things grocery and shopping. When she's not writing up our research-based ratings reports, Megan spends her time helping consumers make better purchase decisions, whether it's at the supermarket, other retailers, or online, highlighting the best deals and flagging anything you need to be aware of.