Whether you're a gym pro or you're stepping through the door for the first time, there's always at least one machine that you just have no idea what it does. For many, that machine is… the cross trainer. A subcategory of an elliptical trainer, the cross trainer looks to be a tangle of limbs from the outside, but can be a perfect way to get back into exercise for those returning from injury, or those looking for a full body workout.
But once you've figured out what it does – and how it works – what brand should you be looking at if you want one for your home or for your fitness business? With plenty of fitness equipment brands and manufacturers available, as well as a number of cross trainer variants, finding a suitable model is almost a workout in itself. But to take the leg work out of narrowing down your options, we've found a few key areas that you should look out for during your next shopping trip, as well as what brands have to offer to help with the decision process.
What is a cross trainer?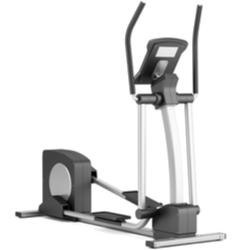 To help explain what a cross trainer is, it's best to first explain what an elliptical is. While for some they are essentially the same thing, those big on their fitness will tell you there's enough of a difference to warrant an explanation.
An elliptical is a stationery exercise machine that is used to simulate walking, running or climbing stairs, all without placing excessive or unnecessary pressure on joints. First entering the fitness market in the 1990s, ellipticals were marketed primarily for injury rehab, before making the move into mainstream fitness.
What's the difference between a cross trainer and an elliptical?
The main difference between an elliptical and cross trainer comes from the handles. An elliptical trainer has a static handle, meaning the machine focusses solely on your lower body. A cross trainer however, has handles that move, meaning that you can work both your upper and lower body at the same time.

Cross Trainer Types
In addition to the difference between cross trainers and other ellipticals, there are a number of different types and features that may influence which one you decide to purchase. The most common difference between models and brands is where the drive is located on the machine, with three options available: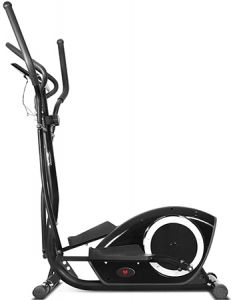 Rear Drive
Rear drive models have the flywheel at the rear of the machine, and are the most common type of cross trainer. They're also generally easier to clean and repair if anything breaks.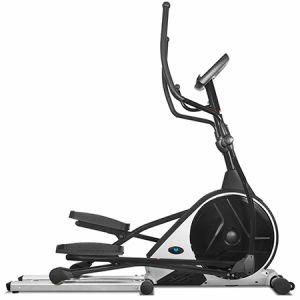 Front Drive
Front drive models have the flywheel at the front of the machine, influencing the angle at which you exercise, making it more ideal for those who want to simulate an incline for their next workout.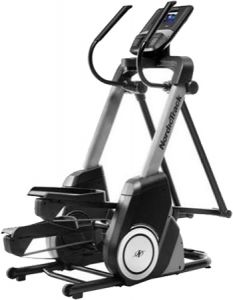 Centre Drive
As you've probably guessed by now, a centre drive model has the flywheel in the centre of the machine. While not as common as the rear or front drive models, the centre drive cross trainer allows for a more natural posture and position for those working out, meaning you aren't putting unnecessary stress on your body.
Images courtesy of Appliances Online and NordicTrack.
Things to consider when buying a cross trainer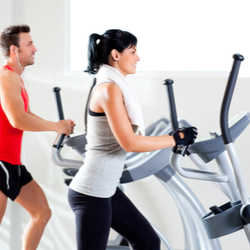 While they'll leave you sweaty and out of breath, there are a few areas that you should consider before you set your heart on a particularly model, as it may save you in the long run.
Stride Length – A comfortable stride length is completely dependent on the individual, meaning that some cross trainer brands and models will suit some people, but not others. As a result, it's best to look into what the minimum and maximum stride lengths of each models are, as well as testing them out in store before you buy, as you'll want something that comfortably fits with your workout style and regime, particularly if you have longer limbs.
Design – Working out can be tough, so you'll often want something that's easy to use, meaning that looking into factors such as how comfortable the handles are, how snugly your feet fit into the footrests, as well as how easily the cross trainer moves will all play into how often you'll use it after you've taken it home.
Features & Programs – Some cross trainers also include additional features such as heart rate monitors, water bottle holders and app compatibility, allowing you to work out with additional comforts. Some also include programs, taking the guess work out of planning an exercise program.
Adjustability – Some cross trainers will allow you to adjust the resistance and incline, meaning you can get the workout you want.
Price – As with any purchase, how much you have in your bank account – and how much you're willing to part with – will be a big influence on what you end up purchasing. Depending on who you purchase from, a cross trainer can cost anywhere from a few hundred dollars to a few thousand, meaning it's best to shop around to find the best deal.
Size – Considering cross trainers have moving parts that swing back and forth, you'll need plenty of space in your home gym if you're keen on adding a cross trainer. Some models are also built bigger than others, meaning you should measure out the dimensions before you whip out the credit card.
Cross Trainer Brands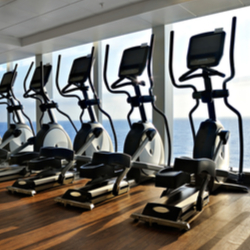 While there are plenty of general fitness brands out there, here are a few of the major players when it comes to cross trainers:
BH Fitness
BodyWorx
Horizon
Lifespan Fitness
NordicTrack
Octane Fitness
PowerTrain
Proform
Schwinn
York
If you're not sure which brand you should be looking at, here are a few options to get your workouts off on the right foot.
BH Fitness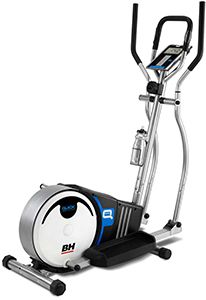 BH Fitness offers a wide variety of gym equipment, including treadmills, bikes and of course, cross trainers, with the brand available from equipment wholesalers and fitness retailers. While its range focusses primarily on either front or rear drive models, BH Fitness has a number of options available for you to find the best fit for your workout.
For beginners, BH Fitness offers the 'Easy Step' model, ideal for those new to working out, or using a cross trainer. Featuring a foldable design for easy storage, as well as 12 preset programs, the Easy Step is also compatible with a number of cool fitness apps, allowing you to work out the way you want. Other models within the BH Fitness line-up include the Super Khronos – which features a magnetic braking system and heart rate monitor – as well as the Studio range, which would be suitable for those looking to kit out a gym floor with equipment.
NordicTrack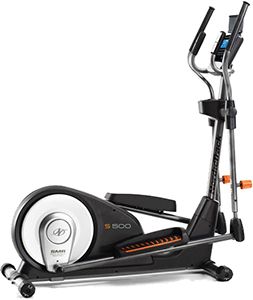 Operating under the Icon Health & Fitness banner, American brand NordicTrack is a common sight in the fitness industry, offering a variety of equipment and accessories. In its elliptical and cross trainer range, NordicTrack offers rear, front and centre drive models, allowing you to find one that suits your workout style and goals.
NordicTrack's rear drive range includes the SpaceSaver model, which includes a Vertical SpaceSaver Design for easy storage, as well as 24 preset workout apps, an integrated tablet holder and auxiliary music port for those who like to work out to their own music. The front drive C14 model includes a 10inch touchscreen to help you keep track of your workout and your heart rate, with the cross trainer additionally capable of a 20-degree incline if you're looking to really feel the burn.
If you're keen on a centre drive model, the Freestride Trainer may be up your alley, with the model also including on-demand workouts – some of which are integrated with Google Maps to make it feel like you're working out overseas – stat tracking technology as well as two amplified speakers to immerse yourself in your tunes.
Proform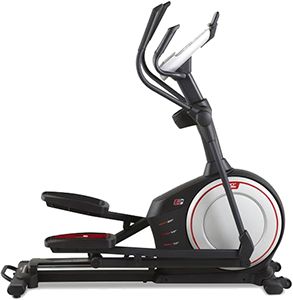 Another brand to operate under the Icon Health & Fitness name, Proform similarly offers a wide range of exercise equipment to help you get your summer body ready. In its cross trainer line-up, Proform has both rear and front drive models, with the brand available at major equipment wholesalers and fitness retailers.
One of the more prominent models in the line-up, the Smart Strider rear drive cross trainer features an automatic incline setting of up to 10 degrees, along with a Vertical SpaceSaver design for easy storage. The Smart Strider additionally features 24 resistance levels to help you find a workout that suits your fitness levels, along with a built-in workout fan to keep you cool while feeling the burn.
If you're really looking to work up a sweat, the CardioHIIT cross trainer could be just the ticket, with its 10-inch vertical path designed to put you through your paces. Also featuring Silent Magnetic Resistance for a quiet workout, the CardioHIIT comes with a built-in 7inch display to help you keep an eye on your speed, time, distance, heart rate and calories burned, with QuickTouch controls close by to alter resistance levels.
York
York Fitness is a mainstay of the fitness equipment industry, with the brand available globally for all your fitness needs. While not the largest range in comparison to other brands, York offers both rear and front drive models, meaning there's still plenty to check out if you're looking to take home a cross trainer.
York's cheapest model, the Performance Cross Trainer, includes eight resistance levels, adjustable stabilizers for uneven floors, wheels for easy transportation as well as an LCD screen to help you stay on top of your workout statistics. On the other end of the price spectrum, the LC-XT Cross Trainer, includes up to 32 levels of resistance, while also featuring 20 programs if you're looking to work on a specific body part. The LC-XT also includes creature comforts such as USB charging for your phone and a tablet holder, meaning you can watch your favourite shows while getting working up a sweat.
Where can I buy a cross trainer?
Cross trainers are available for purchase at a number of outlets, including sporting goods retailers such as Rebel Sports, electronics retailers such as Harvey Norman as well as fitness equipment manufacturers and wholesalers. You may also be able to purchase a cross trainer online through the company itself, meaning it's best to look into all of your options, as you may be able to find a model on sale.

How do I maintain my cross trainer?
Like most exercise equipment, your cross trainer will likely get covered in sweat. To ensure your cross trainer doesn't stay dirty, regularly clean with a damp cloth to prevent dust and dirt getting to where it shouldn't be.
As there moving parts associated with a cross trainer, you may also need to regularly inspect the machine to ensure everything is operating as it should be. This may include inspecting and tightening loose nuts and bolts, as well as aligning or lubricating the moving parts. Most cross trainers will come with an owner manual, so when it comes to the maintenance and upkeep of it, the manual may be the best place to start to ensure that you don't void any warranties, and that you're properly taking care of your equipment.
Is buying a cross trainer worth it?
Regular exercise has been shown to have plenty of physical and mental benefits, meaning hitting the gym or track or doing a few push-ups in your home can improve your health, both in the short term as well as further down the line. And with plenty of fitness equipment available and suitable for use at home, machines such as cross trainers are becoming a more popular option for those who don't mind working up a sweat without leaving the house. However, just because you've purchased a cross trainer doesn't mean that you'll get the body you were hoping for, as you'll still have to get down to business before you see any results.
But if you're looking to build up your home gym, a cross trainer may be a worthwhile purchase, allowing you to get both an upper and lower body workout in one. But in order to save yourself from sweating over your purchase, it's best to shop around – both in terms of retailers as well as brands – to ensure that you're getting the best fit for your needs.
Picture credit: Dreams Come True/shutterstock.com, Maksym Bondarchuk/shutterstock.com, lunamarina/shutterstock.com, ER_09/shutterstock.com