Berocca still rated best for multivitamins
One day humans will be so busy that all our food will come in tiny little pills consumed three times a day. But until then, we'll continue to eat our regular meals, and those with a particular vitamin deficiency will look for the nutrients they need through various dietary supplements. It isn't always easy maintaining a healthy, balanced diet, packed with all the fibres, proteins and minerals we mere mortals need, which is why many of us turn to multivitamins in search of a helping hand.
Professional opinion will presumably always be divided over whether or not vitamin supplements serve a real purpose, but our latest multivitamins review has found that 85% of consumers who take them are convinced they are good for their health (i.e. they feel better for taking them). Is this a placebo effect in action? Whatever the case, Canstar Blue isn't here to cast aspersions, but to reflect what consumers are thinking about the multivitamin brands on sale in Australia right now. We've surveyed more than 1,500 adults who consume multivitamins to find out what they think about the products they buy in regards to their perceived effectiveness (which is largely subjective), taste, ease of consumption, availability, value for money and their overall satisfaction with the brand.
Nine major brands received the minimum sample size to be included in the final ratings, but for the third year in a row, Berocca has rated the best of the bunch. You may not necessarily think of Berocca in quite the same light as some of the other more established multivitamin brands. It's often used for sore heads after big nights out rather than a regular source of vitamins and minerals, but it seems that Aussies are changing the way they think about Berocca – and what they use it for.
Berocca rated five stars for overall customer satisfaction, in addition to effectiveness and taste. It recorded four stars in all other areas.
Bioglan, Blackmores, Centrum, Elevit, Nature's Own and Nature's Way all scored four stars for overall customer satisfaction. However, Elevit earned five stars for effectiveness, while Centrum and Nature's Way also scored highly in other areas.
Cenovis and Swisse received three-star reviews for overall satisfaction. However, Cenovis scored top marks on value for money.
To help you decide which multivitamin brand may be best for your needs and budget, here is a guide to the nine brands in this year's review, followed by some further insights from the research.
Top Multivitamin Brands
Berocca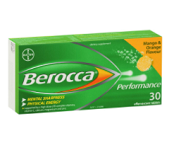 Instead of swallowing pills, with Berocca you can get your vitamin fix with a drink. Pop a Berocca tablet into a glass of water and it will quickly dissolve to create a flavoured fizzy drink, containing B vitamins, vitamin C, magnesium, calcium and zinc. The original 'Berocca Performance' supplement now comes in three flavours – orange, berry, and mango and orange. It also comes in fizzy chewable tablets (in orange fresh and berry burst flavours) and traditional film-coated tablets. Berocca Boost tablets add in guarana extract for the caffeine equivalent to a cup of coffee. For a vitamin boost on the go, Berocca has recently rolled out new 'Twist n Go' options, which drops the tablet into a bottle of water when you twist the lid. Berocca is also sold in small tubes of 15 in durable packaging for keeping in your bag. Berocca has once again been rated highest in our annual review, scoring five stars for overall satisfaction.
Bioglan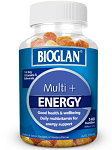 An Australian-owned brand under the umbrella of the PharmaCare Company, Bioglan has an extensive range of dietary supplements and natural food products. It produces tailored mixes for health concerns such as immunity, energy, arthritis, respiratory health, digestion, sleep and brain health, plus vitamin boosts to address dietary deficiencies. For kids, there are chewable vitamins for things like eye health, as well as general multivitamins, chewable probiotics and omega 3 capsules. The Bioglan range expands to detox products, cold and flu remedies, and even NutriSlim weight loss shakes. It also has a large range of red krill oil products, claimed to improve heart and brain health, and provide anti-inflammatory relief to joints. Bioglan rated four stars overall this year, with a mix of three and four stars across the board.
Blackmores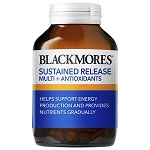 Blackmores claims to have combined traditional herbal medicines with the latest research in nutrition to develop its 'natural health' products. Founded by naturopath Maurice Blackmore over 80 years ago, the brand maintains strong ties to naturopathy with a free Naturopathy Advisory Service. The product range covers many health concerns, such as eye, brain, heart, immune system, digestive, skin and joint health, as well as probiotics, omega 3s, pregnancy, weight management and superfoods. Its multivitamins cover men's, women's, and children's health. Its products targeted at kids include multivitamins for teenagers, chewable fish oil, immunity supplements, cough syrup, and infant formula. Blackmores even has a large range of pet health products, so every member of the family is covered. Blackmores rated four stars for overall satisfaction in 2018, with a mixed bag of three and four stars in other areas.
Centrum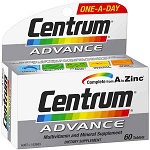 Centrum multivitamins are apparently designed to fill nutritional gaps in one's diet. The product range includes the original 'Centrum Advance', plus other special formulas with ingredients targeted towards health for women, men, women aged over 50, men aged over 50, kids, eyesight, cardiovascular health, as well as physical and mental energy. The children's range includes chewable multivitamins, chewable fish oil capsules and liquid iron mixture. Centrum also makes adult gummies and chewable 'VitaMints' to make taking vitamins easier. Centrum is a previous winner in our multivitamins research, but this year it has to settle for four stars overall and the same score in most other categories. However, it was notably a recipient of five stars for availability and value for money.
Elevit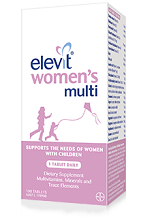 Elevit claims to be Australia's No.1 pregnancy supplement, with several products targeted at women at all stages of motherhood, including those trying to conceive, those who are pregnant and those who are breastfeeding. Elevit says it offers supplements to help meet the increased nutritional needs of women at all stages, as well as those with children, while also providing a supplement targeted at male fertility, claimed to maintain sperm health for couples planning pregnancy. Elevit was rated four stars overall this year, but significantly joined Berocca is achieving top marks in regards to effectiveness. It received a mix of four and three stars in all other areas.
Nature's Own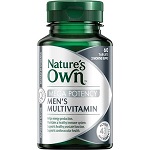 Nature's Own claims to produce products based on the everyday lifestyle needs of its customers. Across its wide range are remedies and vitamin boosts designed to assist with colds, immunity and hayfever, digestion, energy, eye health, cardiovascular health, joints, bones and muscles, memory, stress, sleep, and much more. Nature's Own also produces omega 3 supplements, men's health and women's health supplements, and a massive range of dietary supplements and herbal products. It received four stars for overall satisfaction in our 2018 review, with a mixed bag of four and three stars across the board.
Nature's Way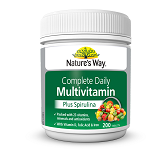 Nature's Way provides a broad spectrum of health supplements, including superfoods, sport and fitness, and weight loss/management products. Claimed to combine traditional and modern medicine, plus its commitment to innovation, Nature's Way wants to cater to the vitamin needs of people at varying ages and lifestyles. It offers many different ways to get your children to take their vitamins, with supplements coming in the form of drops, milk buttons, chewable capsules, powders, yoghurts and chocolate balls. It also makes baby formula. For adults, it offers herbal and wholefoods mixtures as capsules and powders, claimed to address a broad spectrum of health concerns, including arthritis, bone strength, brain health, immunity, digestion, stress, and cardiovascular health. Nature's Way was an impressive performer this year, earning five stars for availability, ease of consumption, taste and value for money. It achieved four stars on effectiveness and overall satisfaction.
Cenovis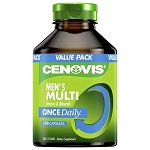 Cenovis focuses on family health, including children's multivitamins and a wide variety of supplements apparently designed for different health needs. Most of its products are manufactured in Brisbane. The children's vitamin range offers multiple ways to get kids to take their vitamins, with chewable tablets, fizzy chews and sprinkles (in either flavourless or chocolate flavour). Cenovis claims to create products not only designed to top-up vitamins, but also to target specific health concerns, including colds, stress, digestion, bones and energy. Cenovis was rated three stars for overall customer satisfaction in 2018 and the same result in most research categories. However, it notably achieved five stars on value for money.
Swisse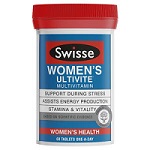 The Swisse philosophy is described as 'people, principles and passion before profit'. It produces a broad range of multivitamins, dietary supplements, sports nutrition products, skincare and 'functional foods'. The multivitamins range brings a particularly large number of women's products, tailored for those aged 50+, 60+ and teenagers, as well as for those with specific health concerns or needs, including pregnancy, iron boost, menopause and many more. There are also a number of men's and children's multivitamins on offer from Swisse. The brand was rated three stars for overall customer satisfaction in 2018, with the same score in most other research categories.
Picking the best multivitamins for you
There are clearly a lot of different options to navigate when you're looking for the best multivitamins for your personal needs, not to mention the other types of vitamins you'll see on supermarket or pharmacy shelves. You may find there isn't a huge difference in ingredients between different brands and certain products, meaning factors like taste and ease of consumption become really important. This is probably why many brands now include 'gummy' versions of their products to help make them more enjoyable to consume than just trying to swallow a large tablet.
As well as identifying which brands are rated highest by Aussie consumers, our research also determines what drives overall satisfaction for those who buy multivitamins:
Do you really need to take multivitamins?
Our latest survey found that consumers spend an average of $37 a month on their supplements, which is not an insignificant amount of money. So, why do people take them in the first place? We asked the adults who took part in the research and found:
58% said it's because they have a particular vitamin deficiency
14% simply take them because friends or family members do
13% are not sure why they take them
19% cited other reasons
Whatever your reason for consuming supplements, it's important to discuss the matter with your doctor who may be able to offer specific advice or products. Our survey found that just 26% of consumers were prescribed multivitamins by their doctor or health professional, while 20% said they were recommended them by a friend or family member. However, the majority (53%) just decided to take them without any recommendation. If you're taking some sort of supplements but haven't received any expert advice, you may not need to. Ultimately, you could be wasting your money. If you do need to take multivitamins and are researching your options, we hope you found this review helpful.
The information in this article is not medical advice, and Canstar Blue is not making a recommendation or giving advice about medications or health related products. Seek the advice of a doctor or pharmacist to find the right medication for you.