Bondi Sands stays golden in self-tan ratings
Self-tan – it's a love/hate relationship. We love looking sunkissed without having to roast outside, but the trial and error process can end up with you feeling like an Oompa-Loompa mixed with a piece of streaky bacon. Although this doesn't mean the golden hour of self-tanning products is close to ticking over, with 46% of Aussies in our survey revealing they feel more self-confident after they've tanned up, while 35% say they prefer to create their glow at home with a self-tanning product rather than have it done professionally.
So, which brand do Aussie gals and guys love the most? To help you find the best self-tanner, we surveyed almost 300 consumers across the country to get their critique on the products they most recently purchased and used from a supermarket or pharmacy. Note this refers to a home use product, not a spray tan in a salon.
Results are based on quality, ease of application, value for money, longevity, packaging design, smell and drying time, along with overall satisfaction. Out of the three brands which received the minimum sample size to be included in this year's comparison, it was Bondi Sands that again achieved glowing success with five stars across the board. That makes it two years in a row.
Best-Rated Self-Tanners

Canstar Blue's 2019 review of self-tanning products saw three major brands compared and rated in the following order for overall satisfaction:
1st Bondi Sands
2nd Le Tan
3rd Dove
Bondi Sands continues to make waves among Aussies, bathing in the top spot for the second time since winning our inaugural review on self-tanners last year. The homegrown brand similarly earned five stars across all categories, including quality, ease of application, value for money, longevity, packaging design, smell and drying time.
Le Tan is also massaging its way in the right direction, having achieved four stars overall and in most categories, with Dove also scoring top marks despite three stars for overall satisfaction, meaning each brand has plenty of gloss to it.
Other Tanning Brands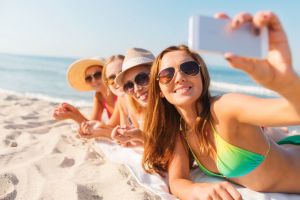 While our list is a good starting point if you're looking to try your hand at a new brand, there's plenty of choice out there. Other self-tanners you'll find in supermarkets and pharmacies include:
tan
Essano
Jbronze
Jergens
Minetan
Modelco
Natio
Natural Glamour
Nude by Nature
Palmer's
Puretan
Rimmel
Scents Of Self
Skinny Tan
St Tropez
Our survey found that 34% of respondents have tried multiple brands of self-tanning products, and by looking at the list above it makes sense! So, if one brand doesn't cut it, you can always just move onto the next one! Before we dive into each key factor driving customer satisfaction, here's what else our survey has found:
What to consider when buying self-tan?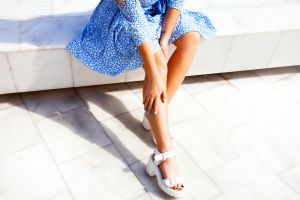 Aside from finding out which self-tanning brand is rated best, our survey identified the following drivers of customer satisfaction in the following order:
Quality: 24%
Ease of application: 18%
Value for money: 18%
Longevity: 17%
Packaging design: 11%
Smell of product: 10%
Drying time: 2%
Quality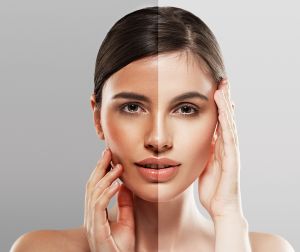 Quality is one of the most important areas to consider when it comes to taking a self-tanning product to the checkout. If you've experienced a self-tanner that left you with a streaky, orange-tinted look, you'll know what we mean. The quality of the product is important to help avoid those disappointments and get that sun-kissed Aussie tan you hoped for.
Bondi Sands came out on top for quality with five stars, while Le Tan scored four stars and Dove rated three.
Ease of Application
Applying tans can be a tricky business, especially as there are different application methods, whether you're using a spray, lotion, mousse, or something else. While they all aim to do the same job, some users may prefer one over another if it works best for them. When asked what type of self-tanning product they had recently purchased, 37% of survey respondents said foam, while 29% said lotion, followed by spray (14%), gradual/daily moisturiser with tint (12%) and oil (8%). Regardless of what your preference is, they should all be easy to use and apply in order to avoid heartbreak if you come out patchy.
Bondi Sands earned five stars for ease of application, while Dove achieved four stars and Le Tan received three stars.
Value for money
Self-tans typically last about a week so there's a lot of re-application required to maintain the look. On average, consumers spend $25 a month on their self-tanner, meaning if you're a regular user it can add up quickly. While 10% said they buy the cheapest brand, value for money doesn't just mean looking at the price tag, as you may get what you pay for with self-tanning products.
Dove joined Bondi Sands at the top with five stars, while Le Tan was rated four stars.
Longevity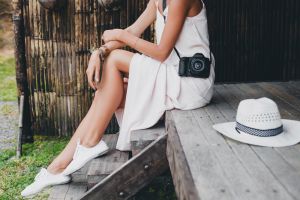 The goal is to make sure a fake tan lasts you the whole holiday. However, in the Aussie heat, it's easy to sweat off the tan before you even get on a plane. Finding a brand that lasts is crucial! Typically, brands claim their self-tanners last between five and seven days.
Both Bondi Sands and Dove received five stars for longevity, with Le Tan rated four stars.
Packaging
While packaging doesn't have an impact on the end result, it helps to have a product that's well designed and easy to open, especially if your hands are sticky or slippery from applying your tan. In addition, you might be drawn to one brand over another if it stands out from the crowd.
For packaging design, Bondi Sands received five stars, Dove recorded four stars and Le Tan received three stars.
Smell
According to our review, smell was among the least important factors for consumers, and this might be because many brands do aim to offer refreshing coconut and vanilla scents. However, some fake tans can override a perfume or cologne you're wearing, so you might like to keep this in mind the next time you're planning on hitting the town.
Bondi Sands scored five stars for smell, with both Le Tan and Dove receiving four stars.
Drying time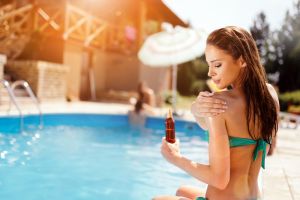 Slow drying time is a big no-no when it comes to self-tan, especially when you just want to get on with your day. Almost one quarter of Australians (21%) said they've ruined clothes or bedsheets because of their fake tan, meaning the quicker the drying time, the less likely you are to accidently ruin something. Some brands claim to dry in seconds, leaving you with a natural tan that can be washed off after just one hour, meaning there are options for those on a tight schedule.
Bondi Sands scored five stars for drying time, while both Dove and Le Tan achieved four stars.
With so many brands on offer, you're bound to find the right self-tanner for you, although you may have to trial a few brands and products first to find one that looks the best on you. But at the end of the day, nothing can beat the feeling of a good tan!
About the author of this page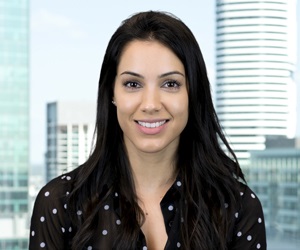 This report was written by Canstar Blue's Home & Lifestyle Content Lead, Megan Birot. She's an expert on household appliances, health & beauty products, as well as all things grocery and shopping. When she's not writing up our research-based ratings reports, Megan spends her time helping consumers make better purchase decisions, whether it's at the supermarket, other retailers, or online, highlighting the best deals and flagging anything you need to be aware of.