Hair we go: Napro Palette rated best for hair dye
Whether you want a complete colour overhaul or simply need to touch-up your greys, you can now confidently skip the hair salon and DIY at home with packet hair dyes. Gone are the days of wasting time and money at the hairdressers. Pharmacy and supermarket shelves are packed full with all different kinds of hair colouring products, from permanent and semi-permanent solutions, to touch-up gels and wash-out products. It's no wonder half of our survey respondents (50%) have tried multiple brands of hair dye, while a quarter (25%) have tried multiple products of the same brand. So, which at-home hair dyes can you trust to deliver glossy results, without leaving your wallet dry?
To find out, we asked more than 600 Aussies who've purchased and used box hair dye in the last six months, to rate their product on various drivers of satisfaction such as hair care, durability, ease of use, product accuracy, colour variety, packaging design and value for money. The brands which met the minimum required survey sample size of 30 responses were then given an overall customer satisfaction rating and feature in our results above.
So, which brands were rated best and which got hairy reviews? Napro Palette was rated best in the majority of categories and for overall customer satisfaction.
Best Hair Dyes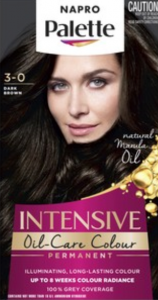 Here are the best brands for at-home hair dye in Australia, as rated by consumers in Canstar Blue's inaugural review:
Napro Palette
Revlon
Clairol Nice'n Easy
Schwarzkopf
L'Oréal
Garnier
Napro Palette topped our first ever at-home hair dye ratings, after scoring five-star reviews for product accuracy, hair care, colour variety, packaging design, value for money and overall customer satisfaction.
Runner-up Revlon managed to beat our rating's winner in the durability stakes, with a five-star accolade and also got full marks for hair care and packaging design. Clairol Nice'n Easy also got the edge over Napro Palette on ease of use and durability, with a five-star review, as well as for packaging design. Meanwhile, Schwarzkopf was awarded full marks for hair care and packaging. All aforementioned brands landed a four-star rating for overall satisfaction. L'Oréal and Garnier bottomed out with a moderate three-star rating in most research categories and for overall satisfaction.
At-Home Hair Dyes
Napro Palette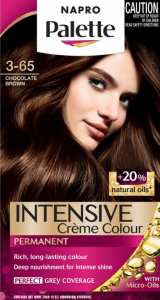 Napro Palette is no ordinary hair dye. It's a hair colour that combines art and science to create an intensive colour crème, claimed to penetrate deeply into the hair's structure to lock in colour pigments and provide 100% grey coverage and up to 30% more shine, according to the brand. Napro Palette's permanent hair dyes are formulated with argan oil, and can last up to eight weeks. Napro Palette hair dyes come in 19 shades and can be purchased from most pharmacies and supermarkets from $9.99.
Napro Palette was rated best for product accuracy, hair care, colour variety, packaging design, value for money and overall satisfaction.
Revlon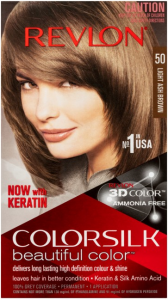 Revlon offers a hair colour line with products for root touch-ups, permanent colouring and highlighting, available in over 70 shades across the range. The brand's Root Erase range features a ready-to-use formula that can cover grey hair in just minutes, while Revlon's Total Color Permanent Hair Colour products contain a vegan formula, with no parabens, sulfates or gluten, to provide 100% grey coverage and up to eight weeks of colour. The standout product from the range however, is the ColorSilk Beautiful Colour which uses 3D technology for multi-tonal colour hair from root to tip. You can pick up a Revlon packet hair dye from $4.99 in most supermarket and pharmacies.
Revlon achieved five stars for durability, hair care and packaging design. It received four stars in the remaining categories, including value for money and overall satisfaction.
Clairol Nice'n Easy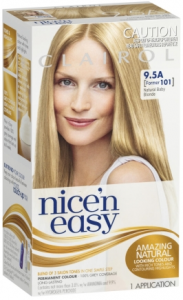 Clairol Nice'n Easy is a permanent hair colour product with a blend of tones and highlights. It's claimed to provide 100% grey coverage and it's available in over 45 'never fake or phony' shades. What's more, every box contains a 'miracle CC Colour Seal Cream' formulated to add shine and highlight to your hair colour. The Clairol line-up also includes a Nice'n Easy Repair hair colour with REPAIRPLEX technology to prevent hair breakage, and a Root Touch-Up range which offers four ways to touch-up your greys, as well as a Natural Instincts semi-permanent colour with 80% naturally-derived ingredients. You can pick up a Clairol Nice'n Easy box hair dye from $12.99 from Woolworths, Priceline or Chemist Warehouse.
Clairol Nice'n Easy received a five-star review for durability, ease of use and packaging design, and four stars everywhere else.
Schwarzkopf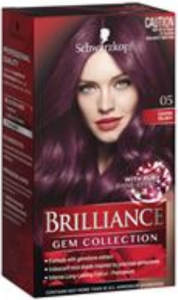 Schwarzkopf offers a range of permanent hair colours for both men and women, and hair mascaras (to touch-up greys). The brand is best known for its Brilliance anti-fade hair colours, formulated especially for brunettes, which come with a gloss serum to lock in moisture and prevent hair damage. There's also the Colour Specialist range with Omegaplex technology and the Men Perfect range for the lads out there who want to colour away greys. Then, there's also the Schwarzkopf Live Colour Pastels range which delivers semi-permanent pastel colours that wash away after eight shampoos. You can buy Schwarzkopf products from $9.99 in most pharmacies.
Schwarzkopf was rated five stars for hair care and packaging design and four stars in the remaining categories.
L'Oréal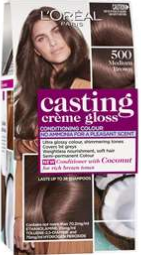 L'Oréal is a leading brand for all things cosmetic and haircare. The brand offers tailor-made hair dyes for all hair types and colours. Its Casting Crème range uses a formula which contains no-ammonia, but that can still cover greys efficiently and will last up to 28 washes. L'Oréal's Magic Retouch was formulated to blend away greys, while the Colorista range offers high-rotation gels and products in funky shades like cobalt blue and pink. You can pick up L'Oréal hair dyes from about $10 from any supermarket or pharmacy.
L'Oréal got four stars for its ease of use, hair care, variety of colours and packaging design, but finished on three stars overall.
Garnier
Garnier offers two products − the Nutrisse permanent hair colour and the Olia ammonia-free hair colour. The Nutrisse range features a hair colour formula which contains avocado oil and a conditioner to deliver rich results no matter your colour, according to the brand. It's also said to colour 100% of greys and last up to eight weeks. Meanwhile, Olia products were formulated specially to reduce hair damage, using a special oil delivery system that propels the colour deep into the hair fiber. Garnier hair colours are available in over 40 shades and cost about $7.45 or upwards from most supermarkets.
Garnier rounded out the results with four stars for packaging design and three stars in all other categories.
Hair Dye Facts
Which at-home hair dye should I buy?
Ideally, choose a hair colour that suits your skin tone and hair type, to avoid any unpleasant surprises. Most box hair dyes come with a colour chart which shows what colour types match your chosen shade. Another important thing to look out for is how long the colour will last. Permanent hair colours typically last the longest (six to eight weeks), while touch-up products will fade after a couple of weeks, and wash-out dyes after a few washes. Again, refer back to the box which should give you details. Here are the hair dye types our survey respondents had most recently purchased:
Permanent: 62%
Semi-permanent: 24%
Wash-out colour: 9%
Root touch-up: 4%
Lastly, consider a packet hair dye that contains naturally-derived ingredients (i.e. argan oil, avocado oil etc.) and no ammonia, which can dry and damage your hair.
About the author of this page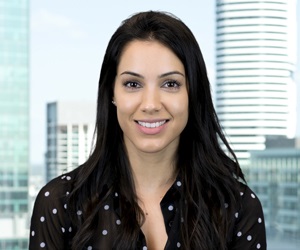 This report was written by Canstar Blue's Home & Lifestyle Content Lead, Megan Birot. She's an expert on household appliances, health & beauty products, as well as all things grocery and shopping. When she's not writing up our research-based ratings reports, Megan spends her time helping consumers make better purchase decisions, whether it's at the supermarket, other retailers, or online, highlighting the best deals and flagging anything you need to be aware of.
Picture credits: Sirtravelalot/ Shutterstock.com.