Fact Checked
Thankyou hands down rated the best sanitiser
It's basically hygiene in a bottle and since the onset of the coronavirus (COVID-19) pandemic, hand sanitiser has become a must-have everywhere we go. In fact, more than half (54%) of Aussies who responded to our survey purchase use instant hand sanitiser more regularly now than they did BC (before coronavirus), while some 45% of respondents take a bottle with them any time they leave home. But, with so many options available – including sanitising sprays, gels, soaps, and wipes – how do you know which hand sanitisers are worth picking up?
That's where we can help. Canstar Blue has surveyed nearly 1,600 Australian consumers for their feedback on the instant hand sanitisers they've purchased and used over the last 12 months. Respondents rated brands on their effectiveness, ease of use, smell, packaging design, value for money and overall satisfaction. Brands that received the minimum required survey sample size of 30 responses are featured in our results. So, what did we find?
Thankyou scrubbed up best with five-star reviews in the majority of categories, including effectiveness, ease of use, packaging design and overall satisfaction.
Best-Rated Hand Sanitisers
Here are the best instant hand sanitisers in Australia, as rated by consumers in Canstar Blue's 2021 review:
Thankyou
Sukin
Dettol
Palmolive
Aqium
ALDI Tricare
Purell
Put your hands together for Thankyou after it rated best in Canstar Blue's latest hand sanitiser review! It earned five stars for overall satisfaction, while Sukin, Dettol, Palmolive and Aqium achieved four stars. ALDI Tricare and Purell followed behind on three stars overall.
Palmolive similarly 'nose' what's best in terms of smell, scoring five stars, as did ALDI Tricare when it came to value for money.
Hand Sanitisers
Thankyou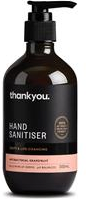 Thankyou markets itself as a consumer movement and a company that operates as a social enterprise. In fact, Thankyou claims it commits 100% of its profits from sales to global projects to end poverty. The company also states it doesn't have any private shareholders, which means it can focus on people instead of profits. Thankyou has more than 55 products, from personal care products to nappies, baby care, water as well as breakfast products like muesli and granola.
Thankyou sells non-scented and scented instant hand sanitisers, including:
Thankyou Antibacterial Lemon & Lime Hand Sanitiser (50ml): $3.99
Thankyou Antibacterial Hand & Surface Sanitiser Spray (50ml): $4.99
Thankyou Antibacterial Grapefruit Hand Sanitiser (300ml): $9.99
Thankyou rated best for effectiveness, ease of use, packaging design, and overall satisfaction, earning five stars in these categories. It got four stars for smell and value for money.

Sukin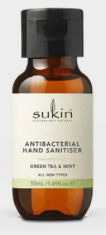 Australian skincare brand Sukin was founded in 2007, on the philosophy that everything we need to nourish our skin (inside and out) can be found in nature. That's why Sukin's range, which comprises face masks, moisturisers, oils, serums and the like, is said to be derived from natural ingredients. The brand's products are also described as cruelty-free, carbon-neutral and made on home soil. It's also said to use recyclable packaging. The company also sells hand sanitiser sprays and gels, made with 70% v/v alcohol made from natural sources such as wheat, sugarcane and sorghum.
Sukin's range includes the following products:
Sukin Natural Antibacterial Hand Sanitiser Spray (50ml): $4.95
Sukin Natural Antibacterial Hand Sanitiser Gel (50ml): $4.95
Sukin Natural Antibacterial Hand Sanitiser Spray (125ml): $9.95
Sukin achieved a respectable four stars for smell, value for money, packaging design, and overall satisfaction. It scored three stars for effectiveness and ease of use.

Dettol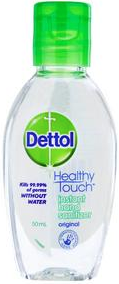 Dettol came to the (operation) table over 80 years ago and was first used to clean and disinfect skin for surgical procedures in hospitals. Today, the brand is still synonymous with all things antibacterial, but mostly for its soaps, sprays and wipes. Dettol products are stocked at Coles, Woolworths and most pharmacies. The brand offers cleaning products for your bathroom, kitchen and laundry, as well as personal hygiene products. This includes antiseptics, soaps, antibacterial hand wipes and, of course, instant hand sanitisers, which come in convenient travel-size bottles and 200ml pump bottles.
Here's a sample selection from the Dettol range:
Dettol Refresh Liquid Hand Sanitiser (50ml): $3.49
Dettol Instant Hand Sanitiser Chamomile (50ml): $4.59
Dettol Healthy Touch Instant Hand Sanitizer Original (200ml): $7.50
Dettol cleared the board with four-star reviews in all categories such as effectiveness, ease of use, smell, value for money, packaging design, and overall satisfaction.

Palmolive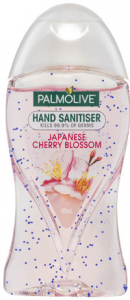 Palmolive is a leading brand of personal care products (owned by Colgate-Palmolive), with a history dating back about 200 years, when William Colgate started a starch, soap and candle business. Fast forward to today and Palmolive is one of the most recognised brands when it comes to shampoos, soaps, hand washes, hand sanitisers and more. It's sold in most major supermarkets and grocers in Australia. Palmolive offers two scented hand sanitiser options, both available in a 48ml travel size and 200ml pump bottle.
Options include:
Palmolive Lemon & White Citrus Hand Sanitiser (48ml): $3.50
Palmolive Japanese Cherry Blossom Hand Sanitiser (200ml): $3.50
Palmolive Non-sticky Japanese Cherry Blossom Pump Hand Sanitiser (200ml): $6.00
Palmolive rated best for smell, receiving the only five-star review for the category. It scored four stars for ease of use, packaging design, and overall satisfaction, plus three stars for effectiveness and value for money.

Aqium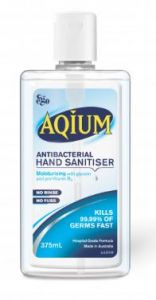 Aqium is a pharmacy brand of hand sanitisers, which boasts a hospital-grade formulation to apparently kill 99.99% of germs 'fast', so the brand claims. Aqium's products are manufactured by Ego Pharmaceuticals and sold in most major chemists in Australia, including Priceline, Amcal and Chemist Warehouse. The brand is made up of three lines of hand sanitisers, Aqium Original, Aqium Ultra and Aqium Aloe. Products come in three formats, including a 60ml purse pack, 375ml pump pack and 1L pump.
Check out prices below:
Aqium Antibacterial Hand Sanitiser with Aloe (60ml): $3.50
Aqium Ultra Antibacterial Hand Sanitiser (375ml): $5.50
Aqium Antibacterial Hand Sanitiser (1L): $13.50
Aqium maintained four stars in most research areas, such as effectiveness, ease of use, value for money, packaging design and overall satisfaction. The only exception was smell, where it got three stars.

ALDI Tricare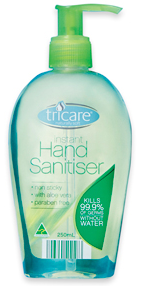 ALDI Tricare is the discount supermarket's budget line of personal care products which includes antibacterial soaps, gels and hand wash. If online reviews and the wild world of social media are anything to go by, this line offers both quality and bang for your buck. ALDI's Tricare hand sanitisers come in two versions – original with vitamin E, and one with aloe vera. Both options are labelled as non-sticky, and paraben-free. Tricare is stocked exclusively at ALDI.
Check out prices below:
Tricare Instant Hand Sanitiser Aloe Vera (250ml): $3.69
Tricare Instant Hand Sanitiser Vitamin E (975ml): $9.99
ALDI Tricare rated as the best value for money, being the only brand to score five stars for the category. It got three stars everywhere else, including for effectiveness, smell, ease of use, packaging design, and overall satisfaction.

Purell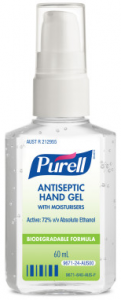 Purell is an American brand of hand sanitisers. It's owned by GOJO Industries, a wholesaler of health and hygiene products that services the healthcare and hospitality industry, as well as the industrial and retail market. Purell products are also stocked at Woolies and certain pharmacies. Purell hand sanitisers are available in different varieties and dispensing options, including foam and gel options, and in sizes ranging from 30ml to 1.2L.
Here's a product selection:
Purell Antiseptic Portable Pump Hand Gel (60ml): $2.95
Purell Alcohol Free Counter Top Pump Bottle Instant Hand Sanitiser Foam (535ml): $15.95
Purell Professional Advanced Hand Sanitiser Fragrance Free Gel (1.2L): $20.95
Purell ended on four stars for effectiveness, ease of use and value for money. It rounded up the results on three stars for overall satisfaction as well as for smell and packaging design.

Other Hand Sanitiser Brands
The brands rated in this year's hand sanitiser review aren't the only options worth getting your hands on. Here are a couple more brands that were previously featured in our report:
Careline

Founded in 1990, as a small Australian business, Careline has grown to become a leading brand in skincare products and natural health supplements, including infant formula and adult milk powders. Manufactured in Australia, Careline products are sold exclusively in Woolworths supermarkets and other independent stores. Check out prices below:
Careline Care Touch Instant Hand Sanitiser (50ml): $4.99
Careline Care Touch Instant Hand Sanitiser (200ml): $8
Careline Care Instant Hand Sanitiser (250ml): $14.95
Scotts

Scotts is an Australian brand of cleaning and hygiene products, typically sold at Bunnings, on Kogan and in independent pharmacies around the country. Scotts only deals in antibacterial hand gel, with options including:
Scotts Instant Hand Sanitiser (50ml): $3.99
Scotts Aloe Hand Sanitiser (500ml): $11.95
Scotts Cleaner Hand Sanitiser (950ml): $24.95
Does hand sanitiser kill germs?
According to the Australian Department of Health, alcohol-based hand sanitisers kill a broad spectrum of bacteria and viruses, but not all germs. That's why health experts still recommend washing your hands with soap and water whenever you can, which is much more effective at removing certain kinds of germs, like Cryptosporidium and Norovirus.
What is the best hand sanitiser to buy?
Instant hand sanitisers with a higher alcohol concentration are more effective at killing germs than those with a lower concentration or non-alcohol-based options. The general advice is to look for a hand sanitiser with a formulation of at least 60-80% alcohol, to kill 99.9% of germs. Anything below that may only work to reduce the growth of germs, rather than kill them. Most hand sanitisers will contain a combination of ethanol and isopropyl alcohol, which are approved by the World Health Organization (WHO).

With that said, alcohol-based hand sanitisers can often dry out the skin, so look for products that also contain moisturising ingredients like Vitamin E and aloe vera. Naturally, you might like a hand sanitiser that doesn't smell like a shot of vodka, so bonus points if you can find a scented option!
Besides this, you'll also want to consider what type of hand sanitiser you might like best. An overwhelming majority of our survey respondents (93%) had recently purchased a liquid/gel option, while just 7% picked up a spray, our results show. Lastly, don't forget to check the expiry date on the label to ensure your hand sanitiser is fit for use and keep our review in mind if you're ever unsure on what to look out for.
About the author of this page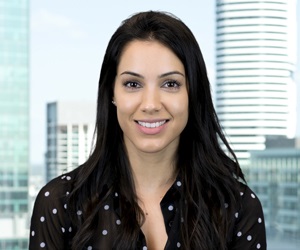 This report was written by Canstar Blue's Home & Lifestyle Content Lead, Megan Birot. She's an expert on household appliances, health & beauty products, as well as all things grocery and shopping. When she's not writing up our research-based ratings reports, Megan spends her time helping consumers make better purchase decisions, whether it's at the supermarket, other retailers, or online, highlighting the best deals and flagging anything you need to be aware of.
Picture credits: Bogdan Sonjachnyj, Shutterstock.com.