The rowing machine, or ergometer as it's also known, is a gym favourite and becoming increasingly popular for home gym setups due to how many muscle groups are used during a rowing session. But while there are plenty of benefits of jumping on a rowing machine, finding one to strap yourself into can prove to be a real challenge, with plenty of brands, models and types available. Whether you're after a whole-body cardio workout or want to build muscle, here's all you need to know about rowing machines.
How do rowing machines work?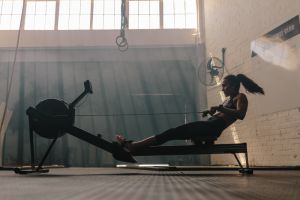 A rowing machine is made to simulate the exercise of actual rowing, generally by attaching a handle to a flywheel or some other mechanism to create resistance. The resistance is measured by the amount of energy that is generated by a rowing stroke, which incorporates the use of your upper and lower body. Indoor rowing machines are popular for their relatively low impact on your body and joints that are often aggravated by other machines, such as your knees and ankles, making it ideal for warmups and injury rehabilitation (provided you know what you're doing).

Rowing Machine Types
Types of rowing machines can be classified by the resistance mechanism they use and the 'damper', or drag, that is created when you're using the machine. The higher you set the damper on the machine, the harder you have to work. Rowing machines generally use the following types of resistance:
Piston or hydraulic resistance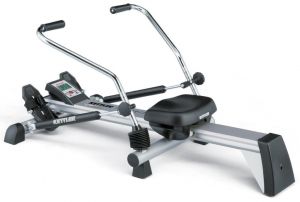 This resistance is created by hydraulic cylinders which are attached to the handles of the rowing machine, and uses your bodyweight as the main factor of resistance. This is generally the most simple and compact design of a rowing machine, meaning piston resistance rowing machines are often the most wallet-friendly option, although you often won't find these on the gym floor.
Magnetic resistance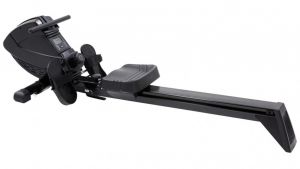 A magnetic resistance machine uses magnets or electromagnets to create drag. Unlike rowers that use air or water resistance, this type of machine produces consistent resistance as you use it rather than the resistance dependent on how hard you pull the handle. These are generally the most common type of rowing machine you'll find, meaning there's plenty to choose from.
Air resistance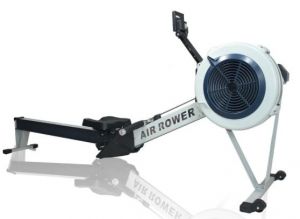 An air resistance, or flywheel, rowing machine uses broad blades on the flywheel to create air resistance when it spins. The faster the flywheel is spun, the more air resistance is generated.
Water resistance

A water resistance rowing machine features a paddle which is spun in an enclosed tank of water. This design type is typically said to most resemble actual rowing, giving you a better simulation experience and feel for water resistance.

Things to consider when buying a rowing machine
Resistance level: The type and level of resistance provided by a machine may help determine which one is best for your needs. Different models and types offer different levels of resistance which affect the intensity of your workout. A low resistance machine, for example, is good for cardio, whereas muscle building requires more resistance, with an adjustable resistance setting ideal for when you've got multiple people looking to use the machine, or you're looking to mix up your workouts.
Purpose: The type of resistance that you need generally relies on the purpose of your machine. So, if you're only just trying out rowing for the first time, a piston resistance model may be a more suitable option, whereas a water resistance model may be the best fit for professionals to give you a more realistic rowing experience.
Size & Storage: Rowing machines can come in various shapes and sizes depending on the model. Consider how much space you will have, and the size of the machine, when choosing, with models with foldable designs also worth exploring if you don't have much room to play with at home.
Durability: As the adage goes, you get what you pay for, meaning that while you may need to fork out more initially for a higher end model, it could ensure the longevity of your rowing machine in the long run.
Compatibility: Even the rowing machine has been brough into the 21st century, with some models including phone and tablet connectivity so you can monitor and record your progress and performance statistics, with holders and charging ports for your devices also available on select brands and models.
Price: As mentioned above, you often have to pay more for higher quality things. Expensive doesn't always equal best, however, so keep an eye out for different makes and models and compare sellers so that you have an idea of the standard price ranges for different rowing machines.
Warranty: Many brands and manufacturers have varying warranty policies for different parts of the machine, including the frame, individual parts and labour, meaning keeping eye out for warranties can save you heartache down the line.
Rowing Machine Brands
When it comes to rowing machines, there are plenty of brands to choose from. Here are some of the major brands available:
Lifespan Fitness
Reebok
BH Fitness
Pure Design
Waterrower
If you're feeling overwhelmed, here's a closer look at some of the major players in the rowing machine game.
Lifespan Fitness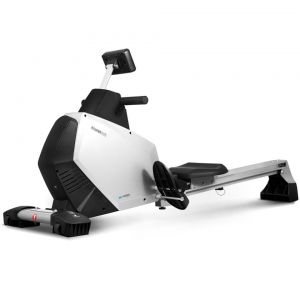 Lifespan Fitness is a brand under leading fitness gear distributor Global Fitness and Leisure, providing a variety of gym machines and equipment, including treadmills, exercise bikes, cross trainers, weights, gym stations and rowing machines. Their rowing machine range includes magnetic and water resistance machines at varying price points, so there are options to suit your needs and budget.
The Lifespan Fitness rowing machines that use magnetic resistance have a variety of features depending on the model, including contoured seats, sturdy footholds and handle and a large LCD screen which shows multiple statistics on the high-end models. The water resistance machines have similar features, with the ROWER-750 model coming with an aesthetically pleasing timber frame. All models of Lifespan Fitness rowing machines have wheels and a foldaway design for easy storage.

Reebok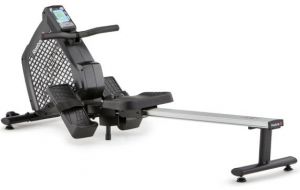 Iconic sportswear brand, Reebok also provides a rowing machine model that is distributed by Global Fitness and Leisure. The range of Reebok Fitness machines include a select range of treadmills, cross-trainers, exercise bikes and the ZJET rowing machine.
The ZJET has a 6kg flywheel which offers 16 levels of resistance so that the machine can be used for a cardio workout or to focus on muscle-building with higher impact resistance training. An LCD console lets you monitor a range of statistics, including your speed and the number of calories burned, and the wheels and foldaway design are ideal for storage.

BH Fitness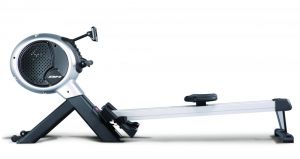 Initially a European weapons manufacturer founded in Spain in 1909, BH Fitness has been in the fitness equipment industry for over 30 years, with some of its models claiming fame through use by high profile Olympians and NBA players.
BH Fitness has a classic model and signature series model to choose from, both using a combination of magnetics and air resistance technology to simulate the feel of actual rowing and to minimise the noise of the machine. The models also feature professional racing programs for you to follow, LCD monitors to display your statistics and progress, and they are made out of a light aluminium which can be easily folded away for storage.

Pure Design

Pure Design Fitness has several series of rowing machines, including Plus and Peritus models. Some use a combination of air and magnetic resistance that can be adjusted to suit your needs, while others use water resistance. Some features of the rowers include progress monitors that track statistics like RPM, elapsed time and distance, and light frames that fold away for easy storage. The more expensive models include features such as Bluetooth connectivity and the ability to select your resistance level using a remote on the handle rather than manually.

Waterrower

As the name suggests, this brand is all about water resistance rowers, offering wide variety of models, all in very aesthetic finishes and designs to make working out a little easier to at least look at. Waterrower models can be classified into the Classic, Natural, Club, A1, M1 and S1 ranges, each with varying price points and features, with Waterrower also listing product specs on its website, such as size and weight, so you can decide on which model you can fit in your house before you purchase it.
Waterrower also have a number of accessories and spare parts available for purchase, including a number of connectivity parts to help you install Bluetooth or larger screens to help you stay comfortable while putting in the hard yards.

Where can I buy a rowing machine?
Fitness gear and equipment, including rowing machines, can be picked up from most sport equipment retailers, such as Rebel Sports, and may also be available through major online retailers such as Kogan.com. Depending on which brand you are looking to buy, you may also be able to purchase a rowing machine directly from the manufacturer.
How do I maintain my rowing machine?
As with any piece of sporting equipment, a good maintenance routine can increase the lifespan of your rowing machine and ensure that it remains in good working order. Most rowing machines are likely to have some sort of warranty so keep that in mind when selecting a machine or if you need repairs on one that you already own.
Some best practice maintenance tips include
using a non-slip mat beneath your machine;
adhering to the weight limit recommended by the manufacturer;
and ensuring that you are using the machine on a flat surface with plenty of room to move around in.
As many rowing machines are designed to fold away for storage, you may also want to think about where you're storing your rowing machine. For example, a damp cupboard may cause your rowing machine to deteriorate or grow mold. Some general cleaning tips including wiping down the machine regularly with a household cleaner, check that the chain is clean and well lubricated to avoid jamming and look out for any wear and tear that may get worse if left alone. For rowers that use water tanks for resistance, change the water regularly and follow the manufacturer's instructions for purifying the water to prevent algae in the tank.
Is buying a rowing machine worth it?
If you're after a piece of gym equipment that can be used for aerobic fitness as well as muscle-building, a rowing machine may be worth looking into. Not only do they target a range of muscles in both your upper and lower body, but you can improve your cardiovascular fitness at the same time, helping you to stay on track for your fitness goals outside of the gym.

Photo credits: Lucky Business/shutterstock.com, Jacob Lund/shutterstock.com, sirtravelalot/shutterstock.com
Original Author: Eliza Parry Okeden