Ingredient labels are usually in such a fine print that we don't bother checking, but do you know what's in your sunscreen? It's recommended that Australians apply sunscreen generously, with regular re-application, so sunscreen ingredients should not be irritating on the skin while withstanding harsh UV radiation. In particular, babies have extremely sensitive skin and as a result a range of different products for kids are available to help reduce irritation and allergic reactions. There is also a possibility of inhaling ingredients in a sunscreen while spraying it on or when applied on the lips, thus ingredients must not be harmful to our lungs or any other internal organ. So what's really in our sunscreens? Read on to find out.
What ingredients are found in sunscreens?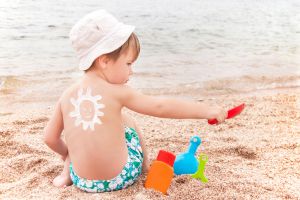 Active ingredients listed on the back of sunscreens are ones that absorb and reflect harmful UVA and UVB rays. They come in two forms – chemical and mineral filters. Most common sunscreens contain chemical filters, which include two to six of the following – oxybenzone, octyl salicylate, octocrylene, homosalate and octinoxate. Mineral filters include zinc oxide or titanium dioxide, which have lower toxicity concerns. UV filter with a high toxicity concern is considered to be Oxybenzone and a UV filter with a moderate toxicity concern is Homosalate.
Along with active ingredients, most sunscreens are equipped with a number of preservatives. These are said to be necessary as bacteria forms without preservatives, which can spoil sunscreen.
What active ingredients are allowed in Australia?
Here is the list of Australian approved active ingredients for sunscreen, with some of the most common ingredients highlighted in bold: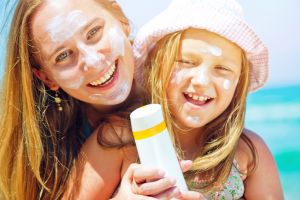 Bemotrizinol
Benzylidene camphor sulfonic acid
Butyl methoxy dibenzoylmethane
Camphor benzalkonium methosulfate
Cinoxate
Diethylamino hydroxybenzoyl hexyl benzoate
Dioxybenzone
Disodium phenyl dibenzimidazole tetrasulfonate
Drometrizole trisiloxane
Ecamsule
Homosalate
Isoamyl methoxy-cinnamate
4-Methylbenzylidene camphor
Menthyl anthranilate
Methylene bis-benzo-triazolyl-tetramethyl-butylphenol
Octocrylene
Octyl methoxy-cinnamate
Octyl salicylate
Octyl triazone
Oxybenzone
Padimate O
PEG-25 PABA
Phenylbenzimidazole sulfonic acid
Polysilicone-15
Sulisobenzone
Sulisobenzone sodium
Titanium dioxide
Triethanolamine salicylate
Tris-biphenyl triazine
Zinc oxide
Are sunscreen ingredients harmful?
With high product safety standards in Australia, all ingredients for sunscreens must be approved by the Therapeutic Goods Administration. You can be rest assured that the ingredients found in sunscreens on our supermarket shelves have been standardised with the regulatory body.
Bemotrizinol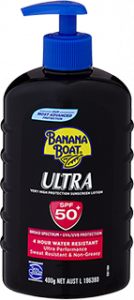 Bemotrizinol is a fairly new ingredient to sunscreens. Studies to date have shown it to have a safe profile as it rarely causes skin irritation and doesn't significantly absorb into skin. Both UVA and UVB rays are able to be absorbed with this ingredient. An advantage of bemotrizinol is that it is also photostable and therefore, more stable and does not degrade or lose effectiveness during sun exposure compared to other ingredients.
Octocrylene
Octocrylene is commonly used in sunscreen as a fragrance. An added advantage is that it is an effective UVB absorber and has some UVA absorbing properties. It is photostable and generally considered to be non-irritating as well as non-allergenic. With its extensive use in sunscreen products, however, it has had an increase in sensitisation.
Butyl methoxy dibenzoylmethane
This ingredient is used to absorb UV light and converts it to less damaging infrared radiation (heat). It is claimed that contact allergic dermatitis to sunscreens can occur uncommonly, particularly to Butyl methoxy dibenzoylmethane.
Homosalate 
Homosalate is a type of salicylate and is uncommon to allergies. A downside is that it does not absorb UVA rays and has weak UVB absorption properties. It is generally used in combination with other chemical absorbing sunscreen ingredients.
Octyl salicylate
Octyl salicylate is similar to Homosalate with its UVA and UVB absorptions. It is a chemical found naturally in plants and is commonly used in pain relieving tablets.
4-Methylbenzylidene camphor
There have been concerns raised about 4-Methylbenzylidene camphor due to oestrogenic effects. European studies, however, claim that approved sunscreens would need to be 100 000 times more potent to show any oestrogen-like effects.
Methylene bis-benzo-triazolyl-tetramethyl-butylphenol
This ingredient is a 'broad spectrum' UV absorber, which absorbs both UVB and UVA rays. It has a stabilising effect on other UV absorbing ingredients.
Ingredients found in Australian sunscreens
As an example, the following brands list the following ingredients in their sunscreen products.
Banana Boat Ultra SPF 50+ Sunscreen
Active ingredients
Preservatives

·         Butyl Methoxy dibenzoylmethane

·         4-Methylbenzylidene Camphor

·         Octocrylene

·         Bemotrizinol

·         Phenoxyethanol

·         Hydroxybenzoates
Cancer Council Ultra SPF 50+ Sunscreen
This is for lotion and fingersprays in the range:
Active ingredients
Preservatives

·         Homosalate

·         Octyl Salicylate

·         Butyl Methoxy dibenzoylmethane

·         Octocrylene

·         Benzyl Alcohol

·         Phenoxyethanol

·         Hydroxybenzoates
Le Tan SPF50+ Coconut Sunscreen
Active ingredients
Preservatives

·         Homosalate

·         Octyl Salicylate

·         Octocrylene

·         Butyl Methoxy dibenzoylmethane

·         Methylene Bis-Benzotriazolyl Tetramethylbutylphenol

·         Phenoxyethanol

·         Chlorphenesin
Should you be worried about sunscreen ingredients?
It's quite common in this day and age to be worried about what we put on our skin, especially with allergy rates skyrocketing. However, you can be confident with Australian standards that high product safety standards are maintained for sunscreen. New ingredients must be thoroughly tested before being submitted to the regulatory body for approval.
Using sunscreen is essential in Australia, especially to protect you from the risk of skin cancer. For more sensitive skin you may opt for dermatologically tested, fragrance free and paraben free sunscreens. You may also like to compare other factors of sunscreen such as effectiveness, which you can find out about from our online ratings via the link below.
Original Author: Veronika Hleborodova