Fact Checked
Listerine is a fresh new winner in mouthwash ratings
Brushing, flossing and mouth-washing – it's all part of a typical morning or night-time routine to help your mouth feel and smell fresh. Mouthwash brands typically have you covered on the standard set of benefits, including reducing bacteria in your mouth and bad breath, while some products are claimed to be an all-purpose mouthwash to help strengthen tooth enamel and improve gum health. With so many options on offer, where do you start? This is where Canstar Blue steps in!
We've surveyed more than 1,200 Australian consumers for their feedback on the mouthwash they bought and used in the last six months. Respondents rated brands on their effectiveness, freshness of breath, taste, packaging, value for money and overall satisfaction. Those that received the minimum required survey sample size of 30 responses are compared in our latest report.
Listerine is smiling from ear to ear, after being the only brand to score a five-star review for overall satisfaction. It additionally got top marks in other key categories.
Best Mouthwash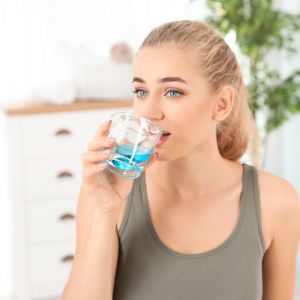 Here are the best mouthwash brands in Australia, as rated by consumers in Canstar Blue's latest review:
Listerine
Oral-B
Colgate
ALDI Dentitex
Coles
Listerine was rated best for freshening Aussies' breaths, having achieved five stars for effectiveness, fresher breath, packaging and overall satisfaction. Meanwhile, Colgate was the only brand to score top marks for taste and additionally received five stars for effectiveness and packaging. Supermarket brand ALDI Dentitex was rated best for value for money.
Mouthwash Brands
Listerine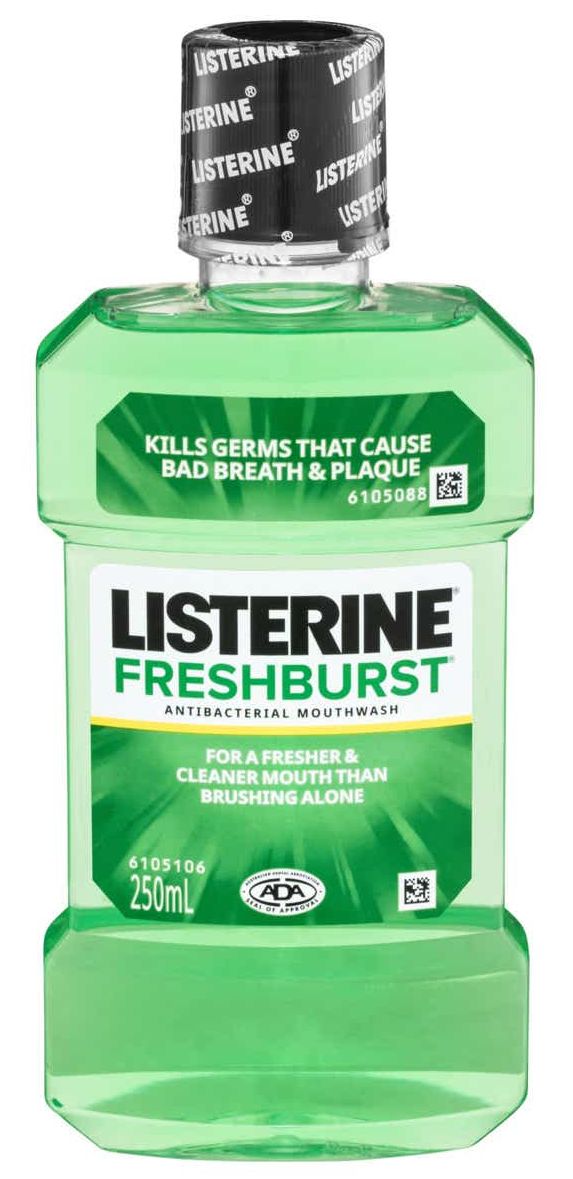 Listerine has a large range of mouthwashes, with its line-up targeting different needs, including anti-cavity, alcohol-free, antiseptic, cavity protection, enamel care, gum protection, sensitivity and white teeth. There's also an option for kids (6+) – an anti-cavity 'smart rinse' mouthwash with a berry flavour. The full range is said to kill germs, reduce plaque, provide fresh breath and protect gums. Expect a number of different flavours from 'cool mint' to 'freshburst'. There are both 500ml and 1L bottle variations available across the range.
Listerine was rated five stars for freshness of breath, effectiveness, packaging and overall satisfaction. It got four stars for taste and value for money.
Oral-B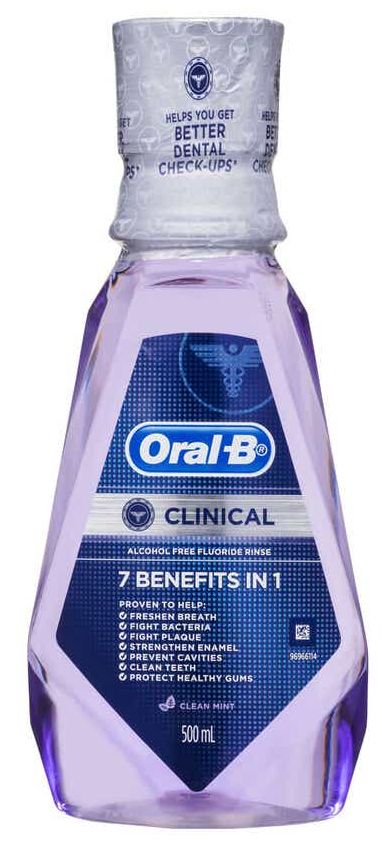 Oral-B provides a concise range of mouthwashes. This includes its 3D White Luxe Diamond (473ml) mouthwash in a mint taste, stated to target teeth whitening, strengthen tooth enamel, and kill bad breath. Oral-B's Pro-Health Anti-Plaque Mouth Rinse (500ml and 1L) is similarly claimed to help fight plaque and protect from germs, while its Clinical Mouth Rinse (500ml) is listed as alcohol-free and also comes in a mint taste.
Oral-B scored a solid four-star review across the board, including for taste, effectiveness, fresher breath, packaging, value for money and overall satisfaction.
Colgate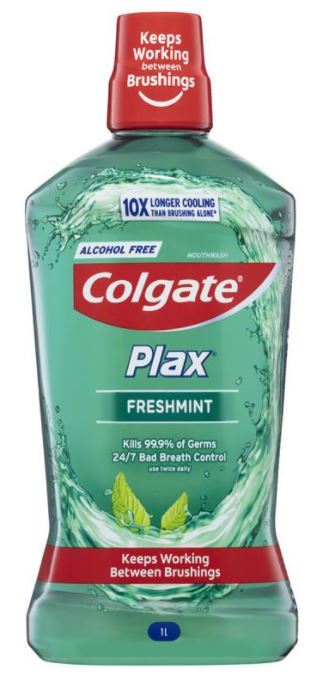 Colgate offers a number of options in the mouthwash department. These include its Dry Mouth Relief, Plax, Total Advanced Pro-Shield and Savacol ranges, plus one designed for kids. There are also a number of different flavours from peppermint to 'fresh tea'. Its Total Advanced Pro-Shield mouthwash is stated to provide up to 12 hours of protection against germs with an alcohol-free formula. Sizes range from 500ml to 1L, and 250ml for the children's mouthwash. Colgate also has a Savacol mouth rinse, which is described as an antiseptic mouth and throat rinse to help assist in the treatment of medical-diagnosed gingivitis.
Colgate earned five stars for effectiveness, taste, and packaging design. It got four stars for overall satisfaction and in the remaining areas.
ALDI Dentitex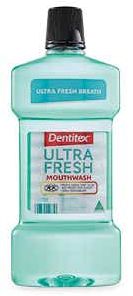 Supermarket giant ALDI is a favourite for a range of products, from home cleaning to your everyday grocery items such as butter and frozen meals. It also stocks all your bathroom essentials, including mouthwash, under the brand name Dentitex. It offers two variants within its standard line-up – Ultra Fresh or Tartar Control – both available in 1L bottles. There's also a 'Sensitive' and 'Whitening' mouthwash available in 500ml bottles.
ALDI Dentitex was rated best for value for money, and four stars for overall satisfaction and everywhere else.
Coles
Coles has a fairly modest line-up when it comes to mouthwash. The supermarket brand keeps it simple with three types of mouthwash. This includes Coles Mint Fresh Mouthwash, Coles Pro Teeth Defence Mouthwash and the Coles Pro Total Care Mouth Wash. All products come in a 500ml bottle, with the Coles Mint Fresh Mouthwash being the cheapest option. Similar to Coles' other alternatives, this is said to prevent plaque and gingivitis as well as fight germs that cause bad breath.
Coles achieved four stars for value for money, before rounding up the scores on a moderate three stars for overall satisfaction and everywhere else.
What to consider when buying mouthwash
When it comes to mouthwash, there are a few things to consider. Our research revealed the following drivers of customer satisfaction listed in order of importance:
Freshness of breath: 29%
Effectiveness: 20%
Taste: 19%
Value for money: 19%
Packaging: 13%
Before we unpack each factor, here's what else our survey found:
Freshness of breath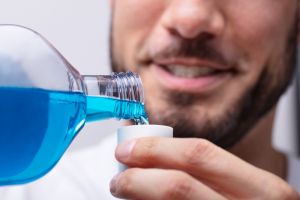 No one likes the feeling of morning breath, let alone the smell. So, it's no surprise that fresher breath ranked as the most important factor of customer satisfaction. After all, over a third of respondents (35%) said they use mouthwash to get rid of bad breath. One in five (22%) additionally prefer an alcohol-free mouthwash, proving a fresh breath is also about how your mouth feels afterward.
Effectiveness
Mouthwash brands typically target specific symptoms and offer a range of products to help with the different problems you might have. Our survey showed approximately 48% of Australians use mouthwash for health reasons (i.e. gum disease/cavities/plaque), with almost a fifth (17%) taking a swig as recommended by a dental professional. A small amount even said they sometimes use mouthwash instead of brushing their teeth (12%).
Taste
Our survey found that two in five Aussies (39%) use mouthwash every day, so you'll want to find an option that doesn't make you gag each time you gargle. Brands offer various flavours and combinations of mouthwash to suit all tastes and preferences, so take your time next time you're shopping for a new product. While mint and 'cool' flavours are often a popular choice for long-lasting freshness, they're not always for everyone. Those looking for something that doesn't tingle the tongue might want to opt for more subtle berry and tropical flavours.
Value for money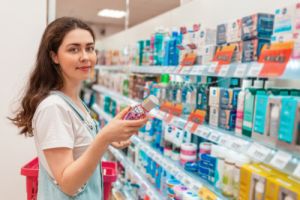 The next key factor in customer satisfaction is value for money. You can find mouthwash starting from around $2 for a 500ml bottle, rising to more than $10 for a 1L bottle. Although it goes without saying that you'll pay more for the big-name brands, but is it really worth it? Our ratings suggest maybe not, with only 9% of survey respondents buying the cheapest brand of mouthwash.
Packaging
Last but not least – packaging. It may not directly affect the end result, but it certainly helps with the overall experience. A lot of people use mouthwash every single day, so you'd hope you can find one that's easy to open and use, and in turn, won't end up just sitting in your bathroom collecting dust.
Which mouthwash should I buy?
There you have it – Listerine was rated the number one brand of mouthwash, receiving a five-star review for overall satisfaction. Colgate also proved to be a strong choice for taste and effectiveness, while ALDI Dentitex rated best for value for money.
The brand of mouthwash you place in your shopping basket will ultimately depend on your budget and dental needs. You may need to give a few different brands a try before you settle on one that suits you and your taste buds. There are plenty of options out there, so shop around and try something new. You might just find a mouthwash you like, at a cheaper price!
About the author of this page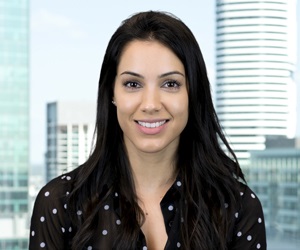 This report was written by Canstar Blue's Home & Lifestyle Content Lead, Megan Birot. She's an expert on household appliances, health & beauty products, as well as all things grocery and shopping. When she's not writing up our research-based ratings reports, Megan spends her time helping consumers make better purchase decisions, whether it's at the supermarket, other retailers, or online, highlighting the best deals and flagging anything you need to be aware of.
Picture credits: New Africa/Shutterstock.com, Andrey_Popov/Shutterstock.com, STEKLO/Shutterstock.com, Orawan Pattarawimonchai/Shutterstock.com.