ALDI delivers the freshest results in mouthwash ratings
Brushing, flossing and mouth-washing – it's all part of a typical morning or night-time routine to help your mouth feel and smell good. Mouthwash brands typically have you covered on the standard set of benefits, including reducing bacteria in your mouth and bad breath. Some products are also boasted as an all-purpose mouthwash to help strengthen tooth enamel and improve gum health. With so many options on offer, where do you start? This is where Canstar Blue steps in!
We've surveyed more than 1,400 consumers to find out exactly which mouthwash brand is keeping Aussies happy. Brands were put to the test on key variables including effectiveness, freshness of breath, value for money, taste and packaging. The feedback we've received is reflected by the star ratings table you see above. So, who came out on top?
Best-Rated Mouthwash
The five brands in our mouthwash review were rated in the following order for overall satisfaction:
1

st

ALDI Dentitex

2

nd

Listerine

3

rd

Oral-B

4

th

Colgate

5

th

Coles
ALDI Dentitex got five stars for overall customer satisfaction, plus effectiveness, freshness of breath, value for money, taste and packaging.
Listerine, Oral-B and Colgate all scored four stars on overall satisfaction, while Coles was left with a three. Other noteworthy results include Oral-B being the only other brand alongside ALDI to get five stars on effectiveness and taste. Aside from ALDI, Listerine and Oral-B also got top marks for freshness of breath.
Now let's see what each brand has on offer.
Mouthwash Brands
ALDI Dentitex
Supermarket giant ALDI is a favourite for a range of products from home cleaning to your everyday grocery items, like milk and frozen vegetables. It also stocks all your bathroom essentials, including mouthwash under the brand name Dentitex.
In 2018, ALDI Dentitex was an outstanding performer with five-star reviews in all categories including effectiveness, freshness of breath, value for money, taste, packaging and overall customer satisfaction.
Listerine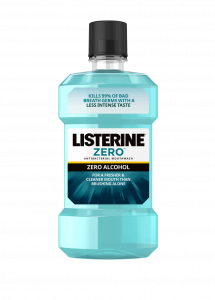 Listerine has a large range of mouthwashes. Its line-up targets different needs, including anticavity, alcohol free, antiseptic, cavity protection, enamel care, gum protection, sensitivity and white teeth. There's also an option for kids (6+) – an anti-cavity mouthwash with a berry flavour. The full range is claimed to kill germs, reduce plaque, provide fresh breath and protect your gums. Expect a number of different flavours from Cool Mint to a 'Fresh Burst'. There are both 500ml and 1L bottle variations.
Listerine achieved four stars for overall satisfaction, as well as effectiveness, taste and packaging. It got five stars on freshness of breath but just three stars on value for money.
Oral-B 
Oral-B provides a concise range of mouthwashes. It features its 3D White Luxe Diamond (473ml) mouthwash in a mint taste, stated to target teeth whitening, strengthen tooth enamel and kill bad breath. Oral-B's Pro-Health Anti-Plaque Mouth Rinse (500ml and 1L) is claimed to help fight plaque and protect from germs, while its Fluoride Rinse (500ml) is said to be alcohol free and also comes in a mint taste.
Colgate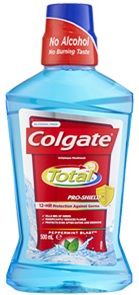 Colgate offers a number of different options. Its mouthwashes include Dry Mouth Relief, Optic White, Gentle Care, plus one designed for kids. There's also a number of different flavours from peppermint to fresh tea. Its Total Advanced Pro-Shield mouthwash is boasted to provide 12-hour protection against plaque bacteria with an alcohol-free formula. Sizes range from 500ml to 1L, and 250ml for the kids' variant. Its range also extends to Colgate's Savacol Mouth & Throat rinse, stated to be an antiseptic mouth and throat rinse to help assist in the treatment of medical-diagnosed gingivitis.
Colgate got four stars on overall satisfaction. It also got four stars on effectiveness, freshness of breath, taste and packaging. It was three stars on value for money.
Coles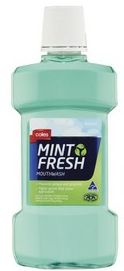 Coles has a very modest line-up when it comes to mouthwash. At the time of writing, it offers just one mouthwash – Coles Mint Fresh, stated to be made in Australia and available in a 500ml bottle.
Coles was left with three stars for overall satisfaction and all other categories, including effectiveness, freshness of breath, value for money, taste and packaging.
What to consider when buying mouthwash?
When it comes to mouthwash, there are a few things to consider. Our research revealed the following drivers of customer satisfaction listed in order of importance:
Effectiveness: 27%

Freshness of breath: 26%

Value for money: 20%

Taste: 15%

Packaging: 11%
Before we unpack each factor, here's what else our survey found:
Effectiveness
The most important driver of satisfaction was effectiveness. Mouthwash brands typically target specific symptoms and offer a range of products to help with the different problems you might have. According to our survey, 48% said they use mouthwash for health reasons (e.g. gum disease/cavities/plaque), 26% think it's good for them, and 19% use it to get rid of bad breath. With a huge line-up of options, there's certainly plenty of choice if one brand doesn't cut it.
Freshness of breath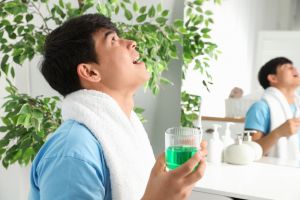 The second most important factor was freshness of breath. This is typically a benefit that most brands claim to deliver. According to mouthwash manufactures, common ailments such as heartburn or acid reflux can leave you with bad breath, as well as bacteria and mucus build-up. So, finding a mouthwash that helps to reduce bad breath is beneficial.
Value for money
The third key factor was value for money. You can find mouthwash starting from around $2 for a 500ml bottle, rising to more than $10 for a 1L bottle. It was tough for the five brands in our review to win over consumers in this category, with most receiving three stars.
Taste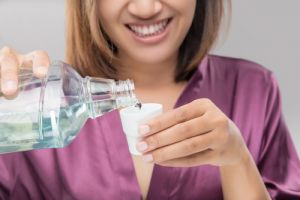 While peppermint and spearmint are common mouthwash flavours, there are also a number of other options available, such as a 'hint of refreshing tea'. It's certainly unpleasant when a mouthwash is too strong and leaves your mouth feeling uncomfortable post-gargle, so it's important to find one that you like enough to use on a daily basis.
Packaging
Last but not least – packaging. It may not directly affect the end result, but it certainly helps with the overall experience. With 54% of respondents to our survey using mouthwash every single day, you'd hope you can find one that's easy to open and use, and in turn, won't end up just sitting in your bathroom collecting dust.