Bushman rated best for beating the bugs
For many of us, time outside can be easily ruined by creepy-crawlies, with mosquitos, flies and gnats taking advantage of unprotected skin – leaving us with bumps, marks and itchy scratches for days on end. While many of us arm ourselves with insect repellent for such occasions, finding one that really works and consistently keeps the bugs away can be a challenge.
Thankfully, Aussies have plenty of options to choose from when it comes to finding their weapon of choice against mosquitos, although narrowing down the field may eventually come down to personal preference, as many brands offer varieties for different climates, children and those with sensitive skin.
To offer a guide as to which insect repellent brand is rated highest for keeping the bugs at arm's length, Canstar Blue has surveyed more than 1,300 Australian adults who have recently bought and used one of the many products on supermarket and pharmacy shelves. This is a good place to start to keep your next picnic or outdoor getaway insect-free. We found that:
Bushman was rated highest overall for the second time in three years, as the only brand to score top marks on effectiveness, ease of use and overall satisfaction. It also earned five stars for low skin irritation.
Aerogard, OFF! and Rid all scored four stars for overall satisfaction. They also rated four stars for effectiveness, with Aerogard scoring top marks for low skin irritation.
Woolworths Select, Coles and last year's winner, ALDI Repellex, round out the results with three stars each for overall satisfaction. ALDI again rated five stars for value.
Bushman was a clear winner this year, and while it only rated three stars on value, you'll have to decide whether you want a mosquito repellent that's cheap, or one you can truly rely on. Using insect repellent is not fun – and will therefore always feel like something of a grudge purchase – but it is essential if you want to enjoy the great outdoors. To help you decide which will be best for your needs and budget, here is a guide to the seven brands in this year's review.
Top Mosquito Repellents
Bushman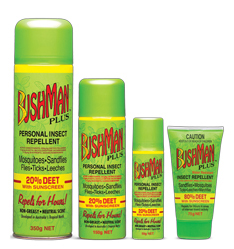 As Australian as it gets, Bushman was developed in northern Queensland, notorious for mosquitos, with the company boasting up to 15 hours of protection for users against all types of flying nasties. Offering a variety of products, including those that include built-in sunscreen and an option for those with sensitive skin, Bushman appears to understand the Aussie audience, a sentiment reflected in the survey results.
Bushman was the only brand to receive five stars for overall satisfaction, effectiveness and ease of use, with the brand also receiving five stars for low skin irritation. Other results included four stars for smell, and three stars for value for money. With Bushman offering the possibility to remain insect-free for up to 15 hours, splurging a bit of extra money may be well worth it.
Aerogard

A well-known brand within the market, Aerogard is another Australian company built for the Australian climate. With sister company Mortein taking care of the insects inside your house, Aerogard was created to take care of the insects outside, with a number of different products on offer. For those not a fan of the sprays, Aerogard also offers a roll on repellent, as well as heavy-duty repellents to keep you bug-free regardless of where you go.
Along with Bushman, Aerogard was the only other brand to score five stars for low skin irritation, but it had to settle for four stars overall. It also got four stars for effectiveness and ease of use, while earning three stars for smell and value for money.
OFF!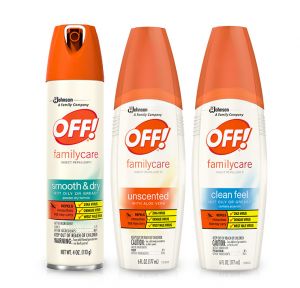 Producing personal insect repellents for more than 50 years, OFF! has been a mainstay in the market, offering one of the largest ranges of insect repellents for consumers. Products include the Deep Woods range, for those keen on their hiking, as well as family products and the Active range for those who like to get sweaty outdoors. Additional products such as mosquito lamps and candles, as well as itch relief products, are also available, with OFF! looking to cover all bases.
Results-wise, OFF! scored four stars for overall satisfaction, as well as effectiveness, smell and low skin irritation, while only scoring three stars on value for money and ease of use.
Rid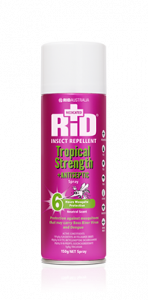 Another Aussie brand, Rid was formed in the 1940s to help combat mosquitos in damp climates, with the company building to become a known brand within the market. Rid is also known as a medicated insect repellent due to its antiseptic concentrations, giving users extra protection against diseases and infections.
Rid's range includes Tropical Strength products for those up north, or those going into deep forests, as well as a low irritant range for those with sensitive skin. Other products include a kids option, as well as a handy sunscreen combo, giving consumers protection against UV rays as well as insects. Rid achieved four stars in the majority of categories, including overall satisfaction, but was rated three stars for smell.
ALDI Repellex
When you think of insect repellent, you probably don't think of ALDI, but the discount supermarket's answer to Australia's bug problems brought success last year. However, this year is a different story. While the only brand to score five stars for value for money, ALDI Repellex scored three stars for the remaining categories, including overall satisfaction.
In true ALDI form, the Repellex range includes only two products – one aimed towards children with an odourless formula, as well as a more traditional repellent formula for general use. While it may not have the history as some of its competitors, ALDI has been surprising big brands in recent years, meaning the German supermarket shouldn't be underestimated.
Coles

As an alternative to the big name brands, Coles has produced a cheaper insect repellent for families, giving consumers the convenience of picking up some repellent while they do their grocery shop. While it may be convenient, there isn't much variety, with only one repellent available, although it does boast six hours of protection.
Scoring three stars across every category, including overall satisfaction, Coles may not be perceived as the most effective, but may give you some protection if you're desperate to get away from mosquitos.
Woolworths Select

Another supermarket giant to throw its hat in the mosquito repellent ring, Woolworths similarly offers a cheaper alternative for families with its own brand. Offering six hours of protection, Woolworths' insect repellent may be a viable option for those a bit more price conscious.
Woolworths Select insect repellent was rated four stars for effectiveness and value for money, while only scoring three stars for overall satisfaction, smell, low skin irritation and ease of use.
You may also be interested in:
Insect Repellent Chemicals
If you're worried about the chemicals you're exposing yourself to when it comes to insect repellents, you're not the only one, with 34% of respondents to our survey stating that they were worried about the chemical levels in the product they bought. In most cases, DEET is the active ingredient in insect repellents, although Picaridin is an alternative used by some brands.
What is DEET?
Otherwise known as diethyltoluamide, DEET is one of the most common active ingredients in insect repellents. It was developed by the US Army during the Second World War to combat insect-borne illness during its jungle campaigns. All insect repellents will state a DEET concentration percentage on the label, with many brands typically around the 30% range. The greater the DEET concentration, the longer the effectiveness.
For those who suffer from skin conditions, the sensitive options available will often have lower DEET concentrations, as do repellents for children.
Picking the right insect repellent
With Australia known for sunshine and beaches, there are plenty of reasons to be outside. But as much as we'd like to spend time outside, dealing with insects is always a risk, not to mention a mood-killer. As a result, many consumers turn to insect repellents to ensure that the fun isn't ruined, or that they're not left covered in bites. With 60% of survey respondents reporting that they suffer 'particularly badly' with insects bothering and biting them, insect repellents are often an essential when venturing outside.
Other survey results found that:
59% always bought the same repellent
24% go for the cheapest option available
As everyone will have their own personal preference when it comes to insect repellent, especially when it comes to factors such as effectiveness and smell, it's probably worth trying a few different options to find the best fit for your lifestyle. While our ratings offer a high-level guide as to which brands are up to the job, your personal experience may be totally different. When it comes to insect repellent, that's just how it is.