Fact Checked
OFF! is on as the best-rated insect repellent
For many of us, our time outside can be easily ruined by creepy crawlies, with mosquitoes, flies and gnats taking advantage of unprotected skin, leaving us with itchy bumps and marks for days on end. While we can arm ourselves with insect repellents for such occasions, finding one that actually works and consistently keeps the bugs away from us can be a real challenge.
Thankfully, Aussies have plenty of options to choose from when it comes to finding their weapon of choice, although narrowing down the field may eventually come down to personal preference, as many brands offer varieties for different climates, children, and those with sensitive skin.
To find the best brand to keep bugs at arm's length, Canstar Blue surveyed more than 1,200 Australian consumers for their feedback on the insect/mosquito repellent(s) they've recently purchased and used. Respondents scored brands on perceived effectiveness, ease of use, skin feel, consistency, smell, packaging design, value for money, and overall satisfaction. Brands that received at least 30 responses are rated and compared in our latest ratings.
OFF! swatted the competition after flying to the top of our ratings with five-star reviews in most research categories – including overall satisfaction!
Best Insect Repellents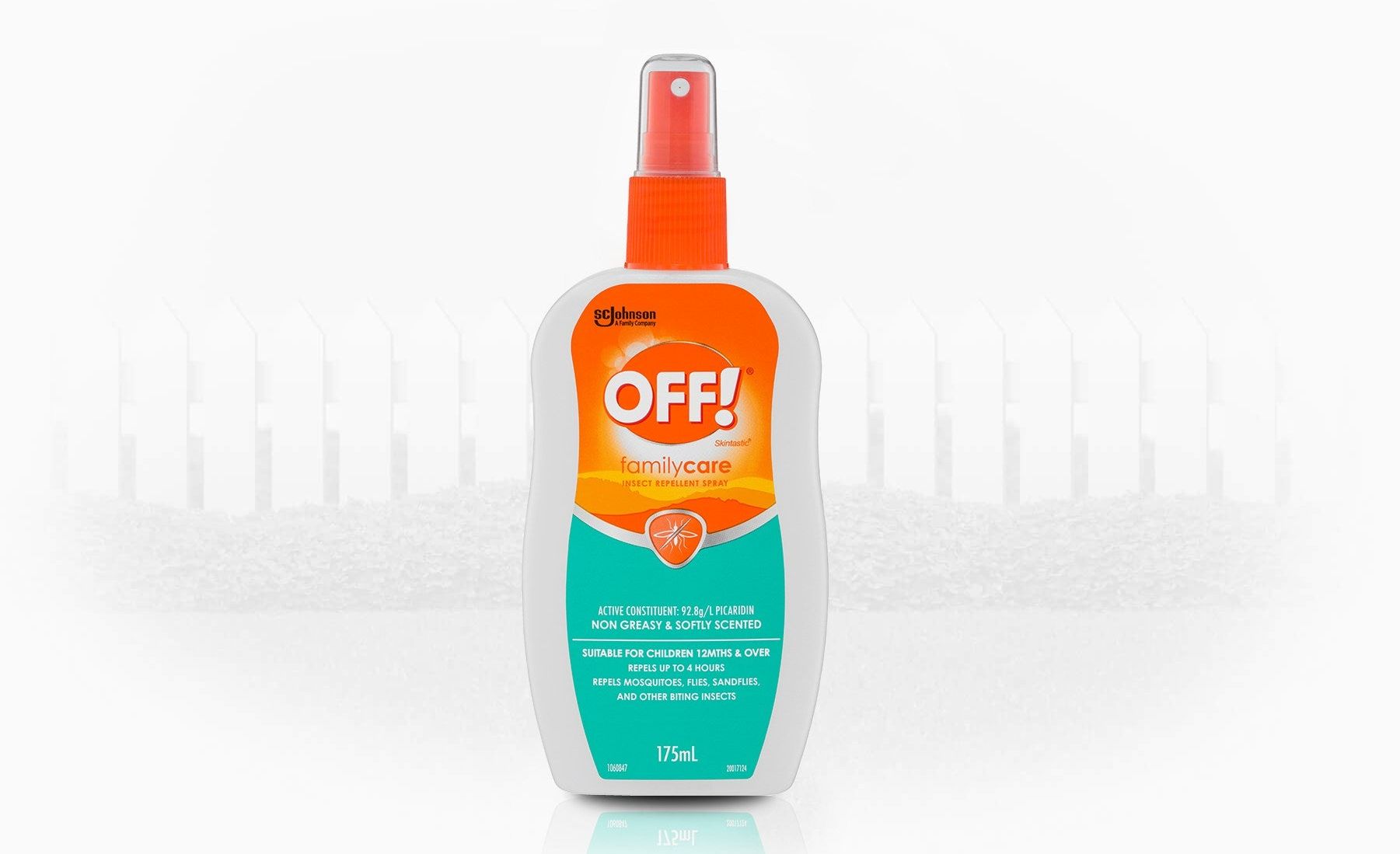 Here are the best insect/mosquito repellents in Australia, as rated by consumers in Canstar Blue's latest review:
OFF!
Aerogard
Coles
ALDI Repellex
RID
Bushman
OFF! buzzed into first place as the best-rated brand, achieving five-star reviews for perceived effectiveness, skin feel, consistency, smell of product, and overall satisfaction.
Coles and ALDI Repellex scored five stars for value for money, with Coles additionally scoring the same result for perceived effectiveness and packaging design, while ALDI's Repellex similarly achieved full marks for consistency. RID also flew into the top spot for ease of use, being the only brand to earn a five-star review for the category. Aerogard also got full marks for consistency and packaging.
Top Insect Repellent Brand – OFF!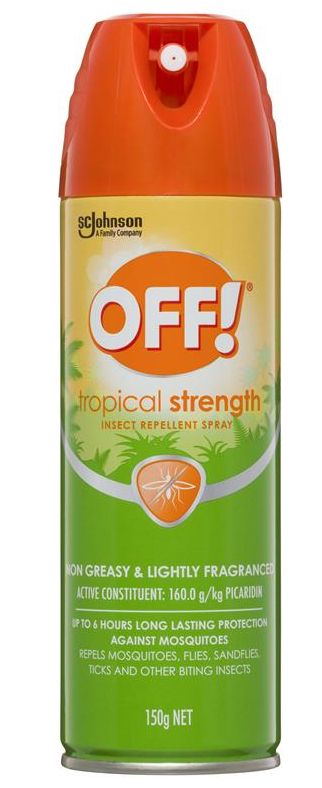 Producing personal insect repellents for more than 50 years, OFF! has been a mainstay in the local market, offering several different insect repellents for consumers. The range includes OFF!'s Tropical line-up, which includes a pump that's claimed to provide up to eight hours of protection. It's also said to be dermatologically tested, plus non-greasy and lightly fragranced. The Family Care range similarly includes a spray and aerosol, both of which are designed to last up to four hours. This line-up is stated to be suitable for children 12 months and older.
OFF! insect repellents include:
OFF! Tropical Insect Repellent Pump (175ml)
OFF! Tropical Insect Repellent Aerosol (150g)
OFF! Family Care Insect Repellent Spray (175ml)
OFF! Family Care Insect Repellent Aerosol (150g)
OFF! impressed consumers with five-star reviews for perceived effectiveness, smell, feel on skin, consistency, and overall satisfaction. It also got four stars for ease of use, packaging design, and value for money.
Insect repellent chemicals
If you're worried about the chemicals you're exposing yourself to when it comes to insect repellents, you're not the only one, with 9% of respondents to our survey stating that they are worried about the chemical levels in the products they buy. In most cases, DEET is the active ingredient in insect repellents, although some brands use picaridin as an alternative.
What is DEET?
Otherwise known as diethyltoluamide, DEET is one of the most common active ingredients in insect repellents. It was developed by the US Army during the Second World War to combat insect-borne illness during its jungle campaigns. All insect repellents that contain the ingredient will state a DEET concentration percentage on the label, with many brands typically around the 30% range. The greater the DEET concentration, the longer the perceived effectiveness. But keep in mind the amount of DEET only impacts how long the insect repellent stays on the skin and is not an indicator of effectiveness.
For those who suffer from skin conditions, the sensitive options available will often have lower DEET concentrations, as do repellents for children. You should also know that:
Picking the right insect repellent
With Australia known for sunshine and beaches, there are plenty of reasons to be outside. But as much as we'd like to spend time outdoors, dealing with insects is always a risk, not to mention a mood killer. As a result, many consumers turn to insect repellents to ensure that the fun isn't ruined, or that they're not left covered in bites. An analysis of our research identified the following drivers of customer satisfaction:
Perceived effectiveness: 39%
Ease of use: 15%
Value for money: 12%
Feel on skin: 11%
Consistency: 8%
Smell of product: 8%
Packaging design: 7%
Our survey also found nearly one in four consumers (24%) try to buy insect repellent that's made with natural ingredients, while 13% stick to the cheapest brand. Almost a third of people (29%) also use other methods of deterring insects, such as coils, candles, and electric zappers.
Types of insect repellents
Survey respondents were also asked what type of repellent they most recently purchased, with aerosol being the most common:
Aerosol: 57%
Spray pump: 26%
Roll-on: 12%
Cream: 3%
Wearable (i.e. patch or bracelet): 1%
As everyone will have their own personal preference when it comes to insect repellent, especially when it comes to factors such as perceived effectiveness and smell, it's probably worth trying a few different options to find the best fit for your lifestyle. While our ratings offer a high-level guide as to which brands are up to the job, your personal experience may be different.
How to apply insect repellent
According to health authorities, the best way to apply insect repellent is to make sure you spray or roll anywhere the skin is exposed because dotting insect repellent only on commonly bitten spots like the calf or forearm won't be enough to keep the bugs away. It's a good idea to spread the repellent with your hands so it coats your skin evenly – and don't be skimpy on how much you put on, either.
Other tips include:
Regularly re-apply insect repellent properly, rather than covering yourself with a thick coating once a day.
If you're putting mosquito repellent on a child, make sure the product is suitable for their age and never let them apply it themselves. Also, check the manufacturer's instructions and recommendations to ensure you're using the repellent correctly.
Do certain scents keep insects away?
Insect repellents that use plant extracts such as eucalyptus, peppermint, leptospermum (tea tree), citronella, and melaleuca can repel insects – but only for one hour, or potentially up to two hours in some cases. Repellents containing these types of ingredients are referred to as 'botanically derived products' and are not as effective as options with synthetic chemicals, including DEET or picaridin, because the total concentration percentage of plant extracts is usually less than 10%.
The Western Australia Department of Health recommends using personal repellent lotions, sprays, or gels that contain either DEET or picaridin as an active ingredient for an effective way to keep insects away.
About the author of this page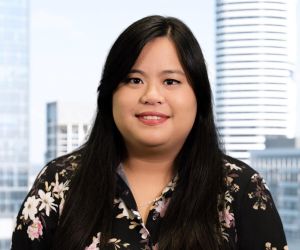 This report was written by Canstar Blue's home & lifestyle journalist, Tahnee-Jae Lopez-Vito. She's an expert on household appliances, grooming products and all things grocery and shopping. In addition to translating our expert research into consumer-friendly ratings reports, Tahnee spends her time helping consumers make better-informed purchase decisions on all manner of consumer goods and services, while highlighting the best deals and anything you need to be aware of.