Top Hair Dryer Brand – VS Sassoon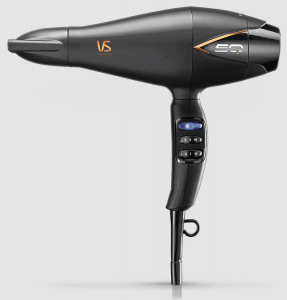 Named after founder Vidal Sassoon – who is most known for re-popularising the bob cut – VS Sassoon is a British brand that specialises in all manner of hair-care products, including hair dryers. VS Sassoon's top of the line model is the 5Q Brilliance model, which features anti-frizz technology, an EC digital motor with high velocity airflow that dries up to 70% faster to reduce how much time you spend wrangling your hair. The middle of the pack option is the Super Power 2400 hair dryer, which features a AC salon-grade motor, which speeds drying up to 50% faster, along with ionic conditioning to help tackle frizz, as well as a thermal styling brush for professional drying and styling.
VS Sassoon impressed by rating five stars for features and functionality, performance, ease of use, design and overall satisfaction, with four stars for value for money.
Do hair dryers damage your hair?
Exposing your hair to the elements, particularly extreme heat via a hair dryer, has generally been a sure-fire way to damage your hair. However, modern technology has managed to curb most of the traditional damage you'd come to expect with using a hair dryer, with many brands and models now incorporating special functions and nozzles that limit heat damage, and even look to improve your hair. However, hair can differ from person to person, so while using a hair dryer may not damage one person's hair, it may damage another's, so it's best to start gently if you plan on using a hair dryer, and ensure you're using the correct shampoo and conditioner to help nourish it to its full potential.