Fact Checked
Coles earns smooth win in men's razor review
Any man will know that patience and good technique make for a better wet shave. But what's equally important is to have the right razor on hand to get a closer shave, avoid nicks, reduce irritation and keep your face and neck free from ingrown hair. It's no wonder nearly half of our survey respondents (45%) have tried multiple brands of razors in search of a trusty shaving pal. So, how do you find a razor that offers the right combination of ergonomics and value?
That's where we come in. Canstar Blue surveyed almost 500 Aussie blokes for their feedback on the razor(s) or razor heads they've purchased and used in the last six months. Respondents compared and rated brands on comfort, effectiveness, quality, design, packaging appeal, value for money and overall satisfaction. Those that met the minimum required survey sample size of 30 responses are featured in our results above.
So, which brands were rated best and which got hairy reviews? Supermarket Coles was rated a cut above the rest after it impressed with five stars for overall satisfaction as well as for quality and value for money.
Best Men's Razors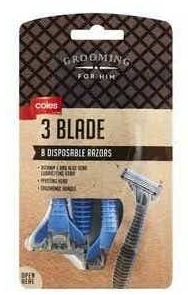 Here are the best brands for men's razors in Australia, as rated by consumers in Canstar Blue's latest review:
Coles
Schick
ALDI
Gillette
Bic
Coles was rated number one after receiving a sleek five-star review for overall satisfaction. Schick and former winner ALDI followed closely behind on four stars, while Gillette and Bic rounded up the scores on three stars.
Schick got the edge when it came to effectiveness, comfort and design, scoring top marks in all three categories. It also achieved five stars for packaging design, alongside ALDI, as well as quality. Bic similarly impressed when judged on value for money.
About the Winner – Coles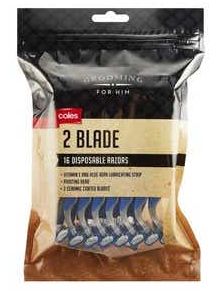 Whether you're making a last-minute pit stop for bread and toilet paper, or planning to buy everything but the kitchen sink during your next grocery shop, Coles has you covered. When it comes to solving hairy problems, the supermarket offers a few affordable men's razors and women's razors to choose from. Some include:
Coles Disposable Twin Blade Men's Razor (16-pack): $3.30
Coles Men's Triple Blade Disposable Razors (8-pack): $4.40
Coles Rapid 5 Razor Cartridges: $6
Coles Rapid 5 System Razor: $6.50
Coles was the only brand to receive full marks for overall satisfaction, earning five stars. It achieved the same result for quality and value for money, before ending on four stars in the remaining categories.
What are the different types of men's razors?
For days when you would rather ditch the beard trimmer, or even the hair clippers, there's always the razor. Here are four types of razors to consider:
Safety razor: This is the easiest and generally safest to use. It features blades locked at an angle to make it safer to use and prevent cuts. This is ideal for beginners.
Straight razor: This is the grandfather of razors. It's a vintage type of razor featuring a straight blade that folds into a handle. Straight razors are the sharpest of the bunch and offer the sharpest, closest shave. It's best to leave that one to barbers and experienced shavers.
Cartridge razor: That's a razor that features a detachable head, so you can change the razor cartridges as you see fit and keep the same handle. It's one of the most commonly used types.
Disposable razor: That's a plastic razor that doesn't have a detachable head, which means that you'll have to dispose of it when the blades and lubricating strip have run their course. Disposable razors are cheap, come in multi packs and are good for travel.
Which men's razor should I buy?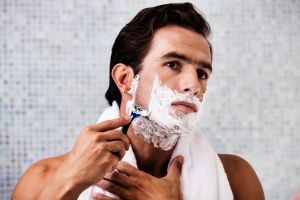 This will depend on your shaving routine, how confident you are with a razor, your skin type and budget. If you have sensitive skin, you'll want a model with a decent built-in lubricating strip. Our survey found nearly one in five men (17%) buy razors with additional protection for sensitive skin. If you're not a morning person and usually rush out the door, then a cartridge razor might be what you need to get the job done quickly. If you're new to shaving, then you may want to start with a safety razor first to build confidence. To give you some options, here are the types of razors our survey respondents had most recently purchased:
Cartridge razors: 45%
Disposable razors: 36%
Removable blade razors: 18%
Straight razors: 1%
OK now let's talk money. Our survey found that Aussie men spend on average $17 per month on razors. This is considered mid-range, which might be good news if you're like the handful of respondents who opt for whatever is cheapest (19%). However, if your facial hair type is coarse or if you need to clean shave every day, then spending a little more on a pricier model with extra features may be worthwhile.
About the author of this page
This report was written by Canstar Blue's home & lifestyle journalist, Tahnee-Jae Lopez-Vito. She's an expert on household appliances, grooming products and all things grocery and shopping. In addition to translating our expert research into consumer-friendly ratings reports, Tahnee spends her time helping consumers make better-informed purchase decisions on all manner of consumer goods and services, while highlighting the best deals and anything you need to be aware of.
*Prices taken from respective retailers and correct as of June 2021. 
Picture credits: sirtravelalot/ Shutterstock.com.