Fact Checked
Toilet paper is something we all can't live without, but don't often necessarily think about where it comes from or who makes it. Choosing a sustainable brand of toilet paper can be a great way to help the environment if you're looking at how you can make a difference. Read on to find out more about recycled toilet paper in this Canstar Blue guide. 
What is recycled toilet paper made from?
While it's believed that recycled toilet paper is made from actual used toilet paper, it's actually made from post-consumer items like textbooks, newspapers and so on. Using recycled paper means that less trees are cut down to create consumer products like toilet paper.
How is recycled toilet paper made?
To make recycled toilet paper, large bales of recycled paper are put into a pulping machine at the toilet paper factory. The paper is mixed with lukewarm water to form a pulp before entering an ink-removing process. To remove ink, the paper pulp is injected with air, making the ink rise to the top in a foam. This foam is then removed with a skimmer and the pulp is now ink-free.
Next, the water is squeezed out by passing the pulp through rollers. This dries it out and allows it to absorb bleaching chemicals to make the grey pulp clean and white. Before bleaching, revolving knives cut the pulp.
After bleaching, the pulp is spread on a flat screen that runs through a dryer. It dries into a delicate paper in less than a second, and is then rolled onto a large spool to be ready for embossing. Patterns are embossed on the paper to thicken it, which improves absorbency.
Are the toilet paper rolls recyclable?
Recycled toilet paper brands will generally make almost all of the packaging and toilet paper elements recyclable. Some brands will ditch the plastic packaging and replace it with paper and the same can be said for the toilet roll itself, predominantly being made from recyclable cardboard. 
How much does recycled toilet paper cost?
Recycled toilet paper will generally cost from as little as $6 to upwards of $70 for larger packs. Some brands will sell a standard four to 10 pack where you'll spend a bit less, but you can also buy bulk packs with around 48 rolls that can last you up for a while longer.  
Who sells recycled toilet paper?
There are a number of brands that sell recycled toilet paper including Who Gives a Crap, iCare and Emotions which are all recycled toilet paper brands. You can buy directly from these brands or from Woolworths. 
Who Gives a Crap Recycled Toilet Paper
With its slightly controversial name, Who Gives a Crap is one of the better known brands of recycled toilet paper in Australia. The toilet paper is made from renewable and sustainable bamboo and 50% of profits are donated to charity partners who work in water, hygiene and sanitation to help underdeveloped countries. The double length loo rolls retail from $40 to around $65, with the brand also supplying paper towels and tissues.
iCare Recycled Toilet Paper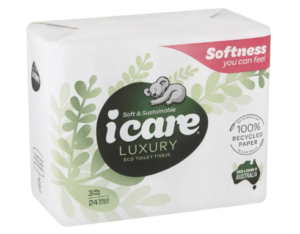 iCare recycled toilet paper is an Australian made and owned brand providing 100% recycled toilet paper. Its range of toilet paper includes one, two and three ply toilet paper as well as tissues and paper towels. Its products are developed from high quality recycled office paper and other similar items which are used to create the toilet paper. You can expect to spend from $7 to $13 for packs of eight, six or 24 rolls of toilet paper.    
Emotions Recycled Toilet Paper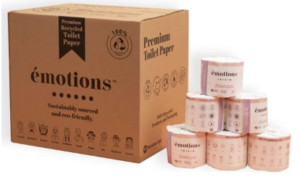 Emotions is a recycled toilet paper brand made in Melbourne that sells both bamboo and recycled toilet paper rolls. You can expect to spend from $40 to $80 depending on the size of the pack which comes in 24 and 48 packs. Emotions also sells a number of other products including baby wipes, tissues and paper towels. 
Factors to consider when purchasing recycled toilet paper
If you're someone who is conscious about the purchases they make and are looking at switching to recycled toilet paper there are a few things to keep in mind when purchasing: 
Sourcing:

When making an effort for the environment, knowing where an item is sourced or manufactured is important. Companies can 'green wash' their products and place false or half-true statements on packaging about sourcing and how environmentally friendly it is. 

Price:

Being prepared to spend a little more on recycled products is normal considering the production process is lengthier and generally costs more. 

Affiliations:

Many brands that sell sustainable or recycled products will be affiliated with a cause or charity. If you're someone who often donates to charities or gives back to the community choosing a sustainable product could be for you. 
If you're still undecided about whether or not choosing a recycled toilet paper brand is for you, you can compare other brands below to help you decide. 
Original Author: Jorja McDonnell