The weather is warming up, and the grass is starting to grow, so ALDI's lawn mower Special Buy event is here.
This Saturday (September 1), ALDI's middle aisles will feature lawn mowers and other garden essentials, with prices that will be hard to beat.
ALDI's 161cc Petrol Lawn Mower has a price tag of just $139 and features a 4-stroke engine with 460mm (18″) cutting width. It has an adjustable 7-position cutting height, plus a 55L hard catcher.
Expect a three-year warranty on this model for peace of mind. It's also claimed to be equipped with an all steel deck for durability and long life, as well as easy fold handle for simple storage, and large wheels for easy handling.
Typically, petrol lawn mowers with similar features start from around $300.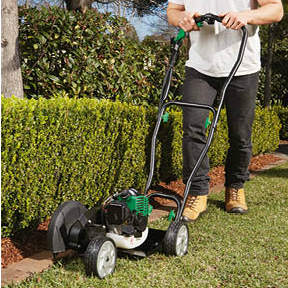 Another handy tool to consider for that ideal garden edge is ALDI's 25.4cc Petrol Lawn Edger, retailing for $149.
It features a 2-stroke engine, 224mm blade length and 5-level height adjustment, giving you the option to adjust the height specifically for your lawn. In addition, it's equipped with a 600ml fuel tank capacity, which is fairly standard for most models of similar size.
Similarly, to ALDI's lawn mower, this lawn edger has a foldable handle for easy storage and a three-year warranty.
Stocks are limited and the number of lawn mowers and lawn edgers that you'll see in ALDI's middle aisle will vary between stores.
Other Gardening Special Buys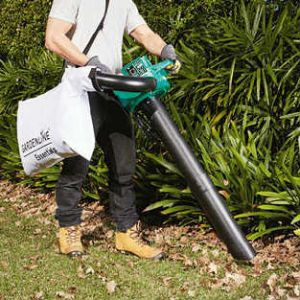 Even if you're already equipped with a lawn mower for summer, ALDI might still have something of interest for you.
To help keep the yard in tip-top, tidy shape, apart from trimming the lawn, ALDI is selling a 25.4cc Petrol Blower Vac with a retail price tag of $99.99. It features 2-stroke full crank engine, a 48L vacuum bad and max speed of 250km/h. It also has a 10:1 mulching function, to help cut leaves into fine pieces.
ALDI Petrol Hedge Trimmer
ALDI's 26cc Petrol Hedge Trimmer also comes equipped with a 2-stroke full crank engine and a price tag of $99.99. Expect a 560mm laser cut with a dual action blade and a 28mm cutting diameter. In addition, you'll find a rear rotating handle for easy manoeuvrability and a start assist primer stated to be for faster starting as well as cold starts.
ALDI Petrol Chainsaw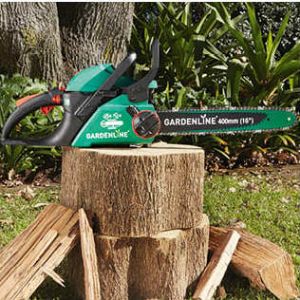 Another 2-stroke full crank engine power tool from ALDI is a 45cc Petrol Chainsaw ($99.99). It features a 400mm (16″) bar, tool-fee chain tensioning and adjustment, plus a chain brake for safety. It comes fully assembled and is claimed to be lightweight with a balanced design for control and manoeuvrability.
ALDI's 25.4cc Petrol Line Trimmer, also on offer this weekend with a price tag of $89.99, has a 375mm cutting diameter and a 2-stroke full crank engine. Its Premium Ezy-load head is stated to accept a 3mm diameter line.
All of the above tools come with a three-year warranty and are subject to availability.
To go with these new tools, ALDI is also offering full Synthetic Engine Oil (1L) or Chainsaw Bar and Chain Oil (2L), all which are $12.99 each. For its full synthetic oil, you can choose from 4-stroke or 2-stroke oil. Both are claimed to deliver improved engine efficiency. Its chainsaw bar and chain oil is designed for all petrol and electric chainsaws.
ALDI Cordless Mower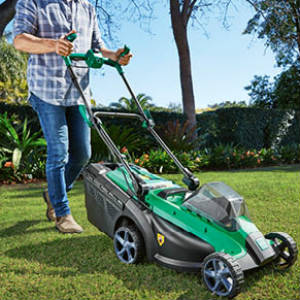 For a battery powered option, ALDI has also offered a 2 x 20V Cordless Mower for $179 at a different time of year. It's claimed to have a brushless motor to maximise on runtime and an adjustable handle for easy storage. In addition, you'll find an integrated battery indicator and a 40L hard catcher. It can be adjusted in height from 25 to 75mm and has a 370mm cutting width.
Batteries and charger for this model are sold separately with its 20V charger costing $14.99 and its 20V Battery 4.0Ah being priced at $29.99.
ALDI Ratchet Anvil Lopper
Boasting energy savings of 30-50% with its combination of gear technology, ALDI's Ratchet Anvil Lopper features lightweight aluminium handles with soft TPR and non-slip grip. It extends to 105cm and delivers 50mm of cutting capacity. Expect non-stick coated, hardened steel blades.
ALDI's Telescopic Hedge Shears ($16.99) is the last of its Petrol/Garden range available, with straight or wavy blades, both of which are stated to be non-stick coated. These feature telescopic aluminium handles with TPR non-slip grip for secure handling and comfort, plus can be extended up to 103cm.
So, whether you're looking for some new tools for yourself or your dad, get in quick before stocks run out.