If you're looking to keep it hot in the bedroom this winter, an electric blanket may just be the sleeping companion you didn't know you needed. It's an appliance that combines all the comforts of a nice soft blanket, with the heat of an electric burner, to keep you snug under the covers. It's also much cheaper to run than your air conditioner or electric heater. What more could you want?
Check out some cheap electric blankets to buy and everything else you need to know in this article.
How do electric blankets work?
Electric blankets disperse heat through built-in carbon wires in the fabric (when plugged to the wall) to warm the blanket evenly throughout. You can manage the temperature on the control unit, usually found between the blanket and the electrical outlet to find your ideal warmth and heat. Most electric blankets come in the four most common bed sizes: single, double, queen and king.
What are the different types of electric blankets?
Here are the three main types of electric blankets:
Electric fitted blanket: This is also known as a bottom blanket. It stretches over your mattress like a regular fitted sheet to warm your bed from underneath.
Electric non-fitted blanket: This is also referred to as a 'tie down' blanket. It doesn't fit around the corners of your mattress but instead comes with ties to secure the blanket to your mattress.
Heated throw blanket: This is like a regular blanket that you can sit on top of your doona to warm your bed. You can also use electric throw blankets while watching TV on the couch or anywhere around the house really.

Cheap electric blankets to buy under $100
Now that we've covered the basics, here are some options for budget-friendly electric blankets to beat the winter chills.
Kmart Fitted Electric Blanket: $25 RRP*
Goldair Flat Electric Blanket: $27.95 – $54.95 RRP*
Target Fitted Electric Blanket: $29 – $69 RRP*
Giselle Bedding 3 Setting Fully Fitted Electric Blanket: $58.99 RRP*
Dreamaker Coral Fleece Heated Throw: $79 RRP*
Dimplex Dream Easy Micro Fleece Heated Throw: $79.95 RRP*
Kambrook Dream Weaver Single King Single Fitted Heated Blanket: $99.95 RRP*
Jason Fully Fitted Washable Electric Blanket: $99.95 -$149.95 RRP*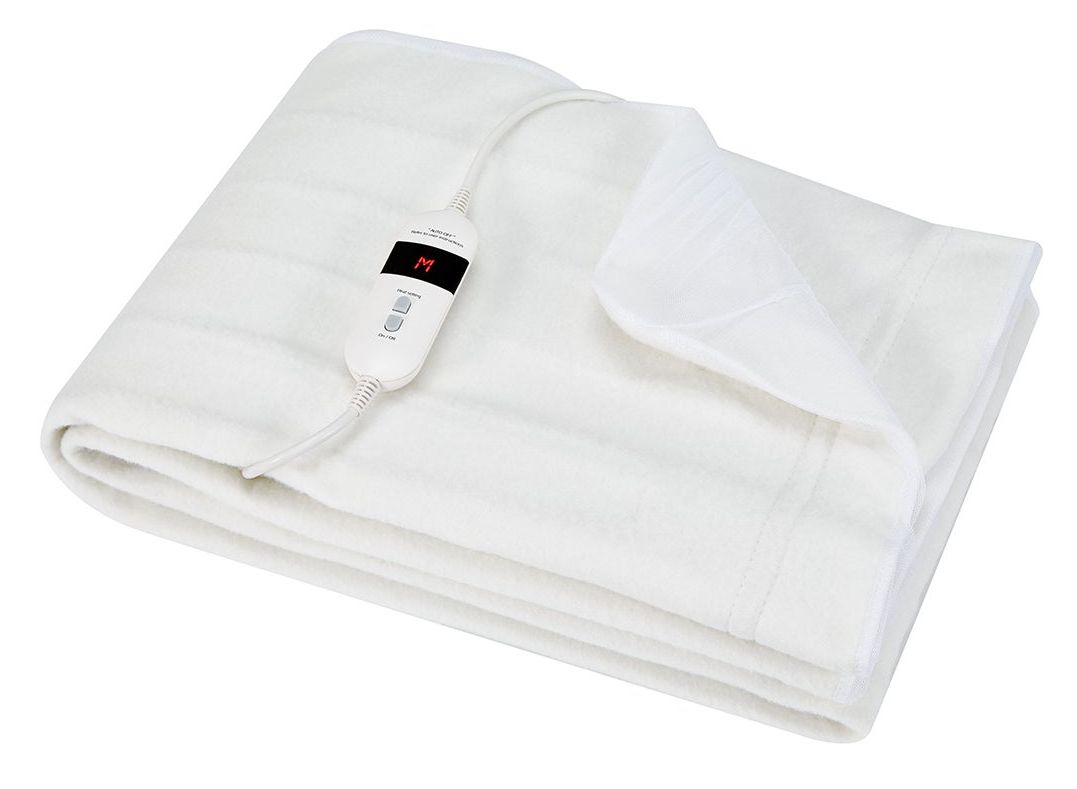 Kmart Fitted Electric Blanket – $25*
Electric blankets from Kmart's Anko range are some of the most affordable, including this fitted electric blanket (single size) for just $25. Similar to other models, it comes with a detachable controller, an auto-off function that switches off after running for 12 hours as well as an electronic overheat protection safety function. Kmart additionally sells a portable travel blanket for $29, plus other electric blankets costing between $25 and $55.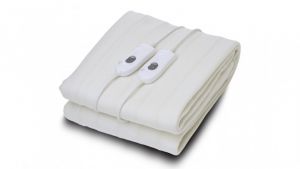 Goldair Flat Electric Blanket – $27.95 – $54.95*
This basic die down electric blanket available from Goldair could be your cut-price antidote to the winter chill. The queen size model comes with just three heat settings and dual fixed controllers to allow you and your spouse to independently adjust the temperature on your sides of the bed. This model is hand-washable only and comes in a single and queen bed size.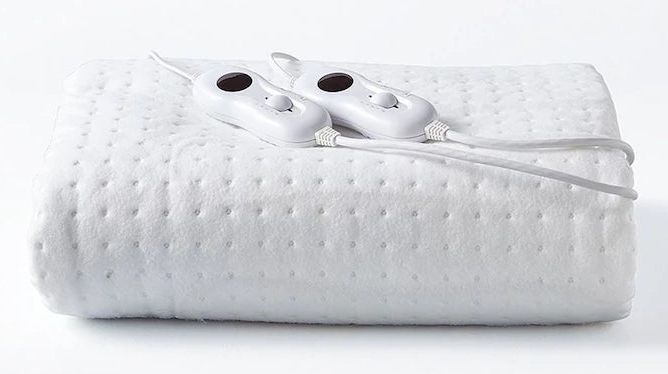 Target Fitted Electric Blanket – $29 – $69*
Target is another retailer with an affordable range of fitted electric blankets and heated throws, with prices starting from $29 and going up to $99. Although most models cost less than $70. Depending on the product, you can find options for queen, double, king single, single and king-sized beds. The Fitted Electric Blanket is the most budget-friendly option from the retailer's bedroom line-up, and provides a removable controller (larger sizes include two controllers), three heat settings, and overheat protection. It's made with a polyester cover & filling and contains an elastic skirt to suit thicker mattresses.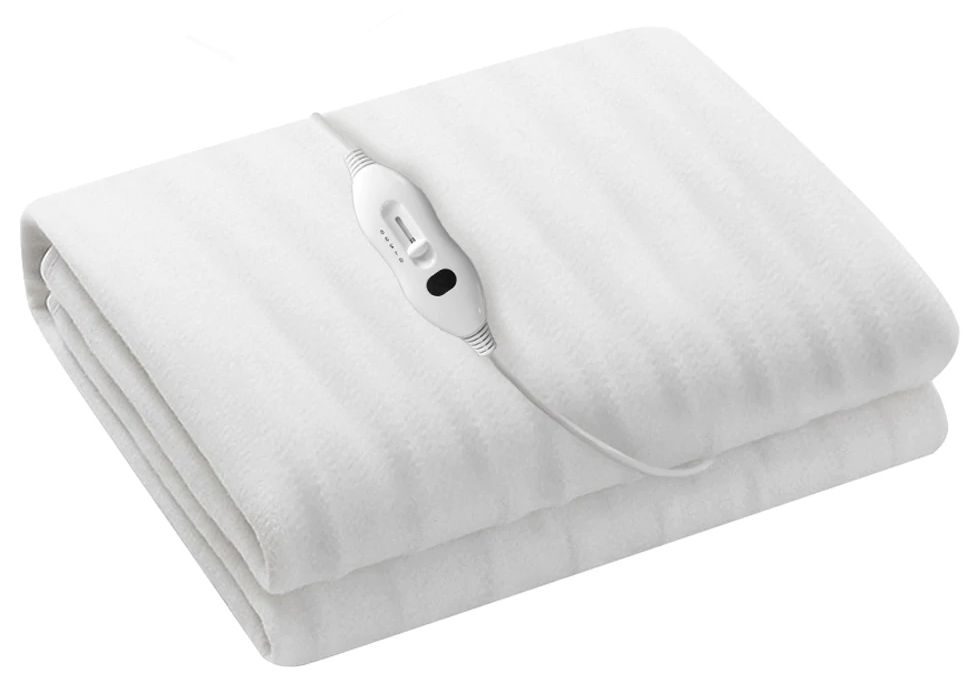 Giselle Bedding 3 Setting Fully Fitted Electric Blanket – $58.99 – $102.99*
Giselle Bedding has several heated fully fitted blankets, available in various sizes including single, double, queen and king. Prices start from $58.99 and reach up to $102.99 for the largest model. Similar to the rest of the range, the brand's Single heated blanket is said to contain a 100% polyester underlay, three temperature settings between 40°C – 50°C, and a detachable controller. It can be washed in the washing machine or by hand.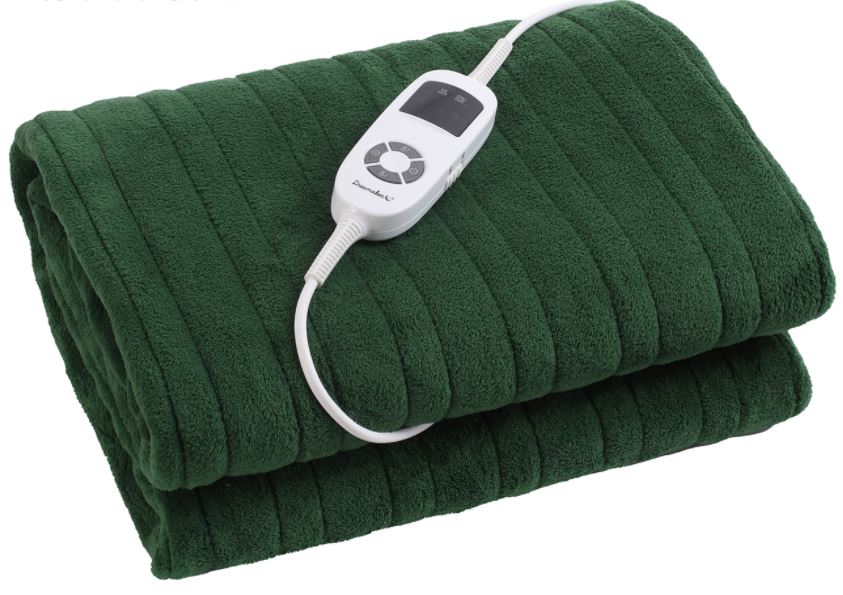 Dreamaker Coral Fleece Heated Throw – $79*
Dreamaker has a fairly large selection of electric blankets and heated throws, each model available in a variety of styles. The Coral Fleece features a reversible design and provides nine heat settings, a detachable controller, LED display and a 12-month manufacturer's warranty.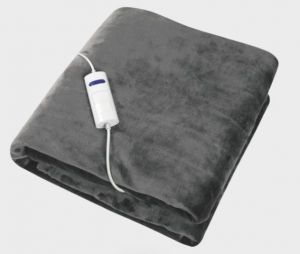 Dimplex Dream Easy Micro Fleece Heated Throw – $79.95*
This one-size-fits-all heated throw from Dimplex is the perfect accessory to keep you warm, whether you're relaxing on the couch or curling up in bed. It comes with six heat settings, detachable controls, and an automatic three-hour safety shut-off in case you forget to turn off your appliance before bed. This model is machine washable and measures 180cm(W) x 130cm(H).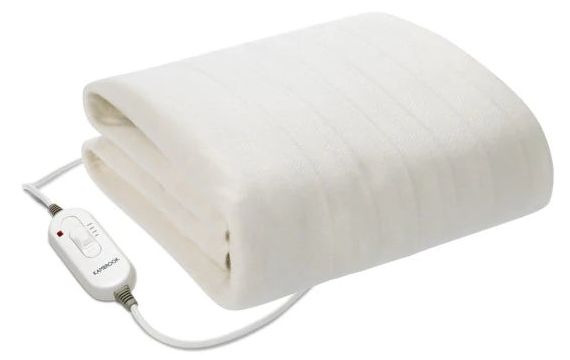 Kambrook Dream Weaver King Single Fitted Heated Blanket – $99.95*
This is Kambrook's most affordable heated blanket, with other options priced between $129.95 and $149.95. This electric blanket is said to suit king single and single-size mattresses and provides a non-woven polyester blanket with a fitted skirt. It includes three comfort heat settings,  a detachable controller, and ThermoGuard overheat protection to ensure the blanket turns off once the appliance detects any overheating.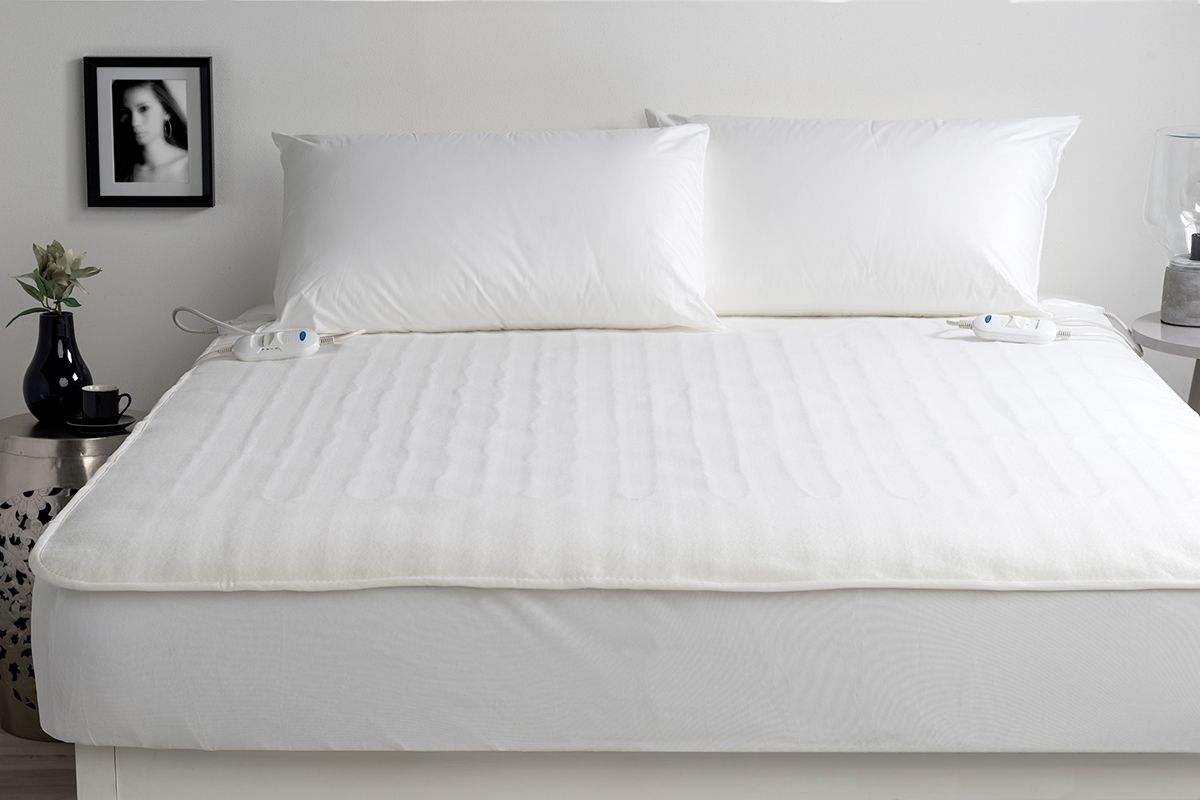 Jason Fully Fitted Washable Electric Blanket – $99.95 – $149.95*
Jason has just one electric blanket in a variety of sizes from single to king, with the entire collection costing between $99.95 and $149.95. This machine-washable electric blanket provides three heat settings, a controller, overheat protection and a fully fitted skirt.
Is it okay to sleep with an electric blanket on?
No ─ it's generally NOT recommended to leave your electric blanket on while you're sleeping, even if it has an overnight mode. Energy Australia suggests that electric blankets usually only need to run for 10 to 30 minutes to keep you warm all night.
If you do want to use a heated throw for an extended period of time, it's common for electric fitted blankets and throws to have an overheat protection function and auto-off function to ensure the blanket turns off after a few hours or when it gets too hot. Some models also provide timer controls, allowing you to set the electric blanket to run for a specific length of time.
Are electric blankets safe to use?

All electric blankets sold in Australia must comply with strict safety standards, so they're perfectly safe to use as long as you follow all care and safety instructions to the letter. While new electric blankets typically pose no safety risks; misused, worn or damaged models can cause burns and start electrical fires in some cases, so always check your appliance before turning it on.
As a general rule, you should replace your electric blanket every five years (or have it checked by the manufacturer) or if you notice any signs of frayed fabric, bent wiring, scorch marks, exposed elements, damaged cords or loose cables. Lastly, be aware that it's not recommended to use electric blankets with young children due to the control required to manage heat settings.
Do electric blankets use a lot of electricity?
Compared to other heating appliances, electric blankets don't consume as much energy and typically use 200W per hour (depending on the heat setting). Alternatively, most electric heaters use more than 1kW per hour.
Energy Australia claims energy blankets will generally set you back 4 cents per hour (as opposed to 15 cents like some space heaters), making it a cost-effective way to keep warm.
How to clean an electric blanket
Electric blankets and heated throws can either be hand washed or chucked in the washing machine, depending on the model. Just make sure to read the instruction manual to find out the best way to clean your blanket and avoid shrinking the item or causing a potential fire hazard.
According to Sunbeam, here's how to wash your electric blanket in a washing machine.
How to clean an electric blanket using a washing machine
Remove the controller(s) and any cables.
Presoak the blanket for 15 minutes with mild soap and cold water.
Use the delicate or gentle wash cycle for two minutes, before rinsing the blanket in cold water.
Run the spin dry function on the washing machine for two minutes. If using a dryer, choose the low temperature setting.
Gently reshape the blanket.
Without using pegs, place the blanket over a clothesline or shower rod to fully dry.
The appliance brand also gave a few tips on cleaning your electric blanket or heated throw.
Wash the electric blanket or heated throw before you use it for the first time.
Disconnect the power cord before detaching the controller from the heated blanket or throw.
Avoid going to the laundromat and using commercial dryers because these can get too hot and damage the wiring.
Avoid using sprays, bleach, or chemical cleaners.
Don't iron the blanket or throw.
Never wash the controller or any cables.
Don't dry clean the electric blanket or throw.
Make sure the electric blanket or heated throw is completely dry before using it.
Don't store the blanket with mothballs.
4 features to look for in an electric blanket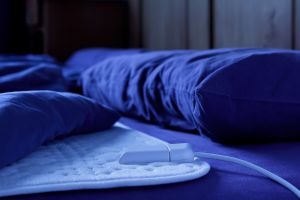 If you're considering buying an electric blanket, here are some important features to look out for:
Size: Size matters and that's why you'll want to pick the right blanket size for your bed. Most electric blankets are available in a range of sizes to suit any bed size, including single, double, queen and king size options. Some models also have an extra warm foot zone to keep you from getting cold feet.
Heat settings: Most electric blankets come with adjustable heat settings to give you different (at least three) temperature options to choose from. But if you and your spouse would prefer separate heat settings, then you'll want to find a model with dual control to allow you to adjust the heat on both sides of your blanket. You'll have to manually adjust heat settings on most low-range models, but some high-end appliances allow you to pre-program these settings, to warm up your blanket automatically during a set period before bedtime and will automatically shut off after a certain time.
Cleaning: If you're not a fan of hand washing (let's be honest, who is?), you'll want to ensure your electric blanket is machine washable and that it comes with detachable controls to make for an easier clean.
Warranty: Make sure your electric blanket comes with a two-year warranty at the very least and keep your receipt in case you notice any faults with your appliance when you get home. Some brands offer up warranties for up to five years on certain models.

Picture credits: Alena Ozerovag / Shutterstock.com, Victoria / Shutterstock.com, Agenturfotografin / Shutterstock.com.
*Prices are taken from respective retailers, Appliances Online and Bing Lee, correct as of March 2022.